Franklin, Wisconsin
The space to be
Business View Magazine interviews Calli Berg, Economic Development Director of Franklin, Wisconsin, for our series on Strength & Growth of American Cities.
Franklin is a rapidly growing city of 35,741 located on the I-94 Chicago-Milwaukee corridor just 20 minutes north of Foxconn and 20 minutes south of Lake Michigan Port of Milwaukee. With a third of the city still ripe for development despite remarkable growth year over year in both residential and business sectors, Franklin's strategic location in Milwaukee County drives much of the new development with thousands of acres near rail and a foreign trade zone, just minutes from General Mitchell International Airport and less than an hour from O'Hare.
These logistical advantages; combined with a favorable tax climate, competitive energy costs, and high-speed internet, make it an easy decision to pick Franklin. With a highly skilled and educated existing workforce, a Franklin K-12 school system ranked in the top 10 percent in the United States, and access to 160k-plus students from 18 colleges and universities within a two-hour radius, businesses have a range of options for building their workforce there.
Franklin experienced success with its first Industrial and Business Park spanning 650-plus acres, employing more than 2,000 in more than 80 businesses such as Quad Graphics, Carma Labs (Carmex), Strauss Brands, Carlisle IT, and Lubrizol, and is now known as one of the most successful parks in the history of Wisconsin with $160M invested in public infrastructure. Since then, Franklin has attracted hundreds of additional businesses, including large private campus developments like Ascension SE Wisconsin Hospital-Franklin Campus and Northwestern Mutual Life Insurance.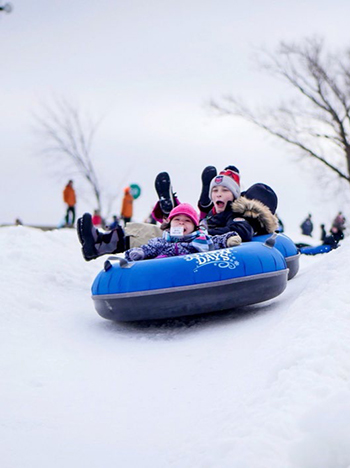 To capitalize on new development opportunities, Franklin continues to designate areas for business development and works closely with developers and property owners by creating tax increment financing districts (TIDs). Three three large, high-profile development areas in the City, each with their own identity are: The Corporate Park, ideal for corporations, office buildings, and light industrial; The Loomis Business Park, ideal for light and heavy industrial; and Ballpark Commons, ideal for sports, recreation, and tourism-based businesses.
"The Corporate Park is a 580-acre development that has visibility to I-94 and a full interchange on Elm Road" says Calli Berg, Director of Economic Development for the City of Franklin. "We are investing $20M-plus in tax increment financing in public infrastructure to create multiple large-acre sites for individual development." Since the interchange opened in 2020, the City has seen increased construction interest, and Berg says that developers are investing now as they look beyond the pandemic. As a result, Franklin is supporting planned projects totaling 1.1M square feet of construction by adding a monument entrance and lighted boulevard to welcome travelers from I-94, installing underground utilities, and building new roads, which will also accommodate millions more square feet of new development.
"The Loomis Business Park and Ryan Meadows is our newest 150-acre, mixed-use TID that is set in a lush natural setting in a very rural area of Franklin that makes it desirable both for country living to the east and light to heavy industrial to the west with a large conservation area separating the two," says Berg. Anchoring the park is an expanding Franklin manufacturer who is constructing a brand new $74M facility on 30 acres, leaving almost 100 acres for new business. Commercial development is welcome along the highway frontage and the interior parcels are ideal for manufacturing. Even as the developer creates shovel-ready parcels, they continue to buy additional property to enlarge the development site. The city has already expanded the TID and is ready to do so again to accommodate new development.
Ballpark Commons is a mixed-use destination development started by ROC Ventures in 2012. Mike Zimmerman, President of ROC Ventures and owner of the Milwaukee Wave soccer team, created The Rock Sports Complex on a closed and failing landfill with six major league baseball replica fields, a large outdoor Umbrella Bar with food truck rallies and live music series, a regional Halloween attraction, The Hills Has Eyes, and The Snow Park ski and tubing hill. Encouraged by 125,000 annual visitors, ROC Ventures expanded The Rock with assistance from Franklin in the form of $29M in TID funding for public infrastructure improvements, transforming the development into the 200-acre Ballpark Commons development. With this public-private partnership came rapid private investment to the tune of more than $200M once all projects are built out. To date, BPC includes Franklin Field, a 4,000-seat stadium for the Milwaukee Milkmen, the 2020 champions in the American Association of Independent Professional Baseball (now also a Partner League with Major League Baseball).
"The stadium became the linchpin for additional development, including the Milky Way Drive-In, a three-story 46,000 sf office and retail building, New Perspectives Senior Living with 150 units, and Velo Village, a 265-unit, five-building high-end apartment complex," says Berg. "The Performance Sports Village is currently under construction, permits have been pulled for Luxe Golf, which is comparable to Top Golf, and will include two unique restaurants and a beer garden; and a Holiday Inn Express breaks ground in the spring." Franklin is still seeking additional private development for a proposed brew pub as well as two additional retail/commercial buildings.
Franklin businesses offer employees a unique style of both urban and rural city living in Franklin, and the demand to live here drives a growing residential development market. Even with the addition of thousands of living options added to in the city over the last several years, there are several new residential projects in the pipeline. "People like being close to 'the big city' of Milwaukee while enjoying the open space of living in Franklin," says Berg. "We have more than 3,800 acres of land reserved for parks and recreation, including a 4.9- mile, off-road segment of the Oak Leaf Trail that meanders along the Root River and circles all of Milwaukee County. We are a paradise for hikers, bikers, bird watchers, and nature lovers."
Folks who move to Franklin appreciate the full-service value of the city, access to a quality education and a safe community, along with all expected amenities of city living with two bowling centers, two soccer clubs, two public and one private golf course, a movie theater, and lots of unique restaurants. Yet it's the special little things that really make Franklin stand out. "We have one of the only fully-accessible playgrounds in SE Wisconsin," says Berg, "Kayla's Playground was built by the community in less than a week. We have a Conservancy for Healing and Heritage that is a sanctuary for the sick and weary and an outdoor high school science classroom that showcases a 10-acre, pristine glacial lake. We are home to The Polish Heritage Center of Wisconsin, which is part museum, part cultural activities, part community center. We have a growing theater company and symphony – both rare assets for a community our size."
Franklin's community amenities combined with the mix of businesses and residential advantages meet the needs of a wide variety of people and companies. "Franklin is not just a great place to locate your business," concludes Berg. "It's a great place to grow your business and retain workforce in a community that welcomes and cares for your people."
AT A GLANCE
Franklin, Wisconsin
WHAT: Busy, progressive city; population 36,000
WHERE: Fifteen minutes from downtown Milwaukee
WEBSITE: www.franklinwi.gov