Farmington, New Mexico
Jolt Your Journey
Business View Magazine interviews representatives of Farmington, New Mexico for our focus on Economic Development & Growth in the Four Corners Region
A jolt is something unexpected. It's a shock. It's a surprise. It's something that can inspire positive change. In a world that can often become mundane or routine, sometimes all it takes is a little jolt to wake up and feel alive. The City of Farmington, New Mexico, is a community that is doing just that. They've been on a mission to energize their community and entice folks to come. And what they've done – what they continue to do – is impressive to say the least.
Mayor Nate Duckett, life-long resident of Farmington, reports, "We have a long history here of producing energy out of the ground. We sit on one of the largest natural gas basins in the United States so a lot of what built this community is, and has been, related to energy." Farmington is using that past energy to spark some new energy into their future. They've been purposeful with their revitalizing campaigns and that, in turn, has fueled new life in their city. Duckett adds, "We are trying to capitalize on that above ground energy and focus on initiatives that highlight the quality of life here."
Located at the northwest corner of New Mexico, Farmington is in the heart of the Four Corners, right where Utah, Colorado, Arizona, and New Mexico connect. Farmington's Economic Development Director, Warren Unsicker, says, "Farmington is the center of adventure. There's so many bucket list things within an hour and a half radius of Farmington that you can do. We are in the heart of that adventure sphere." With 260 days of sunshine, Farmington is an outdoor lover's dream – on the same day, you can go golfing in the morning at Pinon Hills Golf Course (one of the top municipal courses in the U.S.), and then hit the ski slopes in the afternoon. Unsicker, who has lived in quite a few places around the country and moved to Farmington five years ago, quips, "It was astounding when we moved here; you can't go a quarter mile without tripping over a park."
Farmington has a population of 46,000, although the community serves a much wider demographic. Duckett explains, "Thirty miles from here is the largest reservation for Native Americans in the United States. The Navajo Nation is our neighbor." He estimates that some 300,000 people shop in the city of Farmington each month. It is a business hub, with a slew of new businesses proposing projects. "We collaborate not only within the community of Farmington, but beyond our fence line to the cities beyond us and that speaks volumes to companies coming to town," Unsicker explains. "Success breeds success. A rising tide raises all boats… it's very much a synergistic relationship in this area."
One thing that makes this desert location so unique is the water. According to Duckett, "Sixty-five percent of the state's surface water actually flows through San Juan County. We've got two beautiful lakes and rivers that flow through town." By desert standards, Farmington is actually lush. In fact, the Navajo name for it is Totah, which means the meeting place of water. Three rivers converge among the mesas here: the San Juan, the Animas, and the La Plata. There is also Lake Farmington, which is open year-round for camping and fishing, and seasonally for boating and swimming. This oasis has trails for hiking, biking, and even horseback riding. They've also built a beachfront with water park and shade features, appropriately named, 'The Beach' – a popular destination for the Four Corners region.
"It's been a big draw for the area," Duckett says with pride. "It's some pretty awesome water." In addition, the Animas River provides a different level of recreation. They're planning a river wave, which would provide permanent waves to the river that could be adjusted according to the river flow. "You could surf in it," Duckett laughs. "You could take a surfboard out there and actually surf in the river. We think that would be a big attraction for our area." It would also provide more dynamic opportunities for kayaking and rafting. Recently, a new rafting company opened up, providing tours out on the river. Unsicker hopes it's just the start.
"This is a great place to live and it's a great place to retire," says Duckett. The real estate market is booming here. "People are coming from the east and west coast looking for a place to live that provides them with the level and quality of life they're looking for." And with the lower cost of living in Farmington, folks are able to get a lot of house for their money. A new senior living facility is under construction in the downtown corridor, and the city is in talks with developers about the possibility of adding a 55+ communities to the area. "We are really excited to attract people to come in and enjoy their later years here in Farmington." Unsicker adds, "They are looking to retire in a place where they can remain active."
In addition to the plethora of outdoor activities and the great weather, another attractive feature to the community is San Juan College. The college provides educational programming and brings art and culture to the community. Seniors can take a course for fun through the Encore program that offers classes from pottery and art to history and fitness. They also have equipment rental, so folks can rent snowshoes, a mountain bike, or a kayak to try out an adventure without a huge commitment or price tag.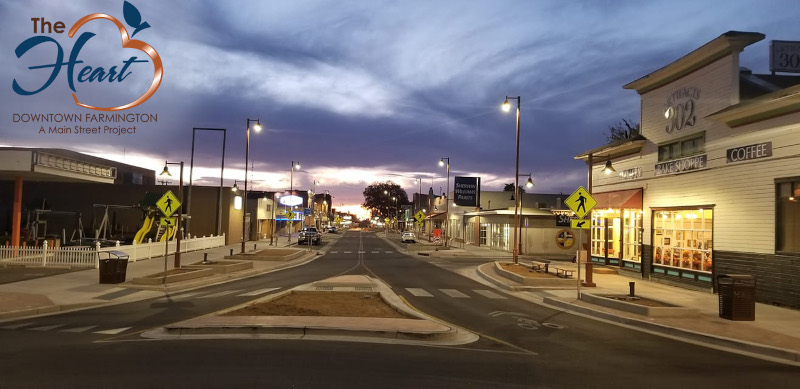 Unsicker acknowledges, "We are lucky to have the college as a partner. It's always surprising when people come to Farmington and see the property… you would think you were stepping into a four-year institution. The campus is beautiful. There is a performing arts center, a health education center that has a full-fledged gym, and numerous meeting spaces and sports fields. They are a stellar partner in workforce development because they are nimble in helping to create curriculum to meet the needs of industry. And they are ready and willing to partner with us as we have new companies coming to the area."
San Juan College teams up with the city in so many ways. Most recently, in value-added agriculture. "It's what we are calling a food hub; an aggregate of food collectors for all of our farmers in the area," Unsicker says. "We are really trying to catalyze our local farmers." Just south of Farmington is NAPI, the Navajo Agricultural Products Industry. They provide 73,000 acres of pivot irrigated land that's producing corn, beans, watermelons, pumpkins, and potatoes. The city is looking to find ways to value-add to the region's agricultural products, as well.
Farmington has breathed new life into their downtown with recent revitalization projects. They've poured money into making it a place that people – especially the younger set – want to be. By refinancing some bonds, the city was able to create some capital dollars that they invested into economic development projects.
Duckett shares, "We've been able to create an environment… like placemaking. We want to create a place that you can love and something you can call your own." They've worked on their streetscape, dropping the busy 4-lane road to a 2-lane, quieter road, with roundabouts at every other intersection to slow down traffic. They also widened the sidewalks to 15 feet on each side of the road, so it is much more pedestrian friendly and bike friendly. Currently, a private business is building a food truck court and are hoping to hold outdoor concerts there, too. Duckett adds, "We've also spent another 12 million on our Civic Center, which is located one street north of downtown and it's created this synergy between the Civic Center and the businesses downtown."
Farmington has two other exciting prospects in the works, as well. A railroad is being considered to run to the I-40 Corridor through a partnership with the Navajo Nation and San Juan County. Farmington is also working to be considered for a federal pilot program as one of four hydrogen hubs in the U.S. Duckett hopes these can continue to attract young people and their families to their area "to create a life with the quality of life we all enjoy here."
This desert oasis seems to have it all: great schools, a vibrant downtown, a business hub, and specific, focused plans to keep growing. All set against a backdrop of outdoor splendor that beckons the adventurer to explore; full of experiential opportunities and lots of energy. Do you need a little jolt in your life? Farmington might just be the place for you.
AT A GLANCE
Farmington, New Mexico
What: A thriving, scenic city; population 46,000
Where: San Juan County in northwest New Mexico
Website: www.fmtn.org
Farmington Municipal Schools – https://district.fms.k12.nm.us/
3401 E. 30th Street Farmington, NM 87402
Farmington Municipal Schools is #risingtoexcellenceineverypursuit by creating an educational system that prepares students for an exciting path to college,  career, and life success. To build a school district that forms skilled and gifted students that contribute to the betterment of our communities, FMS adopted a Marzano Resources' national High-Reliability Schools framework which values culture, community, best teaching practices, collaboration, and equity as viewed through the goals/pillars of success that follow.
A Safe, Supportive, and Collaborative Culture centers on building safe, inviting, and orderly schools, where faculty, staff, students, parents, and the community find a district environment where everybody thrives. To that end, FMS has placed a high value on effective professional learning communities, where collaborative teams regularly interact and focus on the achievement of all students, and communication, input, feedback, and a formal set of processes for gathering input and sharing output within our educational communities.
Effective Teaching in Every Classroom sets a clear vision for what our expectations are, including job-embedded professional development and opportunities that are directly related to positions and goals, monitoring conditions and commitments for desired outcomes, and how we communicate visions and expectations for all.
Guaranteed, Viable, and Equitable Curriculum is to set clear and measurable goals for student achievement and well-being, while providing opportunities to learn critical content within district-provided programs that are rigorous and diverse. These aspirations would not be possible without the district using quality assessments and a curriculum that is aligned to the state standard, district pacing, and critical content.
Standards Referenced Reporting Systems data-driven decisions, analyzing, interpreting, and using multiple data points to regularly monitor our progress towards our goals.
Board of Education, Community, and Staff Relations seek to maintain a positive and productive working relationship with the board of education, staff, and community.
Team Farmington can proudly say that adopting this framework has made possible a positive change in our school and working cultures and we are seeing positive results all around, from how our teachers communicate with each other to how we listen to teachers and staff, implement new systems, adapt to new challenges, and how our graduation rates continue on an upward trajectory.
We are really proud of our school community and the community-at-large that has supported our initiatives and cheered us through successes and challenges. Adopting the common language and the same measures of success has made Farmington Municipal Schools a great place for learning and teaching. That's how the district continues to rise to excellence in every pursuit.
Farmington Municipal School, which is noted as the most demographically diverse system in New Mexico, is located in the city of Farmington, New Mexico. The largest city in San Juan County. Farmington serves as the commercial hub for most of northwestern New Mexico and the Four Corners region. The district is comprised of two preschools, 10 elementary schools, four middle schools, and four high schools.