Athens, Ohio
A College Town with Historic Beginnings
Business View Magazine interviews Steve Patterson, Mayor of Athens, Ohio, for our focus on Growth and Economic Development in U.S. Towns & Cities
In an ideal setting just 75 miles southeast of Columbus, the City of Athens, Ohio is the proud home to the Ohio University – a large public research university with a combined enrollment of more than 21,000 students. Athens itself encompasses a relatively small area of 10 square miles, but while the area is small, this college town's impact is anything but.
As of 2020, Athens counted a population of just under 25,000 residents and is delighted to be a qualified Tree City USA, as recognized by the National Arbor Day Foundation. Located in the Allegheny Plateau and packed with an abundance of public art, tasty eats, unique finds, and historic adventures, Athens boasts quite an eclectic and aesthetically beautiful culture. Interestingly, the city sources the entirety of its water supply from wells installed in the Hocking River Valley aquifer and provides extremely high-quality drinking water to its citizens and several thousand more in the surrounding area. The city is appreciated by visitors and residents alike for its walkability, year-round beauty, musical appreciation, and natural treasures. This tight-knit community in the Hocking Hills enjoys scenic landscapes with the Hocking River flowing right through the heart of the city.

Steve Patterson, Mayor of Athens, was recently appointed to the U.S. Global Leaders Coalition advisory board. He reports, "I enjoy being tied in to the coalition as a mayor, it's even more important today to cast my community in a positive light, so part of my being involved in various boards and commissions is to get the word out that Athens is a great place to live, work, and play – whether remotely or in person. I would frame Athens as the quintessential college town, playing host to the first university established in the Northwest Territory back in 1804 – less than 10 years after the city itself was established." Ohio University was chartered by Thomas Jefferson for higher learning in the Northwest Territory, and since then the town and the university have grown together, settled comfortably in the rolling foothills.
Patterson acknowledges that one of the key reasons businesses are attracted to the area is for the talented individuals coming out of Ohio University – many of which opt to stay in the community following the completion of their education. Much of this has to do with the quality of life in Athens, continuously attracting new businesses, while happily retaining others. People and businesses alike appreciate the arts and entertainment aspects, as well as the outdoor recreation. He explains, "Going back to 2016 and the idea of having 88 miles of mountain bike trail built in the Wayne National Forest, as Mayor, I knew right away that was going to have a huge positive economic impact on our community. But it would also be a strong attractant to new businesses that have a desire to have outdoor recreation opportunities for their employees. So, I've been a strong advocate." Other points commonly appreciated by new businesses include the appealing cost of living, Athens' convenient location in terms of ground transportation, and the availability of resources and technology.
A large industrial area called Tyson Industrial Park is located just a few miles outside of Athens in Athens County, and it houses Sterling Ultra Cold Global Cooling – a company that played a large role in the safe storage of COVID vaccines. In the city itself, the healthcare industry plays a massive role. According to Patterson, "When I look at the number of healthcare facilities, including Ohio University's Heritage College of Osteopathic Medicine, I would say the healthcare sector is pretty robust in the city of Athens." Other mentionable healthcare facilities in the area include the Holzer Health System and O'Bleness Hospital. Most recently, the Marietta Memorial Hospital broke ground on a new, freestanding emergency hospital in Athens, providing immediate employment for 60 individuals.
The manufacturing sector also has a major impact on the economy of Athens. Quidel, for example, produces test kits such as the COVID-19 rapid-test kits, and their presence in Athens has had quite a remarkable effect not only on the economy but in providing aid to those potentially impacted by the pandemic.
With all the attraction for businesses and students to the area, is the housing market prepared to take on the new residents that will follow? Patterson admits, "The lion's share of the housing is currently rental units. However, we're now seeing that the multi-unit apartment buildings in the area are for sale. And in turn, these former rentals are being turned into affordable housing. We have done some creative things to help developers who would like to turn undeveloped land into housing units, where there isn't necessarily infrastructure there, i.e., streets, water, sewer utilities." He hopes that this assistance will invoke the creation of affordable housing for the community – something that the area needs badly to facilitate growth.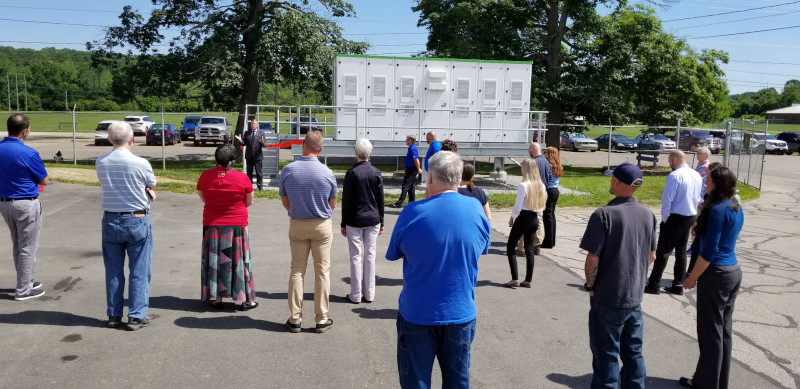 Given that Athens has such a rich, historical background, it is no surprise that they have quite a striking downtown area. Patterson explains, "In Athens, the historic retail/commerce area is what we call "Uptown". We don't have a downtown; we have an uptown because it sits on a hill. And since the early 1800s it's been the core of the city itself." In the Uptown area, Court and Union are the major crossroads and it serves as the gateway to Ohio University's original historic college green. There are a lot of restaurants, bars, and small retail stores along the way to include small-town businesses like "Ohio is Home", where you'll discover laser-cut wood products like coasters, key chains, artwork, and the like. Additionally, you'll find the East State Street corridor with major retail spots from Aldi to Texas Roadhouse, Menards, and Kroger..
From an environmental standpoint, the City of Athens just completed a $7 million street rehab, removing a 60-year-old deteriorated concrete roadway, and installing bio cells in the sidewalks to support native plant life. The idea is that it will collect and filter sidewalk and parking lot water to water plants and clean up runoff before it hits the Hocking River. "The other thing is that we renovated our water treatment plant here in Athens back in 2017/2018," says Patterson. "With that project, we put a 178 KW solar array behind the meter feeding into the water treatment plant." In turn, the local energy company chose Athens as one of two pilot sites in Ohio for a large battery backup system that feeds off the solar array by day, feeding into the water treatment plant by night.
The city also hopes to form a complete EV fleet of electric or hybrid vehicles for public transit and other purposes. Athens already has a fast charge EV station for public use, and they will soon even have an electric bus as a part of their transit system, making them one of the first communities in the area to have one on the road. This bus will be able to stop and charge right at the fast charging station before hopping back on its route.
Looking ahead, Patterson shares, "We've committed to reducing our carbon emissions by 50% by the year 2030, in reference to the 2010 carbon emissions we had. We're well underway with the planning to have a 2.5-megawatt solar array under a power purchase agreement that would be providing energy to our waste water treatment plant, as well as our community center and three other government electricity accounts in that vicinity, to include our city swimming pool that during the summer months is a pretty robust energy consumer as well. So that will be something we're looking at for the future. That will get us well on the way, if not exceed our 2030 plan to reduce our carbon emissions by 50%."
AT A GLANCE
Athens, Ohio
What: A small college town with historic beginnings; population approx. 25,000
Where: County seat of Athens County, Ohio
Website: www.ci.athens.oh.us

Ohio University – https://www.ohio.edu/
THE NEW CLASS OHIO's hybrid graduate programs move busy professionals forever forward. As an increasing number of people in the workforce increasingly seek out online and hybrid programs (online coursework with in-person events and networking), Ohio University knows they need a graduate program that works with their schedule. OHIO's Executive Master of Public Administration program (ohio.edu/empa) is one of the state's first and best. 24 months of online courses are complemented by in-person residencies one Saturday per month at our Dublin Center, building the skills and relationships to boost careers in government, social services or public agencies. Professional Master of Business Administration (PMBA) program (ohio.edu/pmba) students earn their MBA from a highly ranked, fully-accredited business school in just 24 months of online classes and once-monthly residencies at the Dublin Center. Concentrations in Business Analytics, Finance, Health Care and more help students gain an industry-specific boost. OHIO's cutting-edge, online Master of Sustainability, Security and Resilience (ohio.edu/mssr) equips professionals with the skills and experience to lead planning, policy and communication in the face of rapid environmental change. OHIO's convenient and flexible graduate programs deliver the versatility busy professionals want with the skills and experience they need. Learn more at ohio.edu.