Covington, Washington
Growing toward a great future
Business View Magazine interviews representatives of the City of Covington, for our focus on Infrastructure & Economic Development in U.S. Cities
Since its incorporation 25 years ago, the City of Covington has remained committed to the continued growth and development of the community, working to create an ideal place to live, work, and enjoy life. Located in Washington's beautiful Puget Sound region, Covington is less than an hour's drive from Seattle and Tacoma, a perfect place to call home for those who want to commute to the larger cities while enjoying the slower pace of a smaller community.
There was a concerted effort to grow Covington into the city it is today, an effort that was not without hard work and determination. City Manager Regan Bolli acknowledges, "One of the unique challenges with developing this city has been that it was a little area out in the county that no one paid much attention to. When it was incorporated, we had to develop a loose transportation system and whatnot that were put in place by the county."
With a current population of just over 22,000 the city has experienced major growth over the past 10 years and is seeing a surge in development. "As far as residents, people really love living in Covington. It's a great atmosphere. It's a great community. We have a lot of city pride, people are engaged and involved in our community events. You see a lot of people moving to Covington to buy a home, moving out of the Seattle metro area to spread out a little bit," he asserts.
As a medical hub for the South King County area, the city is home to MultiCare Covington Medical Center, a 58-bed full-service hospital. UW Valley Medical Center is also located in the community, with an urgent care campus and ancillary office spaces for additional patient care. A Mary Bridge Children's Primary Care facility is another Covington resource, providing a full range of pediatric services. Retail and commercial businesses also have a strong presence in the city, drawing from the surrounding trade area of 130,000 people.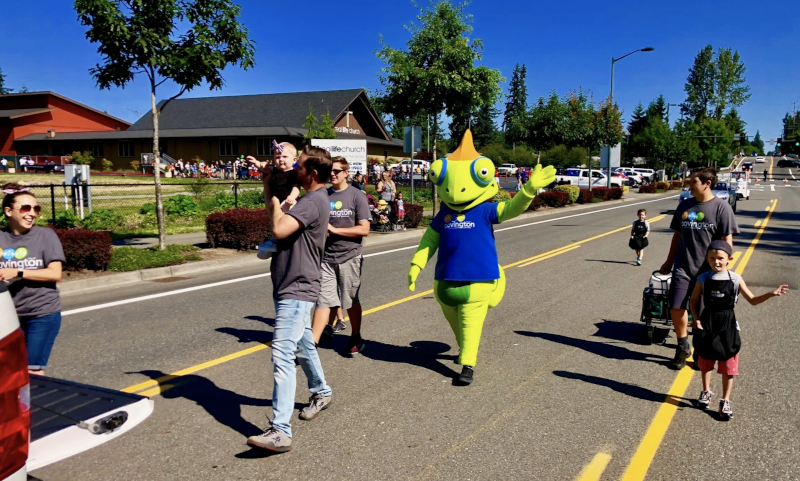 Community Development Director Salina Lyons relays that although the 1980s brought a strip mall style of retail development to the community, the introduction of larger commercial centers such as Home Depot and Walmart means that the landscape is shifting. She adds, "That is infilling and changing, which is changing the dynamics as well. We have Kohl's, and we have a lot of other service retail food industries that are readily available right now in our core."
As for recreation, the city has a mission to create more open park space in the community. Bolli shares, "That was really important to us as we assessed our inventory. We really wanted to add to that, and to preserve the open space beauty that is around Covington." Part of this effort included the purchase of 5 residential lots which will be converted into South Covington Park (SoCo).
This park will be located in the developing downtown area of the city, while also connecting to the existing Jenkins Creek Park, and to LakePointe, a future development. In the eastern part of the city, another 5 acres have been purchased to create a passive-use open space area. "We're calling it ECO park," says Bolli. "That has kind of a nod to environmentalism but also East Covington." Upgrades will also be done to Covington Community Park, a city landmark, which currently has trails, ball fields, an amphitheater, a large playground, and several shelters.
With a vision that includes the creation of a Town Center, Covington has purchased 8 acres of available land from the Kent School District. Bolli describes, "What we want is really for this to be a cultural gathering hub of not just Covington, but of the larger region around us. We want this to be a place that will have several acres, and be an open plaza that's surrounded by some water features, a new city hall, and a community center, connected across the street to SoCo park." With a developer purchasing the adjacent 8 acres of land, the plan is to increase density in the area, allowing for the development of high rises, multi-family attached homes, and townhouses, all centered around the downtown core.
Moving away from downtown, Lyons says Covington's housing stock is predominantly single-family. "The goal, with the introduction of what we've done in our downtown, and then also the work of the LakePointe effort, is that we are going to start to have different types of housing choices within the city. That's really exciting to look forward to, that's kind of the fruits of all of our work coming together to create something long-term that is a lot more diverse in housing," she says.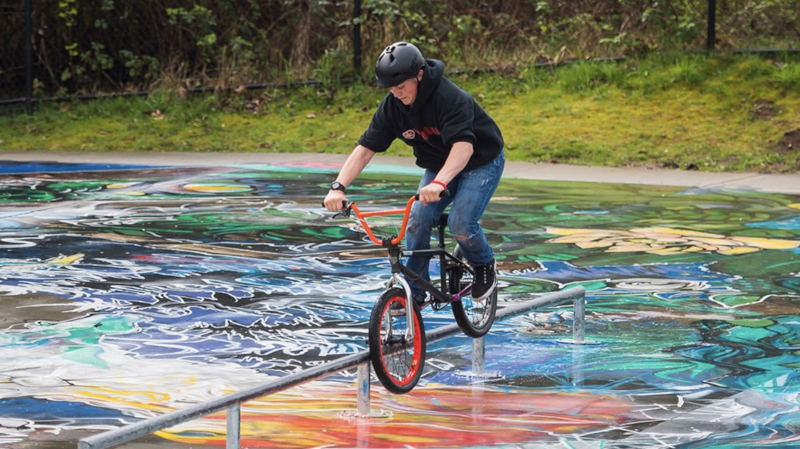 Part of the planning for new residential includes protecting the heritage tree canopy throughout the city. "Council and the public have taken this on as a really large value, trying to retain as much of the heritage trees that we have, of our natural canopy covers," says Lyons. In terms of development she conveys, "We want to use low-impact development where appropriate within the city for a couple of reasons. One is that low-impact development often feels more integrated, so there's a look and feel that's a little bit more natural. Also, these things that we build and construct, they become city assets for us, and so we want to make sure that we're able to maintain those and keep those good and functioning in the long term."
None of the positive growth Covington is experiencing would be possible without the valuable partnerships that the city has come to rely on, including the Soos Creek Water and Sewer District, Covington Water, the Puget Sound Regional Fire Authority, and King County Police Services. "A lot of our partners are the people that provide support to the city," Lyons explains. "I would also add that the industry in general, our builders, our developers, our individual homeowners, it's those folks that are stakeholders in the outcome of Covington. They are investing in Covington and they are our citizens."
Suggesting a strong collaboration between the City of Covington and the Covington Chamber of Commerce, Bolli mentions an Economic Development Council, formed in partnership between the two. "It's an exceptional group of business owners and other people that really work together to make sure we've got a rich economic soil in Covington, so people that are here can grow, and people that aren't here can see that it's a great environment for them to be in." One initiative of the council was to introduce a youth program called Ready Set Play, aimed at bringing more people into local businesses.
Through the youth program, the city saw a huge increase in foot traffic and as Bolli infers, "It's just turned into this really wonderful community partnership. It's given some of our mom-and-pop retailers and restaurants the opportunity to market a little bit better regionally." The Economic Development Council also works with local developers, taking time to hear their input and concerns. "They bring a different set of eyes to the policies and regulations that we have in place, so, we try to make it as good as we can by hearing from those who actually have to go through it," Bolli says.
Another developer/city partnership is the Covington connector, a $60 million road project which will provide additional north-south access through the city. Phase one of this project is complete, leading to the edge of the much-anticipated LakePointe development. "It was large and really developer driven in order to get that money allocated to us from the legislature. So that was a really incredible win," says Lyons. "That road is completed, we turned on the new traffic light this year. So that was really exciting."
Phase two, which is currently underway, involves work on the SR18, including improvements to two off ramps which will allow access to the new development. "The third piece to this is the LakePointe Boulevard," Lyons reports. "The developer is a little bit more heavily involved in that section of roadway, but the city is still supporting them by applying for Transportation Improvement Board grants and helping them find money to fill any gaps that they have in that construction."
With the roadwork complete, the city will be looking forward to seeing the LakePointe urban village area brought to life, bringing an exciting addition to the community. As for what else is on the agenda, Bolli offers, "We've got the vision pretty well marked out that Covington will be a standout player regionally on several different issues, housing, commercial, and safety.
In summary, Lyons says, "We are still looking at growth opportunities, and with growth opportunities comes change. We want to make sure that what we're building is maintainable, that we're using our public funds wisely to take care of our investments, and that there is resiliency in the fact that we're building real communities, and we're coming together as a city."
AT A GLANCE
Covington, Washington
What:  A thriving city in the Puget Sound region, incorporated in 1997.
Where: King County, Washington
Website: www.covingtonwa.gov

Valley Medical Center – www.valleymed.org
At Valley Medical Center, we care for our community like family. Our hospital and network of four dozen primary, urgent and specialty care clinics throughout SE King County offer surgical services, neuroscience, stroke, joint & spine, ER & level III trauma, childbirth & NICU, heart & vascular, cancer treatment and much more. Learn more at valleymed.org.