Camp Bow Wow
Pups at play
Business View Magazine interviews representatives from Camp Bow Wow, as part of our focus on best practices of franchise companies.
The telltale sign of an entrepreneur is the ability to see a void in the market and move to fill it. Heidi Ganahl recognized that a piece of the pet industry was open for development and went on to build a boutique pet care facility into a $100+ million brand. Today, Camp Bow Wow is available to dogs and their parents in over 150 locations across the United States and Canada. The operation's success was made even more apparent in 2014, when Camp Bow Wow was acquired by VCA, Inc., a leading animal healthcare company in the U.S. and Canada.
"The idea for Camp Bow Wow was born back in the '90s," begins Julie Turner, Vice President of Marketing at Camp Bow Wow.  "Our founder, Heidi Ganahl, was going on a trip and didn't know what to do with her dogs. Kennels at that time didn't provide the level of care and experience she was looking for." She also knew she was not the only one who felt this void. "Camp Bow Wow was born out of the want for her dogs to have fun," explains Julie.
Ganahl wanted to create a place where people's pets could exercise, socialize, and be entertained during work hours or vacations. Turner admits the concept was initially an oddity for some, acknowledging people's questions of, "Why would you need day care for a dog?" But she answers those sentiments with examples of market readiness and success.
"By 2000, the first Camp opened in Denver and saw extraordinary success. It was a day care/boarding facility and back at that time, pet parents didn't understand what day care for dogs was." But the public soon grew to understand, if not love, the idea and by 2003, the business opened up for franchise opportunities. Since those early days, the company has spread to 40 states and Canada, and recently opened its 150th location, making Camp Bow Wow the largest dog day care franchise in America.
Turner believes that the company's success is based on four main pillars:
"Everything we do is focused on the safety of the dog. We have extensive training for staff, a dog interview process, and Camper "
"We have all-inclusive pricing. We don't nickel and dime. We do all of these things to make pet parents feel comfortable and know we are transparent."
"The third pillar is continuous interaction. We offer all day play. We don't just let dogs out three times a day for a potty break. They romp around all day with other Campers, so when their mom and dad come to pick them up they're tired and happy."
"And last, we have live web cams so parents can check in on their dogs on their computer or mobile app for free."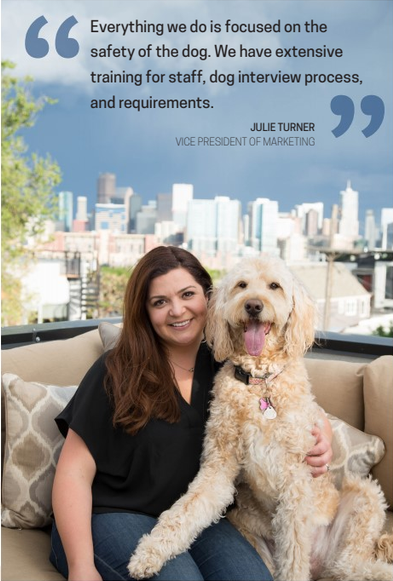 Camp Bow Wow is dedicated to propelling its success through franchising. While it continues to offer day care and boarding services, the company also offers "other complementary services such as grooming, training, and in-home pet care, so our franchise owners can generate additional revenue and meet the needs of pet parents," says Turner.
As the largest dog day care franchise in the nation, new franchise owners come from a variety of sources. Turner explains, "The first and predominant way new owners find us is that they were once a customer. We get many owners who were a customer from another location. They loved the model and decided to explore the opportunity and open the business in their area."
She continues, "The second way is online search. There are a lot of people interested in franchising first, then looking for opportunities in the pet space when they realize it's growing 7% annually. We have a successful SEO program that helps people find us, or they can find us through franchise networks. We have a strong public relations campaign focused on national branding that is really meant to benefit our franchise owners, but it can also work as a potential franchise funnel."
When it comes to vetting and onboarding potential franchise owners, Laurie Windler, Vice President of Operations provides this insight: "Once a franchise owner has gone through the application process, the potential owners come spend a few days with us to meet the leadership team and tour a Camp. We want them to really understand what the operation will be about. It's a mutual interview to determine if they are the right fit for our brand."
If a partnership is awarded, both parties move forward with building a new business. Windler explains the elements of the education and training process: "We do extensive training. There is a lot more that goes into this than just the love of dogs. Safety is number one. So extensive education is available for every new Camp Counselor to ensure they're set up for success and that everyone will be safe." Not only does Camp Bow Wow provide training on how to care for the dogs, they also provide business training and on-going coaching to help owners operate a successful business and maximize revenue.
All Camp Bow Wow caregivers are known as Certified Camp Counselors and are extensively trained in dog behavior, pet first aid, and CPR. All facilities provide regular exercise, socialization and rest opportunities. And each facility performs extensive socialization reviews for new dogs, ensuring their personalities are compatible with both dogs and Camp Counselors. Windler notes, "We have a very specific interview process that we go through with every dog to determine whether they are a good fit with this environment. We make sure they are going to be safe and have fun and be able to play well with others – just like any other parent would want for their children."
While Camp Bow Wow is the largest dog day care facility in the nation, its eyes are set on an international audience. "We want to be the leader in North America and internationally. We want to continue to lead with our innovation and meet the new and expanding needs of our pet parents across the country and world," states Windler.
The company expects to double in size over the next five years, and believes it's poised to do so, easily. As Turner explains, "We've built this industry and established the standards." As Camp Bow Wow moves forward, the partnership with VCA will undoubtedly aid in its growth and outreach. "They've been a tremendous partner, and have given us opportunities for larger initiatives, and to grow into the future."
Check out this handpicked feature on Clean Juice – Where franchisees become family.
AT A GLANCE
WHO: Camp Bow Wow
WHAT:  A dog daycare and boarding franchise company
WHERE: Broomfield, Colorado.
WEBSITE: www.campbowwow.com