Yager Stadium
Graduating champions
Business View Magazine interviews representatives from Yager Stadium, as part of our focus on best practices of sports stadiums and venues.
Yager Stadium is a football stadium in Oxford, Ohio, and home to Miami University men's football team, the RedHawks. It has a seating capacity of 24,286, and was built in 1983 as a replacement for Miami Cook Field, which had been used since 1895. The stadium was named for Fred C. Yager, class of 1914, who was the lead benefactor in the project to build the new facility. In addition to the football team, Yager Stadium is also utilized by the university's club and intramural sports programs, other university programs, and various outside groups.
Due to the successes of Miami's football program, the university has undertaken a continued series of facility upgrades beginning in 2003 with the addition of a FieldTurf playing surface. Other substantial upgrades of the facility include: broadcast-quality permanent lighting, a scoreboard including a Daktronics video board, and a new "Cradle of Coaches" plaza on the south side of the facility in 2004; and new student bleacher sections on the east sideline and the north end zone in 2005. Over the last few years, the stadium has also added a significant number of WAPs, or Wireless Access Points, to handle the Wi-Fi needs of the fans, the media, and the ticket office.
According to "Coach" Steve Cady, Miami University's Senior Associate Athletic Director, future upgrades are planned. "Within the next two years, the scoreboard is on target to be replaced," he notes. "The last time it was upgraded was when the Cradle of Coaches plaza was completed. We'll also need to replace the turf, again." (For those who aren't familiar with Miami University lore, the Cradle of Coaches is a nickname given to the school for its history of producing successful sports coaches, especially in football. Bob Kurz, a former Miami sports communications worker, popularized the term in a 1983 book, though the school's association with the nickname goes as far back as 1971. Miami frequently inducts former coaches into the Cradle of Coaching Association for their feats as alumni.)
In 2017, a new Athletic Performance Center was constructed at the north end of the Yager Stadium playing field, replacing the north end zone seats. Serving as an addition to the Dauch Indoor Sports Center, the Athletic Performance Center added new facilities for Miami's football team including offices, meeting areas, a 140-seat auditorium, locker rooms, and laundry and equipment spaces. Also included was a new Mercy Health Sports Medicine and Orthopedics Center, including a hydrotherapy suite, exam rooms, and treatment and rehabilitation machines. The Center also features a weight room that is used by the football team, as well as other university sports teams, such as field hockey, tennis and softball.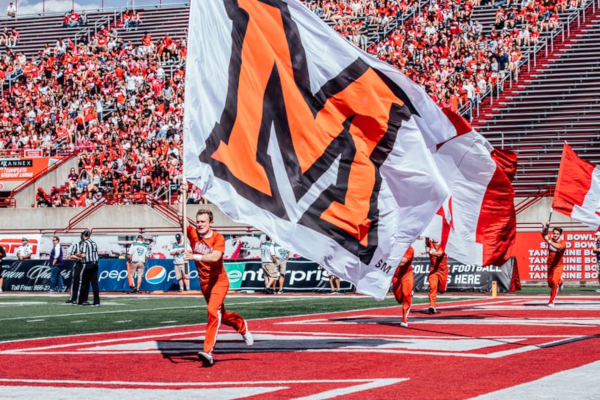 The center is attached to a full-size, indoor practice facility comprised of a 120-yard turf field, a sprint track, and pole vault and high jump areas. There's also a series of nets that allow the baseball and softball teams to use the facility for indoor practice during the winter. The facility is designed to meet LEED principles, with heating and cooling partly supplied by 80 geothermal wells.  Yager also undertook renovation that now provides updated locker rooms, a student athlete lounge, indoor golf practice area and newly renovated offices for soccer, field hockey, tennis, track, softball, and golf teams.
D Angelo Solomon is Miami University's Associate Athletic Director of Revenue Generation, responsible for everything that generates revenue for the university's sports programs, specifically football, men's and women's basketball, ice hockey, and volleyball. "The plan is to increase revenue each year through ticket sales and sponsorships. In order to provide our student athletes with a great four to five year experience, we need increased revenue year-over-year. More revenue usually means we've been successful in attracting more fans to purchase tickets to support our student athletes," he explains. "The success of our athletic department heavily relies on how successful we are in ticket sales and sponsor opportunities.  More revenue equates to more resources for all of our programs." Solomon sees the Yager Stadium and the Athletic Performance Center as strong tools for enticing prospective student athletes to attend Miami University. "They provide us with a great opportunity in recruiting a higher caliber athlete," he states. "It really sets us apart from our competitors in the Mid-American Conference."
Lindsay Sparks, Assistant Athletic Director for Marketing and Fan Engagement agrees. Sparks says that her overall mission is to support the school's student athletes in their pursuit of excellence, generate revenue, build attendance, create a unique game day experience, and protect and highlight the Miami brand. She explains, "I talk about my area in two different ways – the 'Know' factor – making sure that people know that there are events that they can attend, and the 'Wow' factor – making sure that they have the opportunity to have a good time while they're at our events. We work hard on those two areas."
The tagline for Miami University's sports teams is "Graduating Champions." Solomon explains its meaning: "Our vision for all of our student athletes is to graduate champions," he says "Not only are we helping these young men and women to graduate, but we want them to graduate with championship jewelry on their hands. So graduating with a conference title is a huge goal of ours."
FieldTurf – www.fieldturf.com
FieldTurf is more than just a turf company. We are the pioneers of today's generation of artificial turf and the innovators for tomorrow's cutting edge sports surfaces. FieldTurf is the trusted surface of Yager Stadium, over 150 fields in Ohio and over 20,000 installations worldwide.