Bayfront Landing
A lively tourism & convention hub
Business View Magazine interviews Gus Pine, General Manager of Bayfront Landing, for our focus on Resilience in the Hospitality & Events Sector
Situated along the shores of Lake Erie in the midst of charming Pennsylvania countryside, Bayfront Landing is a thriving 128,000 square foot event destination enhanced by a beautiful backdrop. This modern meeting center has not only survived the rollercoaster ride of the prolonged pandemic for the service industry, but it has also come out on top and enjoys business and leisure numbers that are comparable to 2019 – before COVID-19 was even on the conference and meeting radar.
Playing up the natural charms of the local area and providing a local experience for its tourist and business visitors has been the ticket to Bayfront Landing's overall success. Located a short distance from Presque Isle State Park and within walking distance to the popular attractions of Downtown Erie, Pennsylvania, visitors can truly experience all that the city and its surroundings have to offer while enjoying Bayfront Landing's top-notch facilities.
Not content to provide a standard convention center experience, Bayfront Landing has gone the extra mile to roll out the red carpet with a first-rate culinary experience and an emphasis on 'everything local' to provide a unique business and leisure stay for its valued guests.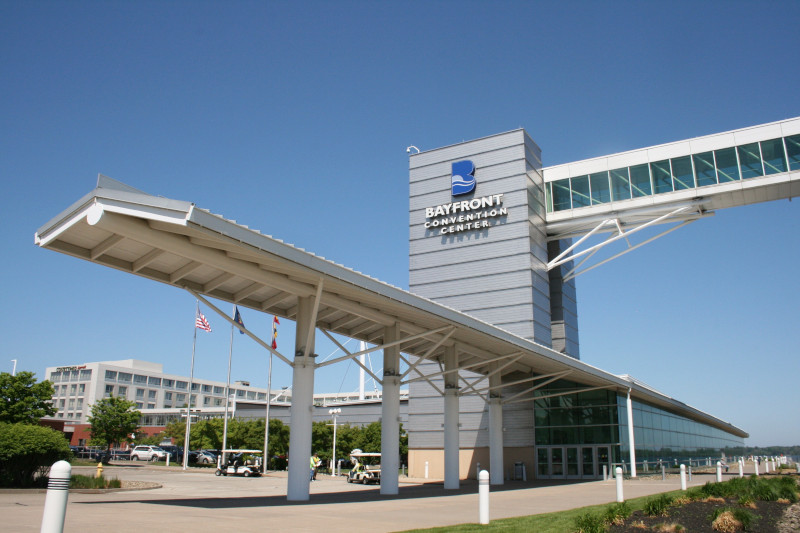 "The first buildings went up in 2007 and 2008 but the planning for the development came much, much earlier," Gus Pine, General Manager of Bayfront Convention Center says. "This was previously a gritty industrial area on the bay right on the water. There was a shingle manufacturer and a lot of other industrial sites down here that necessitated full remediation of the area."
A public decision to revitalize the area and create something that could be enjoyed by locals and attract visitors helped propel the initial development of Bayfront Landing. This general move toward providing a tourism and convention hub served as an economic incentive and led to plans to bring the meeting space to life. "We started building up the convention center and the 200-room Sheraton Hotel was finished just after that," Pine states. "It was quickly realized that 200 rooms were not enough to support the demand that was coming in, so plans were started to create a second hotel that was finished in 2017."
Pine identifies that the decision to upgrade to a 400-room capacity for the development was a critical juncture from a selling standpoint. A project of this magnitude represented a great opportunity to go out and attract conventions to Bayfront Landing. "You need somewhere near 400 rooms to be able to attract the conventions that would fit in our convention center," he explains.
After the second hotel was completed the time was also ripe to develop a marketing strategy that would lead to a rebranding of the entire campus. A name that would easily be identifiable with the entire development and increase tourist and business interest as a result. "In 2018, we started the marketing discussions and that was the creation of Bayfront Landing," Pine says. "This area grew to the point where we felt it deserved the name, in and of itself. We used to say things like complex and campus and we really wanted a name that we could go out and send outside of the area to be able to promote this, similar to the National Harbor development near Washington, D.C. Tungsten Creative has worked with our organization on several projects and assisted us in creating the name, logo, and tagline for Bayfront Landing."
The marketing blitz for what is now called Bayfront Landing, however, was derailed during 2020 due to COVID-19 and the associated lockdowns resulting from it. With business and leisure numbers now up at encouraging levels and the worst of the pandemic likely behind us, promoting the brand is very much back on the business agenda.
Helping to address its increased business, the Bayfront Landing group has worked with different partners to help move its convention plans forward. They are also cognizant of making sure the conference team is providing the right type of customer relations. "We often talk in terms of customer experience versus customer service," Pine describes. "A customer's experience is about a lot more things than just a friendly voice on the phone or getting things in a timely manner."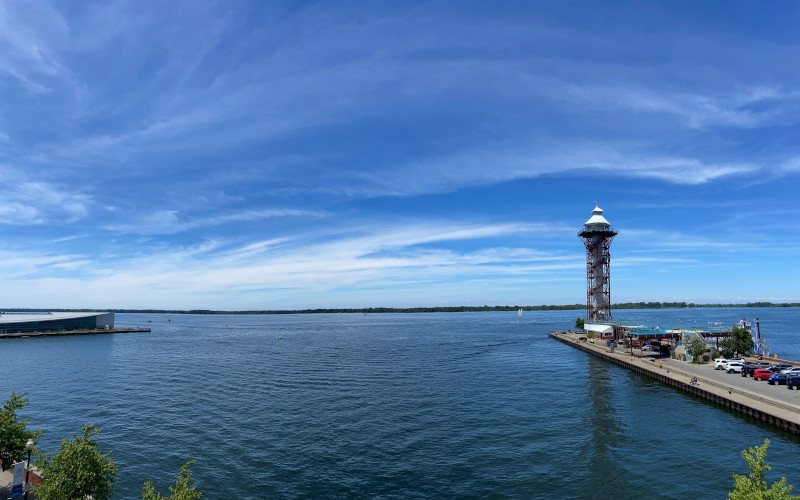 To best provide a seamless customer experience, the management of Bayfront Landing ensures that the conference staff is walked through the appropriate ways that demonstrate to clients a competency beyond what other convention and meeting centers may provide. "If we look at ourselves as compared to our competitors, we are up in the corner of the state, so a statewide or regional booking means travel is on the list," Pine outlines. "We may not be the top choice if travel is the only decision element. So we have to be really good at all the other things. We partner with other companies to create efficiencies for customers and we strive to provide a customer experience that exceeds others."
One area in which Bayfront Landing has gone the extra mile, proving it is giving the competition a run for its money, is in its food and beverage offerings. Prior to the onset of the pandemic, Bayfront Landing was able to offer its customers an exceptional menu with many options. But then COVID-19 changed the restaurant game with the restrictions put in place that affected buffet options. Pine argues that these restrictions served as both a curse and blessing for the restaurant staff.
"All of a sudden buffets were seen in a totally different light because you share tongs or maybe buffets set up in the event center did not have sneeze guards," he reflects. " However, coming out of that gave us the opportunity to really start from scratch and ended up, in my view, to be a benefit. In a building like ours, when you go to update your menus you keep some items that did really well and replace some that maybe didn't sell well or were not as popular in the past."
To shake things up and lead the pack when it comes to conference cuisine, Bayfront Landing's chef turned to offering fresh from scratch menus, rather than relying on frozen or premade options that other conference centers use as menu staples. "Our chefs coming out of the pandemic wanted to stand that 'premade conference menu' on its head and our menus are designed to be almost 100% fresh serve items," Pine notes. "The items come in raw and they are prepared in our building with meat cut often by our kitchen and all vegetables are fresh cut versus frozen. This makes a noticeable difference to the end product."
When looking ahead to what is in store for Bayfront Landing, Pine is full of optimism. With a host of things in the works for people to do when they visit, including a possible ice cream or candy shop and a market house to buy groceries, Bayfront Landing is continuing to provide a unique and local experience for its guests. "The next three years is all about Bayfront Landing," Pine concludes. "In the past, we have sold this as a convention destination under the moniker of Bayfront Convention Center. We now have a substantial brand and we will continue to grow the elements of that brand over the next several years."
AT A GLANCE
Bayfront Landing
What: A popular event destination featuring a convention center, hotels, restaurants, and more
Where: Erie, Pennsylvania
Website: https://www.bayfrontlanding.com/