Ala Moana Hotel
A Honolulu Landmark
Business View interviews Daniel Barnard, General Manager of Ala Moana Hotel, for our focus on Resilience in the Hawaii Hospitality Sector
For 52 years, the Ala Moana Hotel in Honolulu, Hawaii has been providing an exemplary guest experience, catering to the local (Kamaaina) business population, as well as the holiday and leisure market. With 1,200 rooms overlooking the enchanting offerings of the island of Oahu, visitors will be captivated by views ranging from lush mountain ranges, sparkling ocean ambience and the everchanging city skyline.
Centrally located, Ala Moana is a two-minute walk to the Hawaii Convention Center, and only eight miles from Honolulu International Airport. For shopping enthusiasts, Ala Moana Center, a premier shopping venue featuring prestigious fashion brands and speciality retailers, is just steps away with direct access from the hotel via the level 2 footbridge, while those craving sand and surf can enjoy a visit to Ala Moana Beach, or the famous Waikiki Beach which is only a short trip down the coast. Guests can also explore the dynamic city of Honolulu, touring historical attractions like Iolani Palace, or enjoying the diverse shopping and restaurant experiences on offer.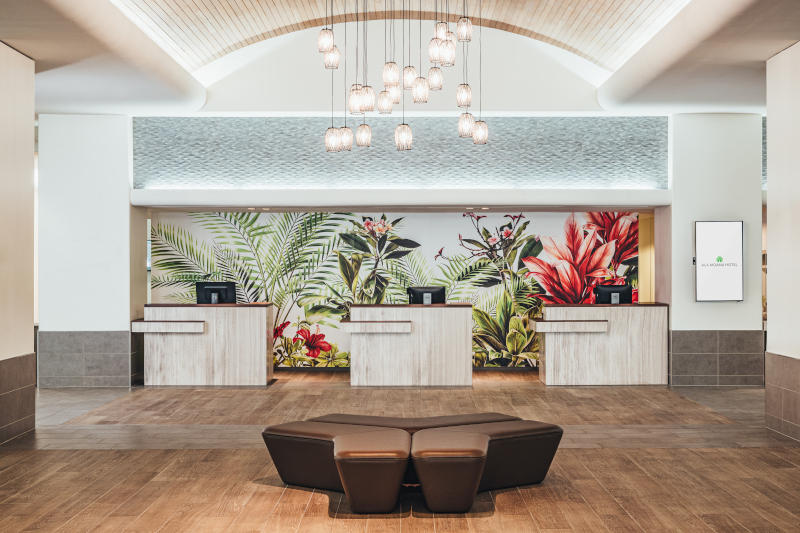 With in-house dining options like Signature Prime Steak and Seafood – a favorite among locals and tourists since 2013 – GM Daniel Barnard believes the hotel is a destination all its own. "Signature Steakhouse, they do a fantastic happy hour. It's bustling every single night, and it does exceptionally well" he shares. With the recent addition of Dada Salon and Café, voted the number one salon in Honolulu, the hotel has a variety of food & beverage options also including Starbucks and Café 410.
Ala Moana Hotel is also looking forward to the opening of the iconic bar and restaurant Pint + Jigger, a Hawaiian culinary and cocktail favorite. "Those are some of our key partners, and I think that really enhances the product that our guests can enjoy when staying here at the hotel," says Barnard. "It gives you everything. You've got the hotel, the shopping center just across the road, great restaurants, great salon, great bar, beautiful pool area. You really don't need to go anywhere else once you are here."
Officially known as Ala Moana Hotel by Mantra, the hotel is part of Accor, a global company with over 5,300 hotels around the world. With a vast range of offerings in its portfolio, including the Mantra brand, Accor has an overall vision for their team members. As Barnard describes, "We want our team to feel valued – that's really our promise. When I say feel valued, I mean they feel valued coming to work, they are looked after in the workplace, there's opportunities for growth, there's opportunities for learning. These are all things that we promote. I believe that the company really cares. There's a lot of time and investment spent in the development of people and giving them the tools that they need to do their job." Part of this investment includes Accor Academy, a training institute offering both online and in-person learning opportunities, which are open to all of the hotel's team members.
Employing approximately 350 people, Barnard reports that during COVID, staffing issues have been one of the challenges Ala Moana Hotel has faced. He explains, "We went from a period of no business in hotels, where it was very hard to give staff hours, to bouncing back very quickly. When you look across the tourism industry as a whole and certainly hotels, restaurants, and bars, there's now more of a challenge to actually find people to work. Whereas, previously, we were finding it hard to find work for people."
Supply of items like linens and toweling have also been problematic, with Barnard reporting that it was difficult to source these items as the industry started to experience a come back. He shares, "Of course, everybody wanted it at the same time. As we got busier, we knew we needed to replenish linen and toweling in the hotel, so we contacted our suppliers and we pretty much bought everything that we could on island. Anything that needed to be manufactured on the mainland or elsewhere, it was 9 to 12 months before we could receive it. That proved a challenge."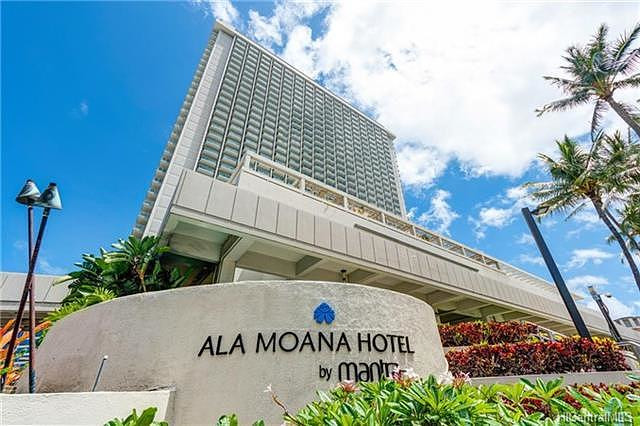 Adding that the strain was on the cleaners, who had to increase turnaround times to get sheets back on beds, he reports, "Thankfully, that has settled down now. Hawaii tends to bounce back from any blips that we see across the globe in terms of hospitality and travel. I think it has shown again that people want to come here. It's a great destination. People generally feel quite safe in Hawaii. Despite having minimal international business, the visitor numbers have been very strong coming into the island, certainly the last few months."
A recent refurbishment of the hotel's public areas has created a brand-new experience for guests of Ala Moana. "The arrival experience to the hotel has completely changed. The lobby area and reception desks, up to our conference space and our level three pool area, all underwent a major refurbishment that's really brought the hotel to life. We've received some fantastic feedback from people who are really seeing and feeling the differences," Barnard recounts. Currently the exterior of the hotel is receiving what he describes as "a bit of a facelift", which includes patching, repair, and a fresh coat of paint. When that project is complete in 2023, there are plans to refurbish the guest rooms – refreshing these areas and further updating the look of the hotel. "It will complement the public areas that have been done already, and I think it's really going to be well received by our guests coming into the hotel," says Barnard.
Investment in technology is ongoing at the Ala Moana Hotel, including updating all guest rooms to a new RFID locking system. "We are always looking at what is best practice," Barnard asserts. "The next thing that will be introduced is new CCTV. People feel more comfortable when they see that around a hotel. It gives them that sense of safety and security. Upgrading that system by having a lot more cameras and much more functionality is going to be a great addition for the safety of the hotel." In other technology upgrades, Smart TVs will be brought in as part of the room refurbishment, bringing that up to current guest expectations.
In terms of green initiatives, Barnard maintains, "We are always looking at what we can do better. Throughout food and beverage, we have removed all single use plastics in line with what's happening across the islands. The next thing for us is working with suppliers to remove single use amenities." This will include the introduction of high-quality tamper-proof wall mounted dispensers in all guest bathrooms. He adds, "It will be a great product, and it will mean that there's going to be far less wastage, using packaging that can break down. So that's something that we're going to look to introduce towards the end of this year. It will take a couple of months to roll out."
As for what comes next, Barnard exclaims, "We are really excited for the future ahead. The Ala Moana Hotel was always known as a place to meet, and great food & beverage was a big part of that. People stay in hotels, for sure, but they create memories, often, in food & beverage. That's where you have your celebrations, birthdays, weddings, christenings, etc. I think that's going to be a big focal point for us, having five individual food & beverage offerings."
In essence, the Ala Moana Hotel is a significant fixture on the island of Oahu, attracting both locals and visitors. "We really try and position ourselves to support local Hawaiian," Barnard emphasizes. "I feel that is something that the hotel has been known for forever, really, since it was built. It was known as the landmark hotel in Honolulu. It was the tallest building when it was first built back in 1970. We've always tried to stay true to that. It served us very well through COVID, and locals continued to support us, which was amazing. We want to make sure that we don't forget that. We want to make sure that we continue to welcome them and continue to be a place where everyone wants to come."
AT A GLANCE
Ala Moana Hotel
What: A 1,200 room hotel catering to local business and holiday and leisure guests
Where: Honolulu, Hawaii
Website: www.alamoanahotelhonolulu.com
Veritiv Hawaii – www.veritivcorp.com
Veritiv Corporation is a full-service provider of packaging, JanSan and hygiene products, services and solutions. Additionally, Veritiv provides print and publishing products and logistics and supply chain management solutions. Serving customers in a wide range of industries both in North America and globally, Veritiv has distribution centers throughout the U.S and Mexico, and team members around the world help shape the success of its customers.