ThermalWood Canada Inc.
Making music and more
Business View Magazine interviews Bob Lennon, Co-founder/Partner at ThermalWood Canada Inc., for our focus on the Canadian Construction Sector
The City of Bathurst is a scenic town of just under 15,000 people, tucked away in Northern New Brunswick at the estuary of the Nepisiguit River.
Operating from its Bathurst headquarters is a pleasure for ThermalWoodCanada Inc., a company that offers high-quality thermally modified wood products for a wide range of outdoor applications like decking, siding, and outdoor furniture, and indoor applications like furniture, paneling, flooring, and musical instrument components.
According to the International ThermoWood Association, headquartered in Helsinki, Finland, thermal modification is a 'heat treatment' technique that improves the wood's technical properties, making it non-toxic, dimensionally stable, resistant to decay, and resin free.
ThermalWood Canada is one of a handful of companies in North America that produces thermally treated wood and has been doing so for the last 14 years. With the emergence of the pandemic and subsequent stay-home orders, the company experienced tremendous growth from one of its core product lines – guitar necks made from thermally treated wood.
"One of the largest guitar companies in the world reported that at the height of COVID, 16 million people picked up a guitar for the first time," says Bob Lennon, Partner at ThermalWood Canada. "Another major company confirmed this, noting that their backorder timeline has climbed from three months to 17 months, signaling tremendous demand for guitars and the products we produce."
Although musical instruments are currently one of the primary growth drivers for the company, Lennon explains that its revenue streams are divided into four areas.
"The first stream is residential and commercial products like decking, siding, flooring, and any other place with wood covering," he says. "The second revenue stream is doors and outdoor furniture. We work with manufacturers who provide us with component designs, which we manufacture and ship whenever they send a purchase order."
The company's third revenue stream comes from custom treatment orders. Lennon reports that companies will send them wood to thermally modify and ship back. "Most times, we are not sure what they are building with the wood," he says. "They will send us several pallets, up to containers full, of wood that we'll treat, repackage, and send back to them. Sometimes the wood will end up as far away as New Zealand or England."
ThermalWood Canada's fourth revenue stream comes from manufacturing components for the music industry, including guitar necks, fretboards, bodies, tops, sides, stave drums, and wooden flutes.
The company is currently working on a new product to replace ebony wood. A long-time music industry favorite, ebony wood has recently fallen out of favor due to its protected status and all the licensing and compliance paperwork required to work with it. "So we've created Obsidian Ebony, a real wood alternative made from thermally modified maple or birch that we infuse with resins and dyes to get the right color," says Lennon. "Once cured, it has the same density, tone, and stability as that of ebony wood."
ThermalWood Canada has been working on Obsidian Ebony for the last five years and recently managed to design and produce the world's first Obsidian Ebony manufacturing machine, in conjunction with CCNB (New Brunswick Community College).
Bob Lennon founded ThermalWood Canada in 2008 in partnership with his brother-in-law Pierre Friolet, currently the company's General Manager. "In 2005, Pierre, who worked in wood harvesting, came across the thermal treatment equipment while on a fact finding mission," Lennon recalls. "He returned with an armful of thermally treated wood samples and told me that was where the future lay."
Over the next three years, Lennon dug into the technology and concept, understanding its viability and, in the process, developing a business plan. Coincidentally, the mining company Lennon worked for was planning to shut down and shift executives overseas, so he was also looking for an exit plan. "I was one of the senior managers, so I was getting transferred to another country," he says. "My family told me it was great I was going to get my own postal code because they planned to keep theirs."
"So, I had quite a bit of incentive," he laughs. Eventually, in 2008, the company was established, and Lennon and Friolet grew it from a two-person gig into the thriving company it is today.
ThermalWood Canada currently employs 10 employees who work out of a 46,000 square foot facility. All manufacturing is done inside the facility; only some wood stock is stored outside for weathering purposes. "Besides the employees, my son (Jonathan) and my wife (Suzanne) also work here," says Lennon. "Jonathan works in the front office with me, managing various administrative tasks, while Suzanne, who recently retired from a 40-year nursing career, works in the custom shop out of the back and recently released a bespoke furniture line."
Lennon says that the small size of the team and a family-oriented culture have resulted in a long tenure for many employees, with some having worked there since the company's inception.
ThermalWood Canada sells all its products directly to customers and uses only one logistics partner – Weston Forest – for all the distribution and fulfillment work in Ontario. Lennon notes, "A couple of years back, we came to an agreement with them on how to structure our distribution model, and it's worked so well that we are more of partners now, with each party freely sharing information with the other."
He maintains that they sell directly to customers because the industry is prone to shortcuts and poor-quality products. "Thermal treatment is a fairly new technology that many people don't understand . When the industry started in North America, some companies started cutting corners to reduce operating costs, impacting wood longevity and spoiling the industry's reputation in the process."
ThermalWood Canada does not cut corners in any of its processes and faithfully follows all the conventions laid out by the International ThermoWood Association, of which it is a member. "The thermal treatment process relies on strict guidelines if you want a particular outcome," explains Lennon. "If you shorten the process, you will get a very different product with few of the properties of genuine thermally treated wood."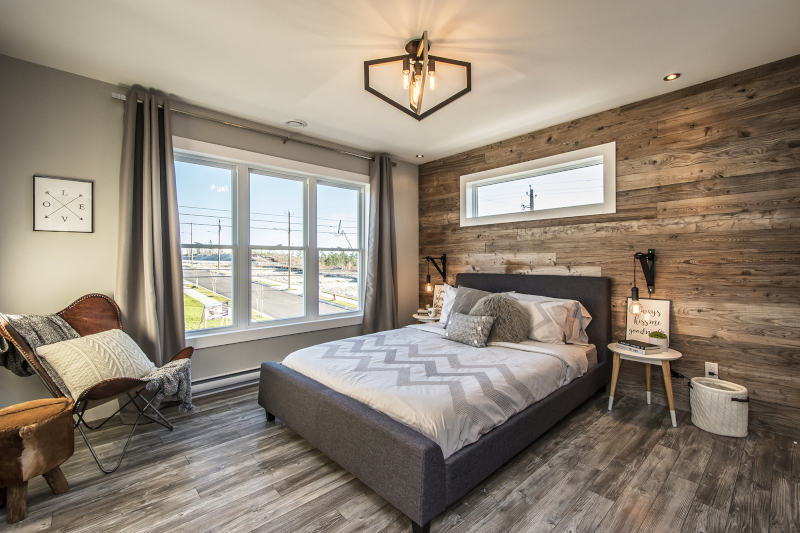 ThermalWood Canada uses the ThermoWood treatment process with three primary stages; the drying phase, where all moisture is removed from the wood; the heating phase, where the wood is subjected to high levels of controlled heat; and the curing phase. Although the International ThermoWood Association owns the ThermoWood® trademark, which ThermalWood Canada uses, the ThermoWood process was developed and patented by the VTT Technical Research Centre of Finland.
Looking ahead to three to five years, ThermalWood Canada is angling for more growth in the United States, Europe, and Asia. Lennon acknowledges, "We're working on growing our distribution down the Eastern Seaboard of the United States from Maine all the way down to Florida. We're also looking to bring some of our products to Japan and Korea and already have some initiatives in Europe that we hope will grow over the next few years. Our long-term plan is based on strategically growing our markets globally through relationships with partners in those areas, so we can move forward and build a global company with customers around the world."
AT A GLANCE
ThermalWood Canada Inc.
What: A producer of high-quality thermally modified wood products
Where: Based in Bathurst, New Brunswick
Website: www.thermalwoodcanada.com