Forbes Bros. Group of Companies
Delivering Powerful Solutions
Business View Magazine interviews Matthew Forbes, CEO of Forbes Bros. Group of Companies, for our focus on Power Infrastructure in North America
Forbes Bros. Group of Companies is a proudly Canadian family-run business, originally started by three hard-working and innovative brothers. Setting up operations on a farm in Arborfield, Saskatchewan, the Forbes siblings adopted two industries – agriculture and the powerline sector, switching between the two for seasonal reasons. Eventually, the trio all become journeymen linemen. It wasn't long before they realized that the powerline side was outgrowing the farm side, and they made the decision to go full time into the powerline business.
As opportunities were presented, the company grew organically. "In the early days, the family continued to chase work and looked to expand outside the province," recounts Matthew (Matt) Forbes, CEO of Forbes Bros. Group. "In the late 1990s, we decided to take the jump and acquired our first company, which has been a steady strategy ever since."
This was the start of the company making active inroads into the market and taking the lion's share of the industry in Saskatchewan, Alberta, and throughout Western Canada. At the time, the Canadian Government passed legislation that required new, large-scale infrastructure projects be completed.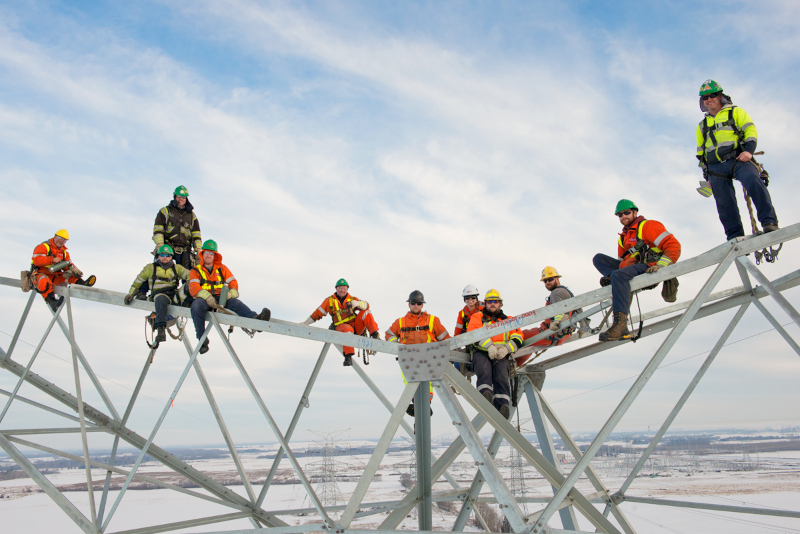 The Forbes Bros. Group seized the opportunity and expedited plans to invest in establishing a large transmission division, as well as cementing relations with the local utilities. This resulted in the company rapidly expanding, a trend that carries on to this day.
During the boom in the market, the company was able to develop some very innovative techniques for powerline construction. The funding for this innovation was driven by the sheer amount of transmission work that was occurring. "Our most significant investment that we made was into using helicopters to erect really large transmission line structures," says Forbes. "Through partners, Erickson Air Crane, we developed an efficient technique for erecting lattice towers." It's this drive that keeps the company's services at the cutting edge. Currently, Forbes Bros. Group is one of the fastest and largest transmission and line contractors in North America.
As the firm identified that Canada was about to experience a slowdown period for linework, Forbes Bros. acquired Interlake Power Lines, who were contracted for the exciting hydro construction on the Bipole Three Project. After successfully purchasing Interlake, Forbes Bros. were now contracted to Canada's largest integrated electricity and natural gas distribution utilities. Soon afterwards, they began efforts to expand into the United States. "We expanded organically down into the U.S. with some focus on renewable scopes," says Forbes. "Developing a corridor between Edmonton and Houston, which was our first focus."
The company started their mergers and acquisition strategy around 2016 by acquiring non-union SP Timberland. In 2017, they purchased a union entity called Payton, and followed that in 2018 with the Titan acquisition – a smaller startup with a substation division. Since then, Titan has rebranded to Forbes Bros. Utility and Construction, and has seen substantial growth in the U.S.
Looking back at the Canadian powerline market, the company identified British Columbia Hydro as a large client. Rolling out an inorganic strategy, Forbes Bros. bought a company called Valley Powerline to secure contracts. They have been able to extend these initial contracts for 5-10 years more. In Ontario, the team went with an organic expansion and secured a deal with Hydro One. Forbes attests, "Our focus right now is on buying and seeking, finding, and executing on a really large scale for transmission lines or substation projects."
While everyone gears up for the new scope of battery powered devices, Forbes Bros. is starting to include this into their service offering as well. "We're also looking into different scopes," says Forbes. "This includes battery storage, electric vehicle charging stations, and other new electrically powered projects. There's just such a large push into clean energy opportunities." The company has opened a new division to focus on these new electrified scope projects in the future, which has been identified by all as an unmissable opportunity.
As a family company, Forbes Bros. Group understands the smaller partners in the game – the "mom and pop" shops. It's these smaller companies in the U.S. that they want to join forces with and provide them with equipment, manpower, and expertise to take on large scale jobs.
This strategy has been adopted in the U.S., since power grid companies are not state-owned, like the provincial power suppliers in Canada, but are a lot more fragmented. Forbes explains, "In partnering with these smaller organizations, we're able to assist them to pitch for larger investors and establish long-term relationships. Also, maintaining this presence in these areas means that when projects do present themselves, we're able to mobilize towards them with regional partners."
Research is ongoing to find clients in segments such as general contractors (GCs). Currently, the company partners with most of the top five GCs in the U.S. and Canada. This drive to execute renewable work has meant the Forbes Bros. Group is on the radar to provide transmission substation and collection systems. Forbes admits, "Expanding into the U.S means we're heading into an extremely active market, due to the size and fragmentation of it. Different regions of the U.S. are needing to connect to different renewable sources, and most of those are across state lines. We've seen between three and six times growth in a relatively short two to three year period."
Keeping a full complement of qualified employees is extremely important to the Forbes Bros. Group, which is why they have rolled out an attract and retain policy. With roughly 1000 employees, the top leaders at the company know this has been a successful strategy for over 30 years. When it comes to engaging indigenous people, the Forbes Bros. Group ensures that they make it a high priority, whether their clients ask for this or not. It's the company's belief that they need to earn the respect of, and understand, these communities' needs across Canada.
"We're currently carrying this philosophy down through the U.S.," says Will Myers, VP of Business Development & Community Relations. "It shifts in America to engage indigenous communities. as well as those who are minorities." Forbes Bros. prides itself on being as inclusive as possible. "We're working on ensuring that we do it the right way and that our impact on traditional land is consensual and for their benefit. Their inputs are valuable and cannot be ignored," says Myers.
The Forbes Bros. Group has in-house engineering staff that form the core of the business. Their mission is to develop tower and foundation designs that keep them current and that also abide by OSHA (Occupational Safety and Health Administration) standards. But that's not the company's main drawcard. "I think that one thing that makes Forbes Bros. stands out is our innovation, we collaborate with technology partners, from whom we will globally source our towers and materials," says COO, Diane Giacomozzi.
Innovation is also in demand right now. Primarily, most global forces are wanting to expand their portfolios and offerings in solar installations and inverter technology. While this is innovation at a high level, Forbes Bros. has also focused inwards, ensuring their staff at a grassroots level have access to the best equipment. Tail boards are captured on iPads, meetings are recorded in the field, and the filing of information and data happens in real time and is uploaded to a cloud data system.
"If you compare where the line industry was 10 years ago, you'd barely recognize it, due to the level of technology in use," says Myers. This deployment of technology is also using robust and progressive systems and is tied to the enterprise's resource planning.
While their employees are vital, success on this scale cannot be achieved without also making strong relationships. Whether it's different partners, subcontractors, engineers, or procurement capacity, they go out of their way to ensure the job gets done no matter the scope of the task. Companies like Domino High Voltage Supplies have been amazing, in this case as a niche supplier who focuses on providing materials that Forbes Bros. need.
Summing up the feelings of his family and the company, Forbes shares, "We're proud that we've obtained substantial growth from our strategies, and we know that there are awesome opportunities ahead. We've spent a lot of time and effort establishing ourselves as being different. And we want to capitalize on new investments going forward, towards electrical infrastructure across North America. Also, we're optimistic about being able to provide more careers that are long-term. We're excited about where all these developments will take us in the future."
AT A GLANCE
Forbes Bros. Group of Companies
What: A leading power infrastructure construction business
Where: Canadian headquarters in Edmonton, Alberta
Website: www.forbesbrosgroup.com
Domino Highvoltage Supply – www.dominohighvoltage.com
Domino Highvoltage Supply is Canada's only coast-to-coast distributor of materials in the medium and high voltage sectors. Our product line is extensive and with our global reach we can source and provide quality assurance for any specialty products you may need. Domino has a comprehensive range of services, such as testing, tool rentals and repairs, project management and quality control. We can help you get your project done on time and on budget!