Fraser Homes
custom designed houses to meet every buyer's taste
Putting the client's preferences first, Frase Homes provides a custom fit
With a reputation for building beautiful and unique homes to reflect every designer's taste, Fraser Homes is one custom builder that has proven its might in the Saskatoon market. Locally owned and operated, the home builder was established in 1996 in Saskatoon, Saskatchewan. As a family business currently run by brothers and partners Clay and Troy Fisher, Fraser Homes built its first show home on Laycoe Court in Silverspring in 1996. Today, it designs homes in a variety of neighborhoods in and around Saskatoon including Stonebridge, South Kensington, Edgemont Park Estates, Hampton Village, Greenbryre Estates, and more.
Fraser Homes professionals take clients through the entire design process from soup to nuts. The firm conducts its own design and drafting in-house. It also has the ability to provide custom options in a variety of sizes of houses, property sizes, and locations. "All of our clients have different requirements, wants, and needs," says Clay Fisher. "You can get all that with us."
The company carries a significant amount of lot inventory on hand. Many clients want to view available properties before construction begins. They offer different options for lots of all locations and sizes depending on the homeowners' budget. Clients generally build their own mortgage bankers to the table.
Fraser Homes is a member of both the Saskatoon & Region Home Builders Association and the Canadian Home Builders Association, as well as a member of the Saskatchewan New Home Warranty Program. These memberships show a dedication to building quality homes, commitment to customer satisfaction, and adherence to a strict code of business and industry ethics.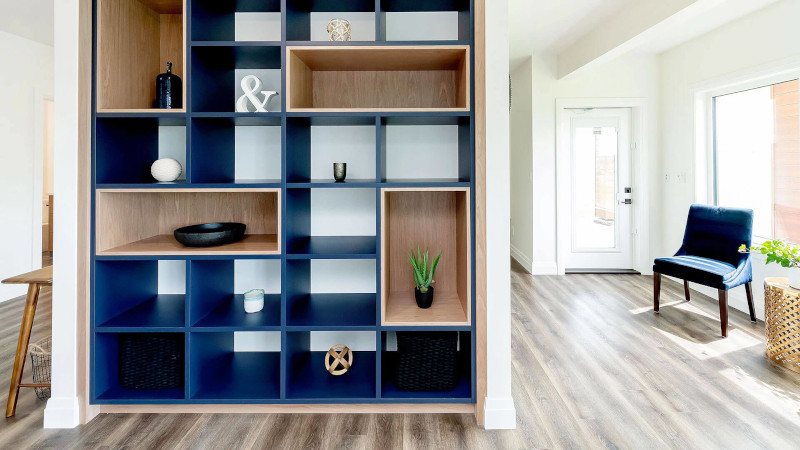 Fraser is quick to point out that the team is active in the community and for its nearly 30 years in business has displayed a commitment to supporting worthy causes in and around Saskatoon. The firm has contributed to numerous charities including the Children's Hospital Parade of Homes and is currently supporting Community Safety Net.
Many of our Fraser Homes' suppliers have been with the firm since its inception, which helps reduce delays, especially during peak seasons. Fortunately, these skilled laborers and contractors have developed long-term relationships with Fraser. This has helped since the start of the COVID pandemic when there were frequent supply chain issues.
"We have had zero issues on the labor end," Fraser says. "We feel extremely fortunate."
There have been a "few struggles" with getting the right raw materials in time for certain projects, but Fraser says they have always managed to find a way to get it done, even if slightly behind schedule. However, there have been no major construction frame issues. A typical example of a project behind schedule is having to put in a temporary sink in a bathroom while waiting for the parts to arrive for a client's preferred sink.
It also helps that raw material costs have decreased over the past several months, making the custom home process more affordable for homebuyers.
"The good news is that all of our clients are so understanding of the situation because they have read about the supply chain issues," Fraser says. "The key is to be (transparent) and honest about the situation."
Those strong existing relationships with suppliers have been critical in this regard. One such local partner is J&H Builders Warehouse, which has provided all of Fraser Homes' framing materials from door and window frames to roof trusses for more than 20 years. Floor Covering Direct is another local partner that provides all of Fraser's flooring, kitchen backsplashes, carpets, laminates, and other materials. "I think they are the only flooring provider we have ever had since the start of our business," Fraser says.
Finally, Norsask Gypsum Interiors is an important partner that supplies drywall boards. There are other partners as well, too many to frame, Fraser says. "We have an unbelievable team of partners and subcontractors," he adds.
Many prospective homeowners are looking for simple, sleek lines in custom homes, according to Fraser. There is less overall interest now in major trim details. General preferences for drywall corners are reverting back to the older, traditional square style that had been popular in the 1980s and 1990s. Says Fraser, "it's all about clean lines now."
One trend that has remained over the last 10-20 years is the desire for an open floor concept, especially in the living room and kitchen areas. That is particularly of interest for busy families who are regularly "on the go."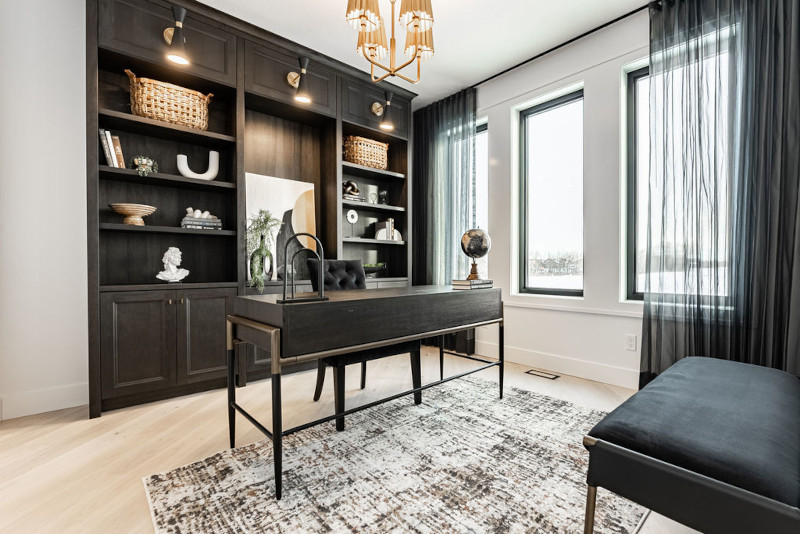 Those families also prefer some of the acreage development that Fraser Homes is building in many communities in and around Saskatoon. These are often one-half to one-acre lot parcels that offer plenty of space between homes. They include yards that are big enough to enjoy outdoor activities and can be perfect for families with small children who need a little extra space.
However, these types of homes are increasingly appealing for professionals who can work remotely or retirees who want to move away from bigger cities as well, Fraser says. "Since the pandemic, many people wanted to get away and spend more time at home, whether they work from home or not," he adds. Edgemont Park Estates is one of the primary housing developments with these features and characteristics.
Some homebuyers are looking for environmental features to build into their custom homes, but there's a price to it. Fraser Homes is always conscious of offering these options, from net zero carbon construction to solar panels. The fact that the firm is a true custom builder means any of those options are on the table, depending on supply chain availability.
Most homebuyers aren't asking for these sustainable features, as they can significantly increase the cost of a new home, but there often is long-term savings on energy costs and the potential for governmental tax credits.
When asked about potential firm expansion into other provinces or the U.S., Fraser indicated that expansion outside of the general Saskatoon area is unlikely at best. Fraser Homes only employs a handful of professionals and is very focused on remaining a locally-owned, family-run business. According to Fraser, "being local allows us to maintain a high level of customer service and further establish our relationships with partners and sub-contracts, which keeps the focus on clients in this area. We want to focus on building quality homes here."
As Fraser mentioned, direct communications with clients and establishing long-lasting relationships with suppliers and contractors are two of the most important qualities and custom builder can have.
Fraser Homes uses Buildertrend's software, which enables its clients to access information about their new home build 24 hours a day, seven days a week online. Clients can access the software to correspond with its on-site crew. Plus, Fraser Homes' office staff provide build and cost updates, to make sure the project remains on budget
Perhaps the most important feature for a homebuilder is to know the community in which it operates. As Fraser says, every development comes with certain challenges that require advanced planning or unique solutions, whether it is challenging grading or variable soil conditions.
According to the Fraser Homes website, and Fraser himself, clients will work with experts who want nothing more than to provide you with an exceptional building experience, eliminating any surprises and making the process enjoyable.
"We want you to be part of the Fraser family and we are confident you will enjoy working with our staff, our tradespeople, and our suppliers," he concludes.
AT A GLANCE
Fraser Homes
What: Locally owned and family run top tier custom home business with unique design options for its clients
Where: Saskatoon, Saskatchewan
Website: https://www.fraserhomes.ca/