Timmerman Timberworks
Building for the future
Business View Magazine interviews Charles Ferguson, Director of Construction & Operations at Timmerman Timberworks, for our focus on Mass Timber Building
Timmerman Timberworks is helping to revolutionize the Canadian construction industry. The New Lowell, Ontario company manufactures and designs mass timber – using state-of-the-art technology to turn mature trees like White Pine and Douglas Fir into large structural panels, posts, and beams that are strong, aesthetically pleasing, and a renewable resource.
While using wood as a structural element is nothing new, it's taken a back seat to materials like concrete and steel over the past century. With new technology and a renewed focus on sustainability, mass timber is coming to the forefront of construction once again and Timmerman Timberworks is at the helm.
"People are starting to realize its capabilities, not only from a architectural standpoint, but now from a structural one as well," says Charles Ferguson, Timmerman's Director of Construction and Operations. "It's the structural components supporting the building, but also saving on finishes and provides a completely different environment for the end users. It's just a phenomenal material. I've been in construction my whole career – 20 years – and have never seen anything like this as far as a revolution in the industry with architects and developers jumping on board. I think it's going to completely change the landscape over the next 10 years."
Originally founded by Henry and Michael Krans, the team at Timmerman Timberworks has been working hard for decades to provide true craftmanship, utilizing heavy timber to build custom homes with traditional timber framing. But things really began to take off over the past five years when Timmerman was tasked with providing mass timber for a significant project at 80 Atlantic Avenue in Toronto.
"It was the first six-story mass timber commercial office building in Canada for generations," Ferguson says. "That has just had a snowball effect since then and really was a starting point for mass timber structures in this part of the country. It spring boarded us into several other six-story buildings and multiple design opportunities for expanding mass timber. It's a kind of evolution in the commercial construction industry."
Timmerman has become an industry leader in heavy timber construction, offering everything from design and engineering all the way through project management, build, and installation for both residential and commercial projects across Canada.
"We're what you would call a structural integrator," Ferguson says. "We can convert a pre-designed structural steel building or work with developers that want to start from the ground up with a timber structure. We complete preliminary modeling, design drafting, engineering, connection detailing and fabrication work with our team. We carry that right through to procurement, to fabrication, to delivery, and then erection on site."
Timmerman Timberworks operates a 30,000-square-foot facility in New Lowell, which is located just outside of Barrie, Ontario. There they manufacture and fabricate nail-laminated timber (NLT) and fabricate Glulam (glue-laminated timber) beams, which are versatile and durable engineered wood products that can be made into any shape or size. They also fabricate solid sawn for structural beams. One of their biggest sources for heavy timber is Muskoka Timber Mills located in Bracebridge ON.
Timber structures are long lasting, durable and can be finished in a variety of styles from rustic to industrial. Ferguson explains, "If you look at wood rail bridges, or road bridges, they've been exposed, some of them for 100 years or more. Wood as a material is very, very robust. It doesn't need to be coddled. Additionally, if you apply one of the finishes or advanced coating that are now available, it can maintain a like new appearance over the long term."
Wood is also a sustainable and inexpensive resource, which makes it ideal for those who are looking to make eco-conscious decisions for their builds. "We are dealing with a lot of people who are carbon conscious, environmentally conscious, and many of them are interested in mass timber net zero buildings, with carbon sequestration – in recent years increased government support has become available, including government programs for green building practices," Ferguson says. "We are seeing a lot of low-income housing that's going up using mass timber."
Timmerman, which began with mostly residential builds, now primarily takes on commercial projects. They use their years of experience making custom residential creations and they apply that workmanship to their commercial enterprises. "With commercial builds you're seeing bigger members, CLT or NLT (cross-laminated timber, nail-laminated timber) floor and roof slabs pushing building taller, but the design of the connections and our knowledge of wood capabilities is still the same," Ferguson says. "We can utilize similar connection mechanics from mortise and tenon-style timber framing and pull it into a larger construction atmosphere; you're going to see more development of wood-on-wood connections, as opposed to nuts and bolts and steel plates."
The company is constantly working to expand its knowledge of timber. As the only automated nail-laminated timber panel manufacturer in all North America, they have been working to produce a prototype that will double production capacity over the next 2 years. "There's some huge innovation here with what the final product is going to be able to do," Ferguson says. "It will compete with things like precast and core slabs, and also with other mass timber products such as CLT."
Nail-laminated timber is a more cost-effective alternative to CLT. It can be produced at a lower price point and be installed at the same rate. Ferguson admits, "I don't like to self-advertise, but personally I love the look of it. It has a completely different appeal than CLT. When you walk into a building and you see a ceiling made of NLT panels, the lines of the long, crisp NLT laminations contrast beautifully with the warmth and rusticity of the wood. It's a structural element that can make a strong architectural impression."
Timmerman as a business is reflective of the material itself. It runs with strong core values but they also like to have some fun. The company has several employees at its core that have been there right from the start, while new qualified and hard-working faces have been added as they've grown over the past 20 years. "The integration and the overall culture I would say is very light," Ferguson shares. "But we take our job seriously. We still have a lot of fun but there is a lot of work to be done. Our core is construction which can be a bit rough around the edges. There's a lot of hard work from our crews and boots on the ground they get a lot of respect for bringing the visions from paper to life. It's a fun place to work, and very busy most days."
Moving ahead to the future, Ferguson sees Timmerman continuing to grow and further establishing itself as a leader in the timber industry. "I want us to become more innovative, more specialized and recognized as one of the leading design and erection companies," he says. And for mass timber itself – Ferguson doesn't see its growth as a building material of choice waning any time soon.
He reports, "I don't see the mass timber wave slowing down. Given the number of inquiries we see from institutions from all parts of the country and from the private sector, it is very clear that it is just not slowing down. Right now, there seems to be no limit to the appetite for the product." He believes a lot of that appetite can be attributed to the pandemic, noting, "Employers want to have office space where people enjoy coming to work, they are looking beyond the standard, boiler plate cubicle look – they want a workplace that people can feel good about."
AT A GLANCE
Timmerman Timberworks
WHAT: Manufacturer of mass timber that offers full-service construction
WHERE: New Lowell, Ontario, Canada
WEBSITE: www.timmermantimberworks.com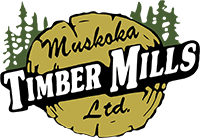 Muskoka Timber Mills – muskokatimber.com
Muskoka Timber Mills is a family owned business that was established in 1992. We started as a sawmill and have grown to add multiple product lines. From custom cutting timber, texturing interior wood, and a lifetime warranty of our exterior wood siding; everything is done here.
"We make wood look good!"