H2O Midstream LLC
Care of our most critical natural resource
Business View Magazine interviews Darrell Bull, VP Engineering, and CEO, Jim Summers, of H20 Midstream LLC for our focus on Innovation in the Energy Sector.
H2O Midstream LLC was founded on the vision that water should be treated as a commodity, not a waste. Led by an executive team with over 120 years of collective midstream experience, H2O Midstream partners with producers, landowners, and other stakeholders to improve the efficiency, reliability, and safety of water operations while lowering costs across the entire value chain. A full spectrum of midstream energy capabilities enables the company to efficiently manage water in upstream oil and gas operations and reduce the high costs of water logistics.
H2O Midstream was formed in April 2016, though the vision for the founders – Jim Summers (CEO), Darrell Bull (Executive VP & Chief Commercial Officer), Gauri Potdar (Senior VP, Strategy & Analytics), and Stephen McNair (Executive VP, Permian Basin business unit)  – started six years earlier, with the advent of horizontal drilling and hydraulic fracturing. Recently, Business View Magazine spoke with Summers and Bull for an in-depth look at their company's foray into the revolutionary realm of midstream water. The following is an edited transcript of that conversation.
BVM: What was the impetus behind the formation of H20 Midstream?
Summers: "Going from vertical to horizontal drilling and the development of hydraulic fracturing completely changed the way water was managed. It went from a few thousand barrels to drill a well, to hundreds of thousands, or millions, of barrels necessary to drill and complete a well. And on the produced water side – whenever you drill a well you get natural gas, oil, and water.The amount of waste water coming back, in addition to the water used to drill and complete the wells, has changed exponentially. There's more water per well, more wells per pad, and with unconventional or horizontal drilling, you don't have the ability to put that water back in the ground for enhanced oil recovery."
"I was previously COO for a company called Energy Water Solutions, where we were focused on the reuse of waste water for hydraulic fracturing. I learned, in that role, that it wasn't the quality of the water that mattered; it was getting the right water to the right location at the right time. It was a huge logistics challenge and that really solidified in my mind the need for a midstream infrastructure solution to the industry."
Bull: "Jim and I met when we were students at the University of Oklahoma College of Engineering. We followed similar career paths in the oil and gas sector and got reacquainted when he did some consulting for a company I was working for. Eventually, that led to us forming our own company. But we didn't want to be the 93rd private-equity-backed traditional midstream company out there. We both saw the vision that water was the next important commodity needing a logistics solution. I don't think we could have been more right. We launched the LLC in April 2016, acquired first assets in June 2017, and we've got a line of sight to quadruple the company in the next six months."
BVM: What do you mean by 'traditional midstream'?
Summers: "We refer to it as traditional midstream because it's the way oil and gas has traditionally been managed – by pipeline. That became well established in the 1940's and '50s. The water sector has been handled entirely different. It's been treated as a waste; it's been trucked; it's been the lowest concern. Over the last five years, the fundamentals of water have changed such that it looks more like oil and gas in terms of the volume you have to move and its critical nature to business operations. Our vision was to apply traditional learnings from the oil and gas side to the way water is managed. That, itself, is innovative."
Bull: "In some ways, we think we've done this before. We're just applying it in a new and unique way to an emerging sector – treating water as a commodity, not a waste. Similar to the way natural gas molecules are delivered in a fee-based transportation agreement, we take a producer's water from their well and redeliver an equivalent amount of water somewhere else and we charge a nominal fee. Those are innovative things that nobody's done before with water."
BVM: What do your operations entail?
Summers: "Our initial operation is in Howard County, Texas, and we cover a good bit of that county. We acquired assets from Encana about a year and a half ago and that system spans 150 miles of pipeline. We own six facilities with seven SWDs (salt water disposal wells) on them and we're connected to another four third-party operators that have a combined six SWDs behind them.
"In addition, we recently completed the first third-party, truck-free produced water storage hub in the state of Texas. The reason that's unique is, typically, producers (operators) build their own storage to use the water for hydraulic fracturing. We have an interconnected network, where we actually build storage that can be utilized by multiple customers. We have seven customers on our system that are able to use common storage. It's the first time in Texas that's been done. Our system has treatment, storage, disposal, and interconnecting pipelines.
"We hire engineers, operations people, commercial people (negotiating contracts, managing logistics), and back-office (accounting, etc.), and those four functions work tightly together as a team. It covers a very broad range of services and skilI sets. We don't do a lot of 'pure' R&D. Most of our engineering is project management and we tend to have relationships with other providers that specialize in research and development. We're more about implementing proven technologies into our system.
"Our customers are E&P (exploration and production) companies, with household names like Encana and Apache. Some are public, some private, some fairly small, some very large. It spans a significant swath of the E&P community. Our biggest competitors are operators hanging onto the business and doing it themselves. When we launched, there were only two or three companies like us. Now there are eight or ten, but I hesitate to refer to them as competitors. They're in the same industry, but there's so much opportunity that everyone has enough business."
BVM: Do you build the infrastructure as well as providing midstream services?
Summers: "We do everything. If a customer has a water problem, we'll do the design, engineering, construction, and operation of the infrastructure. We, essentially, take receipt of the water at their production location, bring it onto our system, and manage it from there. Sometimes, we'll transport it to storage, or to disposal, or for reuse. In some cases, we might actually deliver it back to the customer at a different location or at a different point in time.
"Our agreements vary from multi-decade dedications – where an operator is locked in to us as their single provider for years to come – to daily spot deals for a day or a week when a customer has excess volume they can't deal with. We help them out and there's no volume commitment. There's also different pricing at various levels of service."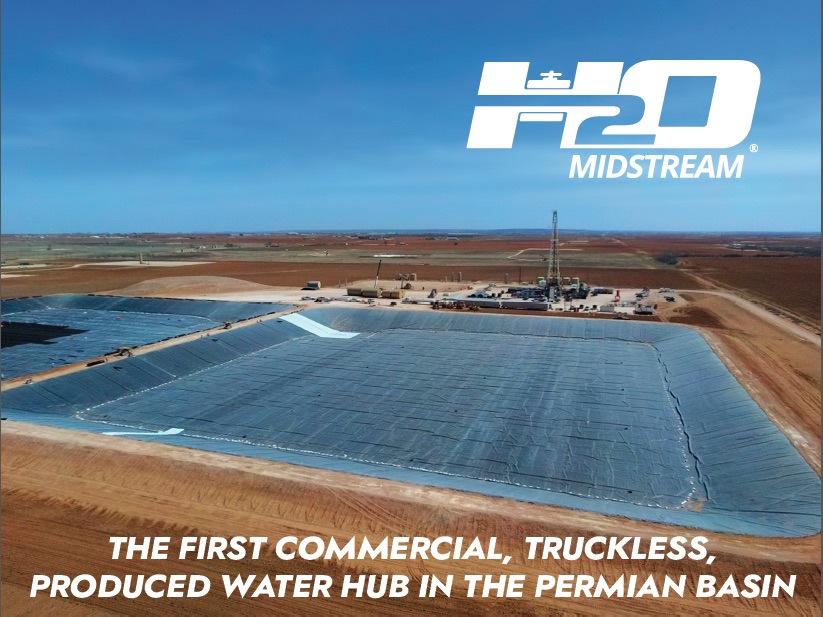 BVM: How does concern for the environment impact operations?
Bull: "Produced water is essentially heavy brine, very salty water, which isn't conducive to most growing organisms, so you want to keep that out of the environment. The state of Texas, through the Railroad Commission, does all they can to protect the environment through regulations, but those rules aren't onerous. There's not a big contingency that tries to impede oil and gas development through regulation."
Summers: "Three of the most positive things we've done to lessen impact on the environment are: Putting pipelines in place that pull thousands of water transporting trucks off the road; using shared infrastructure in a single water storage facility serving seven customers, rather than having seven facilities; and facilitating the reuse of water. Instead of consuming fresh water from aquifers and disposing of dirty water in underground injection wells, you're able to recycle that water, which is very positive for the environment."
BVM: What's ahead for the future of H2O Midstream?
Summers: "Over 30 years in the industry, I've never seen opportunities like we witness now in water midstream. You see the growth trajectory the Permian Basin is on and the material impact that will have on the country, and the world, as the whole shift in global oil supply changes. Multiply that by five, because for every barrel of oil produced, you produce five barrels or more of water within the Permian Basin. An enormous amount of infrastructure has to be built to manage that challenge. We're at the forefront of an emerging market with the opportunity to lead a team as strong as this one into that future. We're very proud of what we've built and the service we provide our customers, and we're very excited to lead the charge as we move into this next phase of development."
AT A GLANCE
Who: H20 Midstream LLC
What: Midstream water infrastructure and logistics for the oil and gas industry
Where: Houston, Texas
Website: www.h2omidstream.com