Franklin, Wisconsin
Rock solid resilience
Business View Magazine interviews representatives of Franklin, Wisconsin for our focus on Economic Development in U.S. Towns & Cities
It used to be an eyesore. It was a landfill, after all. Unused. Unsightly. Unwanted. Several years ago, a developer saw the possibilities: he converted all those negatives into a super-positive recreational space. Today, that area is essentially a goldmine for the City of Franklin, Wisconsin. Aptly renamed The Rock, it represents everything about this thriving suburb of Milwaukee. It's strong. It's solid. And it is stable.
The Rock is a hub of activity and the center of the Franklin community. It includes six replica major league baseball parks (think Fenway Park, Busch Stadium, and Oracle Park). "It started there," says Steve Bobowski, Chairman of the Economic Development Commission. "And now, we actually have our own professional minor league team here. What a neat addition it has been for athletics, yes, but it's also a fun place to go. It brings kids and parents and families to our community." The Rock also features winter sledding hills, concert areas, dining, and outdoor fireplaces. Bobowski adds, "It's an integral part of our community. It is a wonderful turnaround from a landfill into a real contributor."
It was a team effort to see The Rock come to fruition. "You surround yourself with good people, right?" laughs Mayor Steven Olson. Led by a team of smart and innovative individuals, Franklin, with a population of 36,000, provides the benefits of small town charm, along with the opportunities of big city developments.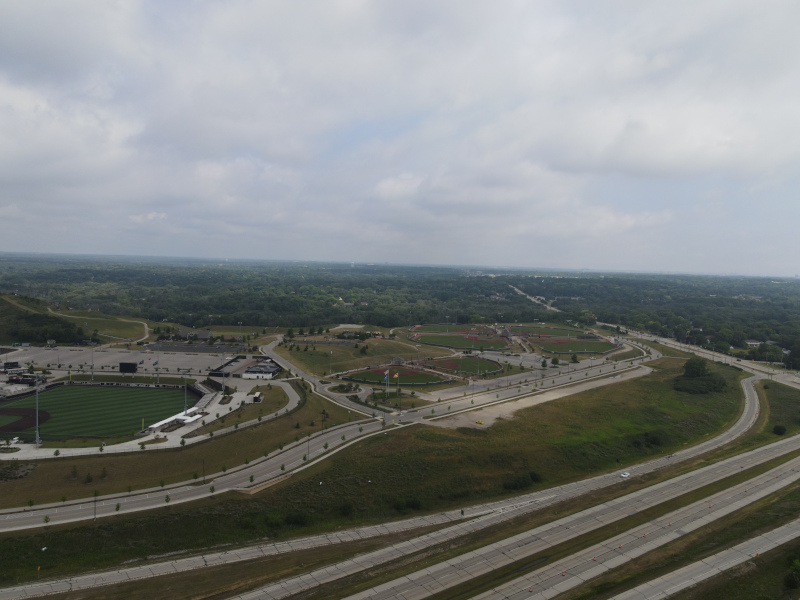 "I've had the opportunity to live in some pretty big cities," Bobowski says. "I've lived in the Chicago area and in the suburbs of New York. I guess the thing I like most about Franklin is the quality of the people and the overall atmosphere that we have here in Franklin. It's a great place to live. It's a great place to work. People have a genuine commitment to each other. There's a genuine feeling that I can win and you can win. And I think that's what separates our city from others. Franklin does a terrific job with its community events. I give a lot of that credit to the mayor and many of the things that he's done to perpetuate that. There's always something to do in Franklin, in a wholesome sort of way."
From an overall community standpoint, the Franklin city government is committed to helping businesses, but also the people. According to Bobowski, "There's a balance there, which says it's a great place where we want to continue to live, work, and have our kids go to school. It combines the best of the big, but also the best of the small."
John Regetz, Director of Economic Development, agrees, noting, "Franklin is really the best of suburban living and even some rural living and it's adjacent to a major metropolitan area in Milwaukee. We are known throughout this region for this unique quality of place that we have. It provides us with the opportunity to pursue development that incorporates a higher standard of living than you'll find in most of the rest of the Metro area. We are taking advantage of that opportunity to provide some commercial development that is going to be exceptional. We have that opportunity because we've got almost exclusive access to a new interchange to I-94. That provides us with the ability to develop the corporate business park… building on the park system that we have here to accommodate and support the workforce and the talent base that are going to be employed in those areas in those business parks."
He adds, "The striking part to me when I came here – what attracted me – is the projects that are on the deck. The ones you know about and the ones in the planning and approval process. It provides us with an exceptional opportunity in this region, which is supported by great educational and training institutions like Marquette University, University of Wisconsin-Milwaukee, and Milwaukee Technical College."
There is a strong local school district, too. Bobowski explains, "Our City of Franklin has some of the best schools around, from our elementary schools to our middle schools, to our high schools. They are second to none. It's not just the academics. It's athletics and that whole combination which truly makes it an outstanding place to educate your kids." Regetz agrees that the school system is "stepping up to the plate and creating awareness for its technical courses and technical careers in general. They're doing a great job getting students into internships and then working with students to get them involved in apprenticeships to get them tuned into the myriad of technical careers. To get them on those career paths, so they are ready to step into positions that are available right now and will be available into the future."
Growing businesses is an essential component to a healthy city and the great relationship between the Franklin high school and the local business community is a prime example that helps spur future growth. "There's a commitment here to help the businesses grow," Bobowski says. "We've also got new developments happening. You can still do that in Franklin. And the neat part about it is that it's not just taking anybody who'll come, but it's selecting companies that are committed and will be a really good asset to our community."
The available housing inventory is expanding in Franklin, too. For example, Velo Village is a housing development right next to The Rock. According to Regetz, "It's a linchpin in the developing housing market, providing quality market housing." Currently, Velo Village has 265 units. But it continues to grow, with another complex of high-end apartments, as well as a hotel in the works. In addition, businesses are sprouting up in the area – including a bike shop, and sports rehab, as well as Midwest Orthopedic. Regetz adds, "It is its own little community and it's right next to this really cool recreational facility."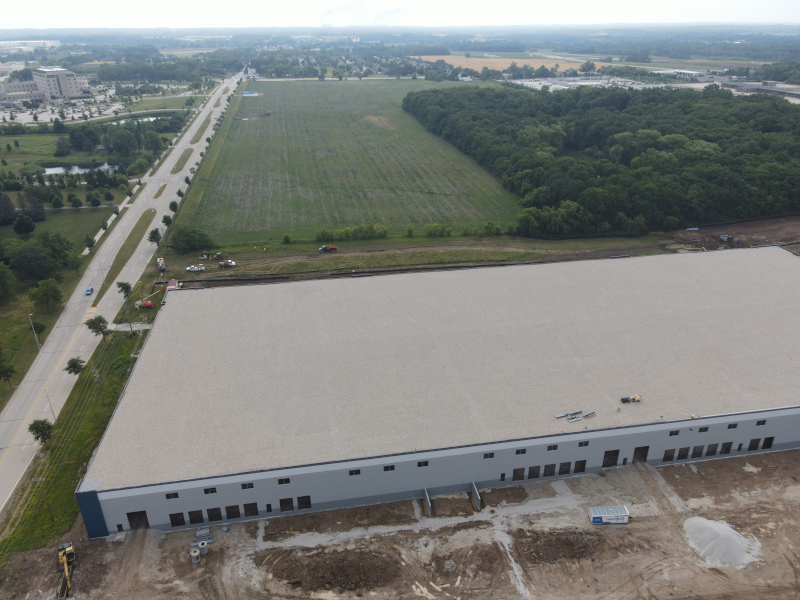 The Rock project has been so successful in Franklin that the developer, Mike Zimmerman, is hoping to strike gold once again. He is working at another mall redevelopment – turning a former commercial center and some adjacent vacant property into a multi-use development. The project will bring in residential as well as retail development. Projects such as these are openly visible in a city. The community can observe the progress of the build, get excited about what they see, and enjoy the finished product, whether it's a park or a new building. Some things, though, are a bit more behind the scenes. Take, for instance, a big change for Franklin: a new water supplier.
Mayor Olson explains, "We're going to have a new water supplier for our wholesale water. The water supply will be equally high quality, equally reliable as we currently have, but what we're doing will stabilize our rates for the duration of the contract, as opposed to what we have now. We're paying high rates and high increases and, as a city, we're moving to mitigate that." Bobowski praises Olson for his efforts, "The mayor really championed this whole idea. Water is a precious commodity and we could have just let our prices go high. But the mayor went out and found us another supply. Of course, the citizens will probably just take it for granted. You could tell people how much it would go up but until they feel the pain, they really won't get it. This is huge. It's a huge project and all of us in Franklin will benefit because of it."
Regetz shares, "Being an economic development guy, I'm just excited for the projects that support industry and job creation with all the commercial development in the works." Mayor Olson acknowledges, "We've got a head of steam going here that I think is going to survive the decade. We're going to see an expansion of what we've started to the benefit of the community and our residents. More excellent jobs… More expansion in the entertainment area… and our housing stock is just growing by leaps and bounds. So we're positioning the next ten years to ride the wave and expand it."
One might say they've got "Rock" solid resilience in the City of Franklin. "It's just all these extra things," says Bobowski. "Franklin is based on the strength of the family and the commitment. It's a great place to work and a great place to live. People should come here!"
AT A GLANCE
Franklin, Wisconsin
What: A thriving, progressive city; population 36,000
Where: Fifteen minutes' drive from downtown Milwaukee
Website: www.franklinwi.gov

S&C Electric Company – www.sandc.com
The impacts of climate change are intensifying severe weather and escalating the need to decarbonize the world's power grids. These changes are accelerating the shift to more sustainable energy systems and greater intelligence on the grid. S&C Electric Company addresses these trends by delivering solutions that provide value to our customers—reducing the cost and complexity of power outages and solving sustainability and resilience challenges.
Operating with a people-first mentality, S&C is an employee-owned company that cultivates an inclusive workplace with career growth opportunities to support our team members as we transform the grid together. From one of the most robust on-the-job training programs in the manufacturing industry to a generous tuition-reimbursement offering and countless development opportunities, S&C gives our team members all the tools they need to advance their careers.
With the recent 55,000-square-foot expansion to our Franklin, Wis., manufacturing campus, S&C remains committed to keeping career opportunities close to home. We first established roots in Franklin in 2002 and have expanded twice since then. S&C's continued investment in Franklin and the addition of more high-tech manufacturing careers speaks to the abundant talent within this community.
Apply today to grow alongside S&C and discover a fulfilling long-term career: sandc.education/BVM.