ATCO Wood Products
A legacy of forest stewardship
Business View Magazine interviews representatives of ATCO Wood Products for our focus on the Canadian Timber Products Industry
ATCO Wood Products believes "great things come from trees," not just the premium softwood veneer they produce. As a family-owned mass timber business, the company sees its role as one of a producer and steward, championing a sustainable way of doing business that serves its clients while protecting the environment.
From its Fruitvale headquarters in the heart of the West Kootenay region of southeastern British Columbia, Canada, ATCO has evolved over the decades from its humble lumber milling roots to a cutting-edge manufacturer of specialized softwood veneer products. Now in its third generation of ownership, ATCO's deep community roots have served as a source of employment for the townsfolk for close to a century. These entrenched community ties and rich history serve as a strong foundation upon which the current company is building, as it hopes to continue growing in the years ahead.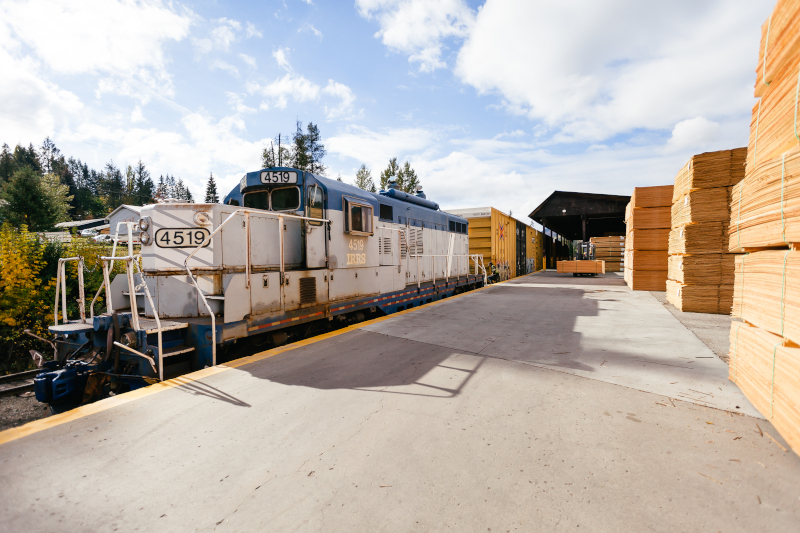 At the company's helm is CEO Scott Weatherford, who, together with his wife, Rebecca, a third-generation founder and granddaughter of the founder, owns ATCO Wood Products. "The business today has several components," says Weatherford, "softwood veneer manufacturing and our forest management business that controls the different crown forest tenures that we own." ATCO also has several private land management contracts and is involved in the merchandising and buying and selling of timber in southern British Columbia and northern Washington State.
Besides manufacturing softwood veneer, the company also manufacturers additional products like wood chips, biomass, and landscape supply products, a strategy that helps maximize the utilization of the entire tree. "About ten years ago, we acquired a short line railroad that connects our mill to the Burlington Northern Santa Fe (BNSF) network in the United States," notes Weatherford. The short line he refers to is the Nelson and Fort Sheppard Railroad, a recently shortened line that was first laid in the late 1800s. Today, the line serves as a vital link to the main US railway networks while providing value-added services to businesses along the line, including reload, maintenance of way, car switching, and railroad management.
In commemoration of the line's rich history, ATCO hopes to one day create a museum that takes visitors down the line's 130-year memory lane. "We are involved in a local effort with the community, mayor, and regional district to make that happen," says Weatherford.
ATCO's story begins in 1923, when Atle Nelson immigrated to Canada from Sweden. Coming from a timber milling background, the senior Atle settled in Fruitvale, immediately joining the local timber industry. Through a series of partnerships and strategic business decisions over the next 36 years, Atle and his sons would finally establish ATCO Lumber.
At formation, the business initially made lumber and did forest management. However, in the early 1970s, Atle's sons decided to build a factory that made softwood veneer using a rotary lathe, going on to make lumber and veneer for the next 30 years. In 2002, ATCO officially exited the lumber business, closing the remaining lumber mill to focus exclusively on making softwood veneer and the byproducts that come from that process. Over the following years, the company would be passed on, first to Atle's eldest sons, and later to his youngest sons. In 2007, the youngest son retired and left the company to his daughter, Rebecca Weatherford, née Atle. The Weatherfords have now run the company for 14 years, their tenure marked by dramatic growth, as well as an evolution into a more sophisticated and integrated company.
"Our veneer plant has 40 hourly employees and 35 full-time staff," chimes in Mark Semeniuk, Chief Operating Officer at ATCO Wood Products. The company also works with independent contractors, bringing the total number of jobs created to 125. "A significant part of our business is timber harvesting," adds Semeniuk, "meaning most of our contract jobs are independent contractors working exclusively with ATCO Wood Products." Some of the contractors he refers to have worked with the company for decades, some as many as 40 years.
Over the years, ATCO's corporate culture has shifted. Initially, the primary focus was consolidation and survival, but today, the company has embraced a transformative culture, pivoting into a fast-paced modern business. "The culture has significantly changed over the last decade," says Semeniuk, "making the company more team-oriented and open to diverse perspectives." Echoing Semeniuk, Weatherford adds that this shift in corporate culture fosters greater engagement and teamwork across the company. "We want to engage everybody in the success of the business by bringing everyone together as a team because we understand that it's the people that make any business successful."
Complementing a team-oriented culture is a singular focus on sustainable growth. As Semeniuk reports, "We are very much in a growth phase as a company, and we're currently looking for new opportunities and turning over all the rocks." This growth has not always been easy. When the Weatherfords took the reins in 2007, they did so just when the 2008 recession was about to hit, a situation that turned an optimistic moment into a fight for survival. "The first couple of years in the business found us in the heart of the recession between 2008 and 2010," shares Weatherford. "It was a very challenging time to acquire the business and move it from the second to the third generation, so our focus at that time was on survival." However, as the economy rebounded, ATCO found itself buoyed by rising demand for its products. This favorable situation has led to the firm's current growth streak, including acquiring the short rail and additional forest lands.
Reinvesting drives ATCO's success and is a major reason for consistent double-digit annual growth. "The company has for many years plowed back much of its revenues and profits into continuous upgrades, including investing in an eight-foot lathe machine and ten-foot veneer production capabilities," explains Semeniuk. The firm has also invested in a state-of-the-art steam conditioning system, the first of its kind in the country, allowing it to process larger logs and produce ten-foot veneer. These investments are geared towards creating a more specialized niche for the company, which may translate into a stronger market position, higher revenues and more jobs.
These optimistic times were, however, interrupted when COVID-19 hit. "Just as we were becoming confident that the business was improving, the pandemic hit in February and shut everything down by April," Weatherford recalls. "We were struggling to operate on a day-to-day basis because demand had evaporated and pricing was down. It was challenging."
By June, though, things were starting to look up as the wood industry began shrugging off the effects of the pandemic. "The last five months of 2020 were spectacularly strong with demand outpacing supply across our industry," says Weatherford. He suspects the reason behind this growth is that people are renovating and remodeling their living spaces to accommodate the new norm of working from home. The strong demand has continued into 2021, and Weatherford hopes the trend will continue, despite vaccine jitters and other lingering questions surrounding a post-pandemic world. For Weatherford, a primary concern is how the pandemic will permanently reshape the world and how these changes will impact the wood industry.
Semeniuk is equally cautious. "Many mills and several of our competitors ran into significant people shortages because of COVID-19," he says. "Also, most mills shut down at the height of the pandemic, significantly reducing supply that the industry must now try to catch up with."
In addition to contending with pandemic-related challenges, small family-owned timber companies like ATCO have a different and perhaps more pressing challenge in British Columbia. Weatherford admits, "Consolidation in the forestry industry in British Columbia has taken off over the last 20 years, making it difficult for small, independent family businesses like ours to continue to survive. But our response to this at ATCO is to continue investing heavily in the business while remaining agile enough to adjust to market changes quickly. We plan to continue growing from a value-addition perspective. That means improvements in safety and energy efficiency while creating higher-value products that improve our utilization of the timber we harvest from our forests."
*All photos courtesy of PhotographybyLarissa
AT A GLANCE
ATCO Wood Products
What: A third-generation, manufacturer of specialty softwood veneer products
Where: Fruitvale, British Columbia
Website: wwww.atcowoodproducts.com
Leavitt Machinery – www.leavittmachinery.com
Leavitt Machinery® is one of the fastest-growing material handling equipment dealers with 38 locations across North America. We represent several industry-leading manufacturers for forklifts, telehandlers, boom lifts, scissor lifts, skid steers, sweepers, light towers, heaters, generators, and intermodal equipment. We're proud to provide complete equipment solutions for lumber, construction, warehousing, and manufacturing industries. Our full-service branches offer new and used equipment sales, short and long term rentals, emergency and preventative maintenance, safety training, and replacement parts. Contact us today and let us know how we can support your operation