Skyline Builders Supply
Carrying on a legacy in lumber
Business View Magazine interviews Brett Butterfield, Co-Owner of Skyline Builders Supply, for our focus on the Utah Home Building Industry
Brett Butterfield's family have lumber at their roots. In fact, Brett and his brother Matt, co-owners of Skyline Builders Supply in Ephraim, Utah, are part of the third generation of Butterfields who are lumberyard and building supply business owners.
Brett's grandfather Ed started the tradition in the mid-1940s. At the age of 14, after being denied a summer job at the local lumber yard in Murray, he offered to work for free for a full week to prove himself. This started his career… culminating in Butterfield Lumber. Brett's father Steve worked there as well, and after the family sold the business in 2000, Steve started Skyline Builders Supply two hours south of the original location.
Today, Skyline has the reputation of exceeding customer expectation with unmatched collective knowledge. The company employs 12 professionals with little turnover, even though Brett admits that the company is not quite fully staffed at the moment. Finding workers for the few positions that are open has been just one of the many examples of the post-COVID roller coaster the company has been on. However, despite supply chain and labor challenges and historically high lumber prices, Skyline Builders Supply has enjoyed consistent growth. Whether building a small garage or a large custom home, Skyline helps its customers get the job done right – with quick delivery, competitive prices ,and reliable advice.
The shortage of materials caused by delivery delays the past two-plus years has led to some challenges but Skyline maintains exemplary relations with its partners. Companies like lumber provider Boise Cascade has helped Skyline meet its customers' needs even during a chaotic period for the industry. Of course, there are other industry-wide challenges the company has had to overcome since early 2020.
The cost to build or improve a home since the start of the pandemic has skyrocketed, influenced by the rising price of lumber. Futures contracts fell to $536 per thousand board feet of lumber back on July 16, 2021 — a 68% drop from the record-breaking high of $1,670.50 on May 7, 2021, according to The Wall Street Journal. The price as of June 28, 2022, had returned to $615.60 per thousand board feet after its recent high of $1,464.60 on March 3, 2022. While prices have stabilized in the late summer, they are still high.
Needless to say, this volatility has been difficult for the industry to manage, Skyline Builders Supply included. Brett acknowledges, "We provided regular written updates on the lumber market for all our clients and lowered our margins because the company did not want customers feeling that Skyline was taking advantage of them. We wanted to help our customers out because we know that everyone was feeling the pain. We have no control over the market prices." That being said, keeping prices as affordable as possible to still make a profit was noticed by their customers, and helped to keep Skyline busy when lumber prices were at their highest levels.
Skyline Builders Supply knows what they do well – and that is providing quality lumber to contractors, builders, and homeowners. While lumber is the main product and has been since the company was founded, and back to the Butterfield Lumber days, Skyline also provides trusses, sheet rock, finished goods, decking, siding, and most items that are needed to frame a home.
Many of Skyline's customers live or work in Salt Lake City, about two hours north of the company's location in Ephraim. These customers remain loyal even though they are farther away because of their high level of service and reliability. Some have been customers of Skyline Builders Supply for well over 20 years. "The secret is delivering faster than our competition, even though we are further away," Brett says. This competitive difference is the main reason that the company has developed such positive, long-term relationships with its customers.
Ephraim is a small town with less than 8,000 residents, so it's a good location for Skyline which operates like a small-town business with exemplary industry knowledge and service. As Brett attests, "We want to make it more of a personal relationship with our customers. We get to know them, their companies and their families. They are much more than customers."
That mindset trickles down to employees as well. Brett adds, "We collaborate with these great people eight+ hours a day so they are definitely an extension of our family." Some of those employees have been with Skyline for 15+ years. Brett says that if any employees need extra help, the company tries to be there for them in any way possible. That explains the low employee turnover and the willingness of everyone to chip in – including management. When one of Skyline's drivers recently retired, and finding a new driver became hard, Brett got his CDL license and started making deliveries to fill the gap.
In addition to Boise Cascade, Brett points out other partners, like timber industry leader Weyerhaeuser and building products provider JM Thomas Forest Products, as companies that have long standing relationships with the Butterfield family. And there are many others, as well. Whether it is material shortages of engineered wood or oriented strand board (OSB), these and other partners have done everything possible to provide Skyline with the needed materials.
Although, there have been very short periods when even these partners could not keep up with demand and Brett admits to taking extreme steps to meet customer needs at times. "We even ran some classified advertisements to get OSB from contractors," he says. "All of us in the industry have had to find ways to be creative. It was a rough go for a bit but we teamed together."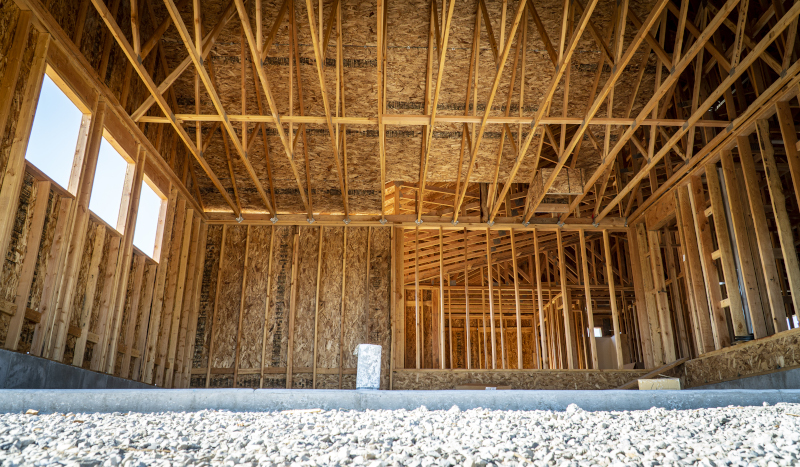 Skyline never had to shut down even in the early days of the pandemic. As an essential service, the team had to work onsite to meet client needs. "We were very careful and aware of guidelines to keep each other safe during COVID," Brett says. In fact, Skyline experienced more walk-in traffic during the first of year of the pandemic as it ever had in its history.
With that level of dedication and a proven process for running the business, Brett hopes and expects revenues to continue growing. He would like to add one or two new locations in other parts of Utah but may wait until land prices fall or at least stabilize. Utah's population is growing, and with a strong in-state brand, Skyline is poised to grow with it.
The largest percentage of new construction within Utah is coming in the residential market, specifically with multi-family units. "There are a lot of duplexes being added because they don't require as much space and, in some regions, spaces are a premium," Brett says. "The majority of these newly constructed buildings are done so with wood, largely because of how cold it gets in the winter. A small percentage of buildings are constructed with metal studs or brick but lumber should be in high demand in Utah for the foreseeable future."
At the end of the day, Skyline Builders Supply continues to thrive as a well-regarded family business. "We are a Utah-based company and we plan to always be one," Brett says with pride. "After all, that's just what Grandpa Ed would have wanted."
AT A GLANCE
Skyline Builders Supply
What: A third-generation family lumber business
Where: Based in Ephraim, Utah