Allied Alloys LP
Moving metals on a global scale
Business View interviews Nidhi Turakhia, Executive Vice President of Allied Alloys, for our focus on the Metal Recycling Industry
Founded in 2006, Allied Alloys may be a relatively new company but it has already made a significant impact in the metal recycling and management space. In 2008, the firm was approached by another scrap metal business, Titan Metals Corporation, and the two companies merged the following year to create Allied Alloys as it is known today.
Benefitting from Titan Metals' strong trading relationships with India, Pakistan, and other Far East markets, Allied Alloys rapidly expanded from a family-run organization, founded by Mitch Greenberg, to one that had the capacity to move large volumes of metal on a global scale. Based in Houston, Texas, Allied Alloys has grown from a small entity of just five employees to one that trades all over the world and currently has close to 100 employees. Nidhi Turakhia, Executive Vice President of Allied Alloys, recently spoke with Business View about the current state of the stainless steel market and her ambitions for the future of the company.
Looking back at what has been a challenging year for so many industries, Turakhia gives thanks that Allied Alloys was deemed to be part of an essential industry during the COVID-19 pandemic, allowing it to continue operating throughout the crisis. She recounts, "During the pandemic, we did not have to close our doors for a single day. We did not lay off a single employee and we just kept moving forward. Interestingly, the real estate market in the U.S. has been booming over the last 15 or 16 months. There's been a lot of construction, a lot of home renovation projects, and a lot of new home sales. We were able to help meet some of this surging demand in the construction trade."
Although the pandemic did not necessarily damage revenue streams at Allied Alloys, it did force the company to pivot dramatically. "Previously, we were heavily exporting to Asia but we completely shifted our business model to adapt to what was happening here in the U.S. as a result of the pandemic," Turakhia explains. "Instead of the majority of our sales going export, we have been meeting the domestic demand to some of the largest domestic stainless steel mills."
One thing that did not have to change as a result of the pandemic was the way that Allied Alloys treats its employees. The company culture has always been an open and understanding one – something that proved valuable during a challenging time. They followed all the guidelines, had temperature checks on-site, and provided sick pay as and when needed. Turakhia notes. "We also stopped all in-person meetings and started using Zoom to communicate virtually instead.
We were extra cautious and out of the hundred employees we had at that time, I cannot report a single one that has been hospitalized or where COVID-19 has had a significant impact on their health."
Another unconventional approach to the workforce taken by Allied Alloys concerns the company's recruitment process. In a tight labor market, it can sometimes be difficult to hire good members of staff but this is a challenge that has been overcome by outside-of-the-box thinking. "Even before COVID-19, I had put in place a few processes to help with recruitment," says Turakhia. "We teamed up with the local rehab center to give drug addicts a second chance. Individuals are picked up from the Center and driven to our site every day. I have around 15 second-chance employees on our team right now and out of those 15, four of them are transitioning to become full-time employees. We also have programs that work with ex-convicts, community colleges, and students from our local universities. It's all about being creative around where you're recruiting from and giving something back."
Turakhia believes that by adopting a company culture that looks after the local community, morale at Allied Alloys has been maintained throughout the pandemic. "I think our employees have benefitted from the positivity around our community engagement programs," she says. "We put on a food drive last year and partnered with the Houston Police Department on a Halloween drive-through for local kids. These efforts have been huge for our employees to see that we do give back to the local community."
Currently, Allied Alloys operates out of two facilities, each located just a stone's throw away from one another. Each site is roughly 10 to 12 acres but plays a distinct company role. "One of our facilities is where we store heavy stainless steel and nickel alloys, solid pieces held predominantly in an outdoor storage space that doesn't need any cover," Turakhia explains. "That's where a lot of our heavy operations and heavy equipment are also placed. The other facility is entirely indoors because this is where we store our stainless steel turnings and shavings. These need to be kept dry at all times."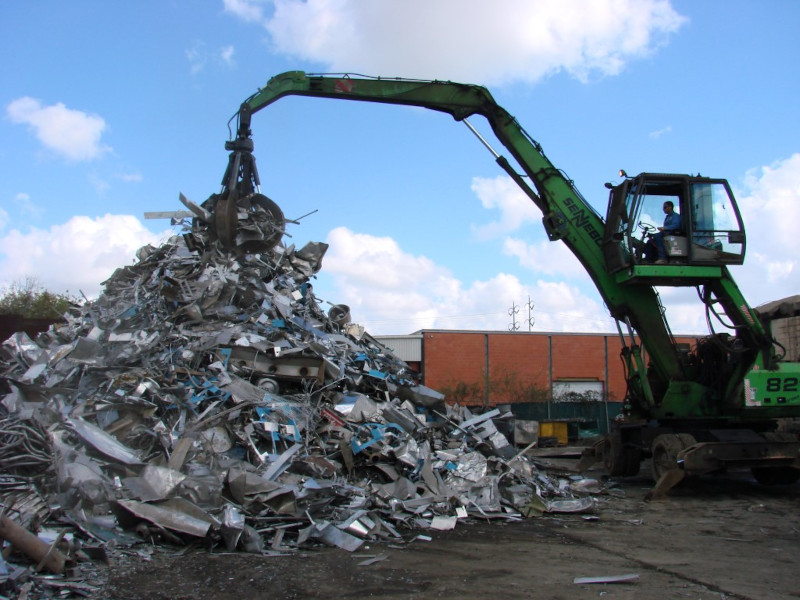 Despite the closeness of Allied Alloys' two facilities, the company certainly has international reach. "I have personally purchased material all the way from Malaysia," Turakhia adds. "In terms of where we purchase from, it all depends on the item, how far it can travel, and whether the freight makes sense. We deal in high-value items, products coming from the aerospace, appliance, or oil and gas sectors, so we cover the entire globe searching for the right deals."
Considering the sheer size of the inventory that Allied Alloys deals with, Turakhia is pleased to announce a recent technological advancement that the company has invested in. "Our new inventory software allows us to track where our containers are at all times, which is going to be a real game-changer. At any one time, we have more than 500 pieces of equipment that are stored at other people's facilities, so being able to check on these will bring huge benefits to our logistics team."
Another piece of technology that might appear insignificant is one that relates to their communications equipment. The company recently partnered with Verizon to provide every worker with an iPhone. Turakhia admits, "The great thing about this is that I can manage each individual's smartphone from my computer or laptop, so I can disable Facebook, for example, on my training operator's phone. This isn't about micromanaging; it's a serious safety issue. I can limit distractions to ensure our workers are safe when they are operating heavy equipment. I cannot personally cover all 25 acres of our facility at the same time but this app gives us a little more control over employee safety."
Looking ahead to the next three to five years, the partners, Mukesh Turakhia, Andy Mitch Greenberg, and Nidhi Turakhia aim to combine Allied Alloys' two existing facilities into one, or even find a new location where the company can load its barges directly. In addition, they have unfulfilled expansion plans for the company, sharing, "We would love to see Allied Alloys get a little bit bigger, large enough so that we cover, say, 92 countries. Given that we started just 15 years ago as a family-run business, we are hugely satisfied with our growth so far. Nevertheless, we are always looking to improve and I'm looking forward to seeing where we go next."
AT A GLANCE
Allied Alloys LP
What: A full-service metal recycling and metals management company
Where: Houston, Texas
Website: www.alliedalloys.com
Commercial Insurance Associate, LLC – www.com-ins.com
Commercial Insurance Associate, LLC is the largest property and casualty insurance intermediary for the scrap metal and recycling industries in the United States. The principals of the recycling and scrap metal practice have operational experience in the recycling industry, as they grew up around their own family recycling business, Tennessee Valley Recycling (sold to SA Recycling in 2017). This operational knowledge allows us to look at our customers risk through a different lens than most insurance brokers, providing state of the art risk control, safety consulting, and insurance programs. Furthermore, our operational experience allows us to gain trust with underwriters and develop insurance programs unique to CIA.
Insurance is defined as a "promise to pay", it is our job to design state of the art coverage terms so that the unexpected is insured. We combine this with a model that helps our clients manage risk while maintaining their bottom-line profitability. This strategy allows our customers to focus on their business and gives them a competitive edge to generate revenue and profits in a challenging, commodity driven industry.