Pryor Field Regional Airport
Gateway to the Tennessee Valley
Business View Magazine interviews Adam Foutz, Airport Manager at Pryor Field Regional Airport, for our focus on the Best U.S. Regional Airports
Pryor Field Regional Airport is located in Decatur, Alabama, but its future growth is tied to the booming Huntsville metropolitan area. Thanks in large part to the presence of NASA and the U.S. Army's Redstone Arsenal, Huntsville has been the fastest growing metropolitan area in the state of Alabama for the last 15 years. And with Mazda Toyota Manufacturing investing $2.311 billion in a sprawling Limestone County facility, Huntsville is projected to become the state's largest metropolitan area by 2022.
Pryor Field Regional Airport is located just 15 minutes from the Huntsville International Airport, but the two airfields offer a different experience. "As far as our business travelers, we have our regular clientele that come from certain businesses in the vicinity of the airport, and most of these entities do have a presence in the Huntsville metro area," says Adam Foutz, Airport Manager at Pryor Field. "I won't get into particulars but there are several that use us in lieu of the facilities over at Huntsville International just because of the ease of getting into our airport versus going to a controlled airport with different wait structures, etc."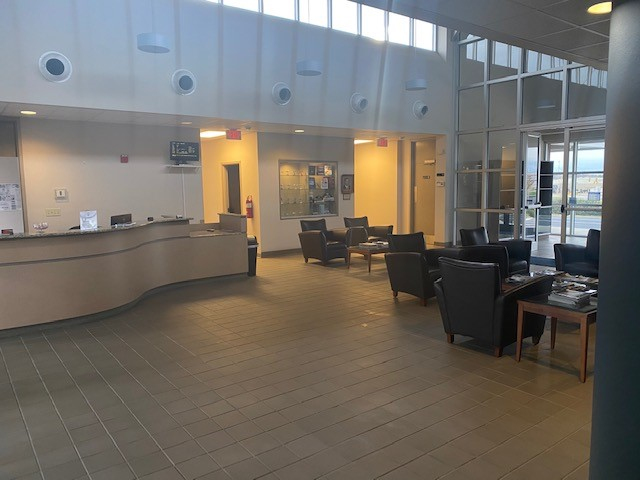 While corporate business travel is very much a part of the traffic at Pryor Field today, the airport owes its existence to the military. Founded in the 1940s, Pryor Field was primarily used as a training site for the U.S. Army Air Corps. An Alabama Historical Commission marker on the south side of the airport notes the Southeast Air Forces Training Center was constructed in 1941. Two hangars and a beacon tower at Pryor Field are among the few remaining World War II Army Air Forces Training Centers that have remained in continuous operation. The facility was deactivated on December 28, 1944 and turned over to the Army Corps of Engineers in September 1945. The former training center was later discharged to the War Assets Administration as surplus and became a civil airport. The hangars were then used to convert surplus Army aircraft to commercial airline use for the Southern Airways Company, which later became part of Delta Airlines.
Through the years, Pryor Field has maintained a significant amount of freight traffic that continues to this day. Sitting at an elevation of about 590 feet, the airport's Runway 18/36 is 6,107 feet long and 100 feet wide. The 115 aircraft based at the airport are a mix of single engines all the way up to cabin class jets. "We can accommodate pretty large aircraft," Foutz reports. "It's not unusual for us to have DC9s, 737s… modern airline sized aircraft. Generally those are very large freight loads." In addition to freight for the defense industry, there are a number of manufacturing operations in the area that use Pryor Field, such as a Polaris ATV plant and a two-million-square-foot 3M facility located in Decatur. A multinational conglomerate, 3M produces everything from ACE bandages to highly sought-after N95 masks.
Pryor Field did see a decrease in overall traffic during the early days of the COVID-19 pandemic because corporate travel ground to a halt. But there were pre-planned maintenance projects and those were 100 percent federally funded thanks to the Coronavirus Aid, Relief, and Economic Security or CARES Act. Maintenance work in 2020 included runway and taxiway rehabilitation. This year the airport plans to embark on a master plan study that will forecast growth plans for the next decade and beyond. The Alabama Department of Transportation estimated Pryor Field has a $15 million annual impact on the Huntsville metropolitan area. The master plan study will drill down into the specifics of that figure. It will also look at the expected growth of the area and how the airport can continue to meet those needs.
Future projects could involve land acquisition and examining the surrounding airspace to make sure it's protected from any encroachments. It will also likely involve the construction of additional hangars. A project to build 10 new hangars of various sizes in three different locations on the airfield has been bid and is now in the design phase. The additional space is certainly needed. There are currently about 55 people on Pryor Field's waitlist for private hangars and about 10 on the waitlist for mass storage hangars.
Having adequate hangar space is important because Pryor Field has a flight school located on the south side of the airport called Learjetjohn Aviation. "Generally the folks that train here want to stay here," Foutz explains. "And that definitely keeps us on our toes with our hangar waitlist, because we want to keep those pilots here, when we can fit them in. Learjetjohn does a great job. We're very fortunate to have them."
Another local educational entity supporting Pryor Field and the aviation industry in general is Calhoun Community College. Foutz acknowledges, "Calhoun is great. We're very fortunate to have a college that really matches the airport. They've got an air technology program and we're actually seeking to do a co-op program with students from Calhoun, so they can get real-world experience working at the airport while they finish up their plan of study over there. So we're very excited about that."
Fostering partnerships between the airport and local entities is something Foutz plans to continue prioritizing throughout his tenure at Pryor Field. The airport recently hosted the Athens Mayor's Youth Commission, a program that engages high school students from the Alabama city in civic and volunteer endeavors. "We were able to host them, really show off our airport capabilities, and feature a lot of STEM careers," Foutz recalls. "And focus obviously on aviation but highlighting that there are other careers in the industry than just being a pilot. I'm lucky to have a great tenant base with our military officers all the way up to the corporate executives that volunteered their time to share their experiences with the community and the role Pryor Field plays in it."
The airport is also happy to extend a little southern hospitality to potential new businesses. When people meet with the economic development associations of Limestone and Morgan counties, it's not uncommon for them to not only fly in and out of Pryor Field but also utilize the airport's boardroom to debrief. Understanding the potential development opportunities that lie ahead for the area will be a key part of the future at Pryor Field.
"I think that master plan coming out is really going to help us focus that vision," says Foutz. We've got a lot of opportunity at this airport. Infrastructure that's ready to be tapped and developed, whether it be a payroll tax to pivot even more corporations to bring aircraft here, separate cargo facilities where we can handle larger aircraft — really the possibilities are endless. I firmly believe Pryor Field will continue to be what we call, 'the gateway to the Tennessee Valley' and we should continue to service our constituents at very high levels."
AT A GLANCE
Pryor Field Regional Airport
What: One of the busiest general aviation airports in the state
Where: Tanner, Alabama
Website: www.flydcu.com