Arnold Palmer Regional Airport
On a strong and steady course
Business View Magazine interviews Gabriel Monzo, of Arnold Palmer Regional Airport, for our focus on U.S. General Aviation
Gabriel Monzo has been actively involved in aviation for quite some time and his passion knows no bounds. He is not only in charge of two regional airports – the Arnold Palmer Regional Airport, which handles commercial flight services, and the Rostraver General Aviation Airport – he is also Executive Director for the Westmoreland County Airport Authority and the President of the Aviation Council of Pennsylvania.
He shares, "I've been in the aviation business for 38 years and my background has always been in public safety. What I see from that experience is that aviation was and continues to be on the forefront of everything that will lead to our recovery process after this pandemic." It's true, most regions in the country, whether urban or rural, have airports. And for many communities, the airport is the main place that is determining and following guidelines for public safety. Because of this, people look to airports as models of how to create safety protocols for unexpected things, like a pandemic.
"There are 128 airports in rural Pennsylvania," Monzo reports, "and we were the first people to take up the mask mandate and figure out how to work within it. We are the ones dealing with vaccinations and how to handle that from an employee and a consumer point of view. Let's take a non-COVID issue like electric cars, though, and see how airports can contribute: If the airports put in electric car charging stations, which we are in the process of doing, then there are 128 known places where you can stop and buy a sandwich and wait for your car to charge. You cannot tell me people will not start planning around that – or that we are not leading the way in this area. The airports become the go-to examples of how to get things done in the middle of change and we are the ones who are going to set the standard."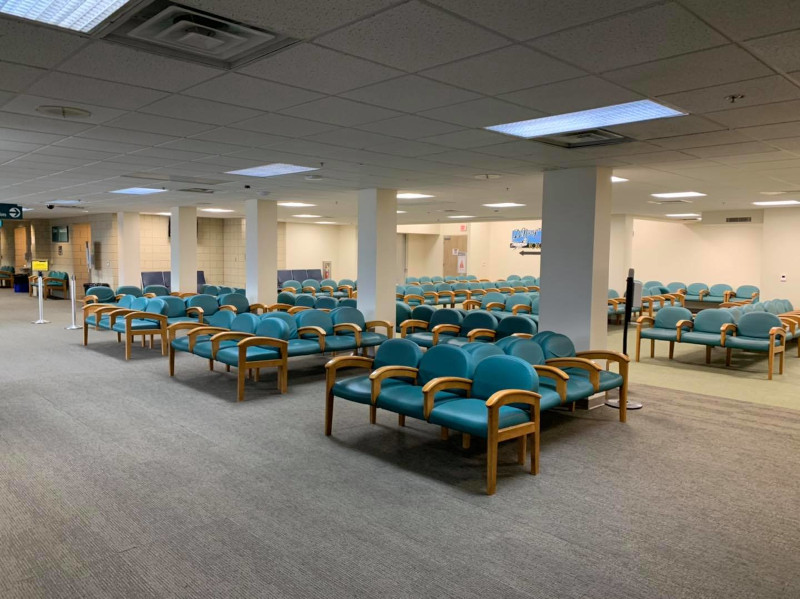 The Arnold Palmer Regional Airport in Latrobe, Pennsylvania started life as the Longview Flying Field in 1924. It then evolved into the J.D. Hill Airport in 1928, Latrobe Airport in 1935, and Westmoreland County Airport in 1978. In 1999, the name was changed to Arnold Palmer Regional to honor the Youngstown native golf legend who grew up less than a mile from the runway where he watched the world's first official airmail pickup in 1939 and later learned to fly himself.
Nestled in the scenic Laurel Highlands of southwestern Pennsylvania and operated by the Westmoreland County Airport Authority, the airport is located on 750 acres along routes 30 and 981 in Unity Township. It has an updated terminal and air-traffic control tower and a newly extended 8,224-foot-long runway. Twenty employees work behind the scenes at the terminal and then another 60 are contracted to Spirit Airlines for above and below the wing service.
"The Latrobe Country Club is three-quarters of a mile down the road," says Monzo. "Right beside Arnold Palmer's house. It is quite amazing that he grew up and learned to fly right here. This is also a beautiful rural area that is only 50 miles from the city of Pittsburgh. People come here for fishing, skiing, hunting, and yes, golf." The city of Latrobe is small with just under 9,000 people, but the catchment area for the airport includes all of Westmoreland County – about 375,000 people. As a smaller, leisure airport, Arnold Palmer Regional also pulls people from Ohio, West Virginia, and New York.
"We are primarily focused on those commercial passengers," says Monzo. "So we have three rental car businesses on the property and a very good restaurant, DeNunzio's Chophouse, which is very popular. We have put about 300,000 people through the terminal this year in terms of airline passengers, and if you look at people at the restaurant or the rental kiosks, as well, we see probably one million people through the airport each year."
Arnold Palmer Regional has two fixed-base operators. L.J. Aviation is one of the top charter operations in the country. They have about 150 employees and 40-50 percent of those are pilots who fly all over the world. The second is Vee Neal Aviation, they have a couple of Citations that they charter and they also have a very active flight school. In terms of commercial carriers, the airport is well served by Spirit Airlines.
The pandemic brought about some changes to the airport facilities, as Arnold Palmer Regional replaced their HVAC with up-to-date filters and added ultraviolet filtration systems. They also increased the cleaning regimen. Whereas the entire airport was sanitized once a week previously, they began to do it between every flight. There was also a surprising positive story that came about… "There was a point last summer," says Monzo, "when Spirit pretty much went out of business for a period, and we assisted them. We stored nine airbuses here on our old runway, so they had someplace to stay while they were not flying the aircraft. We did not even charge them, but it was great advertising to have nine aircraft, which all said Spirit on the side of them, parked at our little airport. It looked pretty impressive. It was making a silk purse out of a sow's ear."
When it comes to visibility in the community and promoting aviation, Arnold Palmer Airport is quite active. They work with the Latrobe High School aerospace engineering program to do tours and set up learning opportunities. Sometimes in partnership with other corporations. The nearby Westmoreland Mechanical Testing Facility does a lot of mechanical testing for Rockwell and Boeing and that will be part of the tour. Since the airport is also at a primary crossroads for the State, with over 50,000 cars a day, they have also put up a large electronic sign that can be rented out to local organizations such as the Rotary and Kiwanis, or the Chamber of Commerce. It is an simple and effective way to help promote local affairs.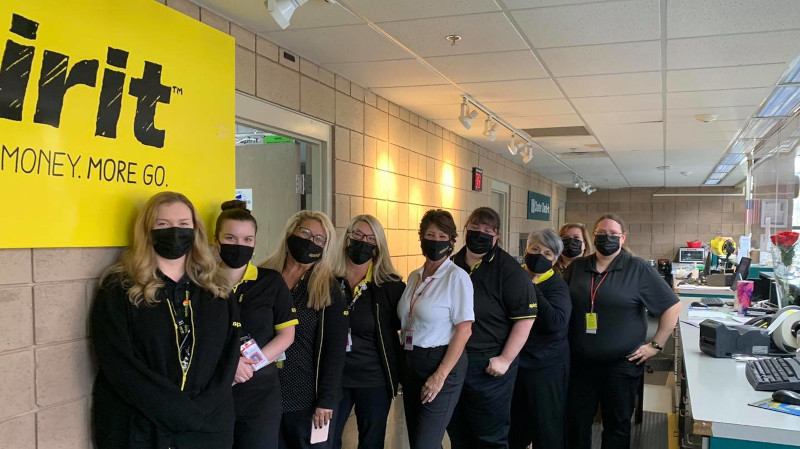 "And then there are the airshows," adds Monzo. "They are a huge community event and bring in over a million people. Plus, we do a lot of local fire department training. In the surrounding area, we are served primarily by volunteer firefighters, but we have professional firefighters here at the airport. So we assist in the training for things such as ADD compliance, CPR, and aircraft rescue. It is kind of a moving canvas and we try to make sure we keep everyone pointed in the right direction. The people around us, in terms of community development, are very excited about the airport… they like the airport. People recognize that it is a good job generator and we are good neighbors for the region."
Arnold Palmer Regional is growing and so terminal expansion will be necessary. Not only from a public safety point of view, allowing more room to spread out, but also to allow them to bring in more aircraft, have easier access to TSA, and continue to offer the best quality of service possible. "As far as the big picture," Monzo concludes, "I think airports, not only transportation-wise but in so many other ways, are going to be important to our recovery from the pandemic. Business travel will come back in some fashion. Cargo is a thing that is taking off and Amazon and those companies are constantly needing to expand to get bigger and faster. And we will continue to be the ones on the leading edge of developing what needs to be in place going forward. Because airports will always be essential. So, it is very beneficial to us that if we are strong and steady, we give them a good place to start from. I am excited to be a part of it."
AT A GLANCE
Arnold Palmer Regional Airport
What: A thriving general aviation airport with a legendary namesake
Where: Westmoreland County, Pennsylvania
Website: www.palmerairport.com