Aries Industries
Improving infrastructure for communities
Business View Magazine interviews representatives of Aries Industries, Inc. for our focus on Best Practices in Construction & Underground Infrastructure
How often do you think about the pipes running under our streets? The answer is probably not often… until there is a problem. Maintaining and remediating issues with our aging underground infrastructure is a growing concern, but not a new one for Aries Industries. For nearly 40 years, Aries Industries has designed and manufactured the equipment used to inspect and rehabilitate sewer and water systems throughout North America.
Aries Industries video inspection equipment combines innovative designs with high-quality construction and durable materials. Inspection products include video cameras, powerful transporters, and fully integrated portable or  vehicle-mounted inspection systems. Its pipeline rehabilitation solutions include powerful cutting tools and a vehicle-based grouting system that halts groundwater infiltration in mainlines and laterals. Inspection and rehabilitation equipment integrates with a variety of software platforms to allow customers to collect, analyze, and report inspection data.
Customer feedback and technology advances have accelerated equipment innovation at Aries Industries. The company's focus on product development has touched nearly every aspect of their equipment line – from new video inspection and rehabilitation systems to accessories and components. Underpinning the design of every new product or enhancement is the goal to maximize productivity and uptime in the field. That means equipment is built with ease of use, durability, and simplified maintenance in mind. In the past three years alone, the company launched two new flagship systems, the Wolverine® 2.0 Self-Propelled Robotic Electric Cutting System and most recently, the Voyager™ HD Mainline Inspection System.
The Wolverine 2.0® hit the market in 2019 and was very well received, thanks to its powerful cutting capability and its ergonomically advanced controller. The fingertip controls allow precise placement of the cutting head in the pipe.
"It's a robotic rehabilitation cutter that will open up laterals after a relining operation, or it can clean up concrete, rebar, calcium, or any of that kind of deposits in pipes to get sewer and water pipes flowing again," says Jim Kraschinsky Vice President of Sales and Marketing at Aries Industries. "Early this year, we released an 850-foot cable length, replacing the previous 500 feet. Customers like this new length because of manhole-to-manhole distances and the ability to stay in the pipe longer to minimize set up time."
One feature of the Wolverine is a good example of how Aries uses technology to increase uptime. The cutter is equipped with a camera to guide placement of the cutting head. Working in sewer pipes, the lens can naturally get splashed with water and debris. Rather than needing to pull the cutter out of the pipe to continually clean the lens, the Wolverine 2.0 is equipped with a built-in lens scraper. The camera head rotates across the scraper to clear the lens, keeping the view clear and crews working in the pipe.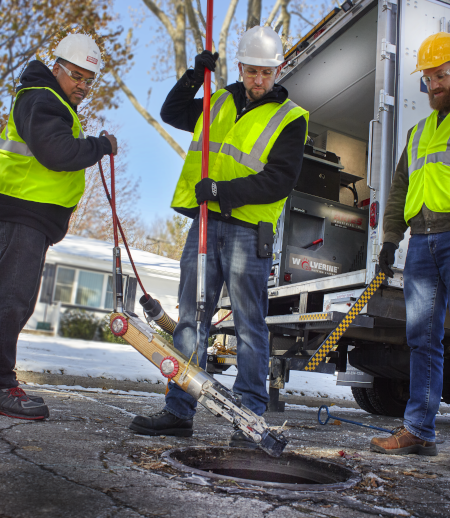 You will find similar in-the-pipe lens cleaning technology on Aries Industries newest product, the Voyager™ HD Mainline Inspection System. This system answered a need in the industry for high-definition video with a rugged, compact tractor able withstand the rigors of sewer inspection. The HD camera, tractor and 1200-ft of cable are controlled with a dual joystick inside the vehicle's control room or through a pendant, allowing operators to guide the system at the manhole. Kraschinsky notes, "The Voyager™ high-definition camera competes very well with European products and exceeds them in many areas. Production units start shipping in September of 2022."
The Voyager system is just the latest release in the pipeline inspection category of Aries Industries equipment. Aries LETS 6.0 (Lateral Evaluation System) has long been considered one of the top lateral launchers in the industry. This vehicle-based system allows a lateral camera to be launched from a mainline pipe at a 135° angle with or against the flow. Together with the Voyager™ HD, these systems provide a complete solution for mainline and lateral inspection for contractors and municipalities.
Delivering complete inspection and rehabilitation systems is not the only way Aries has responded to customer feedback. The company has also released enhancements to components, such as a new dual reel, laser profiler, and a mobile enclosure for inspection equipment. The dual reel has a compact footprint to free up truck space, while the laser profiler adds another layer of inspection capability. The Trailblazer Mobile Enclosure adds to Aries options for equipment transport.
Providing a comfortable, safe, and well-equipped working platform for their pipeline and inspection equipment is one of Aries specialties. They provide a range of vehicle options, from high-cube trucks, vans, and trailers and now, the Trailblazer. The goal is to deliver a mode of equipment transport that meets a municipality's need or a contractor's need, whether it's a one-person operation or a major player in the underground infrastructure industry.
"We have contractors with expansive fleets of high cube trucks, and we have contractors who are just getting started in the business using the Trailblazer for their portable inspection equipment," according to Kraschinsky. "Our robust range of vehicles allows us to grow with a customer as their business expands."
To continue its growth trajectory, Aries Industries has developed a strategic approach to unlock even more value for its employees, customers, contractors, dealers, and suppliers. It centers on fostering a strong culture of collaboration, leaning into product development, expanding access through adding dealers to their network, and focusing on providing Total Support after a sale.
"The foundation we build on is our culture. The leadership team developed what we call the "WE" culture that prioritizes providing a positive experience to everyone connected with Aries," shares Larry Brown President and CEO of Aries Industries.
The WE culture includes Aries' partnerships with members of its extensive network of dealers in the United States and Canada. "In the U.S., we sell directly to large contractors and municipalities through our dealer network. In addition, we continue to look for new dealers and local partners because they are the ones that provide outstanding local service and a local sales presence," explains Kraschinsky. "We're aggressively recruiting the best dealers for areas where we don't have a representative dealer."
As part of their efforts to expand their North American dealer network, the company has built on its footprint in Canada with the addition of multiple new dealers. This has allowed them to extend their reach into new areas like the Maritimes, in addition to its traditional markets of Ontario and Quebec. Their recruitment efforts have paid off in seeing their Canadian dealer network double and their United States network increase by over 25% in the past few years.
Aries culture of focusing on the customer experience does not end with a sale. In fact, an area of critical importance to the company is providing a complete customer service solution, called Total Support. Kraschinsky acknowledges, "In our industry, downtime when equipment breaks is very costly to a contractor or municipality. Total Support is an initiative to improve equipment uptime through a five-pronged approach. First, we try and get the customer up and running over the phone or by logging into their computer remotely or viewing their equipment through a smartphone, which typically resolves many of the issues."
He adds, "The second part of our Total Support solution is providing loaner equipment, which the client can use as we repair their unit. The free loaner program has 150-plus pieces of equipment, including cameras, tractors, controllers, reels, and more, which our customer service team usually ships the same day."
The third component of Aries Industries' Total Support solution is training, as Kraschinsky explains, "Whenever we sell a piece of new equipment, whether it's a small portable system or full truck, one of our experienced service technicians goes on site to ensuring the customer has the right training and can begin using the equipment safely and quickly. We also provide ongoing training sessions on best practices."
Parts and repair service rounds out the company's Total Support program. As a U.S.-based manufacturer, Aries maintains an extensive inventory of replacement parts, which can be shipped rapidly, avoiding the supply chain delays that plague other suppliers. In the event equipment issues can't be resolved onsite, customers can obtain repair service through an Aries dealer or at an Aries facility. The wrap-around approach to support is wholly focused on keeping our customers productive and working in the field.
Looking ahead, Aries Industries plans to continue executing its current strategy. "Over the next few years, we'll continue focusing on product innovation, streamlining and making our total support even more robust, and expanding our dealer network in North America and abroad," says Brown. "Quite frankly, we are excited about the market we are in because we help improve the communities around us. In the U.S. and worldwide, the underground infrastructure system needs a lot of care and work, and we want to be in our best position possible to continue helping improve the communities we serve."
AT A GLANCE
Aries Industries, Inc.
What: Manufacturer of pipeline inspection and rehabilitation systems
Where: Waukesha, Wisconsin
Website: www.ariesindustries.com