Brockton, Massachusetts
A Renaissance in the City of Champions
Business View Magazine interviews representatives of Brockton, Massachusetts for our focus on Growth & Economic Development in U.S. Cities
Though Brockton, Massachusetts is considered a gateway community to Boston – the city is no sleepy suburb.
"We are the economic hub of Massachusetts," says Robert May, Brockton's City Planner. In fact, the centuries old city is currently undergoing a "renaissance" with opportunities abounding in every direction. Housing is plentiful, investments are being made, and new businesses are being welcomed with open arms.
"I would say that Brockton is the best for opportunity," says Robert Jenkins, Executive Director for the Brockton Redevelopment Authority. "If you're just starting a home, starting a family, and there's opportunity as well if you're an entrepreneur. We're going through a renaissance here in the city as far as development."
Brockton's Chief Financial Officer, Troy Clarkson agrees. "Renaissance describes perfectly the period in which Brockton finds itself right now," he enthuses. "It is a first class city. We have many educational opportunities, and in addition to that, we boast a couple of first class museums, a symphony, really all the components that any top-notch American city needs to have to attract a wide range of residents and workers and support people."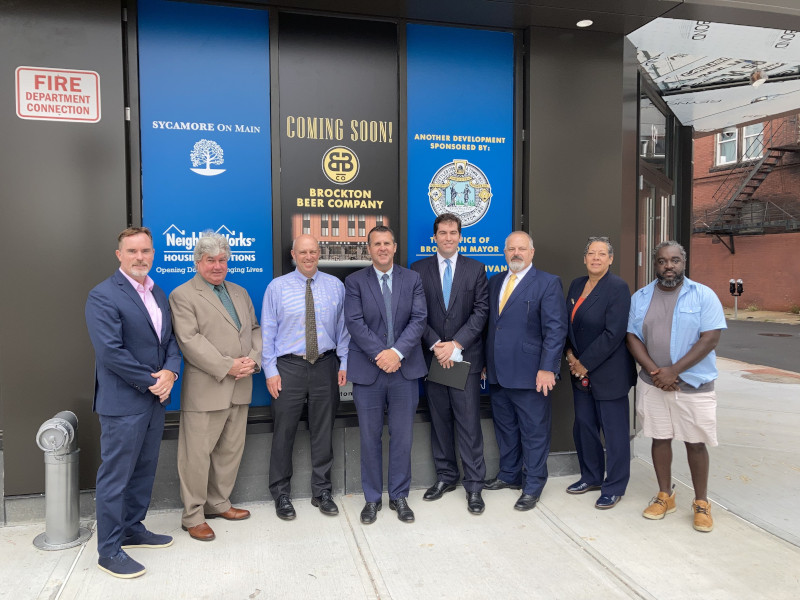 Originally settled in 1649 as Bridgewater, after being purchased by British military officer Myles Standish, Brockton officially became a city in 1881. It was renamed in honor of British General Isaac Brock, and today has a healthy population of just under 106,000. During the American Civil War and World War I, Brockton became the largest producer of shoes in the country. It continued its legacy as "the Shoe City" well into the 21st century, with the last shoe factory closing in 2006. Today, many of the city's former shoe factories have been redeveloped and repurposed into commercial and residential space.
No longer the "Shoe City", Brockton quickly took on the name "City of Champions" due to the success of its native boxers Rocky Marciano and Martin Hagler, as well as its wealth of sports programs. Though the moniker pays tribute to the city's love of sport, Brockton Mayor Robert Sullivan says it's also an homage to Brockton's heart and soul – its residents. He emphasizes, "It's the people here that are everyday doing a champion effort here in Brockton. What makes Brockton special are the men and women that make up the community. It's a special place."
Brockton is special for many reasons. For one, the city boasts many significant and historical firsts. It's the site of the first electrified fire station in the United States – an event attended by Thomas Jefferson himself. It is also home to the first electrified movie theater, first electrified street light, and the first place Old St. Nick stopped in to greet children. "The first department store Santa Claus was a Brocktonian named James Edgar," Sullivan explains. "He had a small department store downtown and wanted to keep the kids happy during the holiday season."
On the education front, the city boasts one of the largest public high schools east of the Mississippi. Brockton High School serves almost 5,000 students and is one of the top performing urban high schools in all of Massachusetts. The high school has one of the highest graduation rates among urban school and has been named one of the top 500 high schools in America for low income students.
The city is also home to Massasoit Community College and is just a short drive from Bridgewater State University and Stonehill College. Brockton's educational opportunities have set the city up with a well-rounded workforce. "We have great educational resources near us. We have an incredibly diverse workforce in the range of skills from manufacturing on to PhDs," Jenkins says. "There are people here in Brockton that meet all of those categories."
When it comes to location, Brockton is well situated. Just 20 miles south of Boston and the Boston Logan International Airport, Brockton offers an easy commute for residents looking to get in or out of the city. The city has three commuter rail stops that go directly into Boston and it also offers prime highway access to all of New England. "It's location, location, location – which is real estate 101," Jenkins says. "We're close to the city but we're also in that bubble that we're just far enough that our taxes are lower in comparison."
The city has plenty of housing stock available, thanks to decisions made by Sullivan during COVID. "One thing I didn't do during the pandemic that a lot of Mayors in Massachusetts decided to do is pause construction," Sullivan explains. "I felt that if we did that we would really be going backward. So we did it in a safe way, met all the health protocols of COVID-19 and not stopping construction has really paid dividends. There are more cranes in downtown Brockton right now than I've ever seen. We have market rate, we have affordable here in Brockton. We have really high quality with all the bells and whistles with the stainless fixtures and the granite and parking."
The word is definitely getting out about Brockton, which is seeing a rise in young professionals moving to the city. "Young professionals are moving to Brockton because of the price point. They're moving to Brockton because they're getting high class living arrangements, but they're saving money and some folks are paying off their student loans with the savings they are doing. It's kind of a win-win," Sullivan says.
It's not just new residents that are attracted to Brockton. The city's renaissance extends to businesses, as well. Over the past 10 years, the city has been able to restore or create 419,000 square feet of commercial space in its downtown core, attracting new businesses and retaining old. W.D. Mason, which has called Brockton home since its founding in 1898, made a major investment in the downtown in order to expand its office space. According to May, "They could have moved their office operations anywhere and they chose to stay here and reinvest. The Mayor at that point in time shepherded through a tax increment financing program for them to help them defer some of their costs. That's the kind of pro-business thing we do here."
One of the city's major industries is food manufacturing. That includes Cindy's Kitchen, one of the leading salad dressing manufacturers in the country, as well as F.B. Washburn Candy, America's oldest family-owned candy business. It began as a bakery in 1856 and has since expanded to a five-floor, 150,000 square-foot operation. "Folks are understanding that Brockton is business-friendly," Sullivan says. "We're open for business."
Brockton further sets itself apart as an attractive place to live or start a business by having surplus water supply and sewage space. "Which means that we have opportunities to grow and attract industries," Jenkins explains. "And being the largest city in southwest Massachusetts, that's very important for us. A lot of the communities around us are on well and on septic and they're very limited in their ability to attract industry. We offer both a way of life and an opportune business environment here. So whether you're starting your family or starting your business, this is the place you want to be."
Brockton is in the process of investing $98 million into the development of a new public safety building, which Sullivan hopes will be a further sign to developers and businesses that the city is open and ready.
"When we have developers coming to Brockton it tells them, 'Hey, we have skin in the game, we've taken almost $100 million and we're investing it,'" Sullivan says.
The new facility will include a new police station, fire station, the city's IT department and BEMA – Brockton's Emergency Management Agency. Sullivan adds, "We've done some friendly takings where the city has acquired some residential properties and we're going to be a city block now. It's going to have state-of-the-art technology with all the bells and whistles and it will be friendly to customers, taxpayers, constituents, and residents. It's a game-changer for the area."
The public safety building investment was done without raising taxes, something Clarkson says the city's administration is always mindful of. He notes, "It costs to do business in the city, so for our businesses we didn't raise taxes. We did it within our budget, which is extremely difficult to do, but that was a priority of the Mayor." The city was able to accomplish this by issuing $300 million in pension obligation bonds. Over a period of 15 years, they hope to fully fund Brockton's pension liability and save $90 million in the process.
"Those are our actual costs that will not have to be paid out of the budget toward our pension liability that can otherwise be directed toward some other priorities," Clarkson explains. "I think that demonstrates the level to which our commitment is to be part of this renaissance and to make it not only a first-class city, but an affordable city for the next generation."
AT A GLANCE
Brockton, Massachusetts
What: A gateway city of 106,000
Where: 20 miles south of Boston
Website: www.brockton.ma.us
TILT Holdings – www.tiltholdings.com
TILT helps cannabis businesses build brands. Through a portfolio of companies providing technology, hardware, cultivation and production, TILT services brands and cannabis retailers across 37 states in the U.S., as well as Canada, Israel, South America and the European Union. TILT is headquartered in Phoenix, Arizona. For more information, visit www.tiltholdings.com.