Valley Transit
Providing access and flexibility
Business View Magazine interviews Angie Peters, General Manager of Valley Transit, for our focus on Public Transportation in U.S. Municipalities
The extraordinary restrictions imposed by the COVID-19 pandemic over the last 15 months have represented a unique situation for everyone. For Valley Transit – Walla Walla County, Washington's municipally-owned transit corporation – these constraints have also become valuable trade-offs for putting their strategic plans to the test and assessing their readiness for change.
In the early months of 2020, the public transit operator, which runs eight bus routes (Fixed and Flex routes) in the Walla Walla/College Place area, as well as Paratransit/Dial-a-Ride, Job Access, Vanpool, and Plus services, was in the beginning stages of a Comprehensive Operations Analysis (COA). Having recently completed that evaluation, Valley Transit is now contemplating a roadmap to deliver on the recommendations for improved service and performance.
This time last year, Valley Transit was reporting a ridership of 700,000, about 30,000 of which were Dial-a-Ride passengers and 14,000 Vanpool and Job Access users. According to Valley Transit General Manager Angie Peters, "That's obviously changed significantly. Pre-pandemic, around 24 percent of ridership consisted of students and others under the age of 18. That number has gone down a bit, with so much of schooling done remotely over the last year. Right now, we're closer to 18-19 percent student ridership, but that difference in percentage created a pendulum swing over to essential workers. In other words, our role throughout the pandemic has largely been to take people to their essential jobs or to access essential services."
Supply chain was another problem factor that amplified the impact of the pandemic. "Our Procurement Specialist, Dave Kopf, has always been a valuable employee, but he really put his money where his mouth was during the pandemic," says Peters. "He put us in an excellent position by analysing some of the trends in the larger markets. He even researched the outcomes of the Influenza pandemic of 1918. Because of that, we were able to predict some of the best practices suitable and to purchase personal protective materials before they became unavailable due to high market demand."
Ingenuity was a theme for the whole team during 2020. Early in the pandemic when no one could purchase cloth masks, and those were recommended for transit staff. Members of the management team sewed 100 masks, and procured donations of 200 more from the community to protect the team. The Maintenance Manager at the time, Bruce McCaw, transitioned into a chemist temporarily in order to produce hand sanitizer in-house until that became available on the market.
Valley Transit is continuing to limit capacity at this time on their transit services to allow for safe physical distancing and space. "Depending on which vehicle we're running, we can typically hold 28-32 people," Peters explains. "We initially had to reduce to six or seven to maintain that six feet of distance." By mid-summer 2020, the small urban transportation provider was able to get passenger barriers installed, safely cutting that distance in half, and increasing capacity to 10-12, depending on the bus size. "We used the Washington State Department of Labor and Industries' standards for measuring out cubicles," Peters adds. "By measuring up and over the barriers, you're still going to get to that six feet. That's helped a little bit. But we're starting to have some capacity issues as we're entering into summer. We've unfortunately run into some circumstances where a bus has had to pass someone waiting. It's been an interesting challenge to try to manage."
Governor Jay Inslee's Proclamation 20-46 for high-risk workers has posed another significant hurdle to overcome: under State Executive Orders, workers who remain high risk still benefit from job protection, access to alternative work arrangements, and eligibility for unemployment insurance and other forms of paid leave. "We've had a significant percentage of our workforce go out under the High-Risk Proclamation," says Peters. "We can't increase our frequency to meet demand because we don't have the available staff. Coincidentally, but perhaps not unexpectedly it's a difficult time to hire. Many of those working the "really, really challenging" frontline jobs are often transit dependent. With everything going on, our services need to run. If we don't run, the other services don't either."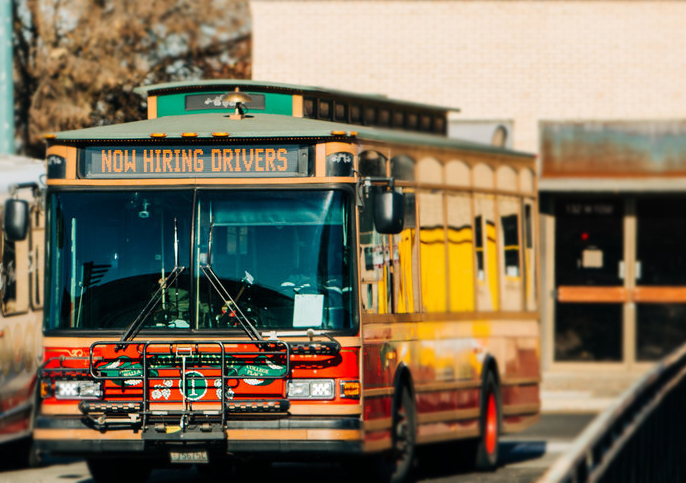 The Uber trend being much less pronounced across Walla Walla (and neighboring Umatilla County, Oregon, who's transit providers partner with Valley Transit on iTransitNW) as compared with major cities like Seattle and Spokane, Valley Transit is pretty much the "go-to" agency for public transportation. Peters notes, "You could potentially grab an Uber – I think we have one or two – but outside of that, we're the only public transit player in the area. So, if we're not running, you'd need to get a ride from a friend to get somewhere. Obviously, if you're a person experiencing a disability and you're using a mobility device, that's going to be really challenging because most people don't own a modified vehicle for personal use. The entire Valley Transit fleet is accessible in order to prevent this from being an issue on our services."
As with workforce management considerations in the pandemic context, Valley Transit is also being intentional about putting energy and focus behind electric vehicle (EV) adoption. "We're in the process of going fully EV on our Fixed Route fleet," Peters reports. "Four of our vehicles are battery-electric, but the goal is to take them all in that direction."
Valley Transit is presently at a standstill to purchase more BYD electric buses due to a provision in the National Defense Authorization Act. Passed by Congress and signed into law in 2019, the defense bill bars the use of federal funds to buy Chinese buses and railcars. BYD Co. Ltd ("Build Your Dreams") is a Chinese manufacturing company based in Shenzhen, with North American headquarters and manufacturing in Los Angeles County.
"The four battery electric vehicles we have are BYDs and they're fantastic," says Peters. "We'd also like to keep as much of a similar fleet as possible. There are other electrics to choose from, but BYD is the only purpose-built electric on the market at this time, and they are the only vendor currently willing to offer a 30 foot electric bus which is the best size for our community. All the other electric buses out on the market use a modified chassis. They weren't built electric from the floor up. That changes the efficiency and how many problems you might have, so we've decided to hold temporarily on vehicle purchases."
The transition to electric has been "fairly smooth," and energy storage capabilities on their EV fleet has performed better than expected. "We've had a bit of a competition going between some of the drivers to see who could bring back the bus with the most charge," Peters says, laughing. "We've had a driver bring a bus back with 48% battery remaining. That record was set on a holiday, so I suspect it won't beaten."
Over the next five years, Peters hopes to see Valley Transit some way down the line on making that full transition to EV on their Fixed Route suite. She admits, "We were hesitant when we first brought in the electric buses. We didn't know if they were going to be very effective given some of the horror stories we'd heard from other agencies. Luckily, that's not been our experience."
Moving over to a Software as a Service (SaaS) model with their current enterprise provider Avail Technologies, designed specifically for use in the transit industry, is also on Peters' wish list for coming changes. "Avail is a great partner to have because of how easy they make our jobs with reliable data coming from a singular source, but they're currently based on our server and that's been a hurdle throughout the pandemic when we wanted to have people work remotely," she admits. "But they're now making that transition to a fully SaaS model, and we're hoping to make it with them soon. If, God forbid, we had another event like this, we could easily send people home without worrying about security risks to our server."
Finally, Valley Transit has entered into strategic planning surrounding potential implementation of the recommendations coming out of their COA. "One of the items suggested was to run a pilot project on being fare free all the time," Peters explains. "Several transits have done it successfully and it's led to quite an increase in their ridership. It might be something that's worth pursuing here, but we are still early in the processes of making a determination on if it is the best fit for our community and our budget. I'd also like us to take the data that we've collected, an unexpected benefit of the pandemic, to determine what our essential routes are. Then we could really be responsive to what the community is telling us that we need."
AT A GLANCE
Valley Transit
What: Municipally-owned transit corporation
Where: Walla Walla County, Washington
Website: www.valleytransit.com
BYD – en.byd.com
When Walla Walla's Valley Transit wanted to replace four of its diesel vehicles with zero emission buses while at the same time retaining the agency's iconic trolley branding, they turned to BYD.
Rather than taking an existing bus and converting it into a trolley, BYD's solution was to work with a third party, Cable Car Classics of Healdsburg, Calif., to design a trolley using BYD's 35-foot transit bus model as the base. The result was zero-emission trolleys, each capable of transporting 30 passengers on smooth, quiet rides.
"We wanted to go electric and we wanted to maintain our branding," said Angie Peters, Valley Transit's general manager. "A purpose-built vehicle was very appealing."
Valley Transit purchased four trolleys and put them to work on their mainline, a route serving the city's downtown and its community college. To power the trolleys, Valley Transit installed charging stations at its bus barn and at a downtown transfer station.
"The public absolutely loves them," Peters said. "The community are big, big fans. They are so much quieter. That's a big hit with staff and customers."
The trolleys are so quiet in fact that once, when one of the vehicles was used in a community parade, someone asked if something was wrong with it. They thought the trolley was being pushed, Peters said.
For now, in the light pandemic traffic, the trolleys are operating full shifts without opportunity charging. Drivers are competing to see who can return the vehicles with the most charge left, Peters said. The record, set on a quiet holiday, stands at 48%.
A goal for the agency is to go fully electric, Peters said.
"BYD has been a good partner," Peters said. "We are very appreciative of that."
"Valley Transit is a great customer of ours," said Patrick Duan, Senior Vice President for BYD North America. "We are proud we could partner with them to come up with an innovative solution that met their branding goals while at the same time helping them protect their community's quality of life."
Valley Transit is one of more than 50 customers across the United States operating American-made BYD electric buses. BYD electric bus customers have logged over 18.2 million miles of zero emission operations, the equivalent of 38 trips to the moon and back.
BYD electric buses, which comply with strict Buy America standards, are manufactured in ISO 9001-certified American factory, guaranteeing quality, safety, and efficiency in every aspect of design, production, and customer care.