London, Ohio
strategically positioned in the middle economic growth and the middle of the state
At the seat of Madison County and seated in the middle of economic expansion, London, Ohio is a city to watch
Strategically located in the very heart of Ohio, just 25 miles southwest of Columbus and surrounded by lush agricultural assets, the city of London is a charming community of some 10,000 residents. Small enough to retain a small-town feel but boasting a population large enough to classify as a city, London, Ohio is also the county seat of Madison County.
With key infrastructure initiatives that provide an economic 'bridge' through Madison County, London is making its mark and putting its residents' needs first.
We recently spoke with Patrick Closser, the mayor of London, and he told us more about his dynamic city.
"We have a wonderful community here," said Closser. "We have that small-town feel but with big-city amenities. We are a place where everyone knows each other and helps each other. You can be in downtown Columbus in just 20 to 30 minutes and have even more amenities."
"We are now on the cusp of growth and really like the next frontier. Columbus is just bursting at the seams, and there is nowhere for them to go, so we are seeing people want to get out of that big-city life and be able to move to our community and have these nice things and strong safety services and good recreational programs."
The mayor added that London is more than just a bedroom community for Columbus, which has nigh on a million residents these days. London may be exponentially smaller, but it, too, has some attractive jobs, including remote-based possibilities, distribution, and manufacturing.
"People can come here and get a bigger, better house for less money than you would in a big city, with an income tax of only 1.5 percent," said Closser. "They pay low taxes and can work from their own home. We are starting to see that a lot more."
He said Stanley Electric is the city's biggest employer. London is home to the American corporate offices of this Japanese-owned manufacturer of Honda headlights and tail lights.
The local hospital, Madison Health, is affiliated with Ohio State University.
"They did a $20 million expansion in 2017," Closser said of the hospital. "And they're looking to do another expansion. That's good for the community because they now have more room for specialists and family-practice doctors. They're adding all these doctors and nurses."
He also praised London's downtown, with its retail, small businesses, and shops.
Closser said the City of London works closely with the Cultivate London Business Center, a resource offering mentorial advice and helping people create their small businesses.
The Madison County Chamber of Commerce also helps small, local businesses. It gives them helpful resources and moves them in the right direction, as Closser revealed.
"We made the whole city of London a CRA or a Community Reinvestment Area," he continued.
According to OSU, a CRA is an economic development tool, administered by municipal and county governments and provides real property tax exemptions for property owners who renovate existing or construct new buildings.
"We thought that would help attract people to come here," said Closser. "We've done a couple of deals here lately with some historic buildings downtown with Westwood Collective. They are going to keep paying the current property tax, but we're abating their new investment."
"They pay the tax that's already there, but the improvements are abated. It's kind of fluid, how we can work these deals and work with them to get the best deal. They are currently fixing up three historic buildings that were unoccupied and not in great shape, but they are going to put seven-figure investments into these renovations. It's because we can use that CRA to give them the abatement on the improvements," he expands.
"We have a corridor out on SR-142, and it is prime for development right now," he added.
"That's where we have Gra-Mag, which makes the seats for semi-trailer cabs, and Stanley Electric. We have a Staples Distribution Center, Honeywell, Nissen Chemitec, and BST, which is a huge trucking company. Stanley and Nissen Chemitec are both Japanese-owned. We have it all logistically set up, and there's space available in that corridor."
Population and infrastructure
Closser draws attention to the city's steadily increasing population base.
"I believe there are more people here now than what the census shows," he opined. "But they are currently showing we have 10,500 people. But I can see us in 10 years gaining 25 percent growth in our population. We have about 1,000 homes that are coming, and in development, from houses to apartments to condominiums to townhouses."
To address that projected whopping increase in the number of new Londoners coming in, housing of all types is needed right now, and Closser is pleased that Arbor Homes seeks to build 127 new homes in his community. Fifty-four lots have been sold, and the total could come to 227 homes. Plus, Pulte Homes is hoping to put in 235 homes in the London area, as Closser noted.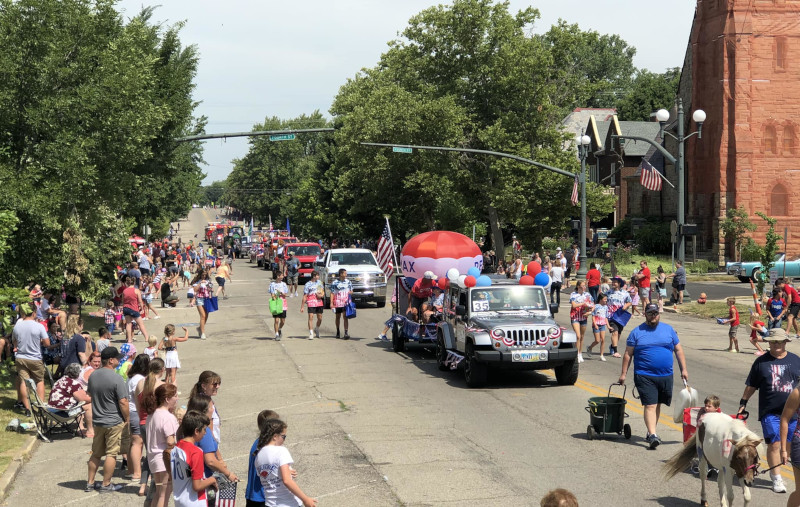 "You need a healthy mix of housing," said the mayor. "You're going to pull people from the outside, also you'll pull people from London. Someone that's in a starter home is going to go build a forever home, which opens up another home that's going to be a little bit cheaper and a starter home for someone else. It's cyclical."
Regarding infrastructure, Closser noted that it's better to be active, not reactive. The City has received millions of dollars in grant monies for storm sewers, roads, bridges, and more. The City recently earned a community development block grant (or CDBG) for $750,000 for infrastructural work in south London. And there's an ongoing $17 million sewer-line expansion project to improve sewer capacity.
"We have two water treatment plants and two, 1 million-gallon water towers totaling 2 million gallons of water," said Closser. "We had a little bit of an issue when they built the second water-treatment plant. We seem to have that remedied, so the water-treatment plant will be going online very soon. We can have two million gallons of water in the air with two active treatment plants to keep that going. And as for our sewer plant, we are only at about 50 percent capacity. It was built larger so that we would be able to handle the growth that is coming our way."
More about London
It has become common knowledge that Ohio is often called the land of presidents, due to how many it has produced. And it's also produced its share of sports greats, including some notable Londoners, such as Warren Amling, an All-American Ohio State football player and 1945 Heisman Trophy finalist; professional baseball player Bob Bescher; Major League umpire Satch Davidson; and Dick LeBeau, an NFL hall-of-famer, assistant coach and defensive coordinator; and professional baseball great and coach Rick Renick.
It can be argued that as a mayor, Closser is himself a kind of coach, leading his community to greater heights. One way is through improved Internet access. Omni Fiber is currently laying new fiber throughout London.
Upon reflection, the mayor declares that he's very big on recreation.
"Especially giving kids things to do," he said. "We all know about idle hands. When I became mayor, we wanted to redo our park. The City didn't have a lot of funds at that time, so we decided to raise money through a public/private partnership, and we were able to raise $250,000 privately through individuals, businesses, and fundraisers.
"We got $250,000 from the state capital budget. We did a $500,000 renovation to Cowling Park, which is on the corner of North Main Street and Park Avenue. We brought in walking paths and a brand-new, gigantic playground that is handicapped-accessible. That was another focus: we didn't want kids to feel left out."
Closser also cited the local municipal pool and its concomitant splash pad. A local business generously donated $200,000 to bring this project to fruition.
"There was an abandoned church next door that we purchased through private money," the mayor revealed. "We tore it down and put in an outdoor sand volleyball court there, so we could have more outdoor recreation areas and start getting leagues and games together. Our recreation department also runs youth basketball for the City of London, as well as youth volleyball, which has hundreds of kids in the programs. Now, we are working towards a new community center with a couple of gyms and a field turf area. That will be our next big project."
When asked what the future may look like for London, the Mayor doesn't hesitate with his answer.
Over the next two years, he said, the City will be "focused on more growth and getting more businesses in here," adding, "We want people to come here, live here, work here, and shop here. That's going to be our focus: managed growth, so we have the right stuff, and people will come here and love it and want to tell their friends about it!"
AT A GLANCE
London, Ohio
What: Growing community with infrastructure upgrades in the pipeline
Where: the heart of the Buckeye State
Website: www.londonohio.gov

GRA-MAG – www.gramag.com
We are creating something new at GRA-MAG. Our main objective is to provide drivers with the ultimate performance experience in comfort and control. GRA-MAG remains committed to developing seat systems that prioritize comfort, performance, body health, safety, and reducing driver fatigue.