Harrison, Arkansas
one of the "Best Small Towns in America"
Nestled in the scenic Ozark Mountains, Harrison offers exciting growth opportunities in a beautiful setting
Situated in the beautiful Arkansas Ozarks, Harrison is known for its scenic beauty, historic downtown, and quaint ambiance. Nationally recognized as one of the "Best Small Towns in America," Harrison offers a low cost of living and a laid-back lifestyle. At the same time, its proximity to nearby cities like Branson, Missouri, provides a mix of natural beauty and metropolitan amenities. With three significant lakes and thousands of feet of scenic shoreline, the community is a draw for nature lovers and outdoor recreation enthusiasts.
The town is also known for its annual events, historic sites, and sports tournaments. Conveniently located on major highways, Harrison serves as a gateway to the Buffalo National River and other regional attractions.
Unleashing Potential and Embracing Possibilities
As charming as it may be, this community of 13,000 is teeming with possibilities, as Mayor Jerry Jackson reveals. "We have 30,000 cars coming through our town every day. Any person traveling to Branson from any one of the 12 States South comes right through Harrison," he says. Taking advantage of this ideal location, the mayor says the town focused on creating opportunities and building on available amenities.
"Four years ago, when I took office, we set a goal to be a little more progressive. We're building a $23 million community center and indoor aquatic center. We're going to improve our transportation; there will be tens of millions of dollars put into that. It just goes on and on with the projects that we are doing here in Harrison," he shares.
With the city and county officials working well together, "We've had an enormous amount of business growth. Even though we only have 13,000 people in the city, we have a reach of probably 80,000 that shop Harrison because of the mountainous terrain. It keeps them from going to the larger cities. And then the influx of tourists and drive-through traffic, it's just enormous. Our chamber is the voice of business and economic development. Harrison is just a great place to do business."
Along with our award-winning hospital and medical facilities, we have a historic structure called The Jack Williams Veterans Resource Center (Camp Jack) which uses a 1942 former Armory to provide services, activities, and amenities for veterans and their families. The building has recently qualified for the National Historic Registry. Almost three years ago, US Congressman Steve Womack was part of a grant allocation providing just under $2.3 million to renovate the facility. Executive Director Matt Russell says, "This building has served our community well for 80 years, and now we need to repair it with a wow factor so everyone can continue to be proud of it."
Harrison Public School District has won numerous awards for its outstanding approach to education. North Arkansas College is a two-year community college with connections to four-year schools so students can graduate with a bachelor's degree without leaving home. They also work with area high schools to create a unique solution for industrial arts-based education. The Mayor also draws attention to Camp Jack as an important aspect when discussing joint city initiatives for its residents.
Johnny Morris, noted conservationist and founder of Bass Pro Shops, has recognized the potential in the region, recently purchasing the former Dogpatch USA amusement park site. He intends to revitalize the location, turning it into the Marble Falls Nature Park, a project that Mayor Jackson believes will have a remarkable impact once it opens. "It's not open yet, but when it does, it'll blow the socks off everything around here," he says. "But we aren't waiting; we are moving Harrison forward now."
Tourism Initiatives
Utilizing a sales tax of 1% on prepared food and 3% on hotels, the town supports Explore Harrison, a tourism commission that organizes and promotes many of the happenings in the community.
"They just do a fantastic job," boasts Jackson. "Every month, we have a big event here in Harrison. They are doing something constantly."
Some notable events include a popular motorcycle rally that attracts thousands of riders from across the country who want to experience the scenic mountain areas and natural beauty the town offers. Harrison also hosts a balloon festival and a unique festival called "Crawdad Days," featuring crawfish sales, a carnival, and other attractions, as well as monthly music gatherings in the historic town square and many other opportunities for gathering.
Explore Harrison has also introduced what Jackson describes as "an incredible mural project." He elaborates, "We're getting known for our murals. I don't know how many we have now, but they're everywhere."
We are also proud to be the home of Ebony Mitchell, Miss Arkansas 2022. She has spoken well of her hometown of Harrison during her travels.
A further draw is Crooked Creek, which runs through the town. Jackson reports that efforts are underway to remove the weir and restore its natural flow, revitalizing the water activities in the area. "We're going to call that the heartbeat of Harrison, the creek running through the middle of town like a little Colorado community," he says.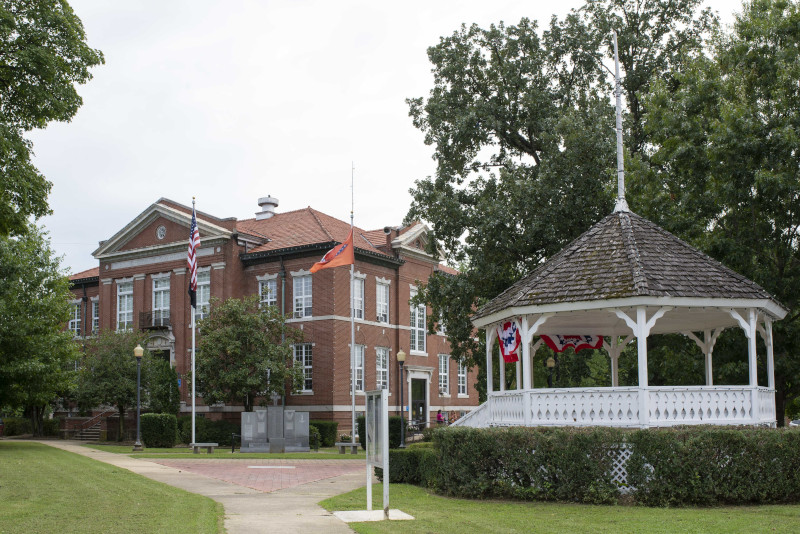 Harrison's Abundant Recreation Opportunities
Located next to the downtown square will be the Creekside Complex, a more than $23 million project that is aimed at bringing a top-notch community center to Harrison. "We were able to utilize an old Harrison District School complex," he recounts.
"It has a 1951 court that seats nearly 2,000 people. There is a lot of history and tradition in that building." The complex will feature a $9 million aquatic center with three pools, and a new community center with recreation options, along with computer labs, gaming rooms, and party rooms, among other things. Along with the original court, Creekside will offer two additional courts, which Jackson believes will be a game changer for the town.
"This will be huge for our downtown area and tourism. We'll have five courts within one block. By having that available, you can attract people from all over the country to come here for tournaments. People want to come to our area because we're the heart of the Ozarks, and we have Branson 25 miles up the road. They love to come to Harrison."
Additionally, the town has completed a significant upgrade to its sports complex, investing $1.2 million to install new artificial turf on seven fields. "That attracts tournaments from all over the country to come here. We have 130 teams coming in this week that will be playing at this facility," he portrays. "That is enormous for our economy. Of course, all the hotel rooms are full, it'll probably fill up most of Branson, and restaurants will be nuts. That goes on all through the fall; we'll be having tournaments there."
Harrison is also expanding the number of active transportation networks throughout the community. "We have trails right now all around the creek, and they will continue
through town to the high school. We're going to have a total of about 10 miles of trails," Jackson relays. "In addition to that, we have now become one of the key places for mountain bike trails because of our terrain. We opened our first mountain bike trail just a couple of months ago with a donation from the Walton Foundation. We have an organization called Harrison Exercise Adventure and Recreation Trails (HEART), a commission that oversees that, and we're looking at building two more trails in the city."
Culinary Delights and Potential Opportunities
Another highlight of the community is the diverse selection of restaurant options. "We have all the chains, but we also have many locals. People that come through town, and tourists, love to try the local restaurants," Jackson remarks. Harrison will soon be home to a large microbrewery, the second of its kind in the region.
"This is going to be a huge draw for the downtown area," he acknowledges. Adding to the dynamic atmosphere, food trucks have become a popular culinary option, adding to the town's appeal as a lively and distinct destination nestled in the scenic Ozark Mountains. In addition to being a regional hub for retail, we are happy to be adding Dunham Sportings Goods to our city.
To support the town's growth, Jackson says that several infrastructure projects are underway. Among these is a planned upgrade to eight miles of a highway in partnership with the state. An intersection update has already been completed, and there are plans to update five additional intersections and construct a new one for an estimated investment of $20 million.
"We're going to add traffic signals, and we are going to be widening three miles that desperately need to be widened by 10 feet. We're going to synchronize all the lights. We're going to have the most modern updated bypass that runs through the middle of town," Jackson portrays.
Another collaboration with the state involves the replacement of a bridge over Lake Harrison in the downtown area, with an estimated cost of $9 million. Improvements to Goblin Drive, which has already seen the completion of the first of three phases, include the replacement of another bridge, costing approximately $3 million. Part of the remaining $6 million will be allocated toward the construction of three roundabouts as part of the project.
On the subject of water and sewer upgrades, Jackson suggests that Harrison is in good condition and can easily handle more industry. This is also true for connectivity in the community, which has been fully upgraded, including the installation of several 5G towers and the presence of fiber-optic connections provided by Cox Communications, covering approximately 90% of the city. Multiple cable internet providers, such as Kinetic by Windstream and Ritter, also have a presence in the community, offering high-speed capabilities to support the needs of new companies and organizations.
Highlighting the significance of robust community leadership, Mayor Jackson underscores the collaborative efforts between various entities in Harrison. From the chamber of commerce, North Arkansas College, city, and county to the police, sheriff, tourism committee,  school district, hospital, and more, these leaders consistently come together to prioritize the community's well-being.
"I believe the reason for most of the success behind the dynamic growth we're experiencing is that we have all the community leaders working together. We meet regularly, and we try to do what's best for the people of Harrison," he concludes.
AT A GLANCE
Harrison Arkansas
What: A dynamic community in the heart of the Ozarks
Where: Boone County, Arkansas
Website: www.cityofharrison.com