Stony Plain, Alberta
Alberta's Western Gateway is Open for Business
With an enviable lifestyle, dynamic growth, and outdoor splendor; Stony Plain, Alberta is not to be missed
With a population of 19,000 Stony Plain is a progressive community, located in the Edmonton Metropolitan Region of Alberta. As the most western community in the region, the town is the self-proclaimed Western Gateway, linking Edmonton Metropolitan Region with western Alberta through major transportation corridors including highways 16, 16A, 628, and 729. Currently, Stony Plain is experiencing strong growth, while remaining deeply proud and connected to its agricultural history and committed to continuing this legacy into its future.
Mayor William Choy says the town is working to ensure they have the infrastructure in place to support the anticipated 2 to 3 percent annual growth expected in Stony Plain over the next 15 years. This effort has included a $70 million investment in a major north/south corridor and $15 million to replace aging infrastructure in Stony Plain's downtown and update its street scape.
He maintains, "We have had a huge impact on our own community by spending money on ourselves, because if you're not willing to invest in yourself, then nobody else is willing to invest in you."
On the development side, he asserts, "A lot of businesses are now starting to think about Stony Plain due to its proximity to Edmonton and our strong economic base. So, now they're looking at coming to Stony Plain because of everything we've done and the foundations we have laid. We are open for business, and we're ready to invite anybody that wants to come and meet with us."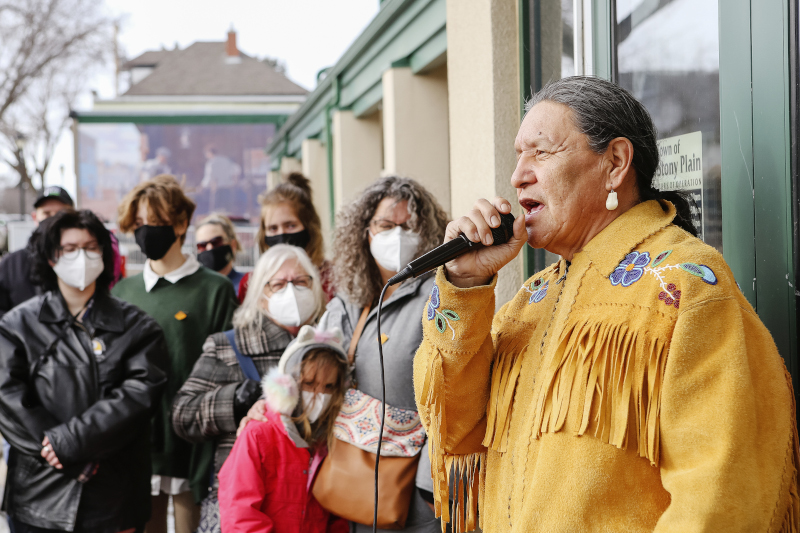 Reporting over 1,000 active business licenses in 2022, Michelle Levasseur, Economic Development Officer says there has been significant growth in small to medium enterprises over the last 5 years. This includes a strong construction and professional service presence, sectors that the town will continue to support moving forward.
When asked about future opportunities, she says, "Our target sectors are in the agri-food sector, specifically in the value-added ag space research and agro tech manufacturing Health and life sciences is also a target sector for us moving forward, being that we have a hospital and a number of businesses that already support the ecosystem. Of course, shopping, dining, arts, and culture are on the list to continue growing in the community. We have a very strong tourism sector, and we work diligently at building out the destination, retail, food, and beverage to support that."
On the tourism side, Stony Plain works with entities such as the Greater Parkland Regional Chamber of Commerce, whose Visitor Information Center is often the first point of contact for new residents and people visiting the community. This provides an opportunity to highlight the events and experiences available in Stony Plain, many of which draw a regional crowd.
"Internally, as a municipality, we have a really strong culture around hosting events in the community," says Levasseur. "We have long-standing events led by the town that have grown and morphed into tourism events. We have dedicated resources for that, and we have a really strong volunteer sector in the community that supports this  work."
An annual Winter Light Up Festival is one of those events, bringing crowds to the downtown to shop, eat and celebrate the season with neighbors and friends. Chelseay Rudolph, Sustainability Planner remarks, "It's good exposure for our business community, and also good exposure for residents, as they might be new to the community or not necessarily familiar with the great assets that we have, especially on our main street. We really enjoy putting on our community events, and I know that the residents really love and appreciate it, too."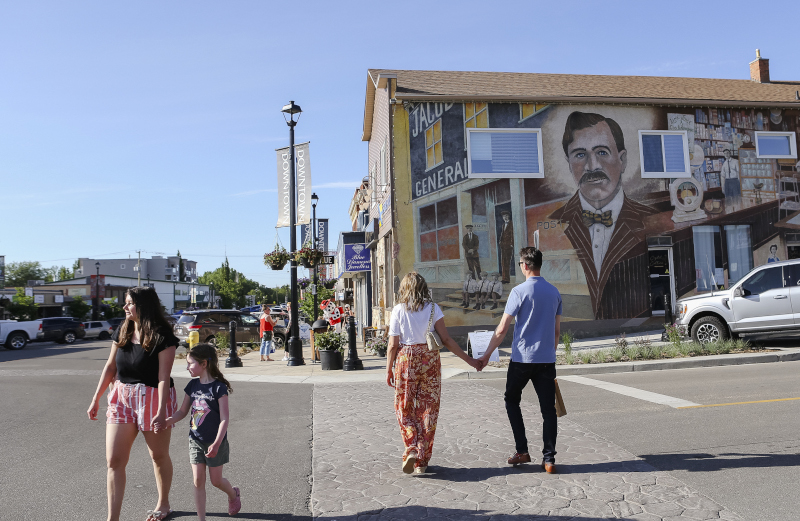 As Sustainability Planner, Rudolph notes that her role is to develop a policy framework to promote and encourage sustainability efforts within the community. She describes a rain barrel sale, which is a collaboration between Stony Plain, the city of Spruce Grove, Parkland County, and the village of Spring Lake in partnership with a local Rona.
"That's a fun one. We encourage people to reuse water instead of using potable water for watering plants and that sort of stuff. It's a nice initiative that gets us together with our neighbors and works collaboratively together," she shares.
Mayor Choy conveys that one of the town's municipal buildings also acts as a rainwater collection system, collecting rainwater in barrels to be used for watering sports fields, while water at a pumping station is used by staff and contractors for road work, and on the community sports fields, all in an effort to maximize the use of non-potable water in the community.
On the social sustainability side, the town has recently introduced a housing strategy, which prioritizes inclusivity, affordability, and diversity. "We have something for everybody, and are very family oriented. So, we definitely want our policy and our developments to reflect that,"
Rudolph acknowledges.
Stony Plain has recently approved an urban agriculture plan, something she says is necessary for a community that is rooted in agriculture but identified as a metropolitan municipality. "We need to figure out what our agriculture looks like moving into the future," she suggests. "Urban agriculture is a super interesting topic, and we're probably going to see a bit more from that later this year as we start implementing that plan."
In addition, on the social side, Rudolph has organized a community walk, known as Janes Walk, encouraging residents to get out and get to know each other, while sharing education about the community. She elaborates, "Each year we pick a different topic, and we encourage people to come and do a guided tour throughout the community. It's really fun. We also do an annual Arbor Day celebration where we get residents to volunteer to help the town plant trees and we educate people on the importance of vegetation in urban environments and what that means for the future."