Valparaiso Community Schools
committed to the success of every student
Investing in the student journey, Valparaiso Community Schools setting the standard
Valparaiso is a vibrant city in Northwest Indiana, with a charming downtown area, rich history, and a strong sense of community. Serving the city and neighboring areas, Valparaiso Community Schools makes it their mission to provide students with opportunities that will engage and empower them, offering state-of-the-art technology and programming that allows for individual learning and success.
The district is made up of 6,400 students and close to 900 employees including over 400 teachers. "But those are just numbers," maintains Superintendent, Dr. Jim McCall.
"Valparaiso Community Schools is truly a reflection of the greater Valparaiso community. Although we are a comprehensive core curriculum setting, we have many offshoots for students to engage, and find out what they enjoy, what they're passionate about, and what they might want to pursue, both as a career and as an avenue to give back to the community. Valparaiso is built upon those values of having high expectations, working hard to achieve them by being a part of something bigger than yourself, and having the responsibility to give of yourself to make it better because you enjoy the fruits of the community supporting you."
As a K-12 district, Valparaiso has eight elementary schools, two middle schools, one high school, and an alternative school. In a trend that is becoming more popular throughout North America, students are introduced to pathways that lead them toward various career and future education opportunities.
Dr. McCall elaborates, "Some of those pathways lead to our career center, where they can take classes in those fields that would interest them such as health occupations, manufacturing and building trades, but many of our pathways also lead to two or four-year colleges. So, we look at three outcomes. We look at employment, enrollment, and enlistment."
In fact, Valparaiso recently unveiled a "Military Hall of Honor" at Valparaiso High School, an initiative that honors VHS graduates who chose to pursue the military after high school. "Serving in our Armed Forces is such a noble pursuit, and this initiative honors those who've taken the Oath to serve, while exposing our current students to the military in a consistent way," McCall said.
Art Teacher Jessica Corral describes how pathways to success begin long before high school, sharing, "Even in the kindergarten realm we're trying to help students discover their passions, and the way that they do that is by exploring all of the different arts." Describing an elementary setting that embraces music, art, physical education, and STEM, she adds, "That gives them a wide range of arenas to find their niche, and what they like to do. It really builds their confidence at a young age."
Partnership with local businesses and the city has allowed students to showcase their creative efforts, something that McCall believes sets the district apart. With three different community art festivals throughout the year, students have opportunities to display and perform their work in a public setting.
Valparaiso residents eagerly anticipate the annual "This Is Our Story" program, a cherished winter tradition that has been celebrated for 70 years, bringing students from all grade levels together to showcase their talents in the performing and visual arts. In 2016, Corral organized a second exhibition called "Spring into the Arts," an annual event held in Valparaiso's downtown area during the spring season.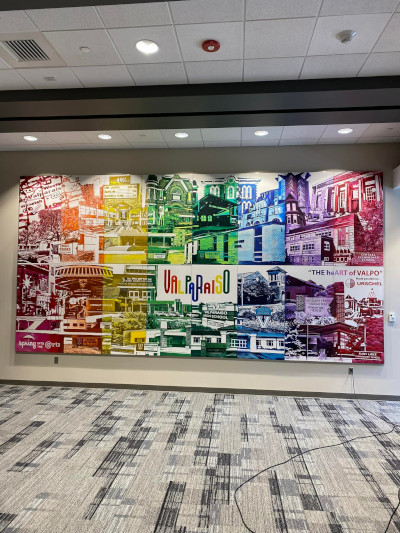 She recounts, "Businesses are opening their doors for us to have artwork on display. It is a visual art, but we've also showcased theater, film, and STEM has been on display as well. We love the connection with the businesses opening their doors for us and the city encouraging us to have this platform. It brings together this beautiful bridge of student passions and our community."
Acknowledging the effort required to organize such a complex festival with many different components, she says that the end result justifies the hard work, especially for the positive impact it has on the students and the enjoyment it brings to the community.
Engineering, Technology, and STEM Department Chair, Tarik El-Naggar notes that the programming offered through Valparaiso Community Schools is unique in the Midwest. As a former Professor at the University of Michigan, El-Naggar took this role with the district 9 years ago and has been a part of its transition. "What a fantastic opportunity it was," he relays. Presented with the question, "What would you do, if you could do anything?", he jumped in and got started. "The school was going through a remodeling and so we were able to customize the entire STEM department and create labs and spaces that would be very similar to what you would find in college. We've modified the curriculum and utilized the Career Center for focused instruction on the trades. For students who are interested in going to college or are looking for those positions of management and things like that, then go through our program. Our transformation has been absolutely amazing and has led to so many opportunity for our kids," he portrays.
With this, the district is able to boast a 100% success rate of graduating engineers being accepted to Ball State and Purdue universities, a remarkable achievement considering the intense admission requirements of both.
Valparaiso Community Schools has introduced an aerospace track this year, designed to align with Purdue University's renowned Aerospace program, widely regarded as one of the best in the country. The district has also incorporated robotics, and computer science with a focus on cybersecurity and Artificial Intelligence (AI) development and is actively exploring other critical career pathways such as environmental engineering.
By offering these programs, Valparaiso aims to equip students with the knowledge and skills necessary to thrive in emerging industries and address the demands of the future job market.
On the subject of technology, El-Naggar remarks, "Our equipment is as advanced as you would find in any office or industry in the Midwest. We have laser cutters, 3D printers, waterjet cutters, FAA-approved flight simulators, and we have a Virtual Reality (VR) Lab with four wireless VR stations, which few, if any, high schools have, and most universities maybe have one or two."
He suggests that often students have to wait until at least the second year of college to experience some of these technologies, but Valparaiso students are raising the bar as they continue to succeed.
In terms of when Valparaiso students are introduced to this technology, El-Naggar points out, "Our STEM program starts in the elementary grades. So, our ninth grade students have a baseline familiarity with engineering. They have been doing it for six years. At all levels, we're supported and encouraged to keep innovating for our students."
Adding her own thoughts Corral continues, "The freedom of students learning their own pathway, and also educators being able to create the curriculum and really visualize what it is that kids can do within the classroom and beyond. So, when you have both of those entities, educators and administrators along with students and families having the freedom to explore and pursue these pathways, the outcomes are set up for success."
Starting in 2015, the Valparaiso Community Schools community has invested over $150 million in upgrades to all school buildings, as well as the construction of a brand new elementary school. This initiative included the addition of secure entryways, the upgrading of HVAC systems, and enhanced safety features. The project spanned eight years, with the final phase being completed this year. Regarding the district's investment in technology, much of it was made possible through the Challenge Education Grant provided by the redevelopment commission.
Superintendent McCall emphasizes that along with the funding, "The key ingredient is the people. What makes this special are the people that we have, who work with our kids, and are able to leverage and maximize the facilities, the equipment, the infrastructure." The city administration, including the mayor's office and the city council, have been supportive partners, along with the Greater Valparaiso Chamber of Commerce, and the local businesses that provide opportunities for students to exhibit their work.
In addition, Corral mentions the impressive funding that the district receives in support of the arts, relaying that since 2016 over $100,000 in grants have been awarded to the art department from the Anderson Foundation, Porter County Community Foundation, and Urschel Laboratories, whose contributions are invaluable to the schools.
Looking towards the future, McCall says Valparaiso District Schools will continue to focus on innovation, with plans to implement a quality energy management program to evaluate energy usage and introduce solar energy generation. He highlights the significance of having solar energy in schools, indicating that it will provide valuable learning opportunities for students.
In conclusion, he conveys, "Our values and our mindset put us in a great position to continue to innovate for our students and for our community. When we proudly say 'We Are Valpo' that's the essence of what it's all about."
AT A GLANCE
Valparaiso District Schools
What: A innovative school district bringing state-of-the-art opportunities to students
Where: Porter County, Indiana
Website: www.valpo.k12.in.us

Gibraltar Design – www.gibraltardesign.com
Gibraltar Design is a full service architectural/engineering/interior design firm with complete focus on educational facilities. Our unique client-focused approach revolves around constant communication and collaboration with clients. We design spaces where students and teachers have the best opportunities for current and future trends of teaching, learning, and achievement.

Stratelign – https://stratelign.com/
Congratulations Valparaiso Community Schools. Stratelign is excited to align with you to achieve energy and operational excellence in your facilities through energy advisory services. We are impressed with your commitment to understanding how you are using and losing energy, and with your desire to explore your own renewable energy generation.