Turtle Bay Resort
A North Shore Transformation
Business View interviews Tom Donovan, General Manager of Turtle Bay Resort, for our focus on Resilience of Tourism & Hospitality in Hawaii
Standing on the north shore of O'ahu in beautiful Hawaii, Turtle Bay Resort has been offering visitors a deeply authentic experience since 1972. With its undisturbed coastline, and grounds spanning 1,300 acres, the resort has an abundance of opportunities to explore the magnificence of the land and the sea, while connecting with the area's history and culture. The stunning surroundings have also grabbed the attention of Hollywood, becoming the backdrop of over 150 movies and TV shows over the past 50 years.
When ownership of Turtle Bay Resort changed hands in 2018, it was determined that it was time to start planning a major transformation. Fortunately, the timing of this undertaking coincided with the early days of COVID, and Turtle Bay was closed during a time when attention could be given to some of the larger projects. Instead of reopening at the same time as other area hotels, Turtle Bay opted to remain closed, focused on bringing the hotel up to the standards visitors were looking for.
Tom Donovan, General Manager recounts, "We took the opportunity, knowing that the market was going to be pretty soft, to continue the closure just to get those tough projects done. So, we really opened up July 1 of 2021, a little bit later than some of the other hotels when they came out of the pandemic. But the good news is we got all the messy stuff out of the way." This phase of the renovation included new windows and railings on the outside of the building, and major updates to the lobby, restaurants, and the pool deck.
After reopening, efforts were put towards updating guest rooms, followed by spa and fitness center updates which are expected to be completed in 2023. "At that point, every part of the hotel that the guest sees will have some form of transformation or renovation. I am really excited about where we've positioned Turtle Bay, from the look and feel and also from a service standpoint. I think we're well prepared as this visitor industry continues to return to the state of Hawaii," relays Donovan.
Primarily targeting the North American market, Donovan suggests that this can be narrowed down to an age demographic between 25-44 years old, which he says is younger than what he has seen in the past. A perfect destination for what he describes as "the affluent traveler, that is young and looking for some adventure," Donovan adds that the resort is not only targeting younger people and families, but also incentive groups, remarking that this is also a new direction for Turtle Bay. "It is the groups that take people on a trip to thank them for doing a great job and selling a lot of things for the company. We are going after that market, which hasn't been a strength for Turtle Bay in the past. It seems like now a lot of these incentive houses and companies are looking for something new. Even though we're 50 years old, no one would be able to tell when they see what we've done to the place."
Not lacking in experiences, Turtle Bay Resort has everything from surf lessons with the Jamie O'Brien Surf Team, to horseback riding, helicopter rides and birdwatching on their extensive list of exclusive experiences, not to mention all of the other north shore adventures available to guests. "We definitely have a lot of experiences that are on property," says Donovan. "We have about 59 unique activities, so, there's a lot of things that can get people moving and get people excited about being at Turtle Bay."
With five miles of coastline, the north shore provides guests the opportunity to find their own private oasis on the beach or enjoy a spot right next to the hotel where activities such as snorkeling are available. "We have a beautiful beach, which is fantastic. From that standpoint, the younger clientele is definitely enjoying a bunch of different things that they can do when they're here. We find that it's a type of client that doesn't want to sit by the pool all day. They want to have that experience, but they also want to get out, see some things and participate."
Six hundred of the resort's 1,300 acres are protected lands that can never be built on, and Turtle Bay Resort staff are known as stewards, for their role in this conservation. "We partner with the City and County of Honolulu as well as the state of Hawaii who own these areas now. They were sold to them, and now we are the stewards, because it's our responsibility to continue to take care of these precious lands that have happened here," asserts Donovan.
Exploration of these natural areas is encouraged, with 12 miles of hiking and biking trails and cultural tours sharing the rich history and tradition of Hawaii's north shore. With a 469-acre working farm, Turtle Bay Resort uses 180 acres to provide food for the resort. According to Donovan, "It's the sustainability factor. We get a lot of our vegetables, corn, greens and a bunch of other things out of there. We planted an orchard a little over a year ago, so those take a little while to mature and everything, but we're excited we're well on our way to bringing that to fruition. Talk about your farm to table, we have the whole farm."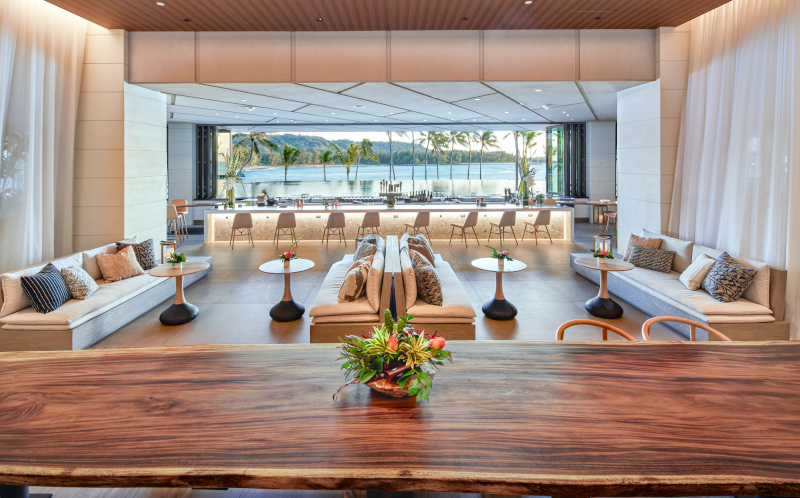 Dining options on the resort include Alaia, a restaurant serving breakfast and dinner, using a lot of produce from the farm. "It is really a celebration of the seafood more than anything," shares Donovan. "The variety of the sea life that we use at our tables is pretty impressive." Sunset, another dining option, offers alfresco dining by the pool, while Off the Lip, a bar serves light fare to a backdrop of live music, and is popular among guests for its spectacular views of the sunset. The resort is also home to Roy Yamaguchi's Beach House Restaurant, a highly successful dining option situated in Kuilima Cove, the hotel's main beach.
For those seeking a more casual experience, Lei Leis provides what Donovan portrays as "a very local authentic place." Food trucks are another north shore favorite, not to be missed. "We have food trucks up and down the highway here that people enjoy. You always want to go to at least one of the food trucks during your stay and enjoy that authentic side of it as well," he suggests.
With a long list of trusted business partnerships and relationships, Donovan says, "Hawaii in general tends to just get along. We've all kind of chipped in here and there to help each other out. Some of my best friends are my competitors, which you don't always find in other places that you work, but I'm good friends with many of the GMs in the state. There are so many different ways that we've all pitched in to make sure that our destination is not known as one hotel or one resort or another, but a collective unit. I'm proud of working with all these people out here."
Hawaiian Convention and Visitors Bureau is one resource that Turtle Bay Resort relies on for marketing, along with marketing efforts at the municipal level to attract tourists to the north shore. Noting that the community has also been a huge support for the resort, Donovan shares that Turtle Bay also gives back, handing out $100,000 worth of scholarships in 2021 to students on the north shore. With a goal of $150,000 in scholarships in 2023, the Turtle Bay Foundation was set up in 2012 to support the youth in the area. He emphasizes, "One thing that I think is the most important of all is making sure that students get an education. There's a lot of great philanthropic things out there, taking care of people, taking care of Kupunas, our elders, taking care of different healthcare issues and all that stuff. But making sure that students learn something and are educated can really go a long way for helping out the community. So that's the thing we put a lot of time and effort into."
As for what is next for the newly transformed Turtle Bay Resort, Donovan offers, "I think this could be one of the most relevant resorts in the state of Hawaii. The amount of space that we have here, the uniqueness of our coastline, the sensational stewards that we have here who do a fantastic job of being really authentic, that's what's helped us have such great feedback from our customers." Moving forward he sees continued efforts to promote the extraordinary amenities of the resort, adding, "What we offer in terms of the water and the land is very unique to this state. As we continue to mature and continue to showcase those aspects to the visitors that come in, I just think this this resort has no place to go but up."
AT A GLANCE
Turtle Bay
What: A 1,300-acre resort on Hawaii's north shore.
Where: O'ahu, Hawaii
Website: www.turtlebayresort.com