Harris & Bruno International
Great culture at its core
Business View Magazine interviews Nick Bruno, Owner of Harris & Bruno International, for our focus on the U.S. Manufacturing Sector
The print industry has undergone significant changes over the last two decades. Book, magazine, and newspaper printing is all but dead due to the rise in digital publishing. In contrast, other print areas like packaging and specialty printing have exploded as markets become more competitive and companies try to differentiate their products.
Harris & Bruno International, based in Roseville, California, are coating and printing equipment experts that have had a front-row seat to this evolution. "We're a global supplier of machinery and systems for the industrial printing industry for use cases such as the packages you see in a grocery store and items you receive in the mail, besides providing high-end print coating solutions and supplying OEM components to other manufacturers," says Jim Riga, Harris & Bruno International's Chief Operating Officer.
Harris & Bruno International was founded by Mel Harris and Louis Bruno in 1948 as the Harris & Bruno Machine Company. Ten years later, in 1958, Louis Bruno bought out his business partner's share, gaining complete control of the company while retaining the name Harris & Bruno. In 1985, Louis Bruno's son, Nick Bruno, joined the firm, helping run and grow the company until 1990, when he acquired full ownership of Harris & Bruno International from his father.
Under Nick Bruno's stewardship, the company moved to its present 48,000 square-foot facility in Roseville, CA, opened offices in Europe, Germany, China, and Japan, and is currently constructing a satellite factory in Post Falls, Idaho.
Significant milestones in the company's history include launching the LithoCoat™ (chamber/anilox) System and LithoCoat™ UV/Aqueous Circulator in 2000, the ExcelCoat Innovation Center in 2012, and, most recently, the ExcelCoat ZRW High-Speed Web Coater for AQ and UV.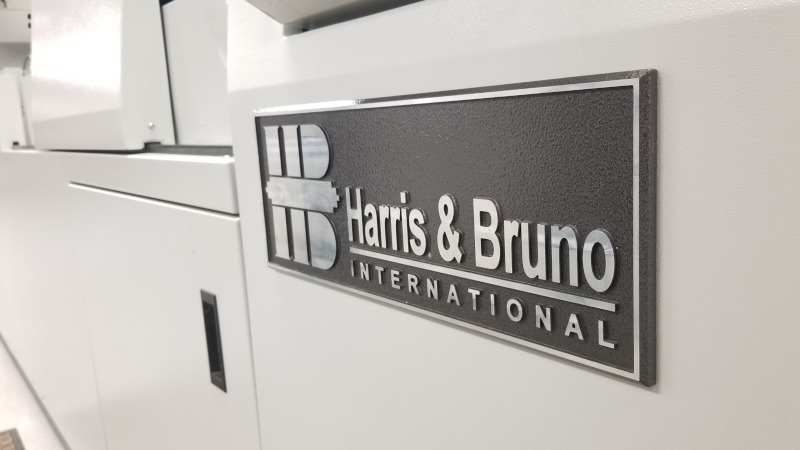 "From a technology perspective, we try to stay ahead of the competition by developing technologies that reduce human input, which everyone is interested in," explains Bruno. "Our equipment costs more but is more automated and dependable, allowing printers to get more done with less labor, a critical factor in an industry rapidly growing due to increasing demand for consumer goods that rely on our package printing products."
Harris & Bruno International serves the digital, offset, corrugated, and Flexo printing market categories. As one of a few fully vertically integrated companies in the industry, its equipment and coating products include offline and inline coaters, Anilox rolls and services, synergy coating, chamber systems, circulators, coating, parts, and consumables.
Besides manufacturing standardized OEM products and equipment, the company can also provide customizations to meet customer needs in a rapidly growing market and diverse use cases, as Bruno explains. "One example is direct mail," he says. "Our machinery allows companies that build automated digital inkjet presses to put an overcoating on prints to protect and embellish them, making them more attracting and driving better engagement from end users getting them in the mail."
Despite investing in automating its printing products to reduce labor requirements, ironically, Harris & Bruno International considers its workforce its most valuable asset. The company's culture of openness and transparency places communication as the cornerstone of its operations. Bruno attests, "We have a great culture. We recently interviewed a candidate for a high-level position, and I was chatting with him on the phone when he commented, 'I could tell walking through your building and interacting that you have a great culture'. Our culture is something of which I am proud."
On the recruitment front, Bruno admits the industry has had labor shortages since he entered the business 40 years ago. "Labor issues have been around for a long time," he says. "Our solution is to attract younger people that aren't going to college and might be thinking of getting into a vocational career. To do this, we align closely with local high schools, junior colleges, and technical colleges to try and recruit people into our industry."
As part of this alignment, the company extensively networks with these institutions, helping students understand that there are more career options beyond white-collar jobs. "We've done a real disservice in past years telling young people that if you want a good job that pays good money, you must go to college because that's far from the truth," Bruno says. "You might get a degree in sociology, but that will not pay the bills automatically. On the other hand, there are people in good vocations making great money and did not need to incur hundreds of thousands of dollars in college debt."
Beyond recruiting, Harris & Bruno International employs lean process ideologies that help it improve efficiency and productivity. One example is Gemba, a Japanese word that refers to the actual place where value is created, such as the factory floor.
"We have daily Gemba Walks, which means going out to the production floor and seeing what's happening," explains Riga. "Every department in the company, whether manufacturing, assembly, sales, accounting, engineering or service has a daily report they must do in front of a board measuring key metrics for their group. Some of the best training happens daily at these meetings where we encourage people to mention problems and issues. Even if somebody failed, we write it down, talk about it, learn from it, and put training documents in place if needed."
The COVID-19 pandemic disrupted supply chains across multiple industries, and the print industry was not spared. "For us, COVID as a disease is somewhat in the rearview mirror, but its impacts are still evident and present today," shares Riga. "We are still experiencing its effects on the supply chain for parts, components, and materials, the lack of a large, well-trained workforce to hire from, and competing with larger companies paying extremely high wages to attract people."
The company is working on offsetting these challenges by strengthening its core business components, especially its supply chain. "We are collaborating closely with our suppliers to reduce supply chain issues like providing them with forecasts to ensure they bring the inventory we need at the right time," explains Riga. "We are also looking outside the United States to find reliable supply chains. For instance, Europe has smaller suppliers, and we are looking at how we can tap into that market to get what we need."
These supply chain challenges are part of broader systemic issues in U.S. supply chains, according to Bruno, most of which have to do with the mindset of companies within those supply chains. He notes, "U.S. companies primarily focus on short-term shareholder returns and dividends. European and Asian companies focus on where they want to be in five to ten years, making their supply chain infrastructure much deeper."
Despite these supply chain challenges, the sustained growth of the print market is proving to be a significant driver of the company's growth post-pandemic. "Many people think print is dead or dying, but it's far from that," says Bruno. "Some parts of print like newspapers have fallen by the wayside, but certain parts of print like photo books, direct mail, and package printing have grown tremendously."
Because of this growth, Bruno does not see the company moving its manufacturing out of the U.S. "We're very cost competitive," he says. "People will sometimes ask whether we could not make it cheaper in China or some other place. I always tell them that if you use the same components and pay attention to quality, the price is about the same."
This focus on quality forms part of the company's three-to-five-year plan as it seeks to stabilize its operations, diversify, and grow further. "Many of our customers have been with us for over 20 years," says Bruno. "As we build products for them, we cannot stand still. We must continue innovating for better automation, to drive cost and waste down, and provide more value."
For Riga, achieving these gains will only come from striving to do something better daily. "We recently had a major Kaizen event in one of our manufacturing areas, an example of how we continue to strive for continuous improvement to drive more value for our customers and us."
AT A GLANCE
Harris & Bruno International
What: A global supplier of machinery and systems for the industrial printing industry
Where: Roseville, California
Website: https://www.harris-bruno.com/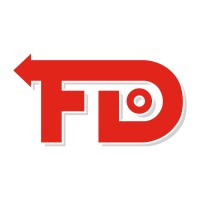 Flodraulic Group – www.flodraulic.com
Innovation Applied™ FLODRAULIC is a multi-dimensional fluid power company with expertise in an unparalleled number of technologies and markets. Innovative, creative value-add, and customized turnkey solutions is what we deliver.  An international distributor with local customer support, we have inventory, engineering, assembly and sales facilities across North America and Europe.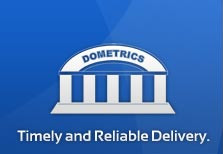 Dometrics, Inc. – www.dometrics.com
Here at Dometrics, Inc. we specialize in the supply of European components for manufacturing and processing machines. Our import system is here to provide customers efficient and effective delivery of products. We also provide replacement parts for existing European built machinery. We work on your behalf to decrease machine down time and increase productivity. Visit our website or call today, to find out how we can help you find the best cost and delivery option for your needs.