Cottage Grove, Oregon
Working Together
Business View interviews Richard Meyers, City Manager of Cottage Grove, Oregon, for our focus on Growth & Resilience in U.S. Cities
Located on the southern tip of Oregon's picturesque Willamette Valley region, the City of Cottage Grove is a community that celebrates its past, while embracing the future. With a long history of mining and logging, Cottage Grove is also known for its six covered bridges, and the only remaining covered railroad bridge west of the Mississippi – crowning them as the Covered Bridge Capital of the West.
Nestled into the foothills of the cascades, Cottage Grove is positioned around the junction of the Row River and the Coast Fork of the Willamette River. The city's scenic surroundings and 240 acres of parkland are a great backdrop for outdoor experiences such as camping, biking, and hiking, while the natural splendor of Cottage Grove Lake and Dorena Lake offer popular recreation opportunities.
Not without controversy, Cottage Grove has a fascinating story in which the city divided into two communities as the result of an ongoing a feud in 1893. City Manager, Richard Meyers recounts, "One side felt they weren't getting the improvements that they needed or wanted, and the other side was getting all of the improvements, the sidewalks and things like that. So, they broke away. They actually stole some of the records from City Hall and the post office moved in the middle of the night."
Known as Slabtown and Lemati, these communities remained separate until an act of the legislature had them reunited in 1897. In recognition of this interesting period in their history, Cottage Grove residents participate in Slabtown and Lemati competitions during the annual Bohemia Mining celebrations. The city also celebrates their heritage in the film industry, with three classic films – Animal House, Emperor of the North, and Buster Keaton's silent film, The General – all filmed in Cottage Grove.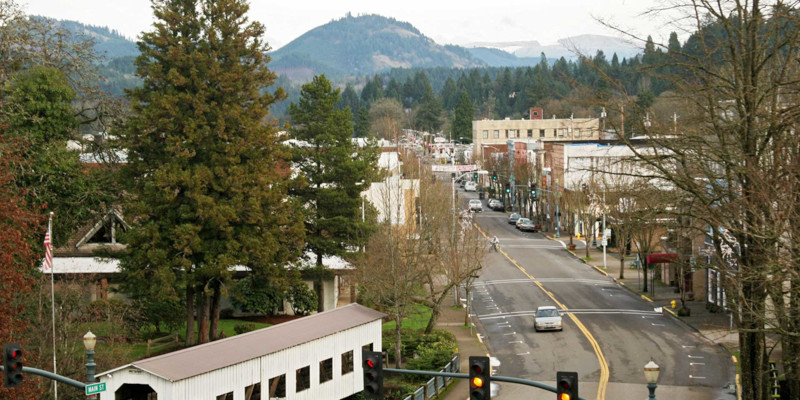 As recipients of a $5 million EDA grant for the revitalization of the city's historic downtown, with an additional $1.6 million in contributions from the local community, Meyers shares that this will go towards rebuilding and enhancing Cottage Grove's Main Street area, which is a National Historic District. The city is also working on restoration of the Cottage Grove Armory, a 33,000 square foot, Art Deco building. Constructed in 1931, it is the first poured-in-place concrete structure in the area. "We acquired it when the National Guard moved and consolidated their services into a new Armory in Springfield in 2010," says Meyers. "We're restoring it back to its original look, giving us the ability to do events and activities in the community. That's another big project."
An old railroad engine repair yard has also been restored and turned into Bohemia Park, through a partnership with the Faye and Lucille Stewart Foundation, who own the land, but have granted the city a 99-year conservation easement on it. "That was so we could get grants through the city. We own it and they still maintain it, but we do a lot of other work with it and help with the maintenance. It has become a central activity place in the community and it is really well located." Meyers reports. "They've applied for a grant through the EDA for a new entrance telling the history of mining, timber, and agriculture in the community, and also for a splash pad and other recreation there." The park is currently home to a 2,000-seat amphitheater and a fountain pond.
In other infrastructure projects, Cottage Grove has completed construction of a 12-million-gallon pond, as part of the wastewater treatment plant. Meyers explains, "We are the first municipality that's discharging into the coast fork system in the beginning of the valley, and we're pulling most of our effluent out, using it for irrigation instead. We already irrigate our golf course that we own and operate, and we'll be moving that irrigation water through the pond to other parks and facilities throughout the community. We're reclaiming that water and reusing it in the community, so we don't use treated drinking water – to be more sustainable and make our drinking water system last longer. The regulations on discharging into the river continue to get tighter, and our biggest challenge is temperature. If we water the park with it, the grass doesn't care if the water is 65 degrees instead of 64, but the river temperature is important for fish and avoiding growing algae and other things that deplete the oxygen and harm the fish and aquatic life."
Highlighting another sustainability effort, Meyers describes an upcoming bridge project which will use beams from a temporary project by ODOT. He relays, "We didn't purchase them, actually, ODOT had to get rid of them so they were giving them away. We got 14, so we can build another bridge over the Coast Fork Willamette, which is in our transportation plan. By acquiring these bridge beams for free, all we had to do was have them shipped to us. That cost us about $90,000. We saved $800,000 to a million dollars in new beams plus the energy and the resources to build these beams." Weyerhaeuser, a forest products company with a sawmill in Cottage Grove, is currently storing the beams until they are needed, which according to Meyers will happen sometime in the next 5-10 years.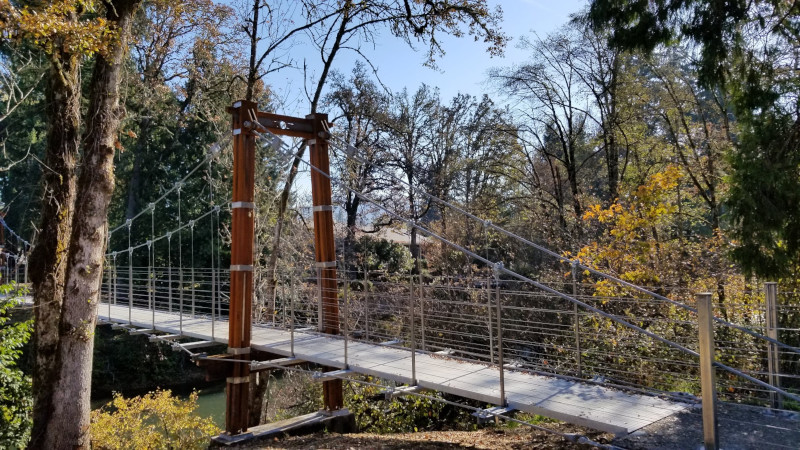 A designated Tree City USA community for 25 years, Cottage Grove has been awarded a "Growth Award" for the last five. Recently, they've been working to plant more trees, replacing those which were damaged or destroyed during a major snowstorm in 2019. "We got about two feet of snow which is not typical for Cottage Grove. This was a heavy wet snow that came in and destroyed a lot of trees," Meyers shares. "So, we purchased about 300 trees in 2020 and gave them away to citizens that wanted them. This year we did it again; purchased 3,000 trees and had them available free to pick up, so we can rebuild our canopy of trees in the community."
When it comes to partnerships, Meyers maintains, "We take every opportunity to find one. Every business and organization in the community is a potential partner, depending on the project." Relationships with organizations such as the Bohemia Foundation, and the Faye and Lucille Stewart Foundation are a valued asset to the community. An ongoing partnership with Weyerhaeuser is also significant, not only for their role in storing the beams for the new bridge, but also a recent donation of a pavilion from their property to replace an old one in the city's Prospector Park. Weyerhaeuser has also sold a property to the City of Cottage Grove to be developed into a trail connecting the south part of the city.
"We're acquiring it for $5,000 and it's far more valuable than that. It goes along the Coast Fork further south a little way and joins the middle school and some neighborhoods to Bohemia Park as well. We are really excited about some of those partnerships," asserts Meyers. Another Cottage Grove industry, PAC Tech, a packaging manufacturer, is working with the city on the remodelling of the Armory building. In true small-town spirit, these partnerships extend to the businesses themselves, with Weyerhaeuser offering the use of their rail access for PAC Tech, enabling them to bring their manufacturing facility to the city's industrial park.
Enhanced broadband is in the plans for Cottage Grove, completing a project that was started in 2006. Meyers recounts, "At that time, we took the initiative and funded the development of a Wi-Fi network and a fiber network in the community. So, we have a fiber loop that serves a part of the community. We tied the schools in and the government facilities. We have about 10 miles of fiber that we put in. So, I see us moving forward more with that."
Enhancing the tourist experience is also on the agenda, along with continued efforts to attract environment and nature-based industries to the city. With companies like Territorial Seed, Pacific Yurt, Weyerhaeuser, and Starfire Lumber, Meyers believes this type of industry is well suited to Cottage Grove.
Having only 10,000 residents, it is notable that Cottage Grove has many services usually geared to larger communities, such as a critical access hospital. With freeway traffic entering the community daily, Meyers shares that the city also has a Walmart and several fast-food options. As to whether he expects to see more of that type of development, he offers, "I see that continuing and I see us enhancing that country home feel of the covered bridges and seeing the mountains and hills all around us, and being a part of that."
AT A GLANCE
Cottage Grove, Oregon
WHAT: A city of 10,000 in the scenic Willamette Valley region
WHERE: Lane County, Oregon
WEBSITE: www.cottagegroveor.gov

PakTech – www.paktech-opi.com
Delivers custom packaging needs with the environment in mind
For over 30 years PakTech has pioneered sustainable packaging by providing high-quality, streamlined, and 100 percent recyclable packaging solutions for its valued clients. Excelling in the art of producing innovative multi-pack solutions using materials that meet the highest environmental standards, PakTech has truly perfected the craft of smart, simple packaging design while understanding industry needs and specifications.
In 2016 PakTech expanded its manufacturing operations to an additional facility in Cottage Grove. Last spring, PakTech relocated their headquarters to a new state of the art 180,000 square foot facility. PakTech shows no sign of slowing down and has sights on expansion internationally as well.
With customers spanning from the beverage and food industry and to other CPG sectors, PakTech is the number one choice year-over-year for innovative multi-pack solutions with a reputation for its appeal and performance.
PakTech also has a robust portfolio of automated handle applicators that are designed and built by their in-house expert engineering team. Offering its client custom multi-pack handle solutions, PakTech has proven for over 30 years to consistently respond to its customers' desired design direction with handles and a matching applicator to apply.
A top priority for PakTech remains its commitment to producing sustainable, environmentally friendly products. Utilizing 100 percent recycled HDPE plastic which is fully recyclable, PakTech's products can be reused for a multitude of purposes after their initial use. To date, PakTech has repurposed 868 million recycled containers into packaging handles.
Top quality craftsmanship, commitment to its customers and environment is what rightfully led PakTech to the top as a leader in sustainable packaging.

Lane Council of Governments (LCOG) – www.lcog.org
Business Lending offers government loan programs to assist small business' with their financing needs.
Local person on site and available to answer questions.  Our loan programs offer numerous benefits including long-term attractive fixed interest rates, higher loan-to-values, and easier access to capital.
Bohemia Park – www.bohemiapark.org
Bohemia Park creates a space for big town talent with a small-town feel – from the symphony in the park to ballet recitals, celebrations and family gatherings, to kicking-off bike adventures along the Row River Trail. Bohemia Park provides connection, recreation, and culture to fuel healthy, vibrant lives for all.