Tide Cleaners
The future of laundry care
Business View Magazine interviews Andrew Gibson, CEO of Tide Cleaners and Clare Moore, Director of Franchising, for our focus on the U.S. Franchise Sector
First opened in 2008, Tide Cleaners is a service that has grown into a personalized laundry service providing wash and fold laundry, dry cleaning and alterations. Agile Pursuits Franchising Inc., a wholly owned subsidiary of Procter & Gamble, first launched the brand and has grown the model to 180 stores across the U.S. The brightly-colored TIDE bullseye has been a familiar brand in homes everywhere for generations, synonymous with clean, fresh-smelling clothes and innovative, no-nonsense products for household use. Now Tide Cleaners is literally the 'go-to' solution, representing the future of laundry care outside the home, brought to you by America's #1 trusted laundry brand.
Business View Magazine spoke with Andrew (Andy) Gibson, CEO of Tide Cleaners, and Director of Franchising, Clare Moore, for insights into the company's franchise model, exciting new programs, and what's on tap for the future. The following is an edited transcript of our conversation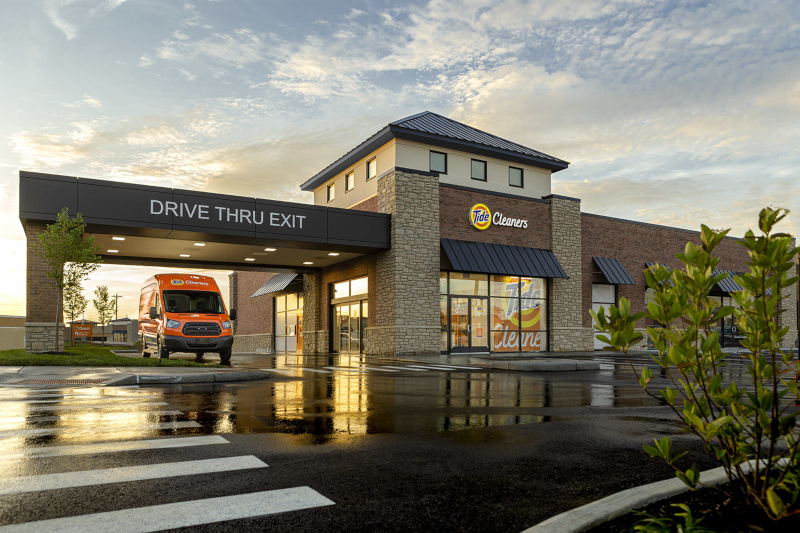 BVM: How did Tide Cleaners come into being?
Gibson: "This all started in Kansas City in 2008, when Procter & Gamble began testing what was then called Tide Dry Cleaners within the services sector. The first three stores were in Leawood and Overland Park, Kansas. We had some good success with those initial stores, developed a corporate store here in Cincinnati and began franchising the concept in 2010. Since then, we've learned a lot from other great retail and franchise concepts and have expanded across the country – our franchise network began developing stores in Phoenix, Las Vegas, Atlanta, Chicago, Omaha, and South Florida and as those seeds began to grow, so did the external interest in the franchise concept.
"As we grew from 2010 to 2015, we were focusing on our understanding of the dry cleaning industry and how to deliver the Tide Promise to our guests, every time. Really polishing the investment model and the return on investment for our franchisees. By the beginning of 2016, we had about 40 stores. Since then we've experienced explosive growth. Currently, we have 180 stores and we're franchising in all major U.S. cities. We have a high focus on net promoter score (NPS). Our overall, network-wide NPS over the past three years has been above 70 and at last tabulation it was close to 75. That's something you earn every day with every transaction with every guest, but it definitely upholds and builds the Tide brand."
BVM: What is different about the Tide Cleaners approach?
Gibson: "When P&G does anything there is extensive research involved. So, when we wanted to get into the dry cleaning space, we did a number of different consumer/guest understanding research programs. Consumers told us that they were completely dissatisfied with their dry cleaning experience; everyone had dry cleaning horror stories. They didn't have your shirt ready, they ripped your dress, they're open on their schedule, not yours. But what was really fascinating – at the time, this was a $9 billion industry with no major player. So, when we saw guests that were dissatisfied in such a big, highly fragmented industry, that's when we seized the opportunity.
"The offering we started with in 2010 was pretty innovative in the dry cleaning space. We started with core plants where clothes were dry cleaned or laundered onsite. Each of those core plants had three big points of differentiation. All had 24-hour access to pick up or drop off clothes. All had double-lane drive-thrus and innovative proprietary services provided only by Tide Cleaners.  Our guests received top level service fostered by the best-in-class hospitality training we provided to our franchisees. From a quality standpoint, we had a really innovative approach to how we made sure every garment came back to Tide level of perfection; and we've continued to innovate. We added home delivery around 2012, and moved to other contactless features even before Covid-19. Each of our stores has a 24-hour Drop Box and either a locker system and or a 24-hour anytime kiosk, where you can pick up and drop off your clothes even if the store is not open. The kiosk is like an ATM for your clothes that actually connects to the conveyor system."
BVM: What attributes make a good franchisee prospect?
Gibson: "We look for franchisees with a business background who are financially qualified for multi-unit growth, that embody the owner operator mentality, and are brand ambassadors for Tide and Tide Cleaners. We've been very successful with people that have franchise experience with other concepts, but it's not a requirement. Real estate developers, Fortune 500 executives are part of our franchise network and people who bring experience from the dry cleaning industry itself. You don't need dry cleaning experience to be a franchisee with Tide Cleaners, in fact, about 90 percent of our franchisees have zero dry cleaning experience when they start. Our world-class support model and training program sets our franchisees up for success, with or without dry cleaning background. For prospective franchisees, I'd say, the essential element of franchising is being in business for yourself, not by yourself."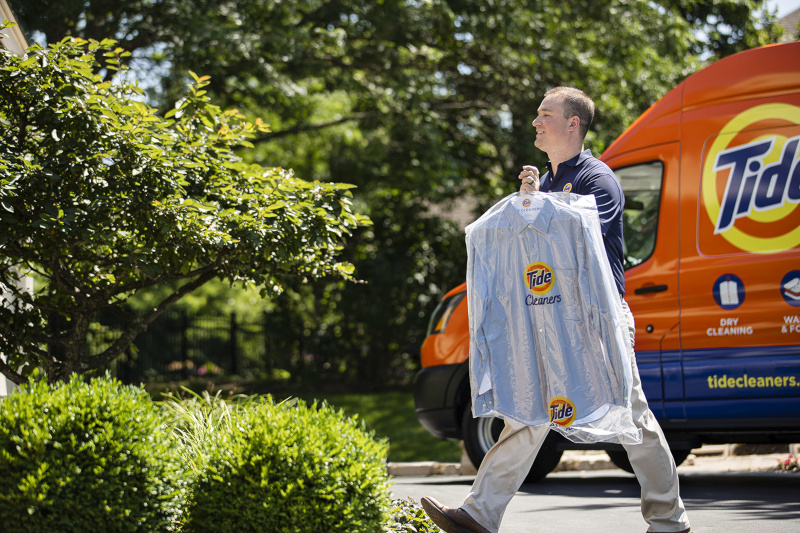 Moore: "The last time we ran the numbers, 85 percent of our franchisees have some element of family involved in the business, brothers, sisters, husbands, wives. We find our most successful franchisees are truly invested, not just from a financial standpoint but from a personal perspective. They are creating a legacy and building wealth for their family, this is a long term investment. Quite a few of our franchisees are retired from previous jobs and are investing in developing Tide Cleaners to be able to leave the business in the hands of their children when they're ready to fully retire.
"There are a few franchisees in the network that are strictly financial investors, but they are always part of a larger group that also has someone invested from an owner operator standpoint. That is a requirement of ours. Our expectation is not that they're in the store seven days a week. Although, some do it initially because they want to know the business from top to bottom, which we love. But our goal is to pull them more out of the store, especially after they get that first one up and running, so they can focus on growing the Tide Cleaners footprint in their market."
BVM: Where is the best location for a store?
Gibson: "We look for traditional A+ locations from a real estate standpoint. It is important in the dry cleaning industry because, traditionally speaking, dry cleaning is not a destination, it's a chore on a list of things to do. So, proximity to daily needs like a grocery story is critical for us. A number are freestanding and about half our stores are drop stores where there is no production done onsite; it's a smaller space, typically 1200 to 1500 square foot, that is primarily for pick up and drop off, and the plant store does the cleaning. In addition to the brick and mortar locations, we also have over 1,800 pick-up and drop-off locker locations across the U.S. These are primarily located in downtown areas, in multi-unit family buildings."
BVM: What does the future look like for Tide Cleaners?
Gibson: "Right now, we're a U.S. based brand and we're located in about 30 of the top 50 markets across the country. We still see a lot of opportunity for growth in markets where Tide Cleaners already has a presence and are looking forward to working with franchisees to expand into new markets."
Project Hope
Project Hope, known to consumers as "Tide Loads of Hope," started in 2005 after Hurricane Katrina. As a physical presence, the project is made manifest in the form of a big, 16-wheeler truck with a giant assemblage of washers and dryers that goes to a hard hit community and offers what people need. When catastrophes or disasters hit, what's often overlooked is that people don't have clean clothes; so important for health and safety, and also from a dignity standpoint for people who are impacted. Over time, Tide Cleaners has become an extension of Tide Loads of Hope. And since the advent of Covid-19, franchisees across the country have realized there is an opportunity to help out and do more.
Tide Cleaners CEO, Andrew Gibson, explains, "The purpose of Project Hope is very simple – to help those who are helping us by providing clean laundry and dry cleaning free for front-line responders. It's a little thing but a difference maker for folks in these communities. It's been very rewarding to bring and to help our franchisees do meaningful work for people in need."
Dry cleaners and laundromats were deemed by every state as an essential service, so all 180 Tide Cleaners stores have been operating throughout the pandemic. "Which is a big credit to our 29 franchise groups that actually own the businesses," says Gibson, "and what they're doing day in and day out with their teams to keep providing that essential service for front line responders and other guests who continue to need and want their garments cleaned. There have been a lot of adaptations and protocols put into place to make sure we're able to operate and keep people safe and healthy to the best of our ability.
"Our franchisees have the flexibility to serve guests in their cars as they're coming through the covered drive-thru. Or we also have a service where guests can come into a building lobby, where the floors are marked for physical distancing of six feet. And P&G continues to provide our franchisees with thousands of PPE materials – masks, gloves, hand sanitizer, and other products to support the cause. We're very happy with the environment we've been able to create for our essential employees."
AT A GLANCE
Tide Cleaners
What: Nationwide dry cleaning and laundry service franchises
Where: Home Office in Cincinnati, Ohio
Website: www.tidecleaners.com
Union Dry Cleaning – www.uniondc.com
Union Dry Cleaning is a flagship brand of the FMB Group, the world's leading manufacturer of dry cleaning machines. Our United States office is headquartered south of Atlanta, GA, we offer the dry cleaning industry a full line of machines, parts and technical support.  

Signal Theory – www.signaltheory.com/contact
Signal Theory has helped national and global brands like Tide Cleaners, SONIC, Pizza Hut, Culligan and Captain D's connect with their customers through marketing campaigns that truly resonate. The key? A strong understanding of behavioral science that allows your brand to build trust, increase customer loyalty and get results. And the numbers don't lie. Since partnering with Signal Theory, Tide Cleaners has grown from 30 stores to over 150. Interested? Let's talk. SignalTheory.com/contact