Statesboro, Georgia
Vibrant & Welcoming
Business View Magazine interviews representatives of Statesboro, Georgia for our focus on Economic Development & Growth in U.S. Cities
Nestled in Southeast Georgia, scenic Statesboro is Bulloch County's largest city and its county seat. Founded in 1803, it was a community known for selling goods to the surrounding cotton plantations. Later, in 1928, musician Blind Willie McTell recorded his now iconic Statesboro Blues, singing, "Hand me my travelin' shoes…I've got them Statesboro blues." Today, the city has a population of 33,438 and is the proud home of Georgia Southern University's main campus. Chosen as one of the top three communities in America's Best Communities competition in 2017, great things are on the horizon for the City of Statesboro.
"As a college town, Georgia Southern University affects almost everything we do," states Benjy Thompson, CEO of the Development Authority of Bulloch County. "Both the Mayor and I are Georgia Southern alumni, and now there's even more people like us becoming involved with community leadership." Mayor Jonathan McCollar agrees that the university helps Statesboro stand out from other cities, but for him personally, it's the people that make it a special place. He shares, "We're a city of residents who rally around to help those in need. During COVID, we supported the economically vulnerable by working with non-profits like Feed the Boro to distribute food and organizing the Love UR City capital campaign to support local businesses impacted by COVID."
Both Thompson and Mayor McCollar believe residents care about a community they feel at home in. That's why it's essential that downtown Statesboro welcomes everyone of all ages and backgrounds. Especially with so many students aged 18 to 25, there's a vibrancy to the downtown core, and things are only gearing up to further improve. The recently completed Downtown Statesboro Master Plan aims to attract even more prospective students, small businesses, and retirees. One suggested method is by creating a downtown destination location. "It could be an entertainment venue or hotel; anything that will bring traffic," says Mayor McCollar. "A traffic problem means lots of people downtown visiting thriving businesses. It's exciting."
Since Statesboro is predominately a college town, it works hard to educate its future workforce. This past summer, the city launched its inaugural Youth Connect Summer Program, which offered high school students paid internships within city departments. The Mayor reports, "We had kids working in every area from human resources to accounting; it gave them real on the job experience. We're serious about preparing our young people to become great workforce leaders and assets."
The city also offers Georgia Southern students a similar opportunity through the Smart Community Corps Summer Internships program. Six months ago, the Development Authority of Bulloch County, The Bulloch County Board of Education, and the Ogeechee Technical College got together to create The Bulloch County Workforce Development Plan. "It helps students, starting in seventh grade, to understand all the job opportunities available to them. It's an exciting program that incorporates worksite visits in their chosen field," Thompson explains. Students also learn about Ogeechee's unique program offerings. The technical college is just one of five in the country offering the Amazon Mechatronics and Robotics Apprenticeship (MRA) Program that trains future Amazon maintenance employees. In addition, Georgia Southern's Bachelor of Science in Manufacturing Engineering is the only one of its kind throughout the state.
When it comes to accommodations, Mayor McCollar acknowledges, "Our future workforce will have a great housing inventory because right now, that's on the forefront of what we're doing. We're working diligently to improve our older housing stock. We've also started a housing plan with the Georgia Initiative for Community Housing (GICH) – that's been a great plus for us. Statesboro is utilizing its American Recovery Plan funds towards housing and we're super excited about this. We're looking for workforce, upper tier, and low-income housing; we're focusing on all three fronts simultaneously. We want to fill that comprehensive housing need."
The city is also further cultivating its Southern Gateway Commerce Park. Even though it's not directly located within Statesboro, it's served by the city's utilities, making it a vital part of the community. Thompson elaborates, "The city purchased the land in 2011. It was about nine miles south of the city limits on Interstate 16; the main artery from Savannah to Macon, Georgia. Back then, it was a rural interchange with nothing but fields and ponds. The city and county partnered to extend utilities to the site. During the years it has taken to complete that, we've spent time, money, and effort to recruit businesses to Commerce Park." Just this past November, ground was finally broken on the site for a brand new TravelCenters of America full-service truck stop, which will increase traffic at the interchange. Since then, Aspen Aerogels, a publicly-traded manufacturing company that produces insulating material used in electric vehicle batteries, has committed to a $325 million investment to build a manufacturing facility at the site which will create 250 advanced manufacturing jobs.
Statesboro also invests in infrastructure. Updating everything from storm drainage to the roads and sidewalks. A soon to arrive, new piece of infrastructure will be public transportation. COVID along with supply chain issues caused a bit of a delay, but all that's left to arrive now are the buses. "These will be the smaller cutaway buses, not the giant buses driving around," says Mayor McCollar. "We're highly conscious of our green footprint. We want to expand it over the years to come." The city has also equipped both Luetta Moore Park and Grady Street Park with free Wi-Fi. "Those parks are in our more disadvantaged areas," says the Mayor. "We needed to ensure that individuals living around there have free internet access."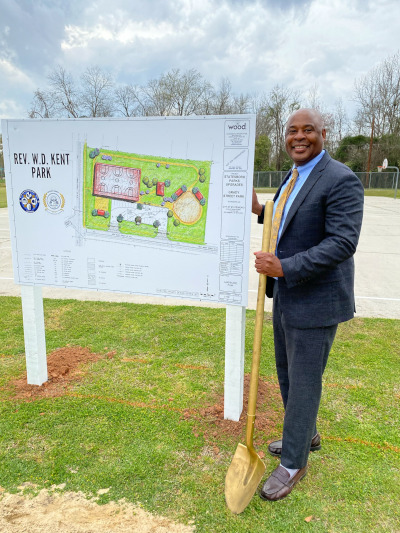 Looking ahead three to five years, Mayor McCollar wants to identify downtown's destination location and begin construction, so the project can be brought to fruition. Thompson adds, "People are recognizing Statesboro as a great place to live and raise children. The Savannah metropolitan area continues to expand in this direction. We must prepare for that. We've been a rural community for a long time, which allowed us to make deliberative decisions. But that's starting to change. It's a great position to be in as a community because we don't have to beg, borrow, or steal. Statesboro is already doing great things, so we just need to prepare for the future."
Thriving through partnership
Dr. Kyle Marrero, President of Georgia Southern University shares his thoughts on the valuable relationship between Statesboro and the University, noting:
"Statesboro is indeed a special place… because of the people and community leaders like Mayor McCollar and Benjy Thompson.
"From the perspectives of economic development and quality-of-life, the relationship between Statesboro and Georgia Southern University is interdependent – we simply cannot thrive without each other. As one of the county's largest employers, we treasure our relationship with Statesboro and work diligently to build up the communities we serve and operate. Whether through the research we do, which is focused on public impact or through the cultural and educational opportunities we provide – all of which I believe contribute to the area's ability to attract as well as retain residents and businesses. We are truly committed to community engagement. It's a pillar of our strategic plan, which is designed to clearly define, 'our goals, objectives, and actions are all to have the greatest impact on our students and the communities we serve.'"
"We are extremely excited about the Blue Mile project and how it plans to connect the Georgia Southern campus to downtown Statesboro with a pedestrian-friendly, lamppost and Georgia Southern banner lined corridor that will not only beautify the city but will promote redevelopment and spur economic growth that will benefit our students, employees, and local community. At one end of the Blue Mile will be Sweetheart Circle, Georgia Southern's iconic campus entrance. At the other end will be a vibrant downtown, where our Business Innovation Group (BIG) offices are also located. BIG is the business outreach arm for Georgia Southern University and is committed to developing a vibrant entrepreneurship and innovation ecosystem for the southeast region. BIG provides resources for students and entrepreneurs to gain skills and training necessary to understand business principles, experience how businesses operate, and successfully launch new enterprises. We have been involved with the project since its inception.
"Statesboro has warmly welcomed my family and me since we first moved here. We found a home where my daughter loves her school, my wife and I love our church, and my family loves visiting with friends or eating downtown. Of course, I think Georgia Southern University contributes a great deal to making Statesboro a special place. With the artistic and intellectual contribution of our faculty, there is an abundance of interesting performances, lectures, displays, and discussions. You also have the Performing Arts Center, Center for Wildlife Education, the Botanic Gardens, Georgia Southern Museum, and all the top-notch athletic events here because of Georgia Southern – inviting tens of thousands of visitors to Statesboro."
AT A GLANCE
Statesboro, Georgia
What: A charming 'college town'; home of Georgia Southern University
Where: Bulloch County in southeast Georgia
Great Dane – GreatDane.com
Great Dane is the leading manufacturer of high-performance commercial transportation equipment, including dry and refrigerated trailers and truck bodies, as well as steel, aluminum, and combo platform trailers. Great Dane has a storied history in the commercial trucking industry and is a driving force in trailer technology, innovation, quality, and customer service. Headquartered in Chicago, Illinois, and with additional corporate offices in Savannah, Georgia, Great Dane has 11 manufacturing plants strategically located throughout the United States. The company's network of corporate-owned branches and full-line independent dealers offers a broad range of distribution points for new and pre-owned trailers as well as aftermarket services across North and South America. Visit Great Dane online at Greatdane.com.