Vernon County, Wisconsin
The quality of life
Business View Magazine interviews Christina Dollhausen, Vernon County's Economic Development & Tourism Coordinator – best practices of American counties.
The Driftless Area is an expanse of 24,103 square miles in the heart of the American Midwest that managed to escape the flattening effects of glaciations during the last ice age, when nearby lands were covered by extensive sheets of glacial deposits, or drift. Consequently, the region, which covers parts of southwestern Wisconsin, southeastern Minnesota, northeastern Iowa, and a corner of northwestern Illinois, is characterized by steep, forested ridges, deeply-carved river valleys, spring-fed waterfalls, and cold-water trout streams.
Vernon County, Wisconsin, is one of those 57 counties in the four states that lie in the Driftless Area. Just south of LaCrosse and north of Dubuque, Iowa, on the southwestern side of the state, Vernon County is home to only 30,000 residents who live in three cities – Hillsboro, Westby, and Viroqua, the county seat – seven villages, about two dozen towns, and just under 30 unincorporated communities. The County was rechristened from Bad Ax County to Vernon County in 1862, a name that was chosen to reflect the area's green fields of wheat and to evoke Mount Vernon, the homestead of George Washington.
"The country is still wonderfully wild here," says Christina Dollhausen, Vernon County's Economic Development & Tourism Coordinator. "We were missed by the glaciers," she explains. "We were basically a big sea at one time. It left the area with bluffs and ridges and valleys and not a lot of large, flat or straight fields. The land really lends itself, very well, for small-scale farming. So, Vernon County is based on agriculture. And we've been doing it well for centuries."
Vernon County is home to over 200 organic farms – the most of any county in Wisconsin and second only in number to California. In fact, Organic Valley (OV), founded in 1988 in the village of La Farge, along the Kickapoo River, is the nation's largest farmer-owned organic cooperative and one of the world's largest organic consumer brands. Organic Valley markets products such as milk, cheese, eggs, soy, protein shakes, butter, yogurt, organic snack items, and more. Under the Organic Prairie brand, the cooperative markets organic beef, pork, chicken, and turkey products. With 1,800 farmer-owners across the United States, Canada, Australia, and the United Kingdom, Organic Valley markets its products in all 50 states and exports to 25 countries.
Tied into the County's agriculture-based economy are many home-grown, food-based businesses, including GoMacro, a manufacturer of plant-based protein bars; Wonderstate Coffee, a specialty coffee company that roasts its beans in Viroqua; and Wisco Pop! Beverage Co., another Viroqua-based company that makes soda pop and sparkling waters using a lot of local foods, such as ginger, honey, and organically-grown berries. Hillsboro Brewing Company and local wineries, such as Vernon Vineyards and Branches Winery, tie directly into the ag-based economy as well.
Vernon County is also a tourist mecca with unsurpassed natural amenities providing many outdoor recreation activities. It is home to the Kickapoo Valley Reserve, an 8,600-acre natural reserve, between the villages of La Farge and Ontario; Wildcat Mountain State Park, with over 25 miles of scenic hiking, nature, and equestrian trails, plus canoe and kayaking opportunities; and many other county parks and nature preserves with public access. Vernon Trails, a local non-profit organization, have created, collaborated and maintained over 50 miles of shared use trails on both public lands, attracting adventure seeking mountain bikers and nature lovers from miles around for the unsurpassed scenery and the trail opportunities across the county. It is also home to the Kickapoo, Pine, Baraboo, and Bad Ax Rivers, among others, and fishing is a huge pastime. With over 250 miles of classified trout water, 63 spring creeks, and several lakes, Vernon County is as good as it gets. In fact, the natural reproduction of trout is so good that fish are transplanted from its streams to other places in Wisconsin. In addition, the Mississippi River, which forms the County's western boundary, has walleye, bass, pike, pan fish, and more.
Taking care of the area's many rivers and watersheds is as important to the County's farmers and residents as it is to its tourism industry. It is also the central mission of the Valley Stewardship Network (VSN), a locally-based, non-profit organization made up of friends and neighbors in the Kickapoo Valley. VSN works cooperatively with other area groups in water quality, sustainable forestry, resource conservation, alternative agriculture, and the development of low-impact tourism and other forms of environmentally sustainable economic development.
Regarding sustainability, Vernon County is a rural leader in renewable technology, with, among other things, the first community solar installation in the state at the Vernon Electric Co-op in Westby. "We also have Ethos Green Power," says Dollhausen. "They have helped a lot of businesses in the County to become solar and more energy-efficient. That, in turn, helps the smaller communities that these businesses land in." For example, with the help of Ethos Green Power, GoMacro, in the small town of Viola, has become a 100-percent, carbon-neutral company with 844 solar panels on its facility. It also sells the excess power it generates to Viola at a wholesale price, thus supplying clean energy to its local community. And Wonderstate Coffee is one of the first coffee roasters in the world to generate its power from solar energy. With the exception of its vintage Probat gas-powered roasters and winter heating, the entire roastery, offices, and production floor are powered by a 96-panel, 30-Kilowatt solar array that sits just outside its front door. Borah Teamwear in Coon Valley, a manufacturer of premium custom cycling jerseys and kits, and the Viroqua Food Cooperative are also using solar and wind to generate significant portions of their electric usage.
While agriculture and tourism are Vernon County's mainstays, Dollhausen says that attracting new manufacturing businesses is also a key part of her agenda. There are industrial parks in Coon Valley, Hillsboro, Viola, Viroqua, and Westby, with dozens of tenants already established and more site-ready acres available for development, including the new Viroqua Business Park. The County, as well as several communities along the Kickapoo River, have received federal Economic Development Administration (EDA) grants to aid them in building up infrastructure in their business parks, while also helping them to re-envision their communities in the wake of devastating floods that occurred in 2018.
Dollhausen believes that Vernon County is "fertile ground" for doing business. "We're able to grow businesses, especially from the inside-out," she claims. "There's an entrepreneurial spirit here in Vernon County; we're smart, resilient, and innovative people with access to technology. And we're laying the land so these businesses can be able to grow. If we can grow from the inside out, that's the goal. But if a business wants to come from the outside, we have various programs in the County, as well as state and federal resources, to help them flourish here."
An incentive for new businesses, and a significant amenity for existing ones, is the County's broadband infrastructure. "That's something that we can brag about versus other rural counties," Dollhausen states. "We have an extensive fiber-optic network. Vernon Communications Cooperative invested over $25 million in fiber-optic technology over more than a decade, constructing over 2,120 miles of fiber-optic cable with plans to have fiber-optic to the homes of all of its members by 2021. As an economic driver, fiber optic technology is helping to grow our local businesses and support telecommuting and home-based enterprises. It was beneficial before and obviously a huge asset as we navigate through the pandemic. We were able to transition very easily for telehealth, at-home learning, and people working from home. And now, it's something we tout: you can bring your big city job and come live in a remote, beautiful place. Even though we're a rural county, we have all the modern features here to make it work. And I think that's only going to increase in the future."
The communities in Vernon County are proud of their heritage: a legacy of land stewardship, a sense of community, a devotion to organic and innovative farming, a history of cooperative enterprises, a focus on entrepreneurial endeavors and small businesses, a dedication to green initiatives, and a centuries' old spirit of working together. Indeed, most people who choose to make Vernon County their home are choosing a way of life and a set of values that include some of the most important things in life: fresh air, good local food, sustainable living, clean water, sunshine, safe communities, and access to unsurpassed outdoor recreation, culture, and natural beauty.
Dollhausen sums it up thusly: "In Vernon County, we are redefining 'Quality of Life.'"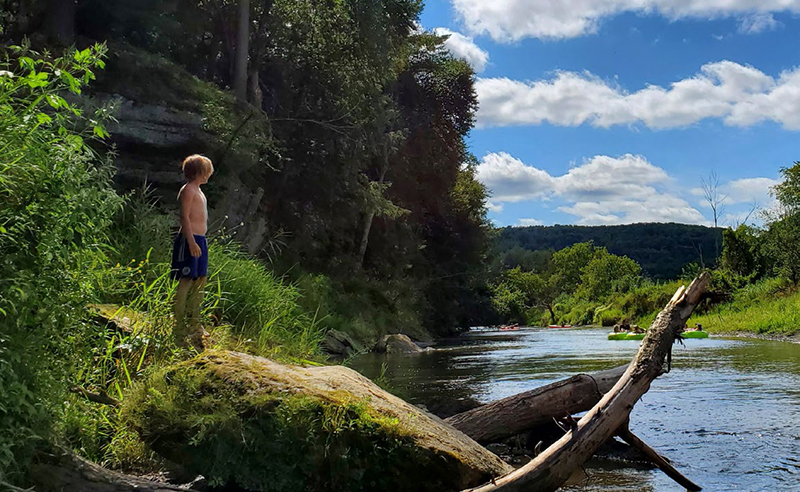 AT A GLANCE
Vernon County, Wisconsin
WHAT: A county of 30,000
WHERE: Southwestern Wisconsin, south of LaCrosse and north of Dubuque, Iowa
WEBSITE: www.vernoncounty.org