The Stadium Managers Association
By Matthew Kastel, President of the S.M.A.
Although we didn't become an official association until 1991, the Stadium Managers Association dates back to 1974 when we had our first informal gathering in Memphis, Tennessee.  What began as an impromptu meeting for stadium managers as a way to share best practices and camaraderie, rapidly grew, as it was realized that SMA's Annual Seminar and the Association itself were an invaluable resource of information for stadium managers.  SMA expanded quickly, and its membership soon became a who's who in the stadium industry.
SMA today is the premier association that serves stadium managers, and our mission has grown.  We help foster and promote effective and professional management of stadiums, and we help our members deal with common issues, hopefully in an efficient and economical manner.  Our mission also includes adopting standards of conduct and operation for our industry and encouraging dialogue among our members where they are free to express their opinions.  We also promote the general welfare of our industry and encourage our members to work within an ethical manner and to keep the public interest first and foremost.
Despite a finite number of stadiums, since 2003 our membership has expanded at a healthy 33% clip, and we continue to be a must-have resource for stadium managers.  We represent nearly 90% of both NFL and MLB stadiums, and we have seen growth of MLS stadium managers joining as members, as soccer continues to expand in North America.  We anticipate our next big growth in membership will come from colleges and universities, as well as minor league baseball.
Some of the benefits of being an SMA member include:
Direct access to industry leaders, service providers and suppliers with a vast range of backgrounds
Access to job postings, the RFP portal, and the SMA news page
Resource sharing library with 100+ educational fact sheets, guides, and industry best practices, etc.
Of course, the highlight of the year for our members is our Annual Seminar in February. The upcoming 2020 seminar will take place on February 2-6, in Phoenix, Arizona at the Pointe Hilton Tapatio Cliffs Resort. It is the only annual seminar focused exclusively on stadium concerns at a leadership level.  The annual seminar includes several days of education, best practices and best of all it gives our members an opportunity to meet face to face and to become lifelong colleagues and friends.
What I appreciate the most about the annual seminar is we have stayed true to our spirit from 1974, where we take what we do very seriously but not necessarily ourselves.  The annual seminar is not only educational but a fun experience as well, and new members are greeted as warmly as long-time members, and everyone is encouraged to participate and to have a voice.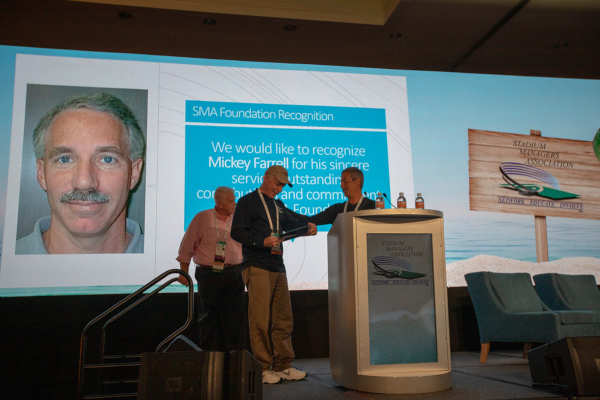 Although we can't predict the future, SMA stays cutting edge by listening to our members about what their concerns are and what the industry's latest trends are.  Right now, the need to provide enhanced security, keep up with technology, and stadium renovations are hot topics.
On security, at every seminar, we provide the latest on security trends and innovations. For the last several years SMA has worked hand and hand with the FAA and other federal agencies to help shape and advocate the setting of policy regarding public drones accessing stadium air space.
SMA also keeps our members up to date with the latest security best practices which, to list just a few, include the latest screening procedures, how to pursue the Safety Act, and updates from Homeland Security.
Technology is also exploding exponentially in stadiums, and we keep our members up to date with what they will need for the future.  Whether it is Wi-Fi/DAS, 4G vs. 5G, how to gather and use analytics to make business decisions, the value and payback of LED sport lighting, or the latest in video scoreboard technology, no matter the technology opportunity, if it is impacting stadium managers, SMA is helping to give clarity to our members on what can be a confusing subject.
At our annual seminar, major stadium construction and renovations are hot topics as well. Oftentimes we provide a forum for the major players of a new stadium's construction, such as architects and the teams involved, to discuss the construction and design in detail. At our 2019 Annual Seminar we brought in experts to discuss construction of the Los Angeles Stadium at Hollywood Park, future home of the Los Angeles Rams and Chargers, and in 2018 when the City of Atlanta was undergoing a flurry of stadium construction, we brought in representatives to discuss those new builds as well.
One of our most popular breakout sessions has been the 5x5x8, where we discuss smaller renovations that go on at most stadiums on an annual basis.  This intimate forum allows the stadium manager to ask in-depth questions they wouldn't have the opportunity to ask in a larger group.
We also make available to our members our annual operations survey, so our stadium managers can see how their stadium compares to its peers and make evaluations on what the latest trends are.
One of the best things about how the Stadium Managers Association is run, is that its Board of Directors are elected directly by its membership. In addition, all Board Members have a history of working in stadiums.  In other words, the Board knows exactly what kind of challenges stadium managers face from personal experience.
Our corporate membership is also growing. The Stadium Managers Association provides a valuable forum for them to provide their expertise and make face to face contact with stadium managers during our annual seminar.
SMA is guided by four core principles: To network, educate, involve and give back. We give back in a variety of ways, including providing college scholarships and opportunities to students interested in a career in stadium management, hosting a Female Manager initiative to help encourage what has traditionally been an underrepresented group in our industry, and contributing to The Ron Labinski SMA Foundation Sports Scholarship, named after one of the giants in our industry, Ron Labinski.
As we celebrate our 45th anniversary, we look forward to representing the stadium industry in the years to come.
AT A GLANCE
WHO: The Stadium Managers Association
WHAT: A networking organization dedicated exclusively to stadium operations
WHERE: West Des Moines, Iowa
WEBSITE: www.stadiummanagers.org