Saint Louis School
Changing the world
Business View interviews Saint Louis School President, Dr. Glenn Allan Medeiros, for our focus on Excellence in Private Education in Hawaii
Founded in 1846, Saint Louis School in Honolulu, Hawaii, is an all-male day school offering a college preparatory education for kindergarten to grade 12. One of the oldest schools in Hawaii, the campus has been relocated four times over its 176-year history, eventually settling in the current Kalaepohaku location, where it has remained since 1927. As a Marianist sponsored, private Catholic school, Saint Louis has a mission to help students reach their individual potential through spiritual, academic, physical, and emotional development – creating men of character. Graduates of the school have gone on to achieve greatness in athletics, business, and the arts.
Originally a diocesan school, students received their education in the Hawaiian language but this changed over time. As St. Louis School President Dr. Glenn Allan Medeiros explains, "After awhile, the English language started to become used more often in Hawaii. In addition, students wanted to become businessmen. The Bishop of Hawaii at the time, who was the patron saint of Saint Louis, called in the Marianist order to come to the islands. They taught a variety of subjects including the aforementioned ones." The Society of Mary, known as the Marianists, is a 200-year-old Catholic order of brothers and priests. A Marianist education is focused on a teaching which honors Mary, who they believe to be the educator of Jesus. "The Marianists themselves are incredible educators," Medeiros adds. "They constantly provide us with scholarships and professional development. We would not exist without them."
Blessed with a long list of successful graduates, Medeiros names a few, including Saint Damien, who was one of the first to graduate from Saint Louis School, and whose work with the people of Molokai inspired Gandhi, and many others. "Some of our earlier graduates were Hawaiians who were among the first to write books about the history and the language of Hawaii," shares Medeiros, adding that in more recent times, Saint Louis School is proud to have Hawaii's first democratic governor, John Burns, as part of the school alumni.
"For the longest time, Hawaii was a very Republican state, but then John Burns came into the picture," says Medeiros. "We have many graduates who have gone on to do well. One of them, Marcus Mariota, won the Heisman trophy playing for the Oregon Ducks. We have another quarterback who ended up winning the national championship with Alabama. His name is Tua Tagovailoa and he is currently the starting quarterback for the Miami Dolphins. We have a very rich athletics program. A lot of our athletes have gone on to become professionals. We have a lot of leaders in Hawaii – people who became CEOs of banks and others that have started their own businesses and done really well."
Reaching its largest enrollment in 20 years, Saint Louis School has just over 900 students, and 100 members of administrators, faculty, and staff. With several of Hawaii's Catholic schools closing over the last few decades, Medeiros explains the challenges these schools are facing. He notes, "Catholic schools in the beginning had brothers, fathers, and sisters working at no cost, and because of that Catholic schools could keep tuition rates very low. Almost anyone could afford to go to private school if their parents worked hard. Once there were less people signing up to become priests and brothers, Catholic Schools needed to begin hiring lay people. In the hiring of lay people, they needed to be paid, thus causing a large increase in tuition rates for families."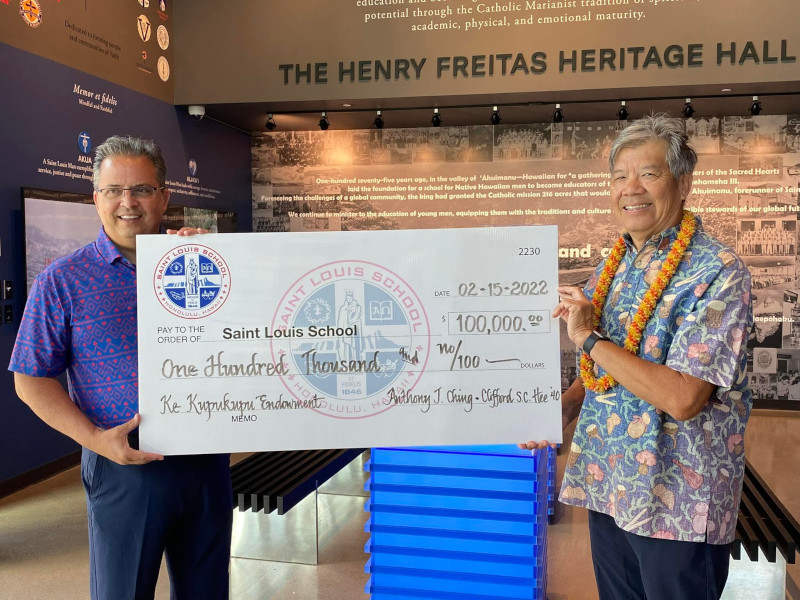 This model became unsustainable for many families. Although Saint Louis School reports an increase in enrolment, he adds that this is not the trend in Hawaii. Most Catholic schools in the islands are either sustaining, experiencing small gains, or declining in enrollment.
Taking a non-elitist approach to enrollment, part of the Saint Louis mission is to see the potential in everyone – offering a unique environment where students can succeed. "Our mission," describes Medeiros, "is that if someone has the potential for greatness, we take a chance on them. Some kids, they'll try public school, private school, and it just doesn't work. But for some reason, when you put them in an all-boys school environment, they really thrive. The word "brotherhood" is often associated with Saint Louis School. They get very close. If a graduate has a wedding, it doesn't matter if they live in Finland, everybody will go to the wedding. They meet every five years, and it's not just about the graduates, they want the wives there, they want the kids there. At these get-togethers, even if the husband has passed away the wife is still invited. They're part of the brotherhood, the family, so it's really nice."
The school has a very active Alumni Association and a clubhouse only five minutes from the school. "They are constantly providing support to our Saint Louis School financially," Medeiros says. We're very lucky to have our Alumni Association."
Although English is the main language of Hawaii, Saint Louis was one of the first schools to reintroduce Native Hawaiian language studies, and they were fortunate to have the famous Kuma Hula, John Lake, as a teacher of traditional language and dance. Noting a high percentage of native Hawaiian students, Medeiros reports, "You can see Hawaiian culture embedded into almost every school here in Hawaii, but it was very prominent when I first came to Saint Louis School seven years ago. You could see kids chanting before entering a classroom and kids using the Hawaiian language. When I began as President, I realized that we were 53 percent Native Hawaiian, which is a very high number. The only private schools in Hawaii with more Native Hawaiians are Kamehameha Schools, as school specifically for Native Hawaiian students."
Reaching out to Kamehameha Schools over the last five years has proven very beneficial to Saint Louis School. Medeiros acknowledges, "Since that time they have provided a substantial amount of scholarships for our students to attend Saint Louis School, because they believe that we're providing many young Native Hawaiian men an opportunity to succeed beyond high school. They believe in our mission, and it's been a wonderful partnership for us."
Using a blended learning model, each Saint Louis student is given a personalized approach to their education. Computer programs allow teachers to find the individual zones of proximal development in reading and math; tailoring learning to meet each student's unique capabilities. Cooperative learning and traditional teaching styles are also implemented, providing a variety of opportunities for student success using a balanced pedagogical approach.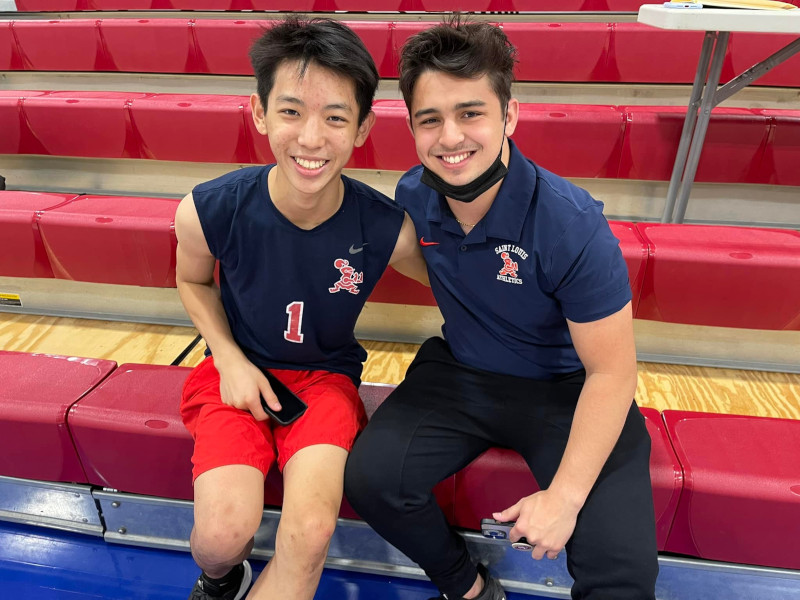 "We also provide strategies for teachers to use that help them to teach boys a little bit better," Medeiros says. "The patterns we see in the classroom and the research that's out there shows that certain teaching and learning strategies work very well for boys." Utilizing global learning and Aina based teaching allows students to learn through a connection to nature and the world around them. Using the multiple intelligence theory, the teachers expose children to various subjects, hoping to help them discover their own gifts and abilities, while becoming competent in other areas.
Medeiros emphasizes, "We believe that every child is wired differently, and they all come with their own gifts. Our job is to expose them to different areas of knowledge and we hope that in the process they will become proficient in each. But at least in one of those areas, we would like them to approach or reach mastery, because that is their God given talent. We call these our five A's of Akua. Akua in Hawaii is God. We teach them about God through what the Marianists call the characteristics of a Marianist education. We talk about the importance of family spirit, about faith, about adaptation and change, but then we expose them to academics, to leadership, to athletics, to something we call Aloha, which is relationship-centered, and then the arts. We use our hands to represent the five A's of Akua. The Akua is the palm and the other five A's are represented by the fingers."
Summing up Saint Louis School, Dr. Medeiros states, "We are Catholic, we're Marianist, but we're Hawaiian also. We're Hawaiian in a lot of the things that we do. So, I would say those three things are intertwined. The combination of those, and then being an all-boys school, you put all of that together and we have a school that has done very well in building leaders, and also having some wonderful athletes and artists that have made a difference in the world."
Moving into the future, Saint Louis School will continue offering a quality education – celebrating culture and remaining committed to being a school "where boys who want to change the world, become the men who do."
AT A GLANCE
Saint Louis School
WHAT: A Marianist sponsored all-boys K-12 school
WHERE: Honolulu, Hawaii
WEBSITE: www.saintlouishawaii.org