Safe Life Defense
Changing the body armor industry
Business View Magazine interviews Nick Groat, CEO of Safe Life Defense, for our focus on Growth in U.S. Manufacturing
Safe Life Defense started with CEO Nick Groat designing body armor at his kitchen table. Four years later it was ranked number 282 on the Inc. list of the 5,000 fastest-growing private companies in America. "There definitely was no pressure for a while there," Groat recalls. "But once I started to really get into this project and I became hyper focused on it, it was clear that this wasn't something that was going to be 'just for fun' for very long, that this was really going to be my next business that I started. It's been a crazy ride and it's been fantastic so far."
Operations-wise, Safe Life Defense has about 120 employees working from a 140,000-square-foot facility in Las Vegas, Nevada. The firm has its own research and development team that not only refines existing products and comes up with new ones, but also creates its own specialized manufacturing machinery. Efficiency is embedded in the company's DNA. That's evident from facility planning – everything from counting steps to determine where racks are placed, to the products that are sold. In fact, it was an obvious lack of efficiency in the sale of body armor that helped Groat see an opportunity.
Ordering body armor used to require someone to come out and measure the customer. Then pieces were made to those specifications, but they weren't always perfect. Adjustments would add more time to an already slow process. In addition, body armor vests were often only designed to protect against specific threats. So Groat created a standardized system, allowing people to order online by entering their height and weight. He also created vests designed to protect against everything from handguns to shotguns and from Tasers to armor piercing ammunition.
Common problems with body armor vests, such as the feel that it was sagging off the shoulders or curling, where the bottom starts to roll over on itself, were eliminated. "Our self-structured panels fix all of that, making it one of the more comfortable vests as well," Groat explains. "Our first product had the most protection that you could get on the planet. And it was much more comfortable because we did set sizing and we didn't need to have people come out and fit everybody. We also had the best price – so you got the best price, the best protection, the best comfort, and you got it faster."
Those innovations were quickly rewarded. Demand soared, forcing Safe Life Defense to move from its first warehouse and office space to a larger facility in five months. Six months later, that new facility was too small and the landlord allowed them  to knock out a wall and take over the unit next door. Six months after that, Safe Life Defense was knocking out another wall to take over the unit on the other side. Then, six months later, the company was looking for more space again.
"We just kept knocking out walls," Groat says. "We'd find these places with five-year leases, thinking we'd be solid but we just kept outgrowing them – I think we've done that six times now – and now we're finally into the stage where we just leased a 140,000-square-foot grey shell building that we're designing from the ground up to be built for our main facility. And I'm hoping that will finally last us, but we're already starting to have concerns, so we'll see what happens with that."
Safe Life Defense has also made a point to care for those in need through its Guardian Angel program. Since the company started about 400 vests have been donated. "When we first started Safe Life Defense, body armor was really only for law enforcement, and most companies would only sell to law enforcement," Groat reports. "That left security, EMS, and firefighters just kind of out there without any protection. So it was really important to me not only to make armor available to them but also to provide it to them; to people who might not be able to afford it. Because those professions, in my opinion, aren't paid what they deserve and it's hard to provide for a family and also take your personal protection into account." Applications for the program can be submitted on the company website. Reviewers prioritize applicants who do a good job explaining how they are making their communities better places to live.
The misconception that body armor is only for police is one that Safe Life Defense has worked to dispel. The notion comes from the days when a few large companies ruled the industry and put their own restrictions on who could buy their products. Body armor is legal for anyone who has not been convicted of a felony. It can be worn just like any other piece of clothing. As more people begin to realize this, Safe Life Defense has seen sales to civilians increase. Sales to government agencies are expected to increase as well, thanks to a recent National Institute of Justice certification. Ratings from the institute are considered the ballistic standard of resistance used in the U.S. and most of the world. Safe Life Defense posts results from certified ballistic testing on each of its product pages.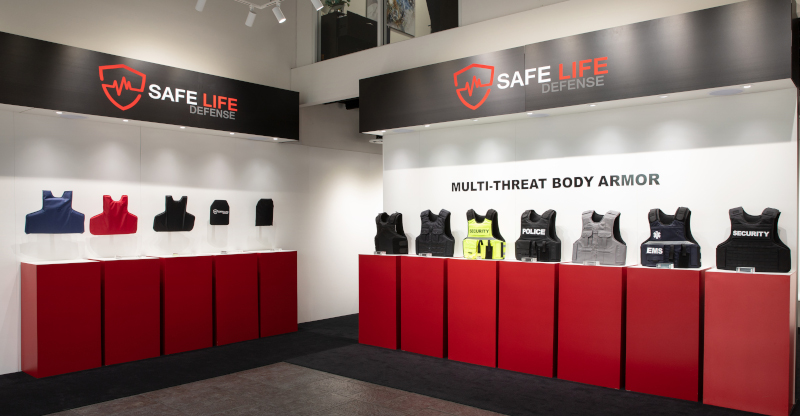 Safe Life Defense has already been growing at a breakneck pace – nearly 1,600%, according to the Inc. ranking for 2020. Groat acknowledges that level of growth and a hunger to maintain it creates an intense environment for employees. The company expects a level of excellence, both on and off the job, from them but meeting those standards, and a drive to grow personally, are rewarded. Employees are not expected to stay in the positions they are initially hired for. And that doesn't mean within the same department. Those that have been with Safe Life Defense for a while have created their own roles. They have made proposals to management and even requested educational assistance.
Groat explains, "If that's something that we think they'd be a good fit for, we tell them "great, bring me the courses you want to take, and let's look at it." More often than not, actually 100 percent of the time so far, we back their education and we'll help them with that training. And they've become an essential part of the team or made themselves even more essential."
It seems there will be plenty of new roles for Safe Life Defense employees in the future. The research and development team is working on a number of new products, such as electronic hearing protection and a line of lightweight duty pouches to conveniently carry everything a law enforcement officer would need. Beyond that, there aren't any specific near-term plans for Safe Life Defense. It's more of a broad view that can be modified based on what makes sense at the time. "I am a bit untraditional from the way that most people run their businesses," Groat admits. "I fully reject planning, having a five-year plan, because I think, if anything, that limits a business owner or someone who's really trying to build to something. It's definitely good to have goals. But I find a lot of people that have this five-year plan are so structured and stick to that plan so intensely that I think they miss out on a lot of opportunity."
There is a vision for what Safe Life Defense can become, though. And much like the way the company was started, that vision is quickly turning into a reality. "Safe Life World," Groat says. "That's something that we've been talking about for a while, and you know it started off kind of as a joke but in reality that is what we're building to. Where we have our full-fledged ballistic lab. We have restaurants for our employees, we have housing, we have warehousing, we have logistics companies, we have really everything that we do. We are a very vertically integrated company, and we really try to do everything we possibly can inhouse. It really ends up being this world of Safe Life."
AT A GLANCE
Safe Life Defense
What: Designer and Manufacturer of body armor
Where: Las Vegas, Nevada
Website: www.safelifedefense.com
Burke Special Projects – burke-sp.com
Burke Special Projects (BSP) creates personalized tenant improvement experiences for our clients while providing step by step services, real time relevant market information, weekly reports as well as operating with speed and accuracy. Our team strives to deliver quality service while building relationships with clients, brokers, developers, subcontractors and suppliers.