Appalachian Flooring
Affordable luxury
Business View Magazine interviews Keven Brochu, General Manager of Appalachian Flooring, for our focus on the Wood Products Industry in Canada
Floors are a fundamental component of a home's design and construction. The right choice of flooring can boost a home's resale value, elevate the aesthetic of the space, and even contribute to a more sustainable planet. When it comes to hardwood flooring options, Appalachian Flooring's dedication to detail, functionality, and beauty make them a winning choice from both a cost and quality perspective. Manufactured to fit their mantra of 'affordable luxury' and reflect their signature style of understated elegance, Appalachian's products – available in both high-quality solid wood and engineered hardwood profiles – set the tone for a lifestyle in more ways than one.
"We really like our position," states Keven Brochu, General Manager of the Quebec-based company with 20 years of success behind it. "We're right in the middle, between the low-cost producer and the high-end part of the market. We consider that the DNA that forms our brand's core. Prior to 2016, we carried a smaller product line in more traditional colors and finishes, and even then, our criteria were derived from the same price-quality ratio."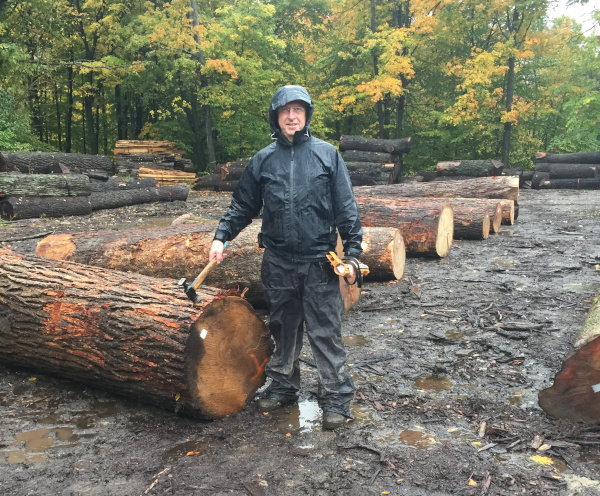 The idea for the company was inspired by owner Jean Leduc's own experience in the forest industry. Having worked for lumber giant Tembec and spent several years as a general sawmill manager in northern Ontario, he eventually returned to his Quebec roots to serve as a forestry consultant. After years as a consultant, Leduc spotted an opportunity to launch his own venture in the flooring business and, using contacts he'd made over the years, developed a distribution network throughout North America.
"That was the original focus – to sell to distributors in the Eastern region – and it went fairly well," Brochu recalls. "In 2006, the company elected to expand into Western Canada. That turned out to be a very good decision. Because when the Great Recession of 2008-2009 hit, the Western provinces were less of a casualty given the oil situation out there. Calgary, Edmonton, and Vancouver were booming. Appalachian got to ride out the recession without any major cutbacks. When the oil prices went down, we decided to expand a little bit more into the eastern region of North America. Since then, we've been a lot more involved in those markets. For the last few years, that's where our resources have gone and where our growth has come from."
Today, Appalachian offers five collections in a range of designs to satisfy any style preference. In the Alta Moda collection, red oak and white oak are lightly wire-brushed to reveal their full depth and character. Products in the Signature collection, their most comprehensive series, come with the revolutionary EvershineTM finish, allowing floors to retain their gloss and keeping them better looking, longer. Special FX is Appalachian's mineral-inspired gray tone collection, offered in an ultra-matte finish and a variety of gray and beige-gray tones. For those preferring a raw wood look, the flat finish of Appalachian's Verità collection embraces the beauty of wood in its natural state.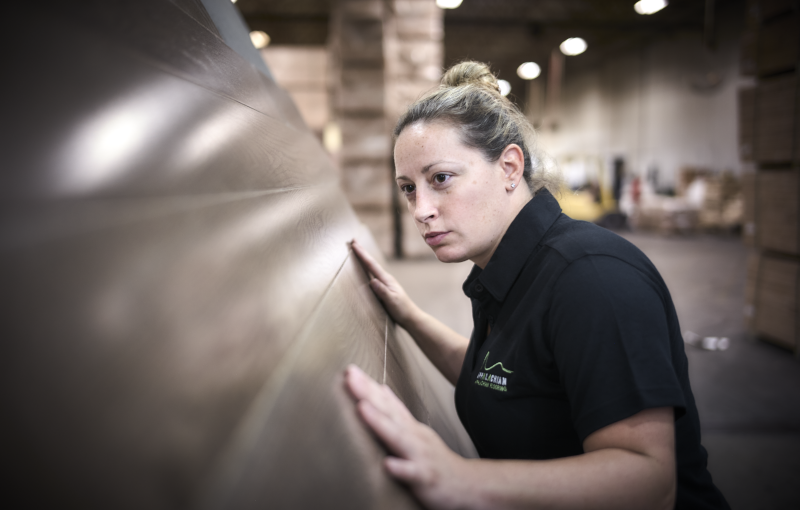 All raw materials are sourced locally, right from their own backyard – the Appalachian mountain range. As an added sustainable bonus, the company only sources wood products coming from responsibly managed forestry operations. Their supply chain spans the entire New England region and the province of Quebec as well.
Appalachian's larger engineered wood facility, in operation since 2012, is in North Troy, VT. With all three facilities considered, the company employs 150  talented and dedicated individuals. "The desire to expand is there," says Brochu. "The market is good for us right now. We are taking advantage of it and we're already on pace to grow the business 50 percent by 2026. 'I think it's achievable."  While panic due to COVID-19 slowed the company down to half speed in 2020, the sacrifice was short-lived and, ultimately, paid off in ways few could have expected.
When the pandemic struck in March, the province of Quebec and the state of Vermont both went into lockdowns. "We had to substantially reduce our production,'' Brochu recalls. "It was very limited business across the vast majority of our customers. We slowed production down by 50 percent for a month, then ramped it up to full production by mid-summer. Since then, we've sold every inch of wood we've produced."
As the economy went into hibernation following COVID-19's appearance, mills and building materials producers reacted by scaling back on operations. But the health crisis had a reverse effect on real estate and home improvement spending; being stuck at home seemed to prompt more people to direct dollars at remodeling and renovation projects. The increase of demand for building materials, including hardwood flooring, has created a situation in the market where demand exceeds supply. Fortunately, Appalachian Flooring is well positioned to meet the demands of its customers.
With so many physical retailers shutting down for the near future, record numbers of consumers have been turning to e-commerce to source out their preferred products. And although Appalachian doesn't, for the most part, sell anything direct-to-consumer, they've stepped up their online game in an attempt to remove some of the barriers between their brand and their potential customers.
"We launched our new website in the fall and our online boutique in December," shares Laura Lussier, Operations and Communications Coordinator. "That's been my project. We took it as an opportunity to meet our competitors where they are at. We're still working on our samples boutique – that would bring us toe-to-toe with the competition – but COVID has really slowed us down. And it's the one product we do provide directly to customers, as well as our cleaning products."
As far as their marketing strategy going forward, Lussier believes it's a conversation that needs to be stoked. "We may need to re-evaluate, be more proactive about it," she says. "We're not the kind of brand to put up a billboard or run an ad on TV to say, 'Hey, go see your retailers.' But we are open to new approaches that best suit this new reality. And with more growth, we'll definitely re-strategize."
With these important decisions ahead, Lussier emphasizes that their new VP of Marketing and Sales, Charles Edward Graham, has "big, big plans" for Appalachian. "COVID was a complete nightmare, but in all crisis there's opportunity," Brochu says with frank optimism. "That's how we're trying to take it."
AT A GLANCE
Appalachian Flooring
What: Leading Canadian manufacturer of hardwood & engineered floors in
Where: Cowansville, Quebec
Website: www.planchersappalaches.com
AkzoNobel – akzonobel.com
For nearly 200 years, the world's leading manufacturers of cabinetry, furniture, flooring and building products have depended on AkzoNobel industrial wood finishes to beautify and protect their products. We offer a range of products that meet the unique specifications of our customers and regional regulations. Learn more at akzonobel.com