Progressive Pipeline Management
The infrastructure renewal specialists
Business View Magazine interviews Progressive Pipeline Management CEO, David Wickersham, for our focus on the Construction sector in the Oil & Gas Industry
Progressive Pipeline Management (PPM) is a full service contractor and a highly skilled team of infrastructure renewal specialists. Since its inception in 2002, the company has been committed to improving the safety and longevity of pipeline infrastructure. PPM's primary expertise is trenchless technologies to restore aging, damaged or leaking underground infrastructure, including pipelines of all types and sizes. PPM is the North American licensee in the U.S. for the Starline Cured-in-Place-Lining (CIPL) – a system for rehabilitating pressure pipelines of all types. The cutting-edge technology is backed by years of research and testing data, and proven to extend the life of a pipeline by more than 100 years.
Business View Magazine spoke with Progressive Pipeline Management CEO, David Wickersham, and Distribution Technology Manager for PSE&G (Public Service Electric & Gas Co.), George Ragula, about the fascinating and innovative technology that PPM is incorporating, and critical infrastructure repair projects they've undertaken. The following is an edited transcript of our conversation.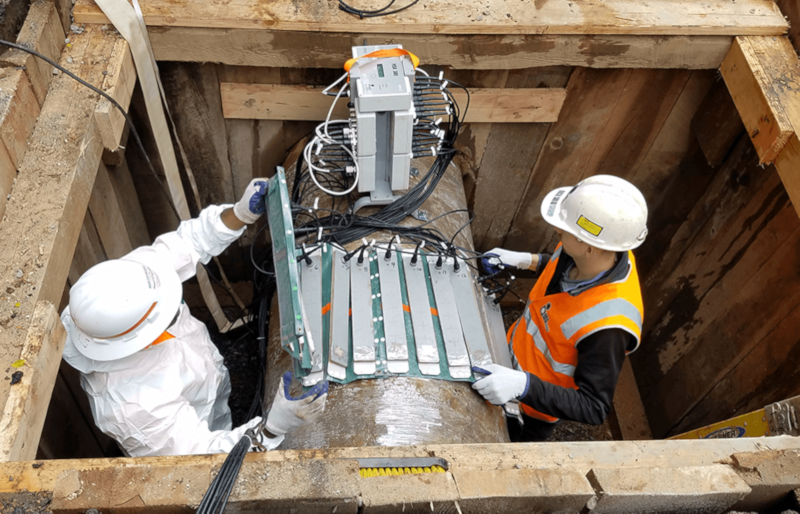 BVM: Can you give us the background history on Progressive Pipeline Management?
Wickersham: "There was an existing technology for lining or rehabilitating natural gas mains and a company out of Germany called Excelon had the technology license. I first saw it in 2001 in Philadelphia. A year later, Excelon decided to give up the license and called me to see if I was interested. I in turn had talked to George and other gas utility pipeline operators to ask if there was a future in the lining technology and they emphatically said "yes".
"So we negotiated a new license with the German manufacturer and patent holder, Karl Weiss, which is a 120-year-old subsurface engineering company out of Berlin. I was a contractor working for gas utilities for 10 years previously, focusing on PCB contamination, robotics, and pipeline cleaning. So it was a natural extension for me to look at this technology as something we wanted to continue to grow in the U.S. market. We formed PPM in August 2002 and in September we started working on our first project. Fast forward 18 years, we have a million feet of line in the ground in 18 states and it continues to evolve day by day."
BVM: What areas do you service and are your employees trained inhouse?
Wickersham: "Our main facility is in Winona, New Jersey. Our newest facility is on Long Island in Deer Park, New York to service our clients in NY city and a stepping point up to New England. Our big footprint for projects is from Washington, D.C. to Baltimore, Philadelphia and out to Chicago with a high concentration in northern New Jersey, Brooklyn, Queens, and Boston. We also provide UV cured fiberglass liners for sanitary sewer and storm sewer, and some process water lines. With the Starline technology it's almost exclusively natural gas distribution pipeline. Over the last decade, the need is really large diameter cast iron, 16 to 42 inch. That's typically our bread and butter and most of our work.
"We started with the three main gas utilities in the NY City area and now we have 25 to 30 different gas companies in 18 states where we're using the technology. And we're currently around 150 employees. The training process is very technical. We have annual training for all employees on the entire process, and our partners in Berlin at Karl Weiss are actively involved in the training. We also have inhouse training on the process itself, and OSHA and hazmat training for all our people. We also comply with operator qualification training – anyone who works around natural gas pipelines needs a certain level of training there."
BVM: What makes this pipe lining technology unique?
Wickersham: "This particular liner goes under the brand name Starline. Karl Weiss developed the technology and we have the exclusive North American rights to it. We are the actual contractor that installs the liner. They built and created the system, which we've worked on with them hand in hand since its inception. From a direct lining capability, this is the only game in town for natural gas pressure pipelines.
"Starline is a cured-in-place-liner (CIPL) in comparison to a cured-in-place-pipe (CIPP). Our liner is semi-structural, so we rely on the host pipe for structure, where a CIPP is a structural repair or rehabilitation. Starline is chemically and mechanically bonded to the host pipe, whereas CIPP just fits extremely tight, there is no bond. In a natural gas pipeline, we don't want any gas to migrate between the liner and the host pipe because you'd still have a potential gas leak. The CIPP is permeable to gas because the liner has a seam, whereas the CIPL is impermeable and contains the gas because it is a seamless woven polyester hose with a gas-tight layer."
Ragula: "I've been in the lining aspect of the industry for 30 plus years. The original CIPL technology came out of Japan and licensed to some contractors in the U.S. That went by the wayside in the mid-'90s. I was involved with the European technology transfer effort that came across this particular liner at the Copenhagen World Gas Conference in 1997. I was one of the key people instrumental in Americanizing the technology and bringing it to the U.S. It has a very large testing pedigree for gas applications, which no other liner has. I was involved with it when Excelon first picked up the license and then Dave came on board and picked up the license for PPM. So I've been with it all along, in a sense."
BVM: What is the process for installing the Starline product?
Wickersham: "The company that owns the pipe (PSE&G for example) prepares it for us; they excavate, make access, and shut down the gas. Then PPM comes to the job site. The pipe repair could be 500 feet or 1000 feet. We just completed another world record in March, doing the longest single inversion of 36 inch gas mains at 890 feet. When we show up to the pipe, we put a camera in and do a pre-inspection, then use an abrasive cleaning system and blast that pipe down to near-white metal, following a NACE 2 standard. Next, we prepare for the lining. using a two-component epoxy mixed onsite and applied inside the liner. The liner has two parts – a fused-on polyurethane/polyethylene blended seamless coating on the outside of the liner when we start, and inside the liner is a polyester sock. The epoxy is then put inside the sock, saturating the polyester completely. That's called our wet-out process.
"The liner is then wound onto a large pressure vessel or drum that is rolled over or driven to the excavation. It's hooked up through hose units from the drum to the pipe; we then pressurize the drum. Air goes through the pipe and the liner is pushed inside out on itself, which is called an inversion. Now the wet polyester side of the liner is turned inside out, coming in contact with the clean pipe, and we're pushing that liner through the stretch of pipe that needs to be lined. It's done under pressure and when it hits our desired end of the pipe, the liner comes out and is caught in a braced-off catch fitting. We let the liner cure, ambiently, and when it's ready we cut it flush to the pipe end and give it back to the utility to pressure test and tie in."
BVM: Why is cast iron pipe so prone to remediation work?
Ragula: "Large diameter cast iron is very thick, strong, hard, and brittle. So, the weak link is the joints. Over time they leak and because the large diameter cast iron is very expensive to replace, we like to renew it using liners. We're able to maintain and actually increase the capacity of the pipe because by making the pipe smoother on the inside, we get better flow. Many times we'll line pipes where access is very difficult; you can't be poking around digging trenches at the base of the Brooklyn Bridge. Most lining work also involves mains that are difficult to access and/or where capacity is an issue."
Wickersham: "The oldest cast iron project that PPM has done was an 1890's vintage cast iron pipe at the base of the Brooklyn Bridge on the NY City side. The pipe still looked great but the joints were leaking. The gas industry has spent over $15 million testing the Starline liner, culminating three years ago in a test with Cornell University and the pipeline hazardous materials group of the U.S. DOT, where we took previously lined gas pipe out of the ground that had been operating a minimum of ten years and put it through a barrage of tests. We've always said it had test life of 50 years and we exceeded over 100 years and the liner still did not fail. The regulators like the testing, the bang for the buck, and that's what's driving our growth pattern."
BVM: What is ahead for the future of the industry and PPM?
Ragula: "From the gas industry perspective, by virtue of the nature of the product we carry, we're a very conservative industry. That explains the extensive independent third-party testing we've done on liners. Our focus from a utility world, continues to be safety and reliability and performing activities that support those pillars in a cost-effective manner. Lining gives us an opportunity to do that in the right applications on a project specific basis.
Wickersham: "As far as expansion for PPM, I predict we'll have a facility in Boston in the next 12 to 14 months and following that we'd be looking into Chicago. We're just starting to hit our stride. The first decade of inception was proving the technology. Now, as we've gone through the proof of concept phase, we see our growth in the larger diameter cast iron space in older cities, and then looking ahead with our new structural liner, we anticipate the steel and process water market opening up for us in the next five years. Right now, we're looking to grow the technology, we have the rights to it throughout the country and we're looking for the best ways to expand and grow our business."
AT A GLANCE
Progressive Pipeline Management
What: Pipeline infrastructure renewal company
Where: Headquartered in Winona, New Jersey
Website: www.progressivepipe.com
Bancker Construction Corp. – www.bancker.com
Established more than 100 years ago and operating under its current family ownership for over 61 years, Bancker is a full-service utility construction firm. We provide our customers with cost-effective, quality construction services, with customer service and safety serving as the pillars of our operational focus and reputation. We are on call 24/7 and can be on site anywhere in NYC or Long Island within 90 minutes of your call.