The Professional Convention Management Association
Educating and informing the business events industry
Business View Magazine interviews Sherrif Karamat, President and CEO of PCMA, as part of our focus on best practices of the meetings and events industry.
To those outside of the business events industry, the sector is viewed as one of meetings and conventions. To business events professionals, it's a behemoth with an economic spend of $1.7 trillion. "If the business events industry were a country, it would have a seat at the G20 Summit," says Sherrif Karamat, CAE, President and CEO of the Professional Convention Management Association (PCMA), an association for the business events industry. "And, that's direct spending. You can safely add another half-trillion dollars to represent economic impact."
And business events are about more than just global economic implications, there's a social progress component as well. "We know when we meet face-to-face, we see eye-to-eye because we break down any barriers that may have stood between us so we can share knowledge and find solutions," Karamat explains. "And, when we come together with a common purpose, we can affect change in the world. We're not just about helping business events professionals do their jobs better, but how they can transform communities through their work."
LIFTING ALL BOATS
The social impact aspect of the business events industry is a component that is becoming increasingly more popular at business events. This can be as simple as organizing a group of attendees to clean up a park, build a home, or pack lunch kits for disadvantaged youth.
"At this year's Convening Leaders, PCMA's signature annual event, several of our presenters spoke about doing good and changing the world," Karamat says. "It had a profound effect on our thousands of Convening Leaders participants. PCMA member Anthony Prusak was so moved by Convening Leaders that he went home and raised money to buy lunch for one shift of Cleveland Airport TSA agents who had been working without pay during the recent U.S. government shutdown. He raised enough money to feed all 280 TSA agents at the airport. That is just one way business events can drive social transformation."
Another way is the simple economic impact of business events. When an association brings 25,000 people to a city, everyone benefits, from the hospitality industry, transportation companies, retail and services industry. Adjacent cities also benefit, according to Karamat, as organizations, corporations, and associations want to expand their geographic reach.
"So, the perception that if I have an event in Pittsburgh, I won't want to go to Columbus or Philadelphia is false," he says. "I may want to host a different event in another nearby city. The fact is, you want your business to grow in many communities. This is where conventions centers and convention bureaus have an opportunity to help their clients grow and make more connections."
THEN AND NOW
PCMA was established more than 60 years ago to support various medical societies that used business events or conferences to foster their particular scientific niches. By the early 1980s, it evolved into an association that allowed other professional and trade societies, such as the American Bar Association or American Institute of Architects, to join. In the 1990s, PCMA's Board of Directors modified membership guidelines to be a community for corporations, associations, and anyone in the business events space as the industry began to expand.
Today, Chicago-based PCMA is a worldwide network of business events professionals operating in three regions of the world: Americas, the European Union, and Asia Pacific. It has 7,000 members and an audience of more than 50,000 individuals in over 70 countries, with sponsored activities in 37 of them.
PCMA has a multi-faceted role in the business events industry: to educate business events practitioners on how their events can bring together different communities to help grow their particular brand, how they can make their events more inclusive and diverse, how they can use their events as a channel to drive other outcomes, and how they can increase their impact beyond the walls of the convention center.
"For example," Karamat says, "if the American Society for Architecture came to Chicago, event organizers might involve architectural firms in the city, connect with University of Chicago students on architectural design research, or collaborate with a start-up hub and venture capitalists that create new opportunities for architects."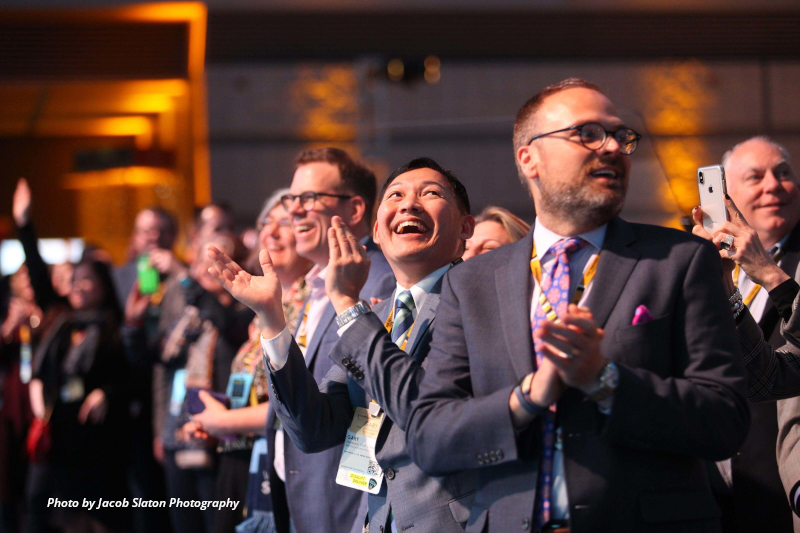 PCMA SUPPORT
PCMA offers a wide array of live training programs and conferences, online programs, print products and other resources that inform and educate. Together, they focus, not only on helping business events professionals stage successful events, but also on how those events can increase the impact of the organizations they represent.
"Staging the event is foundational," Karamat states. "After that comes brand building, social and economic impact, and that is where most of the education is focused on. For example, the National Association of Homebuilders could target those who build homes. But the association could also reach out to property developers or suppliers who manufacture nails or fiber-optic technology. Even an association with a very narrow scope can actually serve a much broader community. It depends on how the leadership is thinking and how they're including the entire ecosystem into their community. You don't just have to be successful at staging an event; you have to focus on its outcome. How do you make sure you're achieving the outcome for your organization?"
PCMA's programs include regionalized Knowledge Exchange education sessions around the world; PCMA Convening Leaders, a multi-day annual event that attracts business events professionals from around the world for education, networking and social impact projects; PCMA EduCon, a multi-day energetic, immersive and provocative program designed to attract thought leaders, event marketers, experience designers, and business events professionals; and the PCMA Foundation's annual Visionary Awards, celebrating distinguished and accomplished individuals in the business events industry.
AT A GLANCE
WHO: The Professional Convention Management Association
WHAT: An association representing business events professionals
WHERE: Chicago, Illinois
WEBSITE: www.pcma.org