Prince George International Airport
Gateway for the North
Business View Magazine interviews representatives from Prince George International Airport, as part of our focus on the Canadian aviation sector.
The Prince George International Airport is a commercial airport located in Prince George, British Columbia. The first airport in Prince George opened in 1920, and until 1932, it served as a stopover for aircraft, including those of the United States Army on route to Alaska. In 1932, the Airport was moved, and U.S. planes stopped over in large numbers in this second facility in the years just prior to World War II. In 1940, Canada's Department of National Defense contracted to build a new (third) Prince George Airport as part of the Northwest Staging Route, created by the U.S. and Canada to provide protection, permit aircraft to be deployed rapidly to northwestern Canada and Alaska in time of emergency, and allow personnel and supplies to be moved into the region by air.
"The Airport land was originally chosen by the Prince George city council back in 1940, and the main runway was completed in 1941," recounts Susan Clarke, Manager of Marketing Communications and Customer Service. "At that time, PanAm Airways was operating from Seattle to Fairbanks, so they would stop at Prince George. Then we got Canadian Pacific Airlines in 1942. In addition to the two airlines, the Royal Canadian Airforce and the U.S. Army Airforce used the site. The construction of the Airport was completed in 1945; it had three 5,000-ft. runways in the traditional triangle format."
In 1946, with the war over, the Airport was turned over to the Department of Transport by the RCAF and the USAAF. A new, 20,000-sq.-ft. terminal building and control tower opened in 1973. In 2003, The Prince George Airport Authority assumed operational control of the Airport and set in motion an aggressive business plan focused on building an airport which supports the needs of its region's residents, facilitates growth in tourism and industry, and attracts additional air services considered necessary for the region's growth. The Airport underwent a significant expansion and revitalization from 2003 to 2005 that included the development of more check-in counters, larger pre-board screening and holding areas, new baggage carousels, and a border control facility for processing international flights.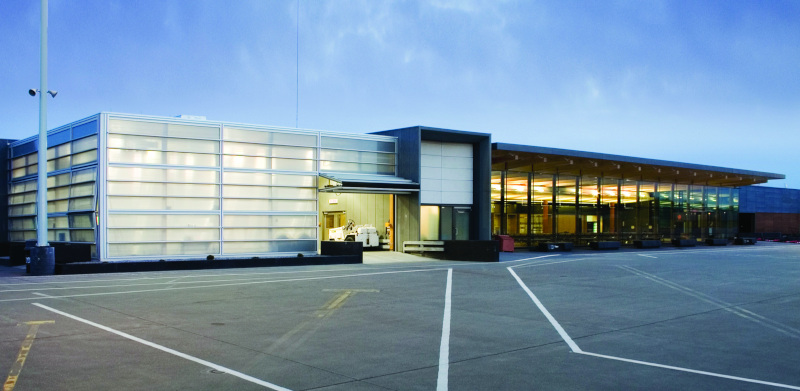 Today, the Prince George International Airport is part of the National Airport System (NAS), one of 26 such facilities in Canada. The NAS includes those airports considered essential to Canada's air transportation system, supporting both domestic prosperity and international competitiveness. Indeed, since it is strategically located on the Great Circle Air Route between Asia and North America, the Prince George International Airport is an integral part of the Asia Pacific Gateway, linking the economies of the two continents. And within Canada, it is linked to CN Rail's transcontinental rail system that goes north, south, east, and west, and a highway network that goes in all four directions.
The Airport, itself, encompasses 2,034 acres of land, has the infrastructure of any modern-day city, and provides essential, if not indispensable, public services. It is serviced by the following airlines: Air Canada Express, with flights to Vancouver; WestJet, with seasonal flights to Puerto Vallarta; WestJet Encore, with flights to Vancouver; WestJet Link, with flights to Calgary; Pacific Coastal Airways serving Victoria; and Central Mountain Air, which operates about 12 flights a day in and out of Prince George, serving north-central BC and Alberta. Its Cargo carriers are KF Cargo and SkyLink Express, both with flights to Kamloops and Vancouver.
Other Airport tenants include: Guardian Aerospace, a training facility that also rents and charters aircraft; Northern Thunderbird Air, another charter company that also provides medivac service; Yellowhead Helicopters; Executive Flight Centre, a fuel supplier; Ron's Aviation, an FBO; Allied Aviation, another FBO that also provides fueling for the Airport's own into-plane fueling company called Jetmark; Rosenau Transport, an anchor tenant in the airport-built cargo facility; RS and Associates, ground handlers, who help manage the flow of aircraft, cargo, and baggage; NAV Canada, a privately run, not-for-profit corporation that owns and operates Canada's civil air navigation system; the Canadian Air Transport Security Agency; the Canadian Border Services Agency; rental car agencies (National, Budget, and Hertz); and licensed food service locations.
In 2018, over 506,500 passengers used Prince George Airport, and its net earnings topped $4.4 million, which is a good thing, according to retiring President & Chief Executive Officer, John Gibson, since the Canadian Transportation Act of 1996 mandates that its National Airports be self-sufficient. "It was recognized back then, that the smaller of the 26 National Airports would struggle for their total capital coverage," Gibson explains.  "We cover our operating costs, but we're not as self-sufficient as we'd like to be. It's very hard for an airport under a million passengers to do that. But all the funds that we earn at the Airport get turned back into the Airport, and we're certainly able to sustain the rehabilitation of the infrastructure. It's just if we get to a point where we need to expand, that's where the capital is probably going to need some support from various levels of government. For the last ten years, since I've been here, we've had only about $5 million of capital support from provincial and federal governments and we've probably invested over $47 million in the Airport."
In prior years, some of those investments have included a 2008-09 extension of Runway 15-33 to its current length of 11,450 feet, with the addition of CAT1 ILS high intensity lighting and CAT2 centerline LED lighting. Now, with the fourth longest runway in Canada and a new cargo apron, Prince George is able to land the largest wide body commercial aircrafts in operation. "We have invested over $16 million in the two last years on rehabilitating runways and aprons," Gibson reports. "We rehabilitated our secondary runway 06-24 about four years ago, and we relit it. This year, we rehabilitated runway 01-19, which acts mainly as a taxiway. We rehabilitated aprons three and four, this year; apron one, last year. We expanded our long-term parking lot to meet the needs of our airlines and passengers. We added an elevator from the parking lot to the terminal, upgraded the Wi-Fi, and added a restaurant to the departure lounge."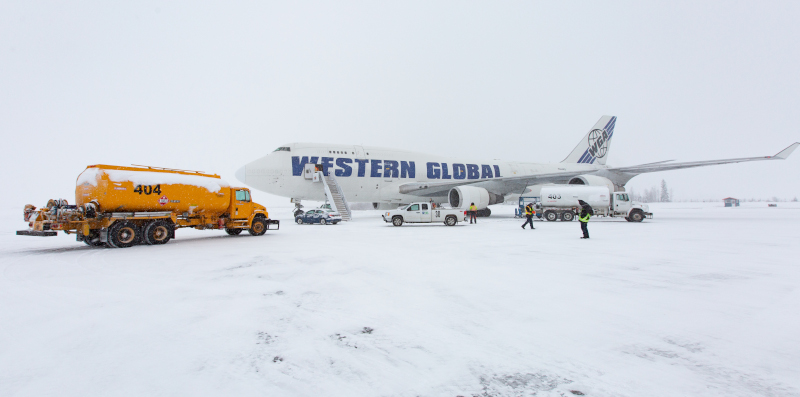 In addition, 47,000 square feet of space was added to baggage, cargo, customs, and international arrivals areas in 2004/05. About five years ago, the Airport developed an into-plane fueling business with the construction of a 158,500-US Gallon, common fuel storage facility, in order to help bring down the price of fuel. In 2015, the Prince George Airport Authority constructed and opened a 25,000-sq.-ft. cargo warehouse. New check-in counters in the Airport's terminal will be installed this fall, and future plans include the terminal's expansion. "We're at the point where our terminal building is reaching its max," says Gibson. "We have a plan laid out to grow the building in module components based on the growth of the traffic in the region. We're probably two or three years away from having to put the shovel in the ground for that. And, I think, based on work we're trying to do with various large air cargo carriers, there may be a requirement to expand our cargo apron and provide an overlay on our main runway."
Regarding competition from other facilities, Gibson says that Prince George has been able to take most of the commercial business within three-and-a-half hours driving radius of the Airport. "Our major benefit is our weather reliability," he states. "We had a 98.2 percent weather reliability in 2017. While we are a winter city, we have an excellent snow management plan and snow clearing operations. We have the ILS system; we have the very long runway with LED, high-intensity lighting. We have a NAV Canada-controlled airspace, fuel services including Jet A and Avgas, customs clearance ability, and contractors to supply aircraft services, such as two full-service FBOs. And we're on a plateau, so we don't have the same mountainous topography that some of the other regional airports do. We're also the largest city in northern BC, so we're its distribution center."
Perhaps most importantly, Prince George International Airport is a business-friendly airport that actively seeks new businesses through outreach and marketing. An international cargo program is on the Airport's to-do list, as it recently attained Foreign Trade Zone designation. The Prince George Global Logistics Park, which is getting ready to go online, just next door, is also a Foreign Trade Zone designee, which makes the two facilities very attractive to companies doing international business. "The land has been cleared and there's a high level of service that's been provided – water, sewer and electricity," Gibson reveals. "There's not as strong a link between the airfield and the Park as there will be next year; we're working with the city and the landowner to develop a stronger link, either going to the Airport through normal service gates, or looking at the ability to go on a 'through-the-fence' program, where you can apply to have parts of that land act like they are Airport land. For the most part, we don't want the Airport to buy the property because we are on federal government land and whatever we buy for the Airport's benefit returns automatically to the federal government. So, our preference is to keep it as private land and work with the federal government to allow access to our Airport land in a way that the landowner will meet all security and safety regulations of the federal government."
"And we have room to grow," Clarke notes. "We have roughly 600 acres within our border that are leasable to commercial or industrial businesses, and about 2,500 acres of privately-owned land that butts up against the Airport," Gibson adds.
"The Airport services northern British Columbia whose main economy is the resource industry," says Gibson, reasserting the Airport's important connection to the local economy. "That's forestry, mining, and liquid natural gas. So, if you're in any of the natural resource industries, you should really give Prince George Airport a look. Also, if you're in the cargo or logistics business, moving freight from Asia to North America, you should really look at Prince George Airport. We've got the Airport; we've got CN Rail that goes north/south; we've got a road network – we're the first airport that connects road and rail network to the Port of Prince Rupert, which is about an eight-hour drive west of us and the quickest ocean route between Asia to North America. So, it's really a great opportunity for moving goods as inexpensively and quickly as possible."
By the way, Prince George International Airport is the first airport in North America to have an airport mascot, Amelia Bearheart. Amelia attends community and family events (upon request), and is available to meet groups. Amelia is a female pilot bear, of course.
The Board of Directors of the Prince George Airport Authority recently announced that Gordon Duke will be its next President and Chief Executive Officer. Duke joins the PGAA from the North Peace Airport in Fort St. John, where he is currently Managing Director. Duke's extensive aviation background includes 11 years with Air Canada Cargo, an eight-year period as Director of Operations at Halifax Regional Airport, as well as time with Garda World Aviation Services. He has served as Chair of the Canadian Airport Council's Operations, Safety and Technical Affairs committee, bringing a high degree of technical skill to the job. Duke will officially join the PGAA on November 1, 2019.
AT A GLANCE
WHO: Prince George International Airport
WHAT: A commercial airport
WHERE: Prince George, British Columbia
WEBSITE: www.pgairport.ca