The Birmingham Crossplex
World class sports
Business View Magazine interviews Preston Kirk, Marketing and Development Manager of the Birmingham Crossplex, for our focus on best practices of American event venues.
The Birmingham Crossplex, which opened in 2011, is a $46 million indoor track and aquatic facility located in Birmingham, Alabama. Its mission is to provide a venue for athletes to compete at the highest possible level for indoor track and field, swimming and diving, and volleyball events, among other sports. The Crossplex is comprised of three facilities under one roof – an indoor, 200-meter hydraulically banked track, which can be converted into nine volleyball courts; an Olympic-size natatorium; and the Bill Harris Arena, a 5,000-seat, multi-purpose facility with a floor space of 20,000 square feet. To date the Birmingham Crossplex has hosted 18 NCAA National Championships across all three divisions. In the next three years, that number will have increased to 29 NCAA National Championships, putting Birmingham in the top ten cities that have hosted national championships in that time frame.
The Crossplex was originally conceived as a place where high school athletes could hold their indoor track and field events, and only came to fruition through the efforts of a group of concerned stakeholders and one visionary mayor. "The sport of indoor track and field was run at a venue called the Barn outside of a town called Priceville, Alabama," recounts Crossplex's Marketing and Development Manager, Preston Kirk. "They would build a wooden track during the indoor track and field season, and the State of Alabama would host all the regular season high school track meets in this barn. After years of competition, the indoor track became dated and, eventually, obsolete, shutting down the sport of indoor track and field on the high school level in the state of Alabama for approximately eight years."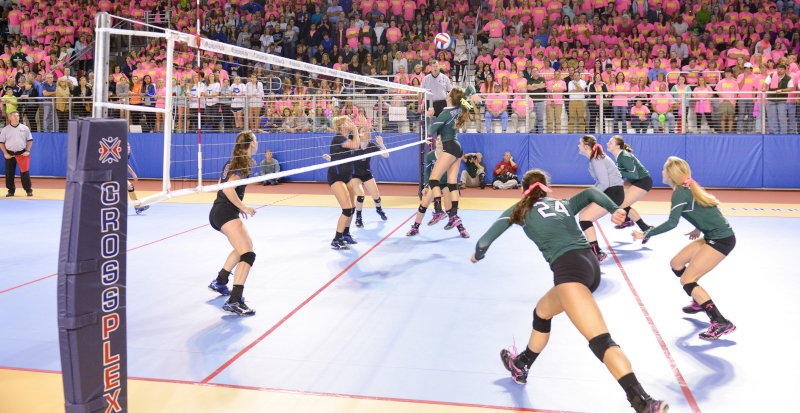 "A group of former coaches, parents and local track enthusiasts got together and started formulating this idea: an indoor track and an indoor pool," Kirk continues. "This group pitched it to several places and the plan eventually ended up making its way to the mayor of Birmingham, at the time, Larry Langford, who was quite a visionary and did some things that really put Birmingham on the map. He said 'Absolutely. Let's do this.'"
The city looked at different areas around town and settled on what was the old Alabama State Fairgrounds. Mayor Langford proposed a large-scale redevelopment of Fair Park, which would combine athletic facilities with residential, retail, and entertainment venues, with the centerpiece of the redevelopment being the indoor track and swimming complex. On April 8, 2008, the Birmingham City Council approved the use of city funds to initiate construction. In April 2011, as construction neared completion, the Alabama High School Athletic Association agreed to a five-year contract to use the building for its state track meets and other events beginning in 2012.
"So, we opened in August 2011," says Kirk. "They built an indoor hydraulic track that doubles as a volleyball venue after the indoor track and field season is over. On the other side of the venue, there's an indoor, Olympic-size pool – 50 meters long. The only building left standing from the fairgrounds was a 5,000-seat arena. We upgraded it about five years ago, so it now falls under the umbrella of the Birmingham Crossplex, giving us three venues under one roof."
The Crossplex is a department of the city designed to attract local, regional, and national sport competition, meetings, concerts, and events. "Originally, we had to figure out what we were going to be," Kirk remarks, "an event facility or a public facility. We decided that our mission was to bring in competitive events, and we put ourselves out there as a championship-caliber venue to bring in as many events as we can. We market ourselves to event stakeholders on all levels to include collegiate, high school, and club athletics, and even outside of sporting events for concerts in the arena. Additionally, we do trade shows and conventions in the arena. We position ourselves in the market to attract event planners, coaches, administrations, and conferences. We work with the Greater Birmingham Convention and Visitors Bureau; our CVB has a sports wing that assists, not only locally, but across the southeast and the country, as well."
In 2018, the Crossplex held over 200 events that took up 250 "event days." "We look at number of days because a lot of the events have gotten so big, now, that they're more than just one day," Kirk notes. "With our pool, our arena, and our track, we estimate about 30 percent of those events are happening at the same time," adds Crossplex Birmingham and Bill Harris Arena Director, Taunita Stephenson.
When the facility isn't hosting an official event, it's still full with teams practicing. "On the pool side, we have swim practice six days a week," says Kirk. "For example, when we're not hosting a swim meet on a Saturday, we still have multiple teams that will rent lanes from us. Same on the track side, if we don't have an event going on, we usually have two to four teams rent time throughout the day for practices. For volleyball, we have three leagues that will play in here on weeknights during the summer months. Things like that help fill up our calendar."
While the Crossplex is relatively new, Kirk reports that its indoor track has already experienced a great deal of wear and tear: "The Indoor track was fabricated by the Italian firm, Mondo, which is the supplier for all Olympic outdoor tracks. We had the rep come in this past winter and he said we've got about 20 years' worth of wear on our track because of how many athletes use it during the indoor season. Just this past season, we had 42,000 athletes on our track. Considering the traffic we see, we are in the process of making upgrades. We've already replaced certain areas, but the goal is to replace our entire floor with a new track surface system. That would be a big improvement for us, and it's time to do it."
Regarding competition from other venues, Kirk says it depends on the sport. "When it comes to the track, we are the only show in town, and the only show in the Southeast," he states. "The closest indoor track is at Texas A&M in College Station, Texas, going west; going east, it's Winston-Salem, North Carolina. There are other cities around us that have done studies on indoor facilities like ours and they are now realizing that the sport of indoor track and field is growing, especially during the winter months. There are going to be other cities, soon, that will be a competitor, but for that particular sport, we're the only one, right now."
Kirk believes that the Crossplex is a unique venue with unmatched capabilities, allowing simultaneous activity and events. "We are the only facility in the country that has hosted the NCAA Division II Winter Festival – all under one roof," he points out. "The sports are indoor track and field, swimming and diving, and wrestling. They only do it on the Division II level, and they only do it every four years. We're also the only facility that will have hosted that event three times. For that event, you can pay for one ticket and see three national championships all going on at the same time, without ever having to walk outside. Furthermore, the Crossplex played a major role in Birmingham getting the World Games; we're actually going to be hosting about six of the sports while that event is going on in the summer of 2021."
"The three words we stand on are 'world class sports,'" Kirk concludes. "We bring events that will bring in athletes and spectators from all over the world; we're going to provide the highest hospitality and highest class of service that we can; and we're here for the sport and the athletes. We're going to make sure those athletes are competing on the best surface that they can, with the best officials. We're going to do everything with a high level of service."
Stephenson adds a final statement: "Obviously the city has a lot of priorities," she says. "But to know that we fall into the mayor's priorities and the city's priorities, I think says a lot to our stakeholders. They know when they come here, it's not just about the Crossplex; it's about the city of Birmingham taking care of you and your event. Birmingham is becoming a sports and entertainment destination. We're more than just a venue."
AT A GLANCE
WHO: The Birmingham Crossplex
WHAT: An indoor track and aquatic facility
WHERE: Birmingham, Alabama
WEBSITE: www.birminghamcrossplex.com
Mondo America Inc. – www.mondoworldwide.com/na/en/
Hydraulic Tracks Offer Flexibility and Economic Advantages 
For multipurpose athletic and event complexes, hydraulic tracks offer a bevy of benefits, including flexibility of use and advantages for the local economy. 
Just the push of a button raises the track's banked curves in minutes to the desired height for competitions or training sessions. Because it's so easy to set the track to any desired incline, the track is extremely versatile and ideal for athletes from amateur to elite, and for all levels of competition. 
When lowered, the track is flush with the surrounding surface, so the entire area can be used for other sports or activities; the Birmingham CrossPlex, for example, uses the area for volleyball after track season ends.  
Hydraulic tracks also offer economic advantages to cities, enabling them to have other events on the same floor. Hosting prestigious track and field competitions and other events can significantly enhance the economy of the community, including by generating revenue for hotels, restaurants and other businesses from the participants and spectators who come to the city for them. The added revenue often reaches into the millions of dollars for a single event.  
During the first full year the Birmingham CrossPlex was open, the total economic impact was $20 million — and that was for hosting just a few events. 
 CONTACT:  
For more information about Mondo hydraulic tracks
visit www.mondoworldwide.com/na/en/
email mondo@mondousa.com
call (800) 361-3747.