Plainfield Community School Corporation
Where education meets imagination
Business View magazine interviews superintendent Scott Olinger; Tracy Ballinger, the director of the system's Imagination Lab; and Kyle Tutterow, principal of Plainfield Community Middle School. They discuss what they're doing to have a collective positive impact upon their students' lives through their multi-pronged approach to imaginative education.
By THOMAS LARK
 Associate Editor
The Plainfield Community School Corporation is applying some innovative approaches to education.
We recently spoke with superintendent Scott Olinger; Tracy Ballinger, the director of the school district's Imagination Lab; and Kyle Tutterow, principal of Plainfield Community Middle School. They told us what they're doing to have a collective impact upon their students' lives.
Superintendent for 15 years now, Olinger informed that the Plainfield Community School Corporation is a suburban school district of just fewer than 6,000 students. It has a high school, a middle school, five elementary schools and its Imagination Lab, all serving Plainfield, a Town of some 36,000 residents that is located about 13 miles outside of Indianapolis.
"Over the last few years," said Olinger, "we have changed our mission statement, and that's how we've approached things. Our mission is to bring joy to learning. That would be our mantra and our mission statement."
Tutterow concurred.
"Bringing joy to learning is a guiding view for our middle school," she said. "We try to think of many ways to make learning authentic and to give students a voice and a choice over what they are learning so what they're learning becomes meaningful."
Ballinger spoke of the Imagination Lab and how it works with STEM, or science, math, engineering and mathematics.
"The Imagination Lab opened in 2018 as a hands-on learning center," she said. "We bring in every kindergartner through fifth grader in the district for 90-minute 'odysseys.' They have a STEM focus, but it's not limited to STEM experience. Certainly, that joy for learning is present in everything we do. The engagement of students is fun to watch as they learn in ways that are different from learning in the classroom."
That day, said Ballinger, fifth graders came into the lab to design their own Thermos containers. They had to learn how liquids are kept cold or hot and the science behind it.
"We believe that the best way to learn any subject, including math and science, is through creativity," said Ballinger, "so we integrate art as much as possible in all the activities that we do. We really want students to go beyond traditional ways to approach problems. One of the things that we emphasize at the Imagination Lab is that we are not in search of a right answer. We are just trying to get students to think of possible answers and ways to decide if those are best solutions."
Olinger extolled Plainfield.
"It's a great community," he said. "We are very fortunate to have a great relationship with the Town of Plainfield and their leadership. We do a lot of things together. We collaborate on a lot of things. We are also very fortunate in this community to have a very strong parent group of supporters who are always behind us and collaborate with us on the things we are doing.
"We started a preschool program here a few years ago," he continued. "It continues to grow. We have a waiting list every year of kids wanting to get into the program. We were fortunate enough that when we did some remodelling, we were able to expand our preschool program, and it is actually in one of our elementary schools. We have several classes there, both half-day and full-day. It's been a huge help for helping us provide those early stages of education for kids in our community. Plus, we are fortunate in that we have several other opportunities for kids. If they don't come to us, there are ample opportunities for kids to enjoy the preschool process."
When COVID-related restrictions took a toll on the schools, the Town of Plainfield stepped in to help.
"When the COVID hit," said Olinger, "we had always been a one-to-one district for middle school and high school. But we were not for elementary, so when the pandemic hit, and we knew kids might have to be home and be home for a while, our town stepped up and provided laptops for every one of our elementary students. Our kids were able to function at home during that time."
Plus, the Town has agreed for the next few years to provide free laptop computers to kids in kindergarten through grade 12. This, said Olinger:
"Is a huge help. They have always supported us, and we are very grateful for that."
Tutterow spoke of the school district's vision.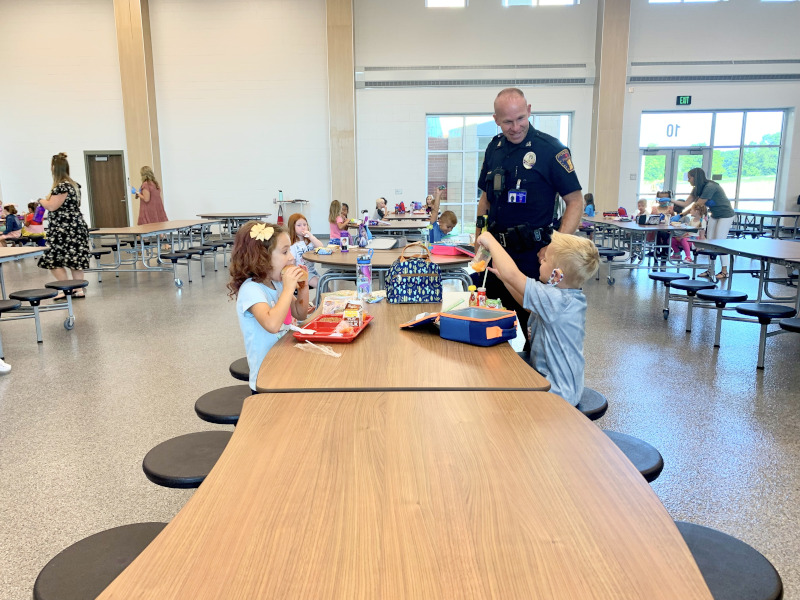 "We recognized back when we changed our mission statement about bringing joy to learning through the implementation of the Imagination Lab and the kind of learning that would take place for our K-fifth graders that they were going to have these unique and exciting opportunities in elementary school," she said, "and that we wanted to continue that progression of learning in a similar way. We began thinking of ways that we would extend that learning when students would come to the middle school as sixth, seventh and eighth-graders. In order to do that, we have a space in our school that is essentially a maker's space. It's a miniature Imagination Lab, basically. We have in that space a messy space, and we have many technologies that students can utilize for project-based learning."
Designing activities and looking to the future
Ballinger spoke of designing school-approved activities for students. She said that the goals include:
"Getting students to think, to interact in positive ways with each other, to build ideas, to fail and to recognize the value of failure. For example, the pencils at the Imagination Lab don't have erasers, and the reason is we don't believe you make mistakes. You just cross it out and keep going. We believe in mistakes as positive experiences."
Olinger spoke of the school district's future goals.
"I think right now that the goal would be for us to continue to find ways to meet the needs of what the kids are going to need for the future," he said. "If the pandemic showed us anything, it showed us that things can change very quickly, and you have to adjust. And we did that through the pandemic. We read all the time that kids are going to be switching jobs a lot in the future. We just need to prepare them for what's going to be coming at them in the future. We are not afraid to fail. We will take the chances that we can in order to help our kids. We work in a community and have leaders in the community that support that. We've been really fortunate to do things we've done because of the collaboration with our stakeholders."
Ballinger also cited the school district's relationship with the Town of Plainfield.
"I did want to talk about an experience the kids had back in November at the Imagination Lab," she said. "We did a focus on first-responders, and we worked with the Town of Plainfield to ensure that someone from the fire or police department was present at each of the odysseys so students had a chance to sit down in a small group with those first-responders to get to know them as people first, to get to know what inspired them to have the jobs they have and to begin to think about those as career possibilities. In that time, we also looked at hands-only CPR for the students. We talked about how to get help, such as calling 911 or what happens when you call 911 and how can you be prepared for that."
More about Plainfield and its schools
Plainfield's proximity to Indianapolis and its major airport is a dominant defining economic characteristic.
The Plainfield Community School Corporation has the Quaker for its mascot. The school district is comprised of Plainfield High, Plainfield Community Middle and Brentwood, Central, Clark's Creek, Van Buren and Guilford elementaries. And in addition, there's Little Quakers Academy Preschool.
Plainfield was founded 201 years ago. It was a man from the Buckeye State, Jeremiah Hadley of Preble County, Ohio, who got hold of a plot of land near what would one day become the city of Plainfield, according to historian and descendant John Hadley, writing in 1914. In 1832, the former Hadley sold said land to his son, Elias Hadley. Seven years later, Levi Jessup and Elias Hadley laid out the town, and Plainfield was incorporated as a town.
Talking of Quakers, members of that denomination settled in the area around this same time. The Quakers built their meeting houses in this part of the Hoosier State. Known as "the plain folk," because of their simple dress and spartan religious services, Plainfield's name thus reflected that early Quaker presence.

Garmong Construction – www.garmong.net
Founded in 1923, and guided by 4th generation leadership, Garmong specializes in the construction management, design-build and general contracting delivery systems for both public and private sector clients. Garmong has offices in Terre Haute, Indianapolis, Evansville, and Fort Wayne, IN.
Legacy Foundation – www.pcslegacyfoundation.org
Our mission is to build philanthropic support for educational experiences to better prepare our students to be successful in the global community, and to recognize leaders within our community.  Our vision is to maintain a philanthropic legacy for individuals and businesses to support the next generation of community members.