Paulding County, Ohio
Creative collaboration works
Business View Magazine interviews Tim Copsey, Economic Development Director of Paulding County, Ohio, for our focus on Growth in U.S. Cities & Counties
The great outdoors is calling to people pining for the wide open after pandemic lockdowns, but most are looking for a place close enough to a larger city center to enjoy those amenities or even commute back to jobs that aren't virtual. Paulding County, Ohio offers many ways for people to have the best of both worlds, even while being an essential worker. The county is a rare find with abundant natural resources to help people and families have those fun-filled adventures while social distancing on one of Paulding County's wonderful recreational waterways that include the Maumee and Auglaize Rivers.
The scenic rural county is made up of many unique villages that each offer something different and new to discover, whether its railway history, or Paulding's courthouse, or shopping in Antwerp, which has many local shops in the beautifully redeveloped downtown.
The county is working to grow both its housing and recreational stock, while also incubating and supporting new and long-time businesses in the area. Tim Copsey, Economic Development Director for the county, knows country-style living has its perks. He explains, "Paulding County is a small rural community that is close to many cities nearby. It's a bedroom community for a lot of those bigger cities, but we also have good things here to offer. We have lots of natural resources and plenty of space for people to spread out and enjoy life."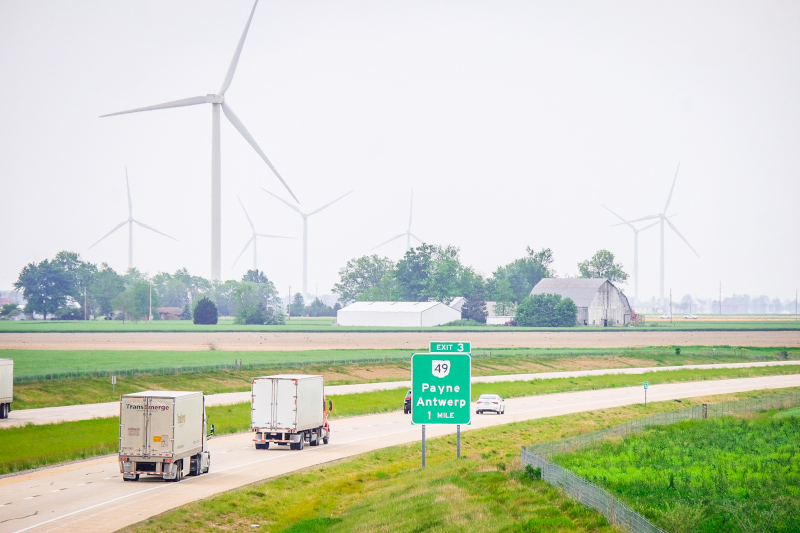 Paulding County has a population just under 19,000 and is located in the northwestern corner of Ohio and its western edge borders Indiana, with Fort Wayne, Indiana as the closest large city center. Highway access is very convenient on U.S. Route 24, which runs adjacent to the Village of Antwerp, and U.S. Route 127 which runs right through Paulding. These highways make the two largest villages in the county great places for businesses to access quick routes for shipping and receiving going into Indiana toward Missouri and to the rest of Ohio.
Copsey says about 30 percent of residents commute outside of the county for work and about 40 percent of workers commute in. That's something he and his colleagues are trying to change. He boasts, "It's a good mix of jobs but we've started a trend here in our office to identify the open positions in the county, so that people are aware of those before they start looking outside the county. And it seems to be turning the tide to keep more people local."
Some of those initiatives to keep people employed in the county started with some quick thinking during the pandemic. Copsey explains, "The county used to host a job fair for students from the three local schools at the fairgrounds to let them get a sense of what was out there, in terms of colleges and companies to work for. What we've realized is that some of the businesses thought that wasn't enough, just that piece alone, and now COVID-19 came in and changed the way we think."
His office created a booklet that has each business in the county listed with company information and history. But that wasn't enough. So Copsey asked student councils what they thought would reach students. Creating podcasts came back with a ringing endorsement, so the county partnered with the local radio station, MY 102.7, and Ohio Means Jobs and applied for a grant to produce a weekly radio program.
Copsey reports, "We would interview businesses from around the county about their company and the history of the people themselves, so that students understood they could make a living here by staying local and still make a good living. And then we had the businesses talk about their operations, and the future, and how that plays into the local, regional, state, or even the national and international markets. And then we took that broadcast and saved it on the radio station's website. Now kids and adults can go in at any time to hear about those companies. And if they are enticed by it, and maybe are thinking about getting into that business, they can learn a lot about them even before going and interviewing." The podcast initiative is gaining traction and other counties are trying to mimic the show because it's helping students find gainful employment in all industries.
The major economic drivers in Paulding County are agriculture, with Cooper Farms being the largest, and the plastics industry, followed by tile and glass. Paulding is the largest supplier of tile in the midwestern U.S. thanks to Baughman Tile Co., that has a 100-year history of producing quality tile. Spartech, a leading plastics manufacturer in Paulding became creative during the pandemic and within weeks was producing plexiglass for consumer safety and Copsey says they couldn't stock it fast enough.
There are a variety of sites for industries to locate; some are in the business parks and others have sprung up on family farms, where sometimes 200 to 300 people are employed. The light industrial parks have room to grow and Copsey emphasizes, "We're actually putting some infrastructure pieces together for that and making sure that the sites are ready when people enquire."
One of the most important items Copsey is focusing on is a solid business retention plan. During the high tide of the pandemic he called as many businesses as he could – about 422 in 10 days. He shares, "I did it to make sure I knew what they needed, what was going to be helpful to them, and how we could help them sustain through whatever crisis this was going to be and for how long. And with that we've made a very good network of communication."
Those lines of communication have stayed open and now more than 700 people are on an email list for  information from the county, region, and the state about programs to help them. Copsey states, "We've made a true full-focused effort to try and make sure all of our businesses have what they need to sustain. As that's taking place, it then leads into conversations about their growth or maybe the growth of one of their suppliers that may be interested in locating closer so that we cut down on some logistics."
Copsey's office is working actively to put together a marketing plan to make sure people are aware of what Paulding County has to offer. With Toledo, Ohio and Fort Wayne, Indiana winning awards for their business programs, Copsey hopes to benefit from their success. He notes, "With us being right in between those two, we feel that's a huge potential market for us to be able to solicit for the growth of our area as well."
The county is now focusing on growing their housing stock after a recent housing study showed there is room for growth and the current rental stock is at 97 per cent of its capacity. They are growing with a 44-plot development, another eight-acre development and there is still room to grow with smaller 10 to 15 plot lands available. Infrastructure-wise, the county plans to invest $1.5 million in road resurfacing, and replace two large bridges and five smaller bridges or culverts this year. Installation of fiber throughout the county is also in the works.
Green energy projects are important to Paulding County – in fact, it is the number one green county in Ohio. There are 265 wind mills in operation, with potential for one more field with 25. Many solar fields are also planned and smaller 50 megawatt projects are going forward soon.
One of Copsey's main goals when he joined the county, right before the pandemic, was to collaborate with the villages and it continues to be his goal for the future of Paulding County. He notes, "The biggest and best collaboration right now is the partnership our Economic Development office has with the Paulding County Commissioners. The bridge and road infrastructure, the fiber internet infrastructure, all begin at the top with collaborative forward thinking to make sure these good things are happening."
He adds, "The future can hold great things for the county if we all work together to achieve our shared goals. We need to ask what we can be doing together; putting the municipalities together instead of each one of us thinking individually, as we always have in the past, about how to grow our own village. We need to consider how could we collaborate as a group to do one big project."
As the villages start to work together, the county has had investors come forward and Copsey hopes to keep that momentum going. He shares, "Together we can do something more going forward, and as that takes place, I think it's going to offer bigger and better opportunities for residential, commercial, and industrial growth in Paulding County."
AT A GLANCE
Paulding County, Ohio
What: A charming, progressive county; population approx. 18,600
Where: Northwestern Ohio along the Indiana border
Website: www.pauldingcounty.oh.com   www.pced.net

Lafarge – www.CementThatPerforms.com/Envirocore
As the world's global leader in building solutions, LafargeHolcim and its family of brands is reinventing how the world builds to make it greener, smarter and healthier for all. We want to help transform the way our industry works and encourage the whole construction sector to play its full part in addressing our planet's biggest issues. As the global leader in the construction materials industry, we have both the opportunity and responsibility to make a positive difference.   In the United States, the LafargeHolcim family of low-carbon products and solutions ranges from a wide portfolio of low-carbon concrete, low-clinker cements, recycled aggregates and services that promote sustainability. As the largest cement manufacturer in the United States, LafargeHolcim is calling on architects, engineers, contractors and ready-mix producers to adopt more sustainable products in order to lower the industry's carbon footprint.