National Association of Women Business Owners
The voice of women business owners
Paving the way for women business owners, the National Association of Women Business Owners advocates and educates on behalf of its valued members
Increasingly, women are entering positions and taking on work that was once predominantly filled by men.
With this career leverage, there still remain, however, specific issues that impact women in the workforce that need to be addressed. Support is also always welcome while women blaze new career trails, including opening their own businesses.
Balancing children and family, financial acuity and finding an avenue to benefit all employees are among other issues that fall under the domain of the National Association of Women Business Owners (NAWBO). Serving as the voice for women entrepreneurs, NAWBO paves the way for further career success for women.
For Karen Bennetts, owner of brand development and strategic creative services frim Little Red Bird, the most gratifying part of her work as NAWBO National Board Chair is knowing that it's having an impact on women's lives and their livelihoods.
"At our National Women's Business Conference in October, a woman came up to me in the hall between sessions and she said, "my business would not have made it past this year if it hadn't been for you all and for NAWBO," Bennetts recalls.
Headquartered in Washington, DC, NAWBO is the only dues-based organization representing the interests of all women business owners across all industries. As a collective, the association works to be the voice of the more than 12 million women business owners in the United States by working to strengthen the wealth-creating capacity of its members, effect change in business culture, provide educational resources and help to transform and influence public policy.
"We pride ourselves on really being a one-stop resource," Bennetts explains. "It's not just about advocacy, although it's the core of how we started and a huge part of what we do today. We also work really, really hard to provide all kinds of resources to our women business owners. Our mission is to propel women business owners into greater economic, social, and political spheres of power worldwide."
NAWBO was first formed in 1975 when a group of 12 like-minded women business owners met in DC to create their own professional organization. At the time, groups like the local Chamber of Commerce and Rotary Clubs wouldn't accept women as members.
"They had big dreams of entrepreneurial success and what they wanted to accomplish, but there were lots of obstacles in their way," Bennetts recalls. "They decided they were better together and formed NAWBO. They set out to get us a seat at the table with legislative decision-makers, invite other women to join, and use our collective NAWBO voice to create positive change, and we're still doing that today."
Today, NAWBO has grown significantly with more than 50 chapters across the country, representing thousands of women business owners. There are several membership packages to choose from, ranging in price from a free online subscription to digital communications with resources, opportunities and education to $479.40 annually for a Premier membership. There's even a $795 Supporting membership for non-women business owners. However, you don't have to be a member to benefit from the association's work.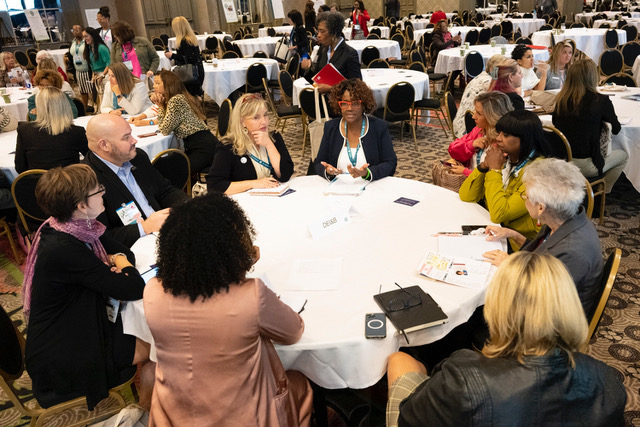 "While we're first and foremost concerned about making sure that we're serving our members and what they're telling us they need and what their issues are, we're also mindful that there are over 12 million women-owned businesses in the country," Bennetts says. "From the national organization's perspective, we're here to serve and support all of those women business owners whether or not they happen to be a member."
Membership does have its privileges though. Members are listed in and have access to an online member directory, receive NAWBO publications and communications, have access to a variety of webinars, and receive discounts for events, software and other product and services from participating members.
"They get educational information and resources from us really at two levels," Bennetts says. "They get what comes from NAWBO National, and then they also get what comes from their local chapters. A lot of the information and programming that the chapters have comes from national and then they fill in and do their own programming as well."
Local chapters help to localize the national message with members, with community-based speakers on topics like taxes and other business-related subjects.For the nationally hosted webinars, members can access them at any time, so they don't have to reschedule a meeting or miss out on work to attend.
"You can go to the NAWBO Institute now and listen to what you've missed," Bennetts explains. "There are lots of different ways that we can access webinars, articles and other resources and many are free to our members."
Leadership Academy is a two-day event held every year in January or February featuring guest speakers and panel discussions on topics ranging from resiliency and communication to time management and diversity. There is also special leadership training for NAWBO chapter leaders from across the U.S. and a community service component.
In June, NAWBO hosts Advocacy Days where attendees have the chance to hear from and interact with legislators.
"They present to us and then our members schedule appointments and meetings with their local legislators," Bennetts says. "So they're able to talk about their issues, their challenges and their needs directly with their own legislators so that the legislators get to hear our members' voices directly. It's not just what our board or our advocacy people want to tell them, they have real-world examples."
In October, NAWBO holds the annual National Women's Business Conference, which includes three days of national speakers, workshops, and educational programs.
"It's our largest event for the year," Bennetts says.
In addition to its own conferences and events, NAWBO has worked to build international relationships with similar organizations across the globe. They've worked in partnership with organizations like Les Femmes Chefs d'Entreprises Mondiales (FCEM) out of Europe and the Mexican Association of Business Women (AMEXME).
"We're expanding those relationships and offering more opportunities for our members who are interested in those to go to their conferences and be involved," Bennetts says. "We've hosted a couple of them here in the States, as well. It's really wonderful to have."
A big part of what NAWBO strives to accomplish is being diverse. They've had a diversity, equity, inclusion, and belonging initiative for years but have recently begun to kick that up a notch.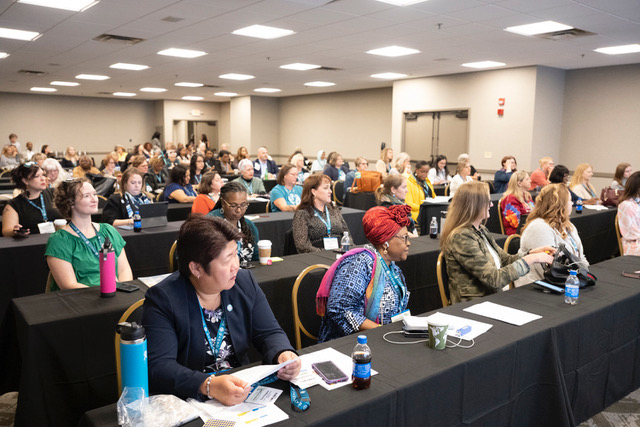 "We are committed to being recognized as the most diverse and inclusive organization for entrepreneurial women in the U.S. by our 50th anniversary, which is coming up in 2025," Bennetts says. "It's woven into every single thing that the organization does. It's a focus, and a strategic focus of every single committee that our board works on, that our HQ staff works on. Every single thing that we do has a measurable objective and goal tied to our diversity, equity inclusion, and belonging initiative. We take it very, very seriously."
NAWBO has new objectives on the horizon now, with a newly launched, redesigned website and technology upgrade that will feature a new database and new microsites for each chapter.
They have also rolled out a new WBE (Women's Business Enterprise) and MWBE (Minority Women's Business Enterprise) certification program through their NAWBO Institute.
"We are joining today's other certification organizations in making that certification accessible to all women business owners because we know that less than 1 percent of more than 12 million entrepreneurs are currently certified and that certification can open doors of opportunity for those who go through the process," Bennetts says. "We're really excited about that."
NAWBO's certification process includes thorough reviews and interviews conducted by women business owners who themselves are certified. "The people that are helping you step-by-step through that process are people who have been through it before and who also own their own business," Bennetts says. "It offers a personal perspective and a better understanding."
The NAWBO Institute will also become more accessible to both members and non-members through the newly redesigned website, which will allow anyone to create an account and have access to all kinds of resources, education, and information.
NAWBO's mission was reinforced over the past few years when the pandemic revealed a stark impact on women business owners. Not only were many women faced with the increased burden of caregiving and housework, but it also revealed that there was a lack of access to capital for female entrepreneurs.
"We've seen it before but it ballooned during the pandemic," Bennetts said. "The numbers are frightening for women who don't have an existing relationship with a commercial bank. So that makes it a big challenge."
When PPP loans were introduced, many of NAWBO's members didn't know how to approach the loans or even fill out the application because they didn't have relationships with banks that were fulfilling those loans. While NAWBO caters to businesses of all sizes – their members run the gamut from solopreneurs all the way to large manufacturers – it was many of the small businesses that didn't have their own CPAs and attorneys that really struggled.
"They were back on relying on their personal credit cards, they're laying off employees and  scaling back in all ways, " Bennetts recalls. "So we were holding free webinars two or three times per week, bringing experts in from banks and attorneys and CPAs, just to try to educate and support our members.
"That was one of the times that I personally saw what we were capable of and why we were members of this organization and what we're able to do for women business owners."
AT A GLANCE
National Association of Women Business Owners
What: The national voice for women entrepreneurs serving to both advocate and educate
Where: Washington, DC
Website: https://www.nawbo.org/