Association for Packaging and Processing Technologies (PMMI)
What 'Good' Looks Like in IIoT
By Sean Riley
Senior Director, Media and Industry Communications, PMMI, The Association for Packaging and Processing Technologies
British mathematician Clive Humby coined the phrase "Data is the new oil" in 2006 at a marketers summit at Northwestern University's Kellogg School of Management. As the architect of one of the earliest reward cards for the U.K.'s Tesco supermarket chain, Humby further explained that the value of data is not fully appreciated until it is analyzed and broken down, just as crude oil needs refining into gas, plastic, etc. to attain its true worth. A little over a decade later, Humby's statement has proven right, as the integration of systems and Big Data rivals Big Oil in scope and potential economic value.
The collector of Big Data is what industry now commonly refers to as the Industrial Internet of Things (IIoT). The machines and equipment on a factory floor filled with sensors and automation, sharing and gathering data over wireless networks. While the traditional Internet of Things (IoT) involves connections like those between smartphones and smart home devices like lightbulbs and alarm systems, the IIoT collects data and uses the information to makes business processes and production more efficient, sustainable and profitable.
By the end of 2019 forecasts predict that worldwide spending on the IoT will reach $745 billion, a 15 percent increase from the $646 billion spent in 2018, according to "How to Utilize Big Data to Enhance Manufacturing Processes" a white paper from PMMI, The Association for Packaging and Processing Technologies. Looking ahead, it is likely to hit $1 trillion sometime in 2022.
Dipping your toe in the IIoT Waters
Organizations with no experience or plan in place should not blindly launch an IIoT initiative. Success requires more than just planning for how to use data, and The Automation Playbook from PMMI Media Group's Automation World magazine provides a succinct five-step plan for industrial organizations to consider. These stages require a careful assessment of current assets, resources and existing processes.
Here are five issues industrial organizations should consider before making any IIoT moves:
Legacy equipment:Take inventory of automation devices such as PLCs, RTUs, robots and drives. How old are they? Do they need to be replaced or upgraded? Is legacy equipment able to communicate with newer hardware? How much time and money will this take? What cost-effective solutions can address current infrastructure?
Protocols/communications:Along with the equipment, what protocols are being used by network devices? How many are in use? Do machines need conversion to communicate with other machines? What type of media (cabling) is in use?
Location/environment: If equipment is in a remote location, can devices be monitored via cellular networks? Are 3G or 4G/LTE networks available? If not, are broadband or fiber-based networks available? Also, within the building itself, what is the overall environment? Is it hot and dusty or kept at a controlled temperature? Is there lots of vibration? Is industrial-grade equipment designed with extensive environmental ratings and industry certifications in use?
Security:According to a recent Business Insider Intelligence survey, 39 percent of executive respondents indicated that privacy and security are the most significant barriers to IoT investment. Security was the most commonly cited concern among respondents. Though this survey applies to all items in IoT, security should be an essential concern for IIoT as well. How can sensitive data be protected when it is collected and transferred? What security measures are in place for the systems that collect, monitor, process and store IIoT data? Are there any regulations regarding the protection of data and information to be aware of?
Staff:As a network adds more technology-based devices, on-hand IT staff, as well as other tech-savvy employees, can help with installation and monitoring on the factory floor. Is software or remote monitoring needed to keep tabs on devices in different locations?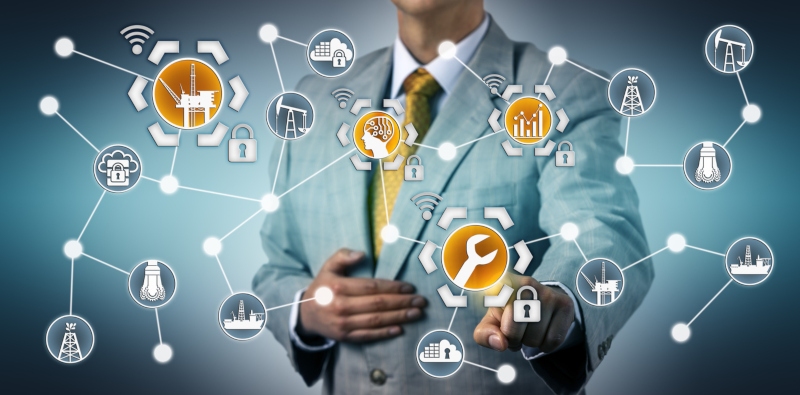 Are we good?
For companies already employing the benefits of IIoT, or who think they are but are looking to confirm where they are and where they need to be with IIoT, Automation World's Director of Content/Editor-in-Chief Dave Greenfield recently shined a light on the Industrial Internet Consortium's (IIC) IIoT Maturity Assessment. The web-based tool in the IIC Resource Hub enables users to understand their enterprise IIoT maturity better. Greenfield champions The IIC Resource Hub as an online interface to guide users through the analysis and planning of their own IIoT projects.
Built on a framework of four dimensions, the IIoT Maturity Assessment covers business strategy, business solution lifecycle, technology and security.
According to the IIC, the IIoT Maturity Assessment considers 63 individual capabilities in total, each with five levels of maturity within the framework. For example, under strategic context, a maturity level can range from a limited number of critical individuals accepting IIoT ownership to full ownership of IIoT within an organization. The IIoT Maturity Assessment provides feedback about the level of maturity and highlights areas that may require development.
The final outputs of the assessment provide links to the IIC Body of Knowledge for reference and to help companies improve their maturity level. Information in the IIC Body of Knowledge includes collaborative resources developed by industry leaders from the IIC membership, including IIC foundational documents (Industrial Internet Reference Architecture, Industrial Internet Security Framework, Industrial Internet Connectivity Framework, Business Strategy and Innovation Framework, Industrial Internet of Things Analytics Framework, and Vocabulary Technical Report) and other IIC documents and tools.
Ask the Experts
As someone who has been covering Automation for nearly a decade, Greenfield also sat down with Georgia Tech engineering, science and research experts to accurately gauge how the intersection of data and technology is changing the industry via IIoT. The overriding sentiment was that there's too much data for humans to process on their own, with manufacturers accumulating a lot of data without knowing what they're getting and why they're getting it. To understand how data should be handled so that it has a meaningful impact for industry, there must be ongoing conversations and collaborations across three communities of knowledge relevant to industrial data—computer scientists, data scientists and domain experts. Therefore, there has to be domain knowledge involvement at an early stage to collect and process data at a level that is meaningful to the decision-maker.
The Georgia Tech panel feels this is where operations technology (OT) and information technology (IT) professionals need to collaborate. Companies have to transform themselves around domain expertise to solve problems at a level applicable across domains. And, when it comes to sharing data, trust has always been a significant issue when talking about machine-to-machine, machine-to-human or even among humans.
When assessing new control products, there are five recommended security features to look for:
Network interfaces: For decades, control systems used proprietary networks and protocols. Now, however, many use Ethernet and standard protocols designed to make sharing data more manageable. When trusted and untrusted networks are kept separate, a rogue actor attempting a hack on the untrusted network cannot access data on the trusted network.
Firewalls: Most are aware of network firewalls, but individual devices can also have firewalls. A controller for an IIoT project should have a device firewall as well. The dual-interface controllers mentioned earlier should have firewalls on both network interfaces and be configured independently.
Data communication options: Consider a different way of communicating data. For example, look for a controller that offers device-originated communications. In publish-subscribe communications, a controller originates a broker connection—either on the premises or in the cloud—and then publishes data and/or subscribes to broker data. Because the link originated behind the firewall, no firewall rules for open ports are necessary, and data can travel both ways securely.
Encryption and certificate management: A control system is as important as a bank and requires the same level of data security. Data transmitted on any untrusted network needs encryption. A controller providing data encryption and capabilities to manage security certificates establishes a more secure network.
User accounts: Can anyone access the controller, or does it require a username and password? User authentication is a primary network security feature, yet one that's missing in most automation products. Also, look for the ability to set up users (people and software) with complex passwords and account levels that offer different permissions depending on the user's needs. Limit users to the specific data and controls each requires. For example, an operator might need to control a process, while a manager just needs production data and a cloud service requires a small subset of data from a few machines.
In addition to PMMI business intelligence white papers and industry expert knowledge from PMMI Media Group editors, the PMMI-produced PACK EXPO portfolio of trade shows provides the latest innovations and technologies to encourage and assist in IIoT implementation. Seminars on the show floor at Innovation Stage and The Forum also open educational gateways for best practices and new applications, as well as interactive discussions on what has worked for others in industry.
The next stop in the PACK EXPO portfolio of trade shows is PACK EXPO East 2020 (March 3-5; Pennsylvania Convention Center, Philadelphia). The three-day event will bring together 7,000 attendees, with 400 companies showcasing new technologies in 100,000 net square feet of exhibit space. PACK EXPO East attendees will enjoy all the educational and networking opportunities traditionally offered at PACK EXPO while allowing for more face-to-face time with exhibitors to find applicable answers. For more information and to register for PACK EXPO East 2020, go to packexpoeast.com.
AT A GLANCE
WHO: Association for Packaging and Processing Technologies (PMMI)
WHAT: The leading global resource for the packaging and processing industry
WHERE: Headquarters in Reston, VA
WEBSITE: www.pmmi.org