Mid-State Technical College
Manufacturing the Future through Renewable Energy
Business View interviews Ryan Kawski, Dean of the School of Applied Technology, Mid-State Technical College, for our focus on Midwest Renewable Energy
Ryan Kawski jokes that his former title as the Dean of Advanced Manufacturing & Engineering and Transportation, Agriculture, Natural Resources, & Construction at Mid-State Technical College (MSTC) was the world's longest job title. "They took all of the career clusters that I manage and just listed them out," chuckles Kawski. Fortunately, as of July 1st, that was simplified so that Kawski is now referred to only as the Dean of the School of Applied Technology.
That is the only simple thing going on right now at this growing Wisconsin technical college. "Our college has been around for over 100 years. Our primary campus is in Wisconsin Rapids, Wisconsin – right in the middle of the state. We have three other satellite campuses located in Marshfield, Stevens Point, and Adams, Wisconsin," explains Kawski. "We also occupy the entire third floor at the downtown Wisconsin Rapids Hospital, as we have a healthcare simulation center there."
Change is currently a common theme for Mid-State. "The bulk of my programming is on our Wisconsin Rapids campus," shares Kawski. "I also have a handful of apprenticeship programs and a stainless steel only welding program on our Marshfield campus. But if you fast forward a year and a half from now, we'll have our sixth location, which will be a manufacturing and apprenticeship center in Stevens Point. We've privately fundraised just over $4.5 million plus state dollars for a new facility. It's been a grassroots effort and a huge chunk of what I've done since I was hired three years ago."
They are adding a 48,000 square foot facility that will be located on property that was donated by a Mid-State Technical College alumni named Wayne Bushman. Bushman graduated from their program 51 years ago and has since gone on to become a major entrepreneur in central Wisconsin, where he owns a number of properties and businesses.
"Wayne happened to have some vacant land available," a grateful Kawski explains. "He is donating 8.7 acres of land in the Stevens Point Industrial Park for us to build a new facility. We have new apprenticeship programs and degree programs that will launch, but a lot of it will be shifting programming from our main Wisconsin Rapids campus over to that new facility. It's been quite a team effort for the college to pull this all together in times of COVID, but we were very successful in our fundraising effort. We have over 110 capital campaign private donors to this project… there is incredible support and outcry from the community for the need for this project."
There will be some renewable energy ties in the facility, as well. They will have enough structural ability to put a photovoltaic array on top of the structure in the years to come. Kawski notes, "We're not going to actually build it right away, but we'll have all the electrical chases, all the infrastructure available, and the physical wall space for systems ready to go. Then a couple years from now, we'll be able to invest as a college in that photovoltaic array and we'll have our students install it."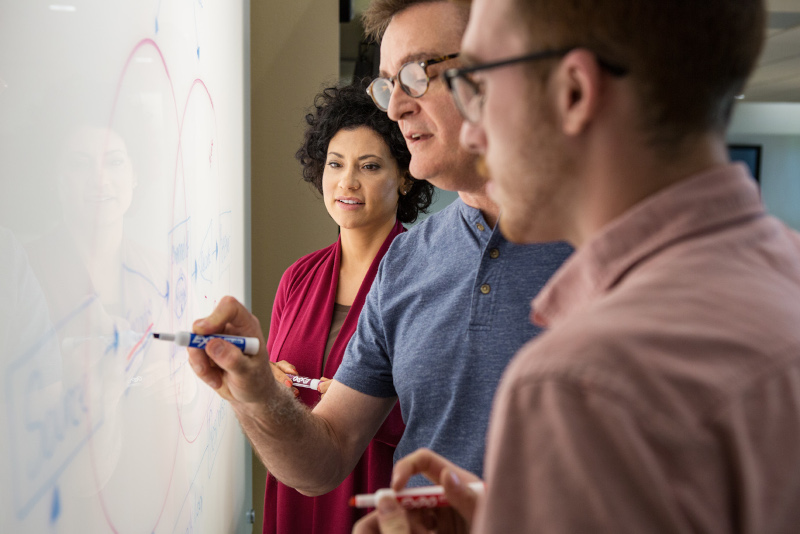 Mid-State did a similar install on their downtown Stevens Point campus a few years back. Their students put in a 50 kilowatt commercial solar array on top of that campus as part of a summer school class. "We had all of the cells donated through the Couillard Solar Foundation's Solar on Schools initiative," explains Kawski. "We just had to pick up the cost of the rack and wiring and do the install work. It was a great experience for our students, so we'll have that on our new facility as well."
Mid-State has strong ties to the manufacturing and agricultural industries of central Wisconsin. There are also significant bonds with local food manufacturing and food processing companies. That is the reason why they have a stainless steel only welding program. They have students that study stainless steel welding so that they can build the systems that get installed in the food processing plants.
Students in the Mid-State apprenticeship programs already have full-time jobs, as that's the apprenticeship model. The student is gainfully employed, sponsored by either a trade committee or an employer. Apprenticeships run between three and five years or 3000 to just over 10,000 hours. "That apprenticeship model works well for central Wisconsin players," Kawski lays out, "because they're guaranteeing themselves that worker. As we are all experiencing workforce shortages across the country, the apprenticeship model is very attractive."
Companies want to provide training for their employees so that they become skilled employees, but they still need them to work today. This model allows employers to have employees on the job 90% of the time and then they train at Mid-State for the other 10% of their time.
On the degree side of things, Kawski shares that Mid-State Technical College technical diplomas range from one semester of work to one or two years. They also offer two-year associate degrees. "Many of our students are already employed full-time before they graduate from our programs," Kawski beams. "We are very proud to say that well over 95% of the students in our programs are gainfully employed in their career field upon graduation. As a college, 87% of our students stay within our three county district after graduation. Not only are those great numbers that demonstrate the success of the programs, but it is really important to show that the training happens local and the students stay local."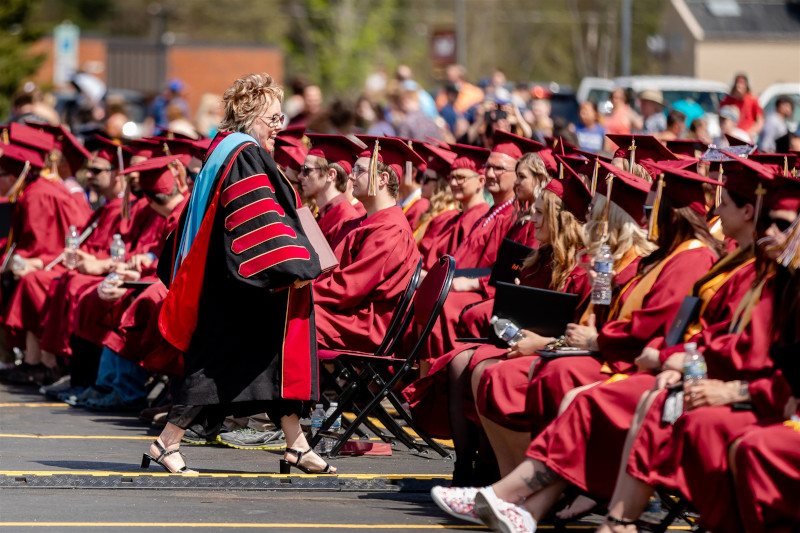 While those statistics are impressive to read about, they don't happen without an exceptional team. "We have a great grants team at the college that is very involved in supporting our renewable energy program. We've actually had a number of grants through the Midwest Renewable Energy Association to help offset costs," says Kawski. "We've also received a number of private donations and other grant funds to offset costs of our programming to help offer reduced costs or free education to students. We've been very fortunate in that market. We also were one of the first five in the state to receive the Workforce Innovation Grant that the state of Wisconsin developed utilizing their federal ARPA dollars."
That grant has provided some of the funding for the College's AMETA Center for Advanced Manufacturing, Engineering, Technology, and Apprenticeship center. "We also have about $4 million of the funds that we received going back into our communities to support various programming," Kawski adds. "We're running a free summer welding program for ten high school students so that they can start earlier. They'll finish the summer with six credits towards our welding program. We have another summer program for high schoolers to earn credits in our precision machining technician program."
Kawski is quick to share the credit for all of these successes. "One of our biggest partners is a major educational equipment supplier out of Milwaukee called LAB Midwest. Matt Kirchner, President of LAB Midwest, and his wife Renee Kirchner, CEO, lead an incredible team that has been phenomenal in helping identify new technologies and new training equipment for many of the programs that our college offers right now. As we develop our medical program, LAB Midwest has been instrumental in showing us all of the new technologies that exist so that we can put them in the students' hands."
"The Midwest Renewable Energy Association has also been a strong advocate for us for many years," continues Kawski. All of our programs within the Wisconsin Technical College System operate with the assistance of an advisory committee that meets twice a year. Midwest Renewable Energy Association has always had a seat at the table and has been instrumental in providing curricular change topics and answering our questions while working alongside our faculty and working with our students to provide experiences."
Looking to the future, Kawski believes that the ties between IT systems and manufacturing systems will expand and increase even more. He is also convinced that the world of AI (automated intelligence) is going to continue to expand. "As we're designing our new building, we are incorporating every opportunity possible where we can have a wow factor," says Kawski. "Whether that is automated intelligence in a robot that's going to move papers from one side of the building to the other or move raw material from our welding lab to our machine tool lab."
It is essential to be able to show what's happening in the industry and to not be behind the trends. As the Dean of a technical campus, Kawski understands their need to work to get three to five years ahead of the curve so that they can show local businesses what they offer. "We realize we can be a showcase center for folks to come and explore… to see what's out there. And then we'll provide the training on the back end of it to help upskill their current workforce."
AT A GLANCE
Mid-State Technical College
What: A leading provider of higher education offering career programs in a variety of technical fields
Where: Primary campus in Wisconsin Rapids, Wisconsin
Website: www.mstc.edu

First Technologies, Inc. – www.firsteched.com
First Technologies consults with K-12 schools and colleges such as Mid-State Technical College to provide hardware, software, curriculum and furniture. Our specialty is in Automation, Robotics, Mechatronics, Engineering and CNC Systems. Count on First Technologies for installation, on-site training and top-level support for all of our products.