Idaho Department of Commerce
Idaho Continues to Set Records in 2022
With year-after-year record budget surpluses and historic tax relief, coupled with significant infrastructure investments, Idaho's economy continues to surge forward like no other state in the nation.
Idaho's economy continues to thrive despite the pandemic – a reflection of the strength of Idahoans and Idaho business owners. The tenacity, commitment and resilience of Idaho businesses continue to be a driving force in Idaho's growth.
Idaho leads the nation in economic strength, job recovery, growth and business formations. In 2020, Idaho's GSP grew to $81.8 billion, with total estimated employment of 868,215 – significant growth from previous years. That growth continued into 2021 with a GSP of $90.7 billion and a total estimated employment of 895,000.
So how has Idaho continued this economic growth, through a pandemic?
The answer is simple. Idaho's conservative approach to governing from a regulatory and budget standpoint, along with its vibrant, pro-business culture and high quality of life, create an environment where businesses can thrive. While other states added to their debts, Idaho used its budget effectively, distributing funds where they were needed most and limiting unnecessary spending.
The record budget surplus has provided Idaho the opportunity to redirect taxpayer dollars back to businesses and citizens. Governor Brad Little and the Idaho Legislature have directed approximately $1 billion back to taxpayers over the past three years, and just approved another $1.5 billion in tax cuts over the next five years. State leaders achieved the largest tax cut in state history this year, with immediate tax rebates and ongoing income tax relief moving forward.
The heart of Idaho's economy – small business owners – benefitted from the tax cuts, lowering the top tax rate to 6.0 percent, making the state even more competitive for existing businesses and attracting businesses new to the state. Idaho is expected to continue the trend with another record budget surplus for the fiscal year ending June 30, 2022.
Simply put, Idaho stands out. As businesses across the country and world assess their location decisions, many are choosing Idaho.
Businesses such as GoGo SqueeZ, a fruit-based snack brand; Amazon, one of the largest retailers; Lamb Weston, one of the largest producers and processors of frozen french fries; AZEK, an industry-leading manufacturer of commercial building products, and more have all decided to expand or locate in our state within the past few years.
Most recently, in February of this year, Meta (formerly the Facebook company) announced its decision to choose Kuna as the location of its newest data center. The data center represents an investment of $800 million, supporting the growing community of Kuna and the broader Treasure Valley. The project will boost the local economy by bringing approximately 100 operational jobs with more than 1,200 jobs at peak construction. Meta will break ground on the over 960,000 square-foot data center in September 2022, with construction anticipated to continue through 2025.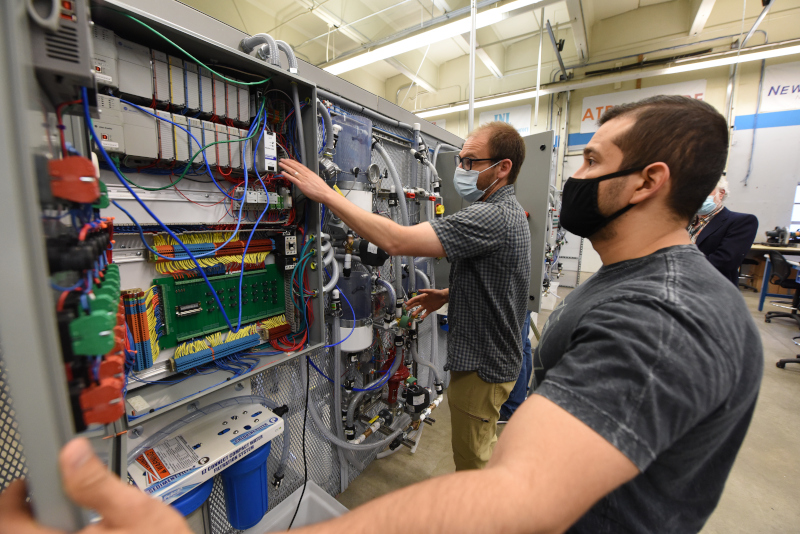 As part of the company's commitment to Kuna, Meta is investing approximately $50 million in a new water and sewer system for the city. Infrastructure will be constructed by Meta and dedicated to the City of Kuna to own and operate. The system will provide increased capacity for new users and new businesses in the area. Idaho's unique and attractive business climate, talented workforce and ready access to infrastructure, water, lower costs and renewable energy were factors to Meta's decision to choose Kuna.
Business investments like these are key drivers in making Idaho's economy among the strongest in the nation. With this growth and a steady flow of businesses expanding or locating to Idaho, the state has continued to make strategic investments in many areas such as broadband and cybersecurity.
In 2020, Idaho Commerce awarded over $38 million to fund 83 broadband expansion projects across Idaho. These projects funded improvements or expanded service to more than 30,000 households throughout the state. Last year, the Idaho Broadband Advisory Board awarded $10 million in CARES Act funding to fund 13 additional broadband projects, impacting nearly 2,400 households.
Broadband infrastructure investments will advance service and offer speed improvements for unserved and underserved areas across Idaho, enhancing telework, public safety, education and healthcare access in rural Idaho and beyond. These investments are only the beginning of improving broadband access across Idaho.
In today's digital environment, cybersecurity is everyone's responsibility. Nearly every American consumer and business is connected to the global internet. That means the probability of cybersecurity attacks is enormous and growing. Idaho has already begun preventative measures to ensure that businesses, citizens and organizations have the toolbox of skills they need to protect themselves from cyberattacks.
In August 2021, Governor Brad Little created the Governor's Cybersecurity Task Force to focus on promoting improved business, government and personal cybersecurity. The task force was comprised of 19 members representing key Idaho institutions and co-chaired by Idaho Department of Commerce Director Tom Kealey and Idaho National Laboratory Associate Lab Director Zach Tudor.
The task force developed 18 major recommendations. These recommendations have been approved by the Governor and the state is fast at work implementing them to improve cybersecurity. As part of the Governor's Leading Idaho initiative, Idaho Legislature has already appropriated $12 million to create a cyber defense fund in case of election-related cyberattacks.
Making these strategic investments is crucial for our state to benefit from the incredible growth it has seen over the past few years. It ensures our state will continue to be a great place for businesses and citizens for years to come.
Governor Little has one lens that sets his agenda: to create an environment in Idaho where children and grandchildren will stay in the state, to create more and better opportunities for those who have left the state to return, and to ensure a welcoming and prosperous environment for those choosing to locate here. Over the next five years, we expect Idaho to continue its growth trajectory by bringing new businesses and more employment opportunities to the state.
As the lead economic development agency for the state of Idaho, the Idaho Department of Commerce will continue to foster a business-friendly environment to aid in quality job creation, support existing companies, strengthen communities, promote innovation and market Idaho domestically and internationally, to facilitate Idaho's growth. With Idaho continuing to break records in 2022, the state looks forward to excelling throughout 2023 and beyond.
Learn more about Idaho's vast opportunities at https://commerce.idaho.gov/
AT A GLANCE
Idaho Department of Commerce
What: The lead economic development agency for the State of Idaho
Where: Boise, Idaho
Website: https://commerce.idaho.gov/