MaidPro
Housecleaning made successful
Business View Magazine interviews Mark Kushinsky, CEO of MaidPro, as part of our focus on best practices of franchise companies.
MaidPro is a Boston-based franchisor of residential cleaning services with over 250 franchise locations throughout the United States and Canada. The company was founded by Mark Kushinsky in 1991, after a long and thorough search for the right business that would best fit within the lifestyle and entrepreneurial criteria he had outlined for himself, plus a serendipitous visit after a night of partying.
"Back when I was in my 20s, I was working in retail," he recounts. "When you're in retail, your schedule is at the whim of your manager; business is open seven days a week; there's nights, weekends. And while I don't mind working nights and weekends, I didn't want to be forced to do it when it wasn't ideal for my schedule. Also, I didn't have a whole lot of money. When I thought through what businesses triangulated around schedule, not having a bunch of money, and a couple of other dynamics that I thought were important to having a balanced life, I tripped across housecleaning."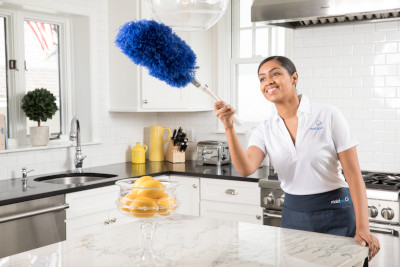 "I was having a party, and wanted my apartment cleaned," he continues. "So, I hired someone to clean it. They didn't do a very good job. I had a cat, at the time; they locked my cat in the bathroom, so I came home to a messier apartment, in some degree, than I had when I left. That sort of triggered me to say, 'Hey, maybe I can do this a little bit better than the type of service that I got.'"
Kushinsky began adding up the benefits of starting a housecleaning business. "I didn't want a lot of inventory," he explains.  "I'd worked in the food business, so I didn't want perishables. I didn't want to have a business that cost a lot of money for building out a facility. It was great that it had recurring revenue. People paid at the time of service, so there wasn't a lot of receivables. It was a service business, so if there wasn't business in a particular week, you didn't have to support a staff. Another thing that I liked about it was that it wasn't that 'sexy' of a business. The last thing I wanted was a business that everybody else wanted to be in, with tons of competitors."
Kushinsky eventually determined that house cleaning checked a lot of his boxes: it suited his lifestyle, it was affordable, and he thought he could do it well. "So I jumped into it," he exclaims. "I thought that it might be a good business to start and maybe I'll sell it in a few years, when I figure out what I really want to do. Of course, that never happened."
No, that never happened. In fact, the business took off. After several years, Kushinsky and company began interacting with other house cleaning operators. "We'd go to these cleaning conventions and I started speaking with people from a number of cleaning franchisors and franchisees, sharing ideas about software, and marketing, and websites," he recalls. "And I came to find out that we had better software, marketing, and systems. So, I thought, 'might as well start franchising.' And today, we have one company-owned location and we have about 250 franchise locations and we're in 39 states and Canada."
Kushinsky talks about some of the characteristics which, he believes, give MaidPro a competitive edge: "We don't lock in a methodology of doing business, and promote so highly, that we can't move off the mark. Some of our competitors, for example, will require four people to clean a home and all their systems are built around that methodology. We allow our franchisees a lot of flexibility to be entrepreneurial. We don't lock them into one way or method. We provide a lot of our services based on what the consumer wants. Some want one person – a very personalized service in their home. Other consumers might want two people for a little faster clean, but still personal. And there are a few who do want a very rushed service, where four people might come in the home and knock it out in an hour, but that's very infrequent. And we don't have a lot of other rules that many other franchisors do, like requiring a certain minimum marketing spend. We're a friendlier franchisor."
When vetting potential franchisees, Kushinsky says, "Ideally, we're looking for people who are very coachable. They don't need to have any background in residential cleaning, nor do they have had to run their own businesses, before. They do need to be good with people; good managers, with a good understanding of finances and general business concepts. And we want people who are very focused on building a good culture in their business. Our franchise salespeople communicate with the prospect. They're very open about the pros and cons, and our goal is to give the prospect as much information as we can, so they can make a good decision for themselves."
After awarding a new franchise, MaidPro begins an open-ended process of training and support. "We're going to spend our time teaching them all about the residential cleaning industry and how to succeed," Kushinsky declares. "We're going to give them all the tools that they need. Every one of our franchisees has a primary coach, a designated person in our office. Then, we have a series of specialists that they can go to any time that they want for additional information; whether it's a marketing specialist, an employment specialist, a financial specialist, technical specialist, or operational specialist. We hold multiple, daily webinars on different topics. We also have a help desk, so, if they want a quick answer to something, they can submit a case and people on the help desk will get back to them, immediately."
In addition to regular conventions, where all MaidPro franchisees can get together, the company also has peer performance groups, which are both regional and revenue-based. "They have a monthly call, and they also have what we call 'meet-ups' every six months on a regional basis," Kushinsky notes. "They have their own space within our intranet, so they can communicate via our discussion board on the peer performance group level. Also, in our software, they have peer performance groups KPIs (Key Performance Indicators), so they can view them as a group and work together on that."
In addition, MaidPro takes the concept of group cohesion way beyond the "office." "We also have something, which I think is unique to our company, which we call our Adventure Trips," Kushinsky says. "We go on trips that can be three days, in some cases it can be ten days out of the country. We've gone down the Colorado River, and camped; we've rented a 12-acre island, 65 miles off the coast of Belize; we've sailed around the Caribbean in a flotilla in seven or eight catamarans; we've gone to Peru and hiked Machu Pichu and stayed in the Amazon. We're about to go to Croatia and sail the islands for seven days. And we don't reserve that just for the top-performing franchisees – anybody can go. So, our franchisees are very much like a family. We travel together and have a lot of fun together, and one of the primary reasons we do that is if you build a personal bond with people, it helps your business bond. They connect in ways they wouldn't otherwise connect and it becomes a deeper connection."
Kushinsky adds that, over the years, the company's Adventure Trips have spawned yet another key part of MaidPro's company culture. "When we're on these trips, we always give back," he says. "We have a 501(c)(3) organization where we support a lot of orphanages around the world – in Belize and Peru and Portola. And we visit those places, too. So, there are a lot of deep connections within our organization."
Going forward, Kushinsky says that MaidPro is looking to expand its geographic footprint as well as its product offerings. "We have a lot of opportunities in the U.S. and Canada and we might grow in areas that we service," he avers. "We've got about 250 now, and over the next four or five years, we'd probably like to be in the four or five hundred zone. And that might include another brand that we just launched – a mosquito and tick control brand. One of the reasons we're launching other brands is because some of our franchisees have come to us and said, 'Hey, we've built this business and territory and we'd like to offer another brand to our consumers in this area.' So, we said, 'Sure, we'll have another brand for you.'"
Meanwhile the original MaidPro brand has managed to garner outstanding success and rave reviews, and, no doubt, will continue to do so. "In Franchise Business Review, we're number five or six of all franchises out there," Kushinsky proudly states. "We're fifth highest rated as far as franchise customer satisfaction and we've been there for ten years. It comes from being a friendlier, more flexible franchisor and, of course, from doing some of the things we do – the high support, the high touch, the family community."
Kushinsky encourages individuals to think about becoming MaidPro franchisees – especially people who, like him, can appreciate the benefits of running a "not sexy" business. "A lot of people don't allow themselves to think that residential cleaning is a legitimate business because of the cleaning nature of it," he admits. "But I would say to people, that when they sit back and think about the personal lifestyle that they want; if they want to have nights and weekends off; if they want to have lower stress by having things like recurring revenue and people paying at the time of service; and not having huge receivables; and if they don't have to worry about building out restaurants or retail locations; I think they should really consider it. And, if someone wants an opportunity where they can be part of something they can feel good about, I think we're definitely something to look at."
Check out this handpicked feature on Mister Softee – "The creamiest, dreamiest soft ice cream".
AT A GLANCE
WHO: MaidPro
WHAT: A housecleaning franchise business
WHERE: Boston, Massachusetts
WEBSITE: Visit Site