Kindred Credit Union
Purpose-driven banking
Kindred Credit Union doesn't just offer banking – they offer "banking with purpose" with the member in mind
The Canadian credit union, based in Ontario's Waterloo Region, offers a full line of banking services for individuals and businesses but uses those financial offerings in a way that benefits the community. It's all laid out in Kindred's purpose statement: "cooperative banking that connects values and faith with finances, inspiring peaceful, just, and prosperous communities."
"We are a social purpose organization, we are a purpose-driven organization, we are a values-centered organization," says Ian Thomas, Kindred's chief executive officer. "I've been in the credit union system for almost 15 years now and it is exciting to see the social purpose movement begin to take shape, especially in the credit union space. For Kindred, we have been focused on embedding our purpose in everything we do. I would say for Kindred, our purpose statement is integrated into all aspects of our business.
"It's our community inspiration framework, how we engage with local partners and communities to live this out. It's the fact that we pay our staff members and contractors at least a living wage. It is how our products are designed. We don't just do loans and mortgages. We allow our members to participate and live out their values through our products. It isn't just a slogan, it's truly embedded in the ethos and in the mindset of the credit union."
Through its community inspiration framework, Kindred channels its efforts into three main areas of focus: financial empowerment, community food security, and safe and affordable housing.
"It's not just about giving financially, it's also about how we use our networks to help support our community partners," says Rebecca Smith, Kindred's vice-president of engagement and values. "How do we actually make them true partners and really build relationships with them? How do we engage our staff? How do we engage our physical resources like our meeting rooms in our branches or at our head office and things like that? It's a more holistic approach to how we build and come alongside our partners."
They do things like partnering with faith communities and nonprofits, which Smith says are "often overlooked and underbanked," to offer support, as well as ensuring Kindred's employees are given at least a living wage, even as that wage continues to increase.
Kindred also offers purpose-driven products and services that help members give back. That includes Kindred's Member Assistance Services (MAS), which helps create links between members of the community who need help, and those who have the help to give. MAS offers two options – Crisis Care GICs and loans and Partnership GICs and loans.
Crisis Care loans offer temporary relief at reduced interest rates to Kindred members who are experiencing temporary financial distress. Members can contribute to the loan fund by taking out Crisis Care GICs and receive a portion of interest at a below-market rate, with the rest of the earned interest going toward the Crisis Care Loans.
Partnership loans allow Kindred to enable transactions between individuals or charitable organizations that need help getting a loan with members who will fund those loans on their behalf. Partnership loans can be designated to an individual or organization or GICs can be designated to fund a partnership loan.
Kindred has also recently launched Canada's first affordable housing GIC and loan product. Like other GICs, members can earn a guaranteed rate of return, while also allowing individuals that invest to help address the affordable housing crisis in the Waterloo Region.
"All of our markets are affected by the affordable housing crisis, but in this particular region we have selected a partner and worked with a partner to develop a product with their deep understanding of the housing issues in Waterloo Region," says Frank Chisholm, Kindred's director of brand and marketing. "We are really proud to have that product out the door. It runs on the same foundation as the Member Assistance Services program – members can invest and then the outgoing dollars, in this case, go out to developers that are working on permanent, long-term, affordable housing units."
In addition to the credit union's value-driven offerings, Kindred also offers a member-first approach when it comes to financial advice. Take their approach to guiding members looking to buy their first home. Thomas says their service offers more than just finding out what members can afford.
"The advice starts with uncovering what is the objective of the home, is it long term versus short term? We ensure there is a clear understanding, especially for that first-time homebuyer, of the full cost of ownership," he explains. "We want to ensure that when the right home comes along, they're able to confidently understand that they have a down payment and what they qualify for so that they're looking in the right range and making sure expectations are met."
Kindred Credit Union was first established more than 50 years ago by a group of Mennonites who wanted to expand access to financial services across their community. With $22 in a cash box, the Waterloo County Mennonite Credit Union was born. In 2016, the credit union rebranded as Kindred, recognizing that its values were not limited to the faith community and had broader appeal.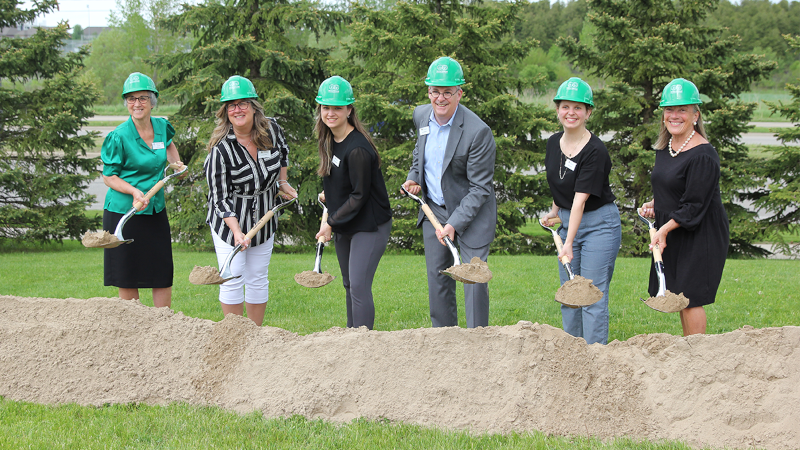 Today, Kindred Credit Union has 8 branches in Aylmer, Elmira, Kitchener, Leamington, Milverton, Mount Forest, New Hamburg, and Waterloo. They have over 200 employees and more than 26,000 members.
As a credit union, Kindred is member-owned, which means every member has an ownership stake and an opportunity to vote on its practices and policies, and they are also the benefactors of its profits.
"The more business members do with Kindred, the larger that amount would be to the individuals," Thomas explains. "In the past year, we returned over $1.4 million to our members in terms of profits."
While they don't have plans to open any new branches anytime soon, Thomas says moving into the world of online banking has made it so that members can access the credit union from anywhere in Ontario.
"I would say our newest community would be our digital community," he says. "Over the last number of years, as we have refreshed our mobile apps and online banking, people can now join Kindred through digital channels and actually open an account online, can get a loan online. There are a number of channels and access points where members can actually interact with Kindred without ever having to set foot in a branch, even from the moment of outset."
"We've seen a lot of our members, as life has taken them outside of our traditional markets, continue to be able to do business with Kindred. We have members literally throughout Ontario, even where we don't have a branch, but because of the technologies and the investments that we've made in digital platforms, they've been able to maintain a banking relationship with us."
The move to more online banking has allowed Kindred to continue to grow, not only adding more employees to the organization but also creating new roles, including the newly established digital channels director.
"The whole point of the digital channels work that we're doing all comes together for the purpose of better supporting our members," Smith explains. "If we can pinpoint and make sure that the messages that our members are getting from us are really meaningful and it's giving them meaningful advice and meaningful communication, then that's going to support them financially better and make them more financially empowered, too."
Making a difference in people's lives and helping them live better, regardless of where they stand financially is a priority for Kindred.
"We do what we do because it's the right thing," Thomas says. "We have the ability to really change the trajectory of people's lives and for them to create a legacy with their finances. We have members who are very well established in their businesses and in their personal lives, we have members who are just starting out and we have members in between. We have the capability to address people all along that continuum.
"I just think it's an incredibly rewarding ability to not just grow a business, which in turn supports a community, but to empower 26,000 members and grow to do what their values tell them what they should be doing."
That ability to make a difference is a driving force for Kindred's employees, who represent Kindred's values at every turn.
"Money is not values neutral, finances are not values neutral," Smith says.
"What you do in life matters and that includes our finances. Just knowing that we can help empower people to make that difference that they want to have, living out their values through their finances, and empowering them to actually have an impact is what drives me."
AT A GLANCE
Kindred Credit Union
What: A credit Union that is driven by the needs of its members with unique financial solutions
Where: Kitchener, Ontario with branches throughout the southwestern Ontario region
Website: https://www.kindredcu.com/

Aviso Wealth Inc. – www.aviso.ca
NEI Investments is a Canadian asset manager specializing in responsible investing, with over C$10 billion under management. With over 35 years of firm experience, NEI is committed to providing Canadian investors with a broad range of responsible investment solutions. The company delivers disciplined, active asset management with a focus on environmental, social, and governance (ESG) factors. NEI Investments also manages and operates a proprietary active ownership program and has been a signatory of the United Nations' Principles for Responsible Investment for more than 15 years. NEI Investments is a wholly owned subsidiary of Aviso Wealth.

Roberts Data Insights Advisory – www.robertsadvisory.org
Since 2020, Roberts Data Insights Advisory has been a close partner and liaison to Kindred Credit Union, providing data analytics advisory services. This has opened the door for Kindred Credit Union to expand their expertise, augment their capacity and has enabled ongoing data-driven member engagement processes.