inTech RV
Quality comes first
Business View Magazine interviews Adam Maxwell, Owner of inTech RV, for our focus on Growth & Innovation in the RV Industry
InTech RV started in 2010 as a small company going after a niche market. Their first product was fibreoptic splicing trailers. As the country slowly recovering from the recession, gaining initial attention for their product proved challenging. It took about eight months and a few completely satisfied customers for people to start to take notice. When they did, the company philosophy of quality over everything else really started to gain momentum.
"We got a couple of dealers interested," recalls inTech RV owner, Adam Maxwell, "and then we started to expand our line. We started to do motorsports trailers, and that focused first on car hauler trailers which were all custom, all high end, and made to the customer's specifications. We built a really high-quality product to fill that niche in the market and it grew from there year over year."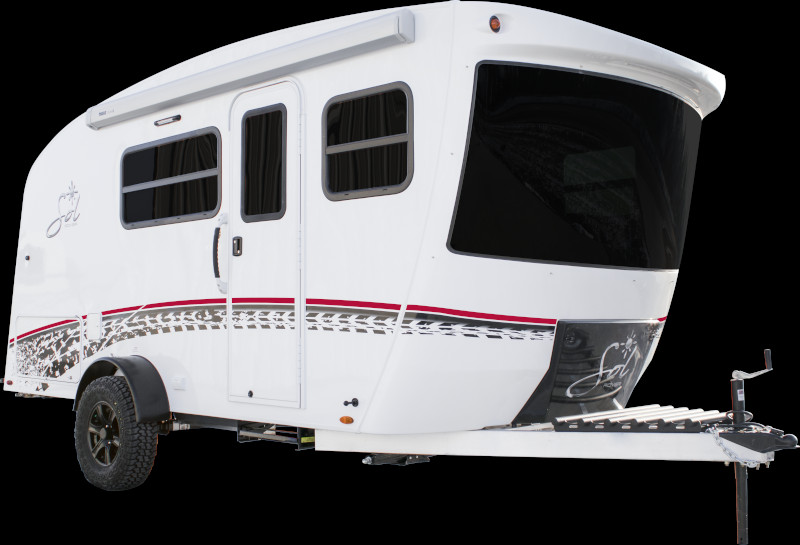 In 2016, the firm started creating a recreational vehicle line. Beginning with the Flyer series of tow along camper, they then expanded to a full product lineup with the larger Luna, Sol, and now Terra lines. "It's just been this constant evolution of the product," says Maxwell. "But our roots have always been in manufacturing high-quality, high-end components – being mindful of what the customer is going to use them for. As we have grown, we've been asking, what is the product that we're trying to build? Who is it tailored for? And then trying to make it the best fit for that customer. This has driven our evolution over time."
Starting in Nappanee, Indiana with just six employees back in 2010, inTech has expanded from 15,000 square feet of production facility to currently over 160,000 square feet and now have over 190 employees. Still, the focus has been on slow and steady growth intending to keep the quality intact. "A lot of what we do that makes us unique comes from the fact that everyone is on the same team," says Maxwell. "A lot of companies will say that – but even our pay structure has moved to having everyone on profit sharing, which means everyone is motivated towards building a great quality product and not having warranty issues. Building a brand that we can stand behind is essential. When it comes to new product design, changing a process, or even pricing a new model, it ends up being more of a conversation about what we can achieve by working together, what's a good value for the customer, what's going to help our brand in the future and finally, what's going to keep us in business. It's people all working together from design, launch, production, and even problem solving."
Each inTech aluminum frame trailer – which now includes motorsport, industrial, concession, and camping trailers – is built in-house by hand. Design engineers, application engineers, and skilled tradespeople manage every aspect of construction. This commitment to quality, initially refined to build the finest all-aluminum, fully welded car haulers, crosses over into inTech's aluminum cage campers. Along with using aluminum to ensure the frames remain rust-free, they utilize tube frame construction to deliver unmatched structural integrity.
"We have a little different process," says Maxwell, "and this is especially true for the RV products. We will draw it all on paper until we think it looks pretty good and then, on our first prototype, we will build a shell and just mock-up all the different pieces with plywood. We build things like the shower, cabinets, beds and that way we can go in that unit and touch it and see how everything feels. Then we will make changes in the plywood and modify the prints until we get to the point where we think it is good and only then will we go back and build the actual new prototype."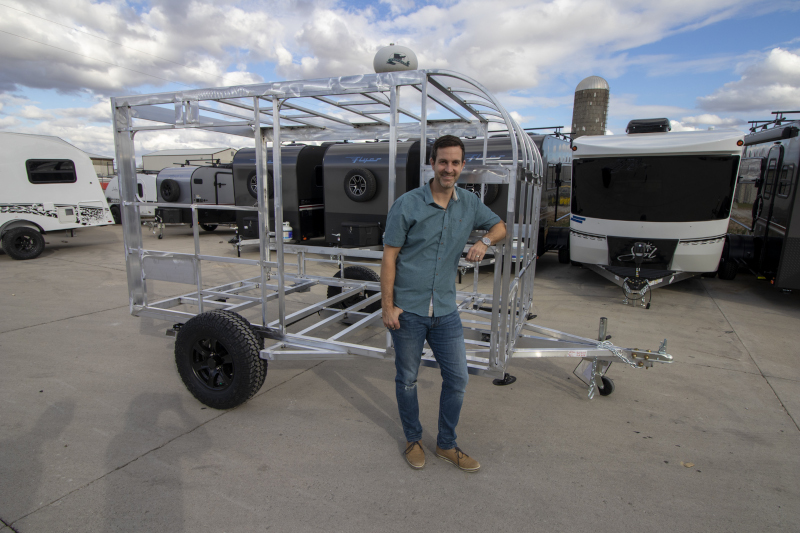 That process means there are a lot of changes from conception to production, but it also means there is a lot of back and forth in the design, leading to a much better overall product. This can be as simple as how the trailer looks. An InTech trailer has a unique look which is a proprietary Tilt Forward Design. This was a purposeful decision that was made to make their brand stand out. Maxwell notes, "If you look at one of our trailers going down the road, you are going to notice that it is an InTech trailer. It also happens to give more space and a different feeling on the inside."
With the current COVID-19 pandemic, Maxwell finds it interesting to see how it is affecting the market. He reports, "There has been a flood of people who are looking at taking money they might have spent on vacations, or travel, or eating out and asking what they can do that would feel safe but allow them to get out to explore. What we have seen is that a lot of people are considering buying a camper. It's a lifestyle that once you experience it, you are going to want to have it for the rest of your life. So I think this is something that's going to establish that first-time buyer and new demographic, which might also be a younger demographic, and I think it's going to hold. It allows us to have an experience, and to travel, and still be safe."
An additional benefit to an inTech product is that it is fairly small and lightweight. So it doesn't require a large vehicle to tow it. Maxwell acknowledges, "There is a big part of the market that is trending that way, as well, towards smaller spaces. You see that in housing somewhat, and we see it in the camping world, and that's what we focus on. They are easier to transport and easier to store when you are not camping. Some of our smaller models you could just park inside of a garage, and you can't do that with the really big stuff."
As with most companies, COVID-19 has affected InTech in unique ways; constant material shortages being first and foremost on the list. "On the RV side we kind of scrambled when COVID hit," says Maxwell. "We were shut down for a while when we were not allowed to run production but even then we took the time to regroup and consider what our next move was going to be. We designed the Terra and when we got back to work we knew exactly what we needed to do."
Maxwell predicts that this is going to end up being a fantastic year but it is also going to be full of challenges. He admits, "Every month we are having to figure out how to get what we need and what to do if we don't have the material. We have learned to be nimble. But again, our big focus comes back to quality. We realize that the demand is up right now, and our backlog continues to grow month over month even though our production goes up. But we are not going to sacrifice quality and what our brand stands for just to get a product out the door right now. That has always been a struggle in this industry – having that balance – but I feel like we do it better than most. We try to maintain that absolute focus on quality and doing it right, building it right, and having a product that everyone can stand back and be proud of."
"Our dealer network on the RV side has been terrific," Maxwell adds, "We are a newer brand, but the way that our dealer network has come behind us and supported us is amazing. As is the team here at InTech. There have been so many challenges with shortages, and we constantly have to redo the schedule and figure out what everyone will be doing the next day. That being said, the dedication of everybody here on a daily basis – to be willing to come to work and have a good attitude and be flexible – has made this whole crazy mess of a year a lot better and a lot easier to deal with. And I'm proud to say we have done well this year despite it all."
AT A GLANCE
inTech RV
What: Manufacturer of high-quality camper trailers and RVs
Where: Nappanee, Indiana
Website: www.intechrv.com

Custom Glass Solutions – www.customglasssolutions.com
Custom Glass Solutions, LLC is North America's leading producer of large format, laminated glass systems. CGS also manufactures flat, bent and tempered glass systems, offering a broad selection of products for transportation segments. Through its Network business, CGS works with insurance companies and vehicle owners to coordinate glass replacement services.