Converse, Texas
Connecting Community + Commerce
Business View Magazine interviews Jimi Kuborn, Executive Director of the Converse EDC, for our focus on Economic Development in Texas Cities
Converse, Texas is growing exponentially and despite already holding the title of largest suburban city in Bexar County, it's on track to becoming the largest suburban center in the region. The market is largely untapped for businesses and entrepreneurs. Because the population is growing so quickly, businesses have not diversified enough – leaving a gap in the market.
Converse has grown from just over 18,000 people in 2017 to more than 30,000 in 2020 and that population boom hasn't slowed. The city's average household multiplier is 2.9 people per household, so it expects and is preparing for more than 9,000 people in just a few short years. Located on the northeast side of San Antonio, Converse is benefiting from the growth that is happening between that urban center and Austin, Texas. Randolph Air Force Base borders Converse to the east and many military families reside within the city's borders.
According to Jimsi Kuborn, Executive Director of the Converse Economic Development Corporation (EDC), the growth isn't just a short-term boom it's "more largely on a state level; that triangle between San Antonio and Austin, Dallas and Houston." Converse is an eight sq. mile city just 15 miles northeast of San Antonio's downtown (and with annexation phases in the plans may become even larger to represent a possible population of 100,000). It is part of Loop 1604 that runs through the east side of the city and drivers can reach the I-35 headed to Austin very easily, as well as the I-10 which runs toward Houston.
Residents of Converse, including Kuborn, know the trends. She notes, "It's interesting, you can pop into downtown San Antonio in about 15 minutes going through I-10 instead of the I-35 because there's more traffic on the north side of San Antonio. Access to those highways make Converse an attractive place to live and run a business. We are really out there, boots on the ground, trying to talk to brokers, investors, entrepreneurs, and people who are looking for additional locations – site selectors and such – explaining that because we are in this exponential growth pattern, we truly are an untapped market. We've got so many citizens in this community and its only continuing to grow. No matter where your story begins your next chapter is in Converse, so come help write our story."
The city's housing industry is booming with 3,000 homes platted and under construction. Converse is attracting people, including young families, from California, Illinois and, on a small scale, the East Coast. One reason is that the price of housing in the community remains affordable. Houses in the new subdivisions are selling anywhere from $200,000 to $250,000. Kuborn acknowledges, "Because of the population and housing boom, we're trying to grow the different amenities and resources for our residents. I know retail is a tough sector right now, but ultimately we are still a community and we still have a lot of people who are having to drive outside our city limits for the simple things, like having a larger offering of full services, different restaurants, or a variety of things to do. As I try to explain to people, think about the things you do in the evening with your family and your significant other, and those things you do over the weekend. We've been such a small community for so long, most of our citizens drive outside our city limits to do those things, we don't even have a dry cleaner in town and we're just now getting some real traction."
The Converse EDC owns five parcels of land in the city that they have marketed to companies, and four out of the five are currently in the process of being sold.
One site will be a Burger King, another a 5,800 sq. ft. commercial building, a multi-tenant commercial building, and their largest parcel, on three acres, will be a proposed office and service-based operations with multiple buildings. The fourth is a smaller, 0.6-acre parcel and will host a commercial space. Some of those properties are on South Seguin Road, where the municipality is trying to create a downtown core by zoning parcels as commercial and updating the streetscape with sidewalks and old-fashioned lamp posts with potted plants and banners.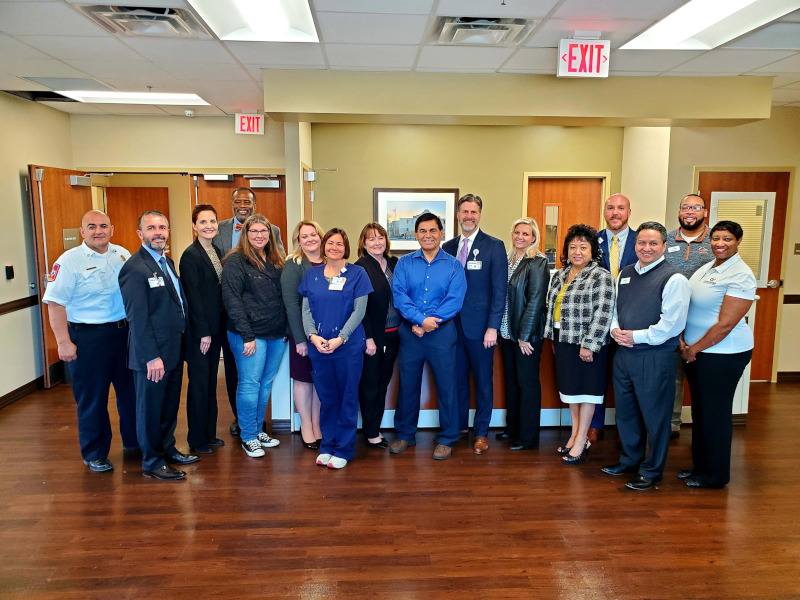 Commercial development has also started along Loop 1604 with two national chains, Marco's Pizza and Great Clips. As part of its business attraction plan, the EDC is working to bring franchise businesses in to grow the sector. The city has two light industrial parks – one is newer, about two years old with five buildings ranging around 25,000 sq. ft. each with multiple tenants. There are just a few spaces left and the developer has already begun phase two. The second industrial park is older, but very popular. Kuborn boasts, "Every time a space goes open for lease or for purchase, it's gone immediately. So we really are trying to get out there to make people aware that this is an untapped market. There are huge investments going on with the community, and the city itself is investing exponentially too."
The main employers in Converse are the municipality, the public school system, and construction and the trades. There are also two Walmart stores in town that employ a large number. The EDC does its best to keep in touch with businesses. "It's a true measurement," says Kuborn. "Anyone that's in economic development knows that you can get some of your largest job growth from your existing companies." A prime example is Northeast Air Conditioning, Heating & Plumbing Services. The company has resided in Converse for about 40 years and was looking throughout the region for a new facility to call home so they could grow their staff and business. They knew the EDC had swapped land for the old fire station with the city, so they worked with the EDC to purchase the old station from the EDC and turned it into their new home. Kuborn shares, "If you're there to help facilitate their growth, provide them information to help them succeed, existing businesses are your biggest resource for employment growth."
During the COVID-19 pandemic, construction and infrastructure projects have not slowed down in the city, which has kept many people employed in the area. Kuborn believes it's one of the reasons the region has remained fairly stable through the pandemic. She relates, "Conversations we are having industry wide reflect that there is pent up demand, and I think that this has definitely been an opportunity where people have had to be extremely creative. And that's great when you're talking about entrepreneurs. They are great at thinking outside the box and pivoting. So our small businesses here have definitely not had it easy, but they have changed so quickly."
The municipality is working on many projects throughout the city to upgrade water and sewer lines. As well as working with TxDOT for resurfacing and expanding roads, including the expansion of Loop 1604 from a four-lane road to a true highway with access roads on both the north and south sides and a new flyover that will pull traffic in, in a more efficient way toward JBSA Randolph Air Force Base. TxDOT will also take on Farm to Market Road 1516, a major roadway, and the city just finished doing an expansion of Seguin Road, which runs past the new City Hall building, a renovated library, and more.
They are also in the midst of redoing Toepperwein Road, and a secondary road that connects the I-35 and the I-10 will be redone as well. Knowing how important mobility in a city can be, Kuborn reports, "Toepperwein Road will create a second thoroughfare. As communities continue to grow you need to have more than one access way to be able to utilize your community."
Other industries, although impacted by COVID-19, have managed well in Converse because of understanding landlords and the EDC, running on an annual $600,000 budget, pooled $250,000 to offer grants to small businesses for lease payments, employee salaries, and other business expenses. The EDC has managed to help 48 companies with expenses. "The grants are great because they keep businesses running," says Kuborn. "Our community has seen an increase in sales tax revenue and so that's been great for us. It keeps the city in a very good position for continued ability to invest in itself and invest for the community. That's really what we want to do  as we continue to grow –  make the wise decisions and be good partners with our citizens and with our businesses and to work together."
AT A GLANCE
Converse, Texas
What: A large suburban community; population 30,000
Where: San Antonio MSA – Bexar County, Texas
Website: www.conversetx.net
Poznecki-Camarillo Inc. – www.pozcam.com
Driven by Commitment to Our Clients. Poznecki-Camarillo has become a successful engineering firm by providing clients with the same services offered by most large agencies, with the personal touch of a smaller one. Our firm was founded in 1981 based on our core values and we've been able to steadily grow our business and maintain complete customer satisfaction.